Detached casita is newly remodeled with an updated bathroom & kitchen. It provides the best views of the pool and palm trees. Guests will find that it is private and relaxed. Nights are warm and guests can enjoy diners under the stars by the pool. There are excellent restaurants located within 1 mile of house and hiking trails to walk to.
The casita offers a closet with a private washer and dryer, full sized refrigerator with ice & water dispenser, microwave, single top induction stove, toaster, coffee maker, and other items available upon request.
Secluded cul-de-sac, no traffic or parking problems, beautiful & quit area nestled within the mountains of Rancho Mirage. Hiking and restaurants within walking distance.
Τύπος δωματίου
Ολόκληρο σπίτι/διαμέρισμα
---
Τύπος ιδιοκτησίας
Ξενώνας
---
Άτομα
3
---
Υπνοδωμάτια
Rancho Mirage, Καλιφόρνια, Ηνωμένες Πολιτείες της Αμερικής
Very Comfortable New Queen Memory Foam sofa bed, steps to the pool and spa. A very clean, peaceful and highly upgraded condo. Plenty of linens, cookware, a washer / dryer and a full private bath! A 30 day minimum stay is required per the association rules, weekly bookings are OK.
Wonderful space. A picture is worth a thousand words!
The gated community is spread out over 37 acres with beautiful trees, five heated pools, four spas and tennis courts.
Rusty was very helpful and accommodating during our stay. He always made sure we were enjoying our stay with him! His place was very clean and well appointed. We felt very comfortable. Would highly recommend this place to anyone looking for a nice relaxing stay in the desert!
Karina
2016-03-17T00:00:00Z
Staying at Rusty's home was wonderful. I felt welcomed and cared for. The space is beautiful, clean and a perfect location. Rusty communicated with me so I knew what to expect. And my stay was delightful. Highly recommend this treasure.
Lori
2015-10-21T00:00:00Z
Wow! What a great host, location, and experience! Rusty is an extraordinarily conscious and considerate person who went to any lengths to make sure that my stay was perfect. The place was impeccably neat and clean, and the sofa bed was the most comfortable I have ever slept on.
Lu
2015-12-06T00:00:00Z
The host was very friendly and accommodating for our stay, making our experience very fun and stress free. The Airbnb is very nice and clean, and the room/bathroom itself was great! He even helped us pull out the sleeper couch, which was memory foam and very comfortable!
Anna
2016-05-02T00:00:00Z
Very nice place, prime location in Rancho Mirage. The pool area is a few steps from the front door! Easy parking close by. Very clean residence. I like having a "private" bathroom right next to the room. Rusty is a great host, showed me around, answered any question that I had, made me feel "at home."
Peter
2016-10-18T00:00:00Z
The accommodations are lovely and very comfortable. Rusty is an attentive host, including a personal greeting upon arrival and a short orientation about our space. We would definitely recommend this cozy room to anyone who needs a private room w/ bath in the desert! Greg & Vicki Salios
Vicki
2016-02-21T00:00:00Z
Rusty goes above and beyond all expectations. The accommodations are lovely...The neighborhood is safe. He is the consummate host! You always feel very much at home.
Aleck
2015-11-04T00:00:00Z
Rusty war ein perfekter Gastgeber. Er hat sich liebevoll um alles gekümmert. Das Zimmer, das Bad und das restliche Gebäude war sehr sauber. Rusty klärte alle Fragen vorab und beim check-in. Man kann ihn nur weiterempfehlen.
Felix
2015-12-29T00:00:00Z
Τύπος δωματίου
Ιδιωτικό δωμάτιο
---
Τύπος ιδιοκτησίας
Σπίτι
---
Άτομα
2
---
Υπνοδωμάτια
Rancho Mirage, Καλιφόρνια, Ηνωμένες Πολιτείες της Αμερικής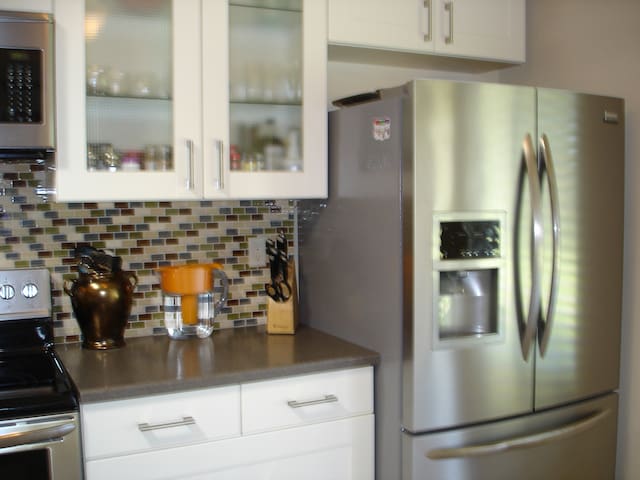 Room w/private bath. Beautiful Mountain Views-Steps to heated Pool & Jacuzzi. Walk to shuttle for Stagecoach Festival at next door Omni Hotel. Perfect location-walking distance to Starbucks, Dining, Movies, Spa, Omni, Golf, Tennis, Hiking Shopping...Minutes away from Palm Desert (Famous El Paseo Dr), Palm Springs, Indio-(Polo Grounds), La Quinta, Indian Wells*Perfect Central Location!
Comfortable Bedroom w/attached private bathroom and atrium. Queen Size Bed, Ceiling Fan, AC, Flat Screen TV, WiFi, Hair Dryer, Shampoo/Conditioner, Pool Towels- Warm Pool and Jacuzzi just steps away. Full size Aero Air Matress Bed available for an extra guest.
Walk to Starbucks, Omni Hotel, Tennis, Golf, Shopping, Movies, Restaurants... from property. Tennis and Golf Lessons available for a fee. You can relax or be active. Which ever you prefer. Polo Grounds 20 Min Drive (no traffic) El Paseo Shopping and Dining 5 min drive Agua Caliente Casino Spa Casino 8 min drive Omni Resort next door, walk to outdoor dining, Spa and evening music on patio Walk to the "Riverwalk" outdoor mall- Movies, Starbucks, Restaurants, Shopping Close to the new Rancho Mirage public Park offering free weekend concerts
Great experience, definitely will rent a room from Lynn in a heart beat when I'm again back in the area. Highly recommended.
Mamali
2017-03-19T00:00:00Z
Lynn's place is a really comfortable, stylish and a great place to relax and enjoy the local area, whilst being just off the golf course at the Rancho. Lynn herself is very welcoming and accommodating - would definitely stay again.
Archie
2017-03-01T00:00:00Z
Great condo with perfect location. Lyn was a very helpful and gracious host!!
Daniel
2017-03-05T00:00:00Z
Lynn was a most welcoming host and lovely peson. Her condo is very peaceful and beautifully decorated. The golf course, swimming pool, and hot tub are only a few steps from her back patio. We felt very much at home.
Rozlynn and Russell
2015-07-19T00:00:00Z
Great stay and lovely host. 10/10 overall
Jason
2016-09-05T00:00:00Z
Great place to stay. Lynn and the room was terrific in every way. Would definitely stay there again when visiting the area. Thanks
Chad
2016-10-30T00:00:00Z
Lynn is such an amazing host, she had no trouble with our check in past mid night :) her place is super nice, clean and silent, you can use the outdoors pool and jacuzzi, the bed is beyond comfortable, we loved it and we're sure of we go back to the desert we will surely stay with Lynn!
Eduardo
2016-10-11T00:00:00Z
Beautiful setting on a golf course. Easy to get in and out, as we were visiting relatives for Thanksgiving. Host was often out, so we had the place to ourselves most of the times we were in the unit.
Steven
2015-11-28T00:00:00Z
Τύπος δωματίου
Ιδιωτικό δωμάτιο
---
Τύπος ιδιοκτησίας
Σπίτι
---
Άτομα
2
---
Υπνοδωμάτια
Rancho Mirage, Καλιφόρνια, Ηνωμένες Πολιτείες της Αμερικής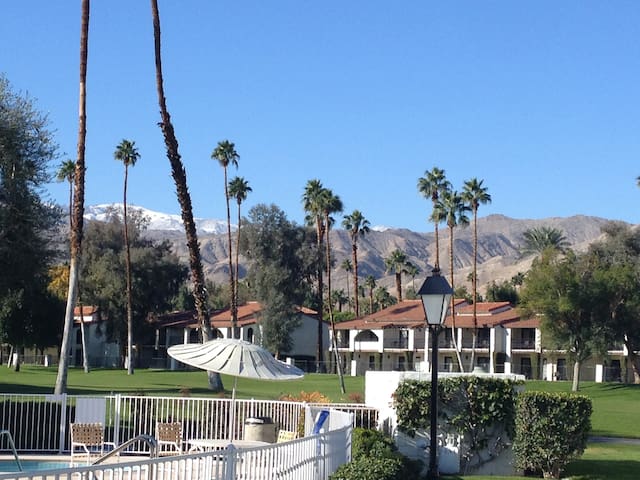 Casa River is a fantastic modern home in the heart of the Coachella Valley at Magnesia Fall Cove featuring 3 bedrooms all with Directv TVs, sun soaked pool, spectacular mountain views, BBQ & fully stocked gourmet kitchen. Walking distance to shopping, hiking trails plus other activities like golf, tennis & the best dining and shopping at The River, El Paseo, Westfield Palm Desert Mall. minutes away from Palm Springs, wonderful location for an enjoyable visit and more!!!
My stay at Casa River was amazing. The house is perfect for a weekend getaway with friends. The pool was awesome. The kitchen has everything you need. The entire home was very clean with stylish modern decor. I would absolutely stay here again and recommend it to anyone looking for a fun and comfortable place to stay in the desert. Lalo was also very kind and communicative during our short stay though we did not need to contact him much because everything you need is already there.
Molly
2016-08-14T00:00:00Z
Wow! Such a cozy and beautiful house. They have big indoor space, and a pool in the pack yard. Amazing views!
Dong
2017-01-22T00:00:00Z
Lalo was great! Very responsive and helpful. The house was very nice and extremely clean, everything was brand new. Backyard is the perfect place to hang out.
Jeff
2016-03-28T00:00:00Z
Lalo and Erica are wonderful people. The house is very comfortable and the location is great with a huge shopping center a block away. We came here for a family getaway. We were on a tight budget and Lalo was willing to work with us on one of the fees. By far, nothing against Lalo but we were disappointed that the pool was pretty hot at about 92 degrees since the weather was at 111'. This is normal as Lalo and Erika explained, BUT the pool would've TOTALLY rocked if it had a cooling system. Lalo and Erika were gracious enough to look for pool options for us around town. In the end we loved the house. Everything is well designed and laid out and they supplied everything we needed from cooking supplies to bicycles.
Yolanda
2016-08-01T00:00:00Z
Our stay at Casa River was wonderful and I highly recommend this home. We stayed for over a week and loved every minute of it. Lalo (host) thought of every last detail a guest would want and we were very pleased. He goes above and beyond to take care of his guests and his home. The king bed in the master bedroom was one of the most comfortable beds I've slept on. There are plenty of towels on hand for the bathrooms as well as the pool. The outdoor gas-fired grill was awesome and the pool and hot tub are beyond relaxing. The neighborhood has everything within easy driving distance including Whole Foods, Trader Joe's, CVS, Target and many restaurants. Despite the house being so close to everything, the area is incredibly quiet, which definitely helped us relax poolside. There is great Wifi, there are plenty of TV options (and TVs) and the washer and dryer were definitely helpful for our longer stay. We like to cook, so were please to find the kitchen stocked with plenty of cookware, utensils, blender, toaster, electric can opener, etc. Overall the stay was fantastic and Lalo was a very friendly and attentive host, and also allowed us our privacy, which was very respectful and polite. We would return in a heartbeat!
Jennifer
2016-07-12T00:00:00Z
Wonderful stay and great hosts. Thank you for accommodating us and making the check in and check out process seamless. Great location, house was clean and had everything we needed. We would be happy to return.
Sandra
2016-07-30T00:00:00Z
First off, the house was beautiful & we felt very welcomed. Second, the setup was amazing & its a great way to spend the holiday weekend with family and friends. Will definitely be back!!!! thanks Lalo !
Danielle
2016-06-01T00:00:00Z
We booked a weekend trip for Father's Day.We absolutely loved the beautiful modern house and pool. Lalo thought of everything,this house is well equipped.We had a great time and would love to come back. Thanks again Lalo for welcoming us into your home :)
Joshua
2016-06-21T00:00:00Z
Τύπος δωματίου
Ολόκληρο σπίτι/διαμέρισμα
---
Τύπος ιδιοκτησίας
Σπίτι
---
Άτομα
6
---
Υπνοδωμάτια
Rancho Mirage, Καλιφόρνια, Ηνωμένες Πολιτείες της Αμερικής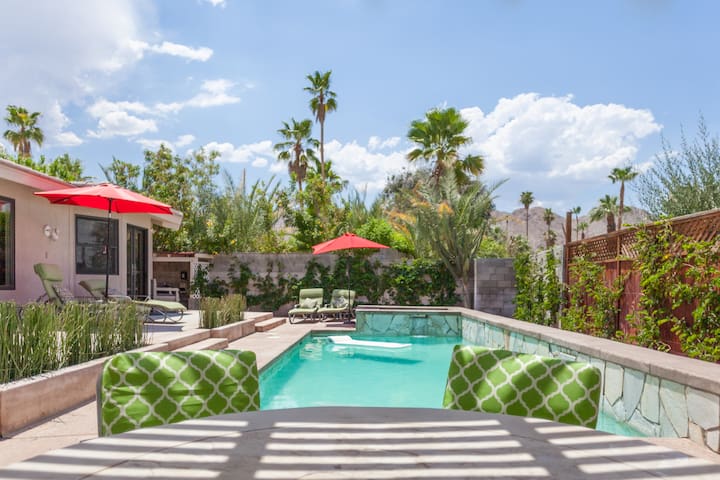 A Spanish-style house with modern art decor, beautiful desert landscape, a few blocks from shopping with movies and restaurants, 1 block from local park with mountain hiking trails, 3 miles to great shopping on El Paseo in Palm Desert, near Sunnylands and The Living Desert, and 10 miles from Palm Springs.
This house is gorgeous, private entrance and bathroom. There is a pool, but I didn't use it. The bed was comfortable and it's very convenient to Rancho Mirage as well as Palm Desert. Steve is hospitable and kind. I highly recommend stay here!
Karen & Mario
2017-04-02T00:00:00Z
Fantastic place to stay! Steve was a wonderful host, and answered initial questions quickly. He was available throughout the stay, but respected our privacy as well. He had a solid knowledge of the area, and was able to offer some great suggestions during our visit. Breakfast was great, and the location couldn't be more perfect. The neighborhood is safe, and the house is extremely quiet. Everything was clean, and the house has fabulous art spread throughout. We definitely recommend that you book this house during your stay in Rancho Mirage — we'll be back next time!
Ben
2017-02-21T00:00:00Z
The place is perfect for 2 people and it's location can't be beat. It's a block off the 111 and close enough to Paseo drive and the River Mall to bike. Steve is a great host, very friendly and attentive to your needs.
Matthew
2017-03-19T00:00:00Z
Steve's place was wonderful. I MOST DEFINITELY want to go back. He was incredibly kind and warm and helpful. He offered great breakfasts, towels, directions--anything I needed. The house was beautiful and in a beautiful, safe neighborhood. You can feel the kindness of the home the moment you step foot inside. It was a wonderful place.
Diana
2017-03-15T00:00:00Z
Steve was the perfect host! He greeted us at check-in, provided a tour of the home and told us some of the must sees in the area. He provided breakfast each morning which was so nice! He had fresh fruits, bagels, cereal, tea, coffee, really anything you wanted. During our trip with did a day of hiking/bouldering through Joshua Tree. Steve recommended a massage/spa service he uses. It was much needed after our hike. Throughout our stay Steve made sure we were comfortable and that we were enjoying our time at his home. He really cares to make your stay a great one. I highly recommend staying with Steve.
Christopher
2017-03-07T00:00:00Z
I really enjoyed my time here. The landscaping was beautiful and at the time I was here many flowers were in bloom and added to the beautiful charm of the property. I was very happy to find that it was very quiet and peaceful as well. I was able to sleep very comfortably and I loved enjoying a cup of coffee in the backyard overlooking the Pool in the morning. The house was very clean and I felt comfortable right away. I enjoyed all of the unique art in the home as well as my room. Steve was very helpful with directions and recommendations in and around the area. Steve was respectful of my privacy, yet I felt he was available to help or answer any questions. Thanks so much Steve. I will be back!
bielski29
2017-03-26T00:00:00Z
Τύπος δωματίου
Ιδιωτικό δωμάτιο
---
Τύπος ιδιοκτησίας
Σπίτι
---
Άτομα
2
---
Υπνοδωμάτια
Rancho Mirage, Καλιφόρνια, Ηνωμένες Πολιτείες της Αμερικής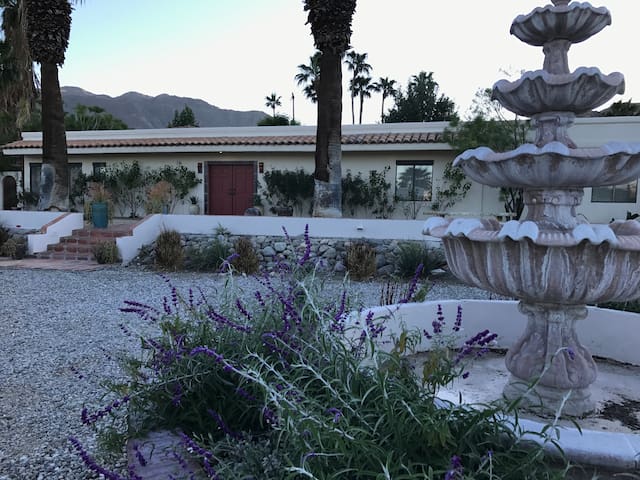 This lovely room with its own bathroom is in a private house in a gated community. You are welcome to come and go as you please and use the rest of the house, including the comfortable family room with its 85-inch TV, outdoor fire place, pool & spa! (Maximum 2 people)
This guest bedroom has its own attached private bathroom with full walk in shower. There is plenty of space to spread out and lots of closet space. There is a coffee machine that can make espresso or lattes or just regular coffee. In the armoire there is a TV with DirecTV satellite and over 200 channels for you to enjoy. Blackout curtains make it very dark and there is full air-conditioning and a ceiling fan. Plenty of lights to read by and a chair to sit in and enjoy a good book. This is a very quiet place and so you should be able to relax and chill out after a long day of enjoying everything that the Coachella Valley has to offer. While you are welcome to stay in your room and enjoy your privacy, we truly believe in the "mi casa es su casa" philosophy - so we welcome you to our home and all it offers. We have an awesome and well-stocked bar, so when the clock strikes 6, cocktails are served under the watchful eye of Mr. Frank Sinatra. We have a second room listed here (with a smaller bathroom) as well if you need a second room. We are Licensed with the City of Rancho Mirage, Permit # 1693 MAXIMUM STAY IS 7 DAYS
Rancho Mirage is right in the middle of the Coachella Valley and so is really ideally suited to anything that is going on all the way from Palm Springs about 10 miles to the North down to Coachella and Indio 16 miles to the South. There is a big supermarket a mile in one direction and just about every other kind of shop, restaurant and movie theater a mile in the other. If you are in to it, there is a huge casino right at the freeway exit to our house. We are about 7 miles from the airport which makes for a brief cab or Uber ride to get here. Downtown Palm Spring and Palm Desert have awesome world class dining, resorts, casinos, bars, shops, art museum, and galleries. The Arial Tramway, golf courses and convention center are all about a 15 minute drive. If you are going to Coachella or Stagecoach or the BNP Tennis tournaments, they are about 16 miles south of us. If you are hitting up Modernism Week or any of the multitude of events in Palm Springs, they are about 10 miles north of us.
Steve's place was way beyond what we expected. Steve was wonderful and helpful with all his guests. The place was spotless and had plenty of room to spread out for everyone. We felt at home there and really enjoyed the kitties. Also, the location could not have been better in a gated community and close to the freeway!
Diana
2017-03-16T00:00:00Z
Spacious and extremely clean room in a beautiful house. Hosts are fantastic and will make you feel more than welcome. The house is centrally located to anywhere you want to go in the desert, located in a quiet and private neighborhood. Great value!
Byron
2017-02-20T00:00:00Z
The Blue Room was decadent from the design to the linens. Well appointed with all a person's needs. The shared space is gorgeous and roomy with equal thought and quality put into all touches. Steve was a delightful host, very considerate and easy to communicate with. I definitely recommend this space and host!
Stacey
2017-03-26T00:00:00Z
Steve and Nick are absolutely great hosts. They were always attentive and making sure we were having a nice stay. The room and bathroom are spacious and nice, with a very comfortable bed and all the amenities we could need. Their house is beautiful and located in a nice peaceful gated community and safe neighborhood. We had a great experience and will be definitely coming back!
Maria Gloria
2016-04-26T00:00:00Z
Steve and Nick were great hosts! The room was very clean. They provided amenities that we have not come across in other Airbnbs such as an in-room coffee machine with plenty of coffee cartridges, shortbread cookies, and mugs, premium TV channels (i.e. HBO, SHowtime, etc.), remote controlled ceiling fan/light, an abundance of closet space, towels, and trial size toiletries. The listing information was very forthcoming regarding cats in the home. The cats were friendly. My boyfriend has a mild allergy to cats but was fine inside the room because they keep the cats in the common areas. We were close to a number of shopping plaza that offered a variety of dining options. We were about 15 minutes away from Indian Wells Tennis garden which was our main destination. Thank you for hosting us! We had a great time!
Allison
2016-11-23T00:00:00Z
Hard to know where to begin! First, this place is absolutely gorgeous - brand new, sparkling clean (like, better-than-a-luxury-hotel-clean), and the pictures do not do it justice. Awesome, beautiful home with a lovely pool and mountain view. Steve is so sweet and so accommodating (brunch recommendations included!) and the perfect host. My only regret is that our stay was so short. Highly recommended!
Chelsea
2016-10-29T00:00:00Z
Steve and Nick are wonderful hosts and we had an amazing time staying at their gorgeous house! This is by far the nicest airbnb we've ever stayed at; the house is absolutely beautiful and clean, and we had a great time chatting it up with Steve and Nick. The backyard has great outdoor entertainment space with a dining area, a fireplace with seating, and an amazing pool and spa (that we totally took advantage of). Thank you so much for hosting; we had a spectacular time!
Lisa
2016-06-20T00:00:00Z
What an Oasis in the desert. I have been travelling for nearly a month. Looking for a place to relax and enjoy. Both Steve and Nick welcomed me. The home is amazing. The outdoor pool area is peaceful and relaxing. Steve welcomed interaction and invited me for dinner and drinks. A home cooked meal and great conversation made this quick stop in the area a delightful experience. The value for what you receive is so worth it. I have paid more for less. I liked the fact that if you enjoy the interaction, it is there. I have been travelling solo for several weeks. Good to be able to share some quality time.
Skip
2016-07-31T00:00:00Z
Τύπος δωματίου
Ιδιωτικό δωμάτιο
---
Τύπος ιδιοκτησίας
Σπίτι
---
Άτομα
2
---
Υπνοδωμάτια
Rancho Mirage, Καλιφόρνια, Ηνωμένες Πολιτείες της Αμερικής
You're renting an upscale condominium in the Rancho Las Palmas Country Club. Features include close proximity to shopping, dining, and night life; many are walking distance. Shop El Paseo Drive, Westfield Mall, or the River. Amenities include tennis and world famous golf courses, including the beautiful Rancho Las Palmas Course, right out your back yard! RLP CC has many Pools, Tennis & Golf! The City of Rancho Mirage requires at least one guest is 30 years of age or older. Permit #1775.
Several Community Pools, Jacuzzis, Tennis Courts and Golf! Everything is in close proximity, two pool/jacuzzi's within a 2 minute walk, the country club is about 3 minutes away, and the River Shops & Restaurants are about a 10 minute walk!
The City of Rancho Mirage is a world class destination and this property is in the heart! Exit the west enterance of the Country Club property and you are already at the River, with Shops, Eateries and a Movie Theatre. Exit the east and a quick right, and you will be at the Westfield Mall and El Paseo shopping area. El Paseo is the desert's equivelant of "Rodeo Drive" in Beverly Hills. On the weekends, you can enjoy the College of the Desert Street Fair, with unique desert-centric gifts.
Τύπος δωματίου
Ολόκληρο σπίτι/διαμέρισμα
---
Τύπος ιδιοκτησίας
Συγκρότημα κατοικιών
---
Άτομα
4
---
Υπνοδωμάτια
Rancho Mirage, Καλιφόρνια, Ηνωμένες Πολιτείες της Αμερικής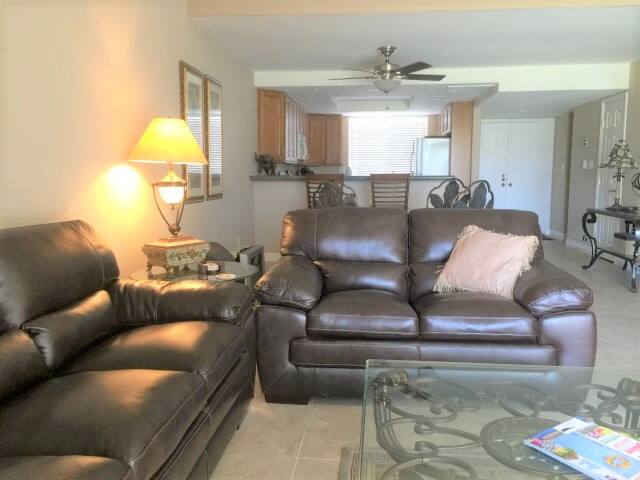 Our guesthouse is located in a peaceful and safe gated community. Premiere shopping, dining, and entertainment is just around the corner at the River Mall in Rancho Mirage (8 min drive). Additionally, it is conveniently located approximately 15 miles from the Empire Polo Club. Great location for festival weekends.
Τύπος δωματίου
Ολόκληρο σπίτι/διαμέρισμα
---
Τύπος ιδιοκτησίας
Ξενώνας
---
Άτομα
2
---
Υπνοδωμάτια
Rancho Mirage, Καλιφόρνια, Ηνωμένες Πολιτείες της Αμερικής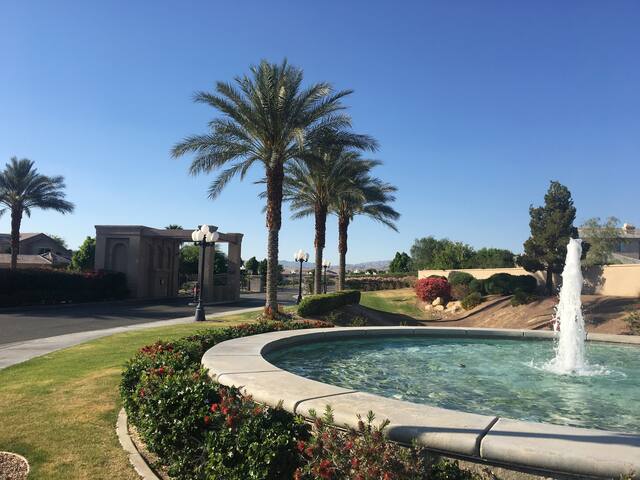 This is the PERFECT villa for your travel to Palm Desert (one bedroom villa, 585 sq. feet.) PERFECT Coachella destination also- WEEKEND 2 of Coachella, four nights so you can arrive and stay in comfort the entire weekend! And this hotel is a stop on the shuttle, so you don't even need to drive! Enjoy! POSTING DETAILS BBQDVD PlayerDeck PatioDishwasherFireplaceInternet AccessJacuzzi TubLaundry DryerLaundry WasherMicrowaveRefrigerator Full SizeRefrigerator - SmallStereoTVTelephoneVCR
It is a great villa with a swimming pool, restaurants on site, a golf course, tennis courts and a spa. Luxury retreat and shuttle stop for Coachella!
Τύπος δωματίου
Ολόκληρο σπίτι/διαμέρισμα
---
Τύπος ιδιοκτησίας
Βίλα
---
Άτομα
4
---
Υπνοδωμάτια
Rancho Mirage, Καλιφόρνια, Ηνωμένες Πολιτείες της Αμερικής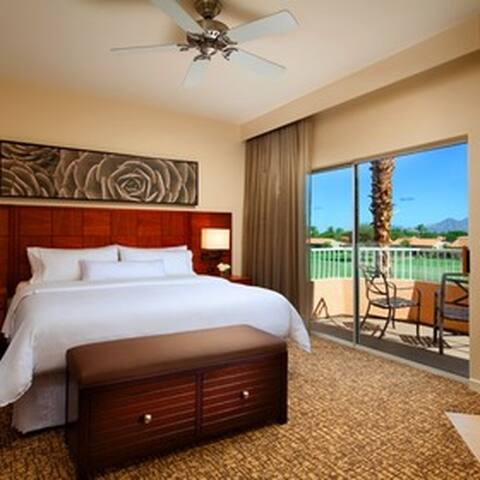 Located in the fabulous, luxurious and quiet Rancho Mirage. Close to the airport,restaurants,shopping, and everything you would need for your restful stay. Private guest house ( Casita) with the separate entrance, kitchenette ( no stove), private outside patio with the fireplace, use of the pool and hot tub.Y ou'll love my place because of the views, the high ceilings, the coziness, the location, and the people. My place is good for couples, solo adventurers, business travelers, and families.
The space This is fantastic completely private casita home with with its own large patio and your own personal outdoor gas fireplace. Separate living room with a flat screen TV, breakfast bar, fridge, microwave, coffee, tea, dishes, couch, coffee table.. everything you would need to relax. The Bedroom has a fantastic Queen Bed, dresser, flat screen TV, everything you need to feel like it is your own peace of Paradise in the Desert. You will have access to the outdoor pool, hot tub, as well as 2 beach cruisers to take a spin and enjoy the nearby restaurants, spas, art galleries, and the famous El Paseo shopping strip.
Rancho Mirage is the best of locations with the nicest scenery and close to everything
Τύπος δωματίου
Ολόκληρο σπίτι/διαμέρισμα
---
Τύπος ιδιοκτησίας
Ξενώνας
---
Άτομα
4
---
Υπνοδωμάτια
Rancho Mirage, Καλιφόρνια, Ηνωμένες Πολιτείες της Αμερικής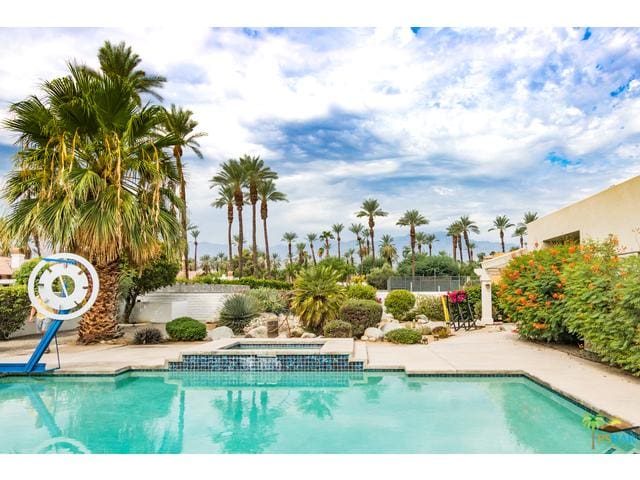 Open concept studio apartment. Private entrance, gated patio in safe & quiet Rancho Mirage, Magnesia Falls Cove. Mountain views & birds chirping. Mid century architecture part of Alexander home. Private bathroom w/double sinks, queen size bed, queen pull out sofa, full kitchen & access to solar heated pool just a few steps away. Central location near Omni Rancho Las Palmas, Eisenhower Medical Center, Ritz-Carlton Rancho Mirage, Agua Caliente Resort, McCallum & El Paseo. 15 min to Palm Springs.
Please stay in our newly designed mid century open floor plan one bedroom studio efficiency. Our apartment has a private entrance and patio and is located in Rancho Mirage cove. The space is perfect for a single, couple, or up to three guests (with sofa bed in same open plan space). We offer a full working kitchen, private bathroom with shower with water wise toilet and double sinks. Also included is a beautiful gated private patio with fountain and mountain views. For your enjoyment and entertainment we offer Wifi upon request and basic Satellite TV. The solar heated pool is available to our guests only upon request and approval Monday - Friday, 9am-3pm. Please note that the pool is solar heated and the temperature will vary depending on the season. You can't beat our central mid valley location which is very safe and quiet and steps away from shopping, entertainment, events, hiking, and exploring! The amenities include: In the fully equipped kitchen - integrated water filtration system, disposal, pots & pans, utensils & dinnerware, coffee maker, toaster, full size refrigerator, dishwasher, flat top electric stove, exhaust fan, pantry, table and chairs. For your convenience and enjoyable stay we include a light complementary continental breakfast upon arrival, coffee and tea, dish soap, dishwasher detergent, cleaning supplies, paper towels, and trash bags. A convertible sofa bed for an extra guest with bedding. The main bed is queen size with memory foam top. The unit has two closets with shelves and hangars. Also available are an iron, Ironing board, and starch. In the modern bathroom - double sink with ample storage, toilet, shower, toilet paper, shampoo, conditioner, bath soap, hand soap, cleaning supplies. Clean bath and hand towels are provided along with clean pool towels. Pool access at the main house (only a few steps away) is granted after request and approval, between 9-3pm Monday-Friday. Off street parking in front of the home is safe and is available at all times. Friendly, trustworthy, and responsible owners are a step away for any immediate needs or questions. Our appliances and fixtures are water wise and energy efficient. Please respect local California water and energy consumption while enjoying your stay. Please note that festival weekends require a 3 night minimum stay and fees for additional people over 2 will be $40 per person, per night instead of the standard $30, thank you and please send us all your inquiries! We are happy to give you tips on places to visit and suggestions on restaurants and are available to you as we live right next door. We respect your privacy but please feel free to call or text with any needs or questions. Rancho Mirage and surrounding area – Things to Do Rancho Mirage Community Park and Amphitheatre – right behind the carwash on 111 with the big pink elephant. Great park for little kids and sports areas for older kids. Amphitheatre programs available on the City of Rancho Mirage site. The River – at Rancho Mirage – walk around, get some coffee or ice cream – check out their website for various programs The Living Desert – fun walking, great educational kids programs, feed the giraffes, walk into the butterfly garden (seasonal), take a carousel ride, barn animal petting zoo, visit the zoo animal hospital. Tips: get there early, especially during warm season, most animals are out early. Bring water and a snack, there are snack bars throughout but $$. Check out their website for daily educational programs your family might enjoy The Shops at El Paseo – great, easy, safe, walking and browsing along the many shops, galleries, and restaurants. Palm Desert Civic Center Park – right past the McCallum Theatre, a great place to let the kids run and play Thousand Palma Oasis – drive out to Thousand Palms (about 15 min drive) to visit a naturally occurring oasis. Free entrance and parking, nice hike, and areas to sit and have a snack (bring your own) – no pets allowed Shields Date Garden - drive down 111 towards Indio, a true local landmark. Try dates for free or have a famous date shake (these are very large and very thick – beware), and watch an extremely informative free short movie on date tree cultivation and the owner of the date farm Mr. Shields. Old Town La Quinta – walk around, get some ice cream, explore the shops – very pretty Spanish style architecture and relaxed feeling La Quinta Civic Center Park – similar to the Palm Desert park, great combination with Old Town and Shields Date Garden Children's Discovery Museum of the Desert The Palm Springs Air Museum Palm Springs Art Museum & Palm Desert Art Museum and Sculpture Garden – (Free to public on Thursday nights) Palm Springs Villagefest – downtown Palm Springs every Thursday night – Palm Canyon Drive closes to car traffic and there are vendors, music, and fun activities starting at 6pm. Drive up to Idyllwild – take scenic 74, the Palms to Pines highway, to Idyllwild for the day. Go up the winding road to the scenic point mid way for a panoramic view of the valley and then continue to Idyllwild where you can walk around, see the galleries, shops and restaurants. The drive is just about an hour each way. Favorite restaurants/eateries: Roy's - Rancho Mirage across The River – one of the best happy hours in the area. Great meals and cocktails for about $7.00. Open kitchen concept, Hawaiian fusion cuisine. Cardena's super market & restaurant – Cathedral City - must visit for local culture and food. Authentic Mexican supermarket, large fresh vegetable and fruit selection with focus on many tropical and true to Mexican cuisine items. This location also has an in house tortilleria for the freshest tortillas you will find and a restaurant. Wilma & Freida's – Palm Desert - on El Paseo – at the mall, upper level. Auesome breakfast and brunch. Clementine Gourmet Marketplace & Café – Palm Desert – European style café, great for lunch and drinks – easy open concept seating Sherman's Deli – Palm Desert & Palm Springs – true NY style deli, great meals, and awesome desert – cakes, cookies, and more! Eureka – Indian Wells – awesome gourmet burgers, salads, and drinks in an easy upscale pub style setting. Nina's Pita & Pizza – Palm Springs - authentic Greek food – small little hole in the wall but best Gyros in town! Lulus – Palm Springs – local landmark for drinks and meal Pho 533 – Palm Springs – authentic Vietnamese cuisine A car is suggested, but there is a bus stop at the bottom of the hill on 111 about 4 blocks away with main routes from Palm Springs to Indio. The Palm Springs Airport is about 15 min away. From the airport take Ramon, to Gene Autry, to 111, to Rancho Mirage. Coming into Palm Springs from Highway 10, take the Bob Hope Exit, all the way down to 111. The home is located in a perfect mid-desert location, central to everything. Palm Desert and El Paseo are under 5 min away and Palm Springs 15 min away. Free Wifi & Cable TV
Rancho Mirage is between Palm Springs and Palm Desert. We live in Magnesia Falls Cove, a quiet, non gated community nestled between the mountains. The neighborhood is clean, quiet, and safe. We are within walking distance of The River, The Rancho Mirage Library, Wally's Desert Turtle, The Spaghetti Factory, and many more restaurants, shopping, and attractions. El Paseo in Palm Desert is about a 5 min drive as is the Palm Desert Art Museum and Sculpture Garden. We are also about 5 min to Eisenhower Medical Center. We request that guests follow Rancho Mirage code for no loud noises, music, and loud parties and we ask that guests respect the neighborhood we live in.
George and Joe's Air BNB was great! We were greeted right when we arrived and found the place to be extremely clean and cozy. Would definitely stay here again! Thanks George and Joe!
Natalia
2016-12-31T00:00:00Z
This little casita was wonderful ! The owner was friendly and caring, left us a nice breakfast upon arrival. This casita really has everything you need. It was clean and comfortable. We enjoyed the little garden area, with a fountain. Can highly recommend and will be back next year !
Jaana
2016-11-06T00:00:00Z
We liked this spot so much we stayed an extra week!
Bill
2016-05-20T00:00:00Z
We stayed in the casita for one night and it was the perfect fit for us! They had just installed an A/C for us a little before we came in so the room was at a perfect temperature.The casita was tastefully decorated and so clean. The refrigerator was stocked with some breakfast items for us as well. I wish we could have had a longer stay! George was so helpful to us leaving us a list of things to do and places to eat. Definitely one of my favorite Airbnb places by far!
Lauren
2016-05-31T00:00:00Z
Absolutely amazing!
Andrea
2016-06-27T00:00:00Z
We had a wonderful time at George & Joe's casita. Everything was as expected and then some! They did everything they could to make us feel welcome. I would definitely recommend staying here!
Patty
2016-09-06T00:00:00Z
This is a very well appointed space that is comfortable, clean and very well located in Rancho Mirage. Continental breakfast supplied. Hosts are very responsive to any requests. I would visit this location again. I felt very safe.
Kim
2016-03-12T00:00:00Z
We really enjoyed my stay here... the space is updated and nicely decorated, clean, and had everything we needed! Bed was firm, pillows were soft. I didn't meet my hosts, but they were very accommodating and friendly through messaging.
Melissa
2016-10-03T00:00:00Z
Τύπος δωματίου
Ολόκληρο σπίτι/διαμέρισμα
---
Τύπος ιδιοκτησίας
Διαμέρισμα
---
Άτομα
3
---
Υπνοδωμάτια
Rancho Mirage, Καλιφόρνια, Ηνωμένες Πολιτείες της Αμερικής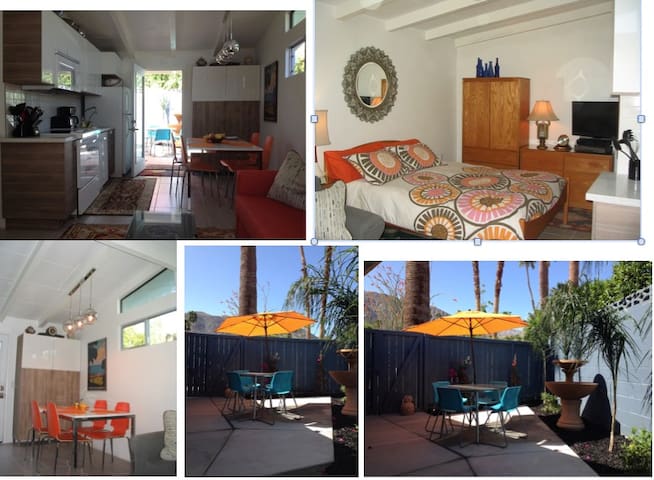 This detached casita is located inside an upscale gated community in Rancho Mirage. It's minutes away from a bus stop, 10 minutes from the River and the Palm Desert Mall, 20 minutes from the polo grounds and 20 minutes from Cabazon. It has a private entrance.
This cozy little guest house sleeps 2 people (can have a third guest if they bring a blow up mattress or sleep on the floor) and is perfect for those on business trips. There is a small work space, Queen size bed, mini fridge, microwave, attached bathroom and medium sized closet. Casita comes with wifi, small flat screen tv, and ironing board with iron.
This quiet gated neighborhood built by Toll Brothers is very centrally located and is very quiet.
We had a great stay, very private and secluded, easy access, we loved enjoying time at the community pool and tennis court, great central location to the places we were visiting in Palm Springs, cathedral city, and Indian wells. The room was nice and quiet and cozy. Will return again for sure!
Blair
2017-03-26T00:00:00Z
Great place, perfect location.
Dimitri
2016-12-30T00:00:00Z
I would Highly recommend Rebekahs Casita as i felt very safe as it was a gated community, and was very close to all the ammenities i required ,and most of all it was very clean and comfortable and Quiet
wayne
2017-03-23T00:00:00Z
Everything started off on the right foot--quick responses to my messages. Rebekah was able to accommodate our arrival time and ensured we had everything we needed. She checked in on us via email and was on top of our stay (in a good way). It was a small quiet spot that meant all of our needs. There's a casino, fast food and some shop not too far away. If we are in the area again, we will definitely try and stay here again.
John
2016-10-10T00:00:00Z
What is sweet place I will definitely be back! This was like having my own home. Loved it. Super convenient to get to my business seminar at the westin down the street too.
Jennifer
2016-11-14T00:00:00Z
kindness and understanding of host
Lori
2016-11-01T00:00:00Z
Great experience, would stay again.
Peter
2016-10-16T00:00:00Z
The place is absolutely fantastic great location great Casita one of the best places I've ever been intend on staying my next visit
Garth
2016-11-17T00:00:00Z
Τύπος δωματίου
Ολόκληρο σπίτι/διαμέρισμα
---
Τύπος ιδιοκτησίας
Ξενώνας
---
Άτομα
2
---
Υπνοδωμάτια
Rancho Mirage, Καλιφόρνια, Ηνωμένες Πολιτείες της Αμερικής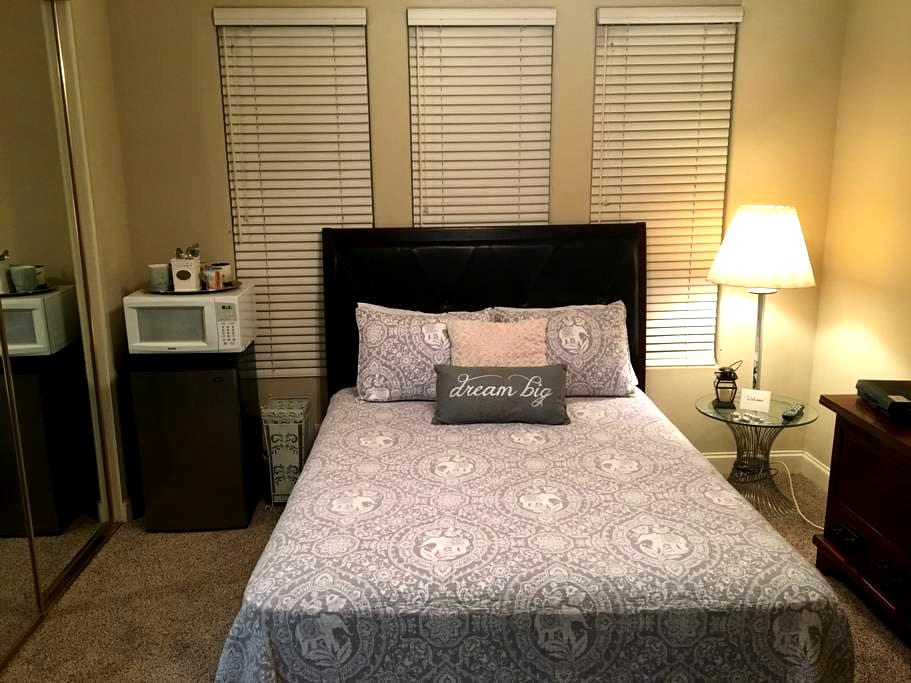 The Villa is only available the 1st weekend of Coachella Music Festival. My place is close to the airport, parks, shops and markets. The views are spectacular. There is a shop, restaurants, bars, pool, hot tub and a golf course on the property. You'll love my place because it's a Shuttle stop for Coachella Music Festival but far enough away that you can relax at the pool before heading out. My place is good for couples, solo adventurers, business travelers, families (with kids), and big groups.
Τύπος δωματίου
Ολόκληρο σπίτι/διαμέρισμα
---
Τύπος ιδιοκτησίας
Κατάλυμα με χρονομεριστική μίσθωση
---
Άτομα
4
---
Υπνοδωμάτια
Rancho Mirage, Καλιφόρνια, Ηνωμένες Πολιτείες της Αμερικής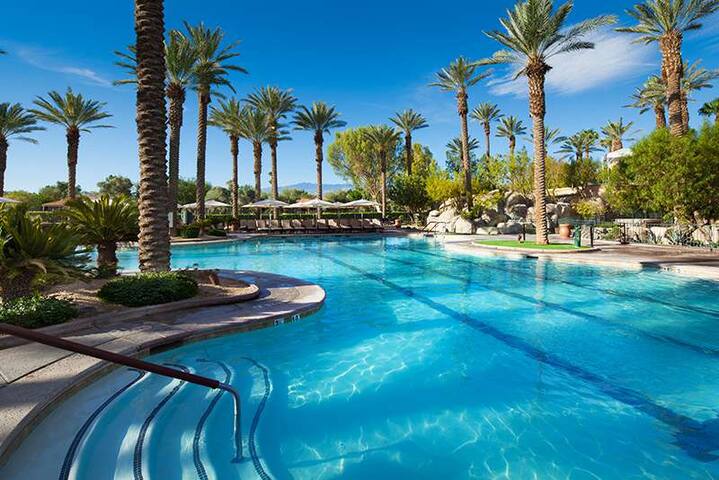 This lovely Westin vacation ownership is one of a kind. You have the privacy of your own place but the amenities of a Westin. It's in a great quiet location miles away from restaurants, shops, bars, and casinos. This is a 1 Bedroom villa with all the amenities of home. Make yourself at home and relax!
This is a 1 Bedroom Villa with a kitchenette, washer/dryer, dining table, sleeper sofa, balcony and 2 televisions. You have the ability the park 2 cars for free.
Very quiet.
Τύπος δωματίου
Ολόκληρο σπίτι/διαμέρισμα
---
Τύπος ιδιοκτησίας
Κατάλυμα με χρονομεριστική μίσθωση
---
Άτομα
4
---
Υπνοδωμάτια
Rancho Mirage, Καλιφόρνια, Ηνωμένες Πολιτείες της Αμερικής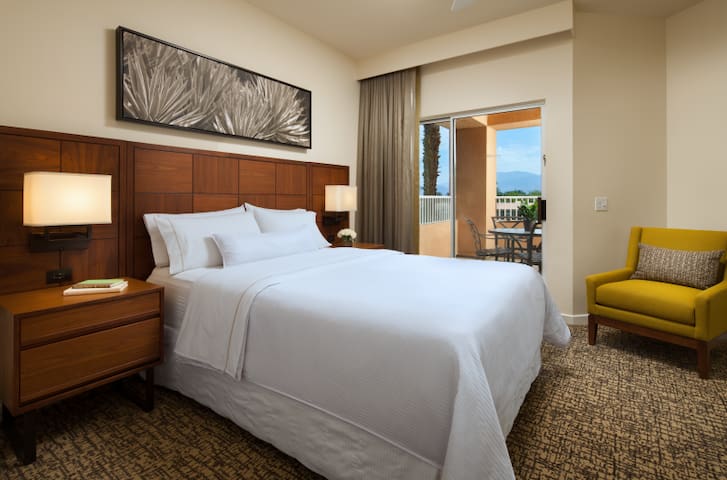 Our condo is part of the Mission Hills Country Club gated community and our guests have access to the 34 tennis courts (grass, hard and clay courts), fitness center and swimming pool. The beautifully-landscaped grounds are perfect for long walks, especially with sunrise and sunset framed by mountains. Enjoy the heated pool and hot tub steps from our back patio. Or take in the many events and festivals year-round in the greater Palm Springs area, as well as shopping and great eats.
Excellent communication although we didn't get to meet Robert and Patricia. The home was well appointed with everything you might need, even for a holiday stay! Nicely decorated and comfortable on all points. We would surely recommend staying at this condominium. Beautiful Mission Hills Country Club is a dream with wonderful flowers and landscaping and the pool and hot tub always ready. Thank you for your excellent vacation location!
Diane
2016-12-26T00:00:00Z
Amazing condo with beautiful decor and ideal location. Bob and Patricia could not have been nicer or more helpful as hosts, and every need was anticipated and addressed in advance I can't say enough about the great experience we had. We will be back!
Mark
2016-10-02T00:00:00Z
Τύπος δωματίου
Ολόκληρο σπίτι/διαμέρισμα
---
Τύπος ιδιοκτησίας
Συγκρότημα κατοικιών
---
Άτομα
4
---
Υπνοδωμάτια
Rancho Mirage, Καλιφόρνια, Ηνωμένες Πολιτείες της Αμερικής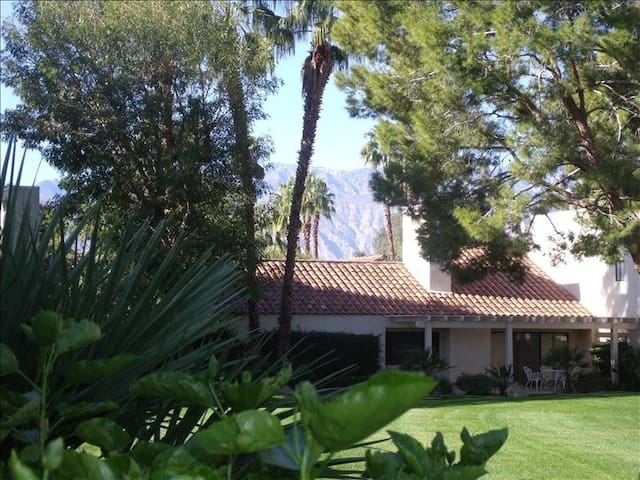 Tranquil, quiet and inviting home located in small upscale development. Conveniently located in mid Coachella valley; easy access to 10 freeway (about 3-5 Min.) and about 20 minutes to Palm Springs or LaQuinta.
The Shore Guest Room is located in a private wing of a newly built Mid-Century Modern home and includes its own private bathroom 3 steps down a private hallway . There is a 40" flat screen TV on an articulating arm, a dresser with several drawers and roomy closet. The bathroom is spa-like, with a tub and shower and stocked with fresh towels.
Rancho Mirage is located in the middle of the Coachella Valley and therefore, easy to commute to Palm Springs or all the way to Coachella and Indio. There are several supermarkets a short drive away and restaurants and movie theater as well. The Agua Caliente Casino, Resort and Spa is located right at the exit from the 10 freeway to our house. Downtown Palm Spring and el Paseo in Palm Desert have world class dining, resorts, casinos, bars, shops, art museum, and galleries. The Arial Tramway, golf courses and convention center are all about a 15-minute drive. With easy access to the 10 freeway, you could explore beyond the Coachella Valley and easily visit Joshua Tree in about 40 minutes, the Anza-Borrego Desert in an hour or Idyllwild in about the same amount of time.
Kathleen and Guy take amazing care of their visitors very well. They're super sweet and friendly and always make sure you feel as comfortable as possible. Their house is extremely gorgeous with an amazing view in the backyard to the mountain. Plus they have the sweetest dog named Mia who instantly becomes your best friend as soon as you walk in. I'd definitely recommend staying at this place to anyone. Thanks again you guys. :)
Jayda
2016-10-16T00:00:00Z
Kathleen and her husband are the best host's I could wish for. After a long day of driving the welcomed me with open arms. They let you use the pool and spa at night, and invite you for dinner. I recommend this stay for everybody who wants relax and want to have a great and unforgettable stay in Palm Springs. I loved every second and hope I can go back one day.
Kevin
2016-07-06T00:00:00Z
Upon arrival we were swept off our feet -- not only is their home gorgeous, immaculate, modern, and comfortable, Kathleen and Guy are the most charming hosts imaginable. From the inside of this beautiful home to the perfect landscaping and pool, there is not one detail we would change. They were so gracious in inviting us to a delicious dinner, were engaging and all-around genuine, caring people. Five star experience from beginning to end.
SARA
2016-08-05T00:00:00Z
5 stars all the way!!! Our stay was warm and welcoming! We couldn't have been more pleased with our first time airbnb experience.
Jason
2016-10-30T00:00:00Z
Guy and Kathleen are exceptionally caring hosts. They go out of their way to make your visit memorable. Their accommodation is exceptional and their location is central to all the Valley has to offer. The en-suite bathroom and bedroom is top notch and a great place to relax after a day of touring the Palm Springs area. Be forewarned: You won't want to leave .
Patrick
2017-03-13T00:00:00Z
It would be difficult to find another place and hosts that could match this esperience. Kathleen, Guy and their dog Mia were the best. We will always wonder when we make an Air B&B res in another city it will come close to our experience here. Happy hour on arrival, being asked to join them for dinner and being asked to join them for dinner and served a pizza flown in from Chicago from Lou (URL HIDDEN) old home town. After a stay here it will always be in our mind when we make reservations somewhere else "will it be hold a candle to our experience with Kathleen, Guy and Mia. We are confident that this will will be in the back of you minds after a stay here. This was our 4th B&B (URL HIDDEN) other came close. We come to the area about once a year and we now know where our "home away from home" will be. If dates aren't available when we plan our trip we WILL change them to stay at this fabulous place.
Carl & Shari
2016-12-10T00:00:00Z
Kat and Guy are the ultimate hosts and made my husband and I feel very welcomed. From the moment we stepped into the house to the time we left, they treated us like we were family. They were proactive in making sure we were comfortable at all times, even reminding us of the extra blankets in the closet if we got cold. They set out breakfast for us every morning, and when we came home were interested to hear about our day. To top it off, they invited us to watch the Oscars with them and made us a home cooked meal. They were wonderful and we would stay with them again. The house is also beautiful and their poodle, Mia, is fun to play with!
Michelle
2017-02-27T00:00:00Z
Kathleen's place is lovely. The accomations are at once welcome, warm and beautifully upscale and Kathleen, Guy and Mia made us feel like family. We enjoyed our stay and would love to return soon.
Annie
2017-02-12T00:00:00Z
Τύπος δωματίου
Ιδιωτικό δωμάτιο
---
Τύπος ιδιοκτησίας
Σπίτι
---
Άτομα
2
---
Υπνοδωμάτια
Rancho Mirage, Καλιφόρνια, Ηνωμένες Πολιτείες της Αμερικής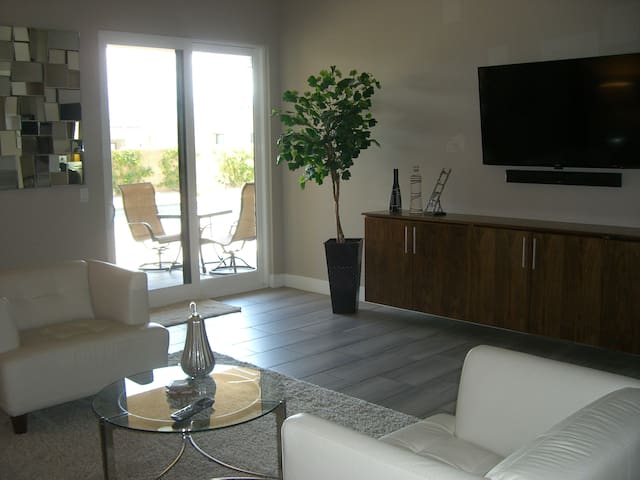 Westin Mission Hills Resort Villas: This room fits 4 comfortably and is located on a beautiful golf course in Rancho Mirage. Room is from our timeshare. More importantly the dates fall in line with Coachella: One-Bedroom Villa, 560 Square Feet Kitchenette is well equipped with a two-burner cooktop, a convection microwave, a full-size refrigerator, a dishwasher, a coffee maker, a toaster, a blender, and dinnerware. A dining table seats four.
This is a hotel we have acquired for a week through our timeshare. Check out their website for more information: (URL HIDDEN)
The Westin is located near the I10 freeway and near ample shopping areas, Costco, Walmart, Movie Theatres, and tons of Dining.
Τύπος δωματίου
Ιδιωτικό δωμάτιο
---
Τύπος ιδιοκτησίας
Κατάλυμα με χρονομεριστική μίσθωση
---
Άτομα
4
---
Υπνοδωμάτια
Rancho Mirage, Καλιφόρνια, Ηνωμένες Πολιτείες της Αμερικής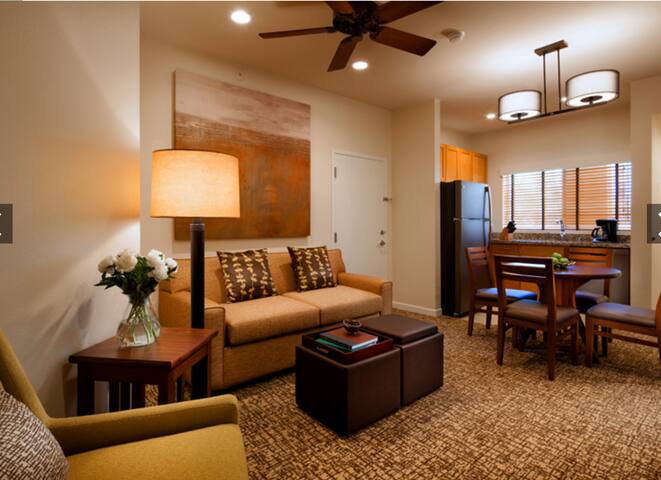 The Westin Mission Hills Resort - This unit is ONLY available the 2nd week of the Coachella Music Festival (April 21 - April 28, 2017). This resort is on the "Any Line Anytime Shuttle" stop. A short drive from downtown Palm Springs, The Westin Mission Hills Villas enjoys a 360-acre setting in Rancho Mirage, surrounded by landscaped courtyards and waterways. The 5-star amenities, include 3 outdoor heated pools, a 60ft waterslide, two 18-hole golf courses, 7 tennis courts, and a fitness center.
The Westin Mission Hills Resort & Villas has been awarded the 2015 CERTIFICATE OF EXCELLENCE HALL OF FAME —TripAdvisor The Westin Mission Hills Resort & Villas is nestled in the Coachella Valley at the base of California's San Jacinto Mountains in the secluded desert oasis known as Rancho Mirage. This world-class golf and spa destination promises infinite rejuvenation. Nearby, a mecca of cultural, historical, shopping and outdoor adventure awaits you. The Westin is an amazing property. Not only is it within 20 minutes of the Coachella Music Festival, it's close to so many other things to do in the Palm Springs area. On top of having world-class amenities it also boasts the Westin Heavenly® Bed. For someone who travels a ton for both work and pleasure having a comfortable bed is a MUST.
Don't miss the Palm Springs Farmers Market on Thursday. Please look up "Village Fest" or the "Palm Springs Farmers Market" on the Internet to find information on this fun activity.
Τύπος δωματίου
Ολόκληρο σπίτι/διαμέρισμα
---
Τύπος ιδιοκτησίας
Συγκρότημα κατοικιών
---
Άτομα
4
---
Υπνοδωμάτια
Rancho Mirage, Καλιφόρνια, Ηνωμένες Πολιτείες της Αμερικής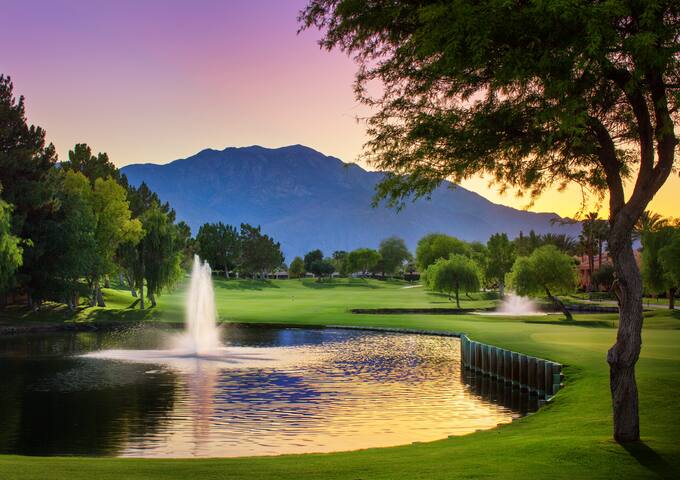 1

–

18

από

Πάνω από 300 ενοικιαζόμενα
Εισάγετε ημερομηνίες για να δείτε τις πλήρεις τιμές. Ισχύουν πρόσθετες χρεώσεις. Ενδέχεται να προστεθούν φόροι.
Χώροι σε κοντινή απόσταση: