The location was beautiful and the property had everything available you could want. It was very clean. We hope to stay there next visit. Oh, and the beds are unbelievable comfortable!
Sue
2016-10-17T00:00:00Z
we enjoyed our stay!
Derek
2017-04-09T00:00:00Z
Mary was an amazing hostess! She was very responsive to emails and had the keys waiting for us at the property upon arrival as well as a nice bottle of red wine! We also had coffee, creamer, bottled water and cereal for breakfast the next morning. Very accommodating. The house was beautiful and even better than the description, and the view of the mountains breathtaking!! Thank you so much! We can't wait to come back!
Anne
2016-11-06T00:00:00Z
Mary was an excellent hostess and was very accommodating. The house was clean and comfortable and was the perfect place for a New Years get away with friends!
Caitlyn
2017-01-01T00:00:00Z
We had a great time at Mary's! She was easy to get in touch with and made sure everything was ready to go :)
Juliet
2017-02-19T00:00:00Z
Τύπος δωματίου
Ολόκληρο σπίτι/διαμέρισμα
---
Τύπος ιδιοκτησίας
Σπίτι
---
Άτομα
14
---
Υπνοδωμάτια
Montreat, Βόρεια Καρολίνα, Ηνωμένες Πολιτείες της Αμερικής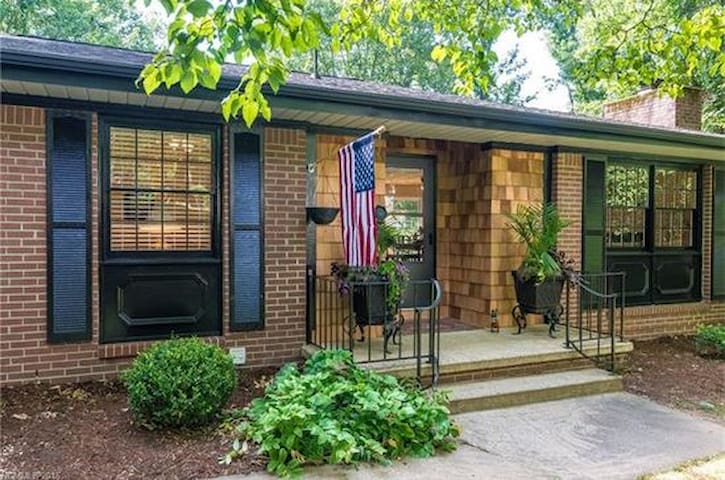 Τύπος δωματίου
Ολόκληρο σπίτι/διαμέρισμα
---
Τύπος ιδιοκτησίας
Σπίτι
---
Άτομα
4
---
Υπνοδωμάτια
Montreat, Βόρεια Καρολίνα, Ηνωμένες Πολιτείες της Αμερικής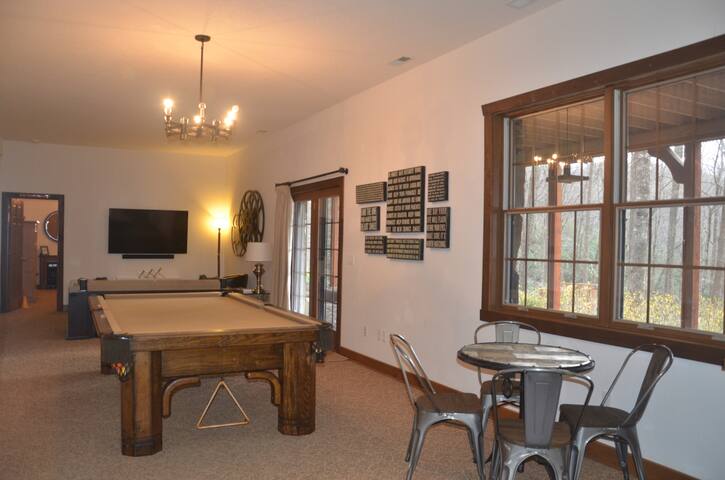 Τύπος δωματίου
Ολόκληρο σπίτι/διαμέρισμα
---
Τύπος ιδιοκτησίας
Σπίτι
---
Άτομα
12
---
Υπνοδωμάτια
Montreat, Βόρεια Καρολίνα, Ηνωμένες Πολιτείες της Αμερικής
Vores søde og hyggelige lille hus er den perfekte bjerg flugt med et unikt twist. Det komfortabelt sover to, har fuld adgang til en 6 personers boblebad og er gåafstand til fantastiske vandrestier. En 5 minutters kørsel til centrum Black Mountain og 17 miles til Asheville.
Du vil elske opholder sig i vores hyggelige lille hus! Rummet er så indbydende og tilbyder en unik stil til dit ophold. Der er en dronning seng, der komfortabelt sover to, en mini køkken med en fuld vask, et lille køleskab, en varmeplade for at udarbejde enkle måltider, en brødrister og en kaffemaskine til din bekvemmelighed. Vi leverer gourmet kaffe og flødekande sammen med små Morgenmad varer. Nyd at tage brusere i vores udendørs bruser omgivet af blåbær, vinranker og smukke bjergluft. Som en side bemærkning bruseren er ikke tilgængelig i vinteren indefrysning temperaturer, som vi ikke kan køre det uden rørene frysning. Men velkommen til at tage en dukkert i boblebadet at slappe af og slappe af, mens stjerne stirrede eller nyde den omgivende skønhed af bjergene. Der er et stort dæk omkring den lille hus for at hænge ud og nyde tid udenfor, grille ude, eller har et glas vin og bare nyde brisen. Der er også en picnic bord og udendørs brand pit og opholdsstue med hængende lanterner og tiki fakler. På din anmodning vil vi oprette en brand for dig og give pejsebrænde. Kom slappe af og nyde din unikke bjerg flugt! Vi ser frem til at høre fra dig!
Vores kvarter er fantastisk, og vi tror, du vil elske det også! Den lille Huset ligger på en halv acre parti, sammen med hovedhuset. Gaden, der kører foran er en blindgyde, så der er lidt at ingen trafik. Du kan gå lige ud af det lille gule dør og hovedet ind i bjergene på vandrestier, der vil tage dig så langt som Mount Mitchell hvis du føler eventyrlystne. Eller gå til enden af gaden og hovedet ud på sporet for en 30 minutters vandretur til toppen af Rattlesnake Mountain for en betagende 360 graders udsigt over de majestætiske bjerge omkring. Der er også masser af mountainbike stier tæt ved samt en flot brolagt tur, hvis du foretrækker det, ned den gamle vejafgift vej med smuk udsigt hele vejen. Alt dette er tilgængelig uden nogensinde selv at skulle hoppe i bilen! Kvarteret er nem adgang til Interstate 40, hvor du kan hoppe på og tage en 17 mile drive i downtown Asheville for ALLE denne fantastiske by har at byde på eller være i downtown Black Mountain i mindre end 5 minutter.
This home is incredibly cozy and clean. The bed was extremely comfortable, and I love all the details. Jamie was very communicative and flexible with us, and seemed like a very interesting and kind person. Thanks again for everything!
Ella
2017-01-15T00:00:00Z
My husband and I loved staying in this tiny cabin! Such a fun experience. We most definitely recommend it!
Victoria
2017-03-12T00:00:00Z
What a cozy, homey, and CUTE tiny house! Loved the hot plate and coffee pot as options to heat up our leftovers as a meal, and appreciated the comfy bed, just-right hot tub, and views from the porch during breakfast! Hope to come again!
Sarah
2017-02-12T00:00:00Z
This place is so amazing and cozy! It's just the right size for a small trip for two. The hottub perk after long cold hikes was the best! Jamie was super attentive and helpful. I would absolutely recommend this place for anyone to stay!
Kayleigh
2016-12-15T00:00:00Z
We had a great stay. Sucks that we couldn't get the hot tub to the operating temperature. Would love to see this place in the snow. Thanks again
Aaron
2016-12-11T00:00:00Z
Great cozy tiny home with soft sheets, towels, hot tub- great sense of privacy and a very accommodating hostess!
Rachel
2016-12-17T00:00:00Z
Very cozy! Absolutely would stay again. Perfect for a couple's getaway.
Shelby
2017-02-15T00:00:00Z
We had a great night at this tiny house. The place was warm when we walked in and very cozy. The hot tub was very relaxing and then exhilarating as it was in the 20s when we got out. Wish we could have stayed our second night but had to leave because of snow and we had our children staying with there aunt adout 30 min away but jamie was very cooperative and understood our situation. Thank you for a great night Jamie
Brad
2017-01-07T00:00:00Z
Τύπος δωματίου
Ολόκληρο σπίτι/διαμέρισμα
---
Τύπος ιδιοκτησίας
Σπίτι
---
Άτομα
2
---
Υπνοδωμάτια
Black Mountain, Βόρεια Καρολίνα, Ηνωμένες Πολιτείες της Αμερικής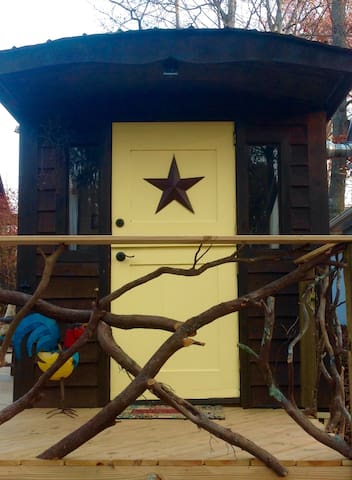 Dit is een lichte en heldere traditioneel ingerichte kamer gelegen op de tweede verdieping van ons huis. Het kijkt uit op een mooi uitzicht op een berg ridgeline. Uw bad is een vol met bad en douche. De antieke spoel bed heeft een comfortabele matras en schone handdoeken worden dagelijks verstrekt, indien u dat wenst. Je hebt een groot tv-scherm met satelliet-dienst - een veelheid kanalen. Wifi dienst wordt verricht. Redelijk geprijsd therapeutische massage wordt aangeboden op het terrein van Carol. We zijn een paar, zowel in onze late jaren zestig, in goede gezondheid. We lopen dagelijks, rijden fietsen sommige dagen, doen aquarobics op een nabijgelegen health club, en vrijwilligerswerk in de gemeenschap. We hebben allebei rustig laat lezen in de nacht, zodat het huis wordt meestal rustig vroeg. We zullen geen ontbijt, maar u kunt spullen stash in onze tweede koelkast en gebruik maken van onze wasmachine en droger als je wilt. U zult genieten van de winkels op de nabijgelegen Cherry Street en daarbuiten. Kunsten en ambachten zijn hier overvloedig in Black Mountain en de rest van de bergen. Wij zijn een halve mijl van een I-40 on-ramp. I-40 geeft u een korte rit naar het westen in Asheville. Verkeer in Black Mountain is meestal vrij gemakkelijk te navigeren en de meeste bezienswaardigheden van de stad bevinden zich op wandelafstand van ons huis. Twee straten verderop, is er een boerderij tot bord restaurant, zeer schilderachtig en ouderwets genoemd Louise voor oma van de eigenaar. Ze serveren dynamiet koffie die eindeloos voor u is uitgestort zodra u de eerste kop hebt gekocht. Een blok verderop is een pizza restaurant genaamd The Mill, met een full-sized molen wiel aan de zijkant van het gebouw - eigenaar Jay maakt uitzonderlijk goede pizza, we denken. Een full-service health food winkel is twee-en-een-half straten verderop. Black Mountain is een juweel van een stad. We kozen het 25 jaar geleden en liefde noemen het ons huis. Kom kijken hoe het is. Het is waarschijnlijk dat je het leuk vindt, ook.
Jim and Carols place is a real delight! We also loved Black Mountain and the surrounding areas.
Troy
2017-03-07T00:00:00Z
Back for another visit, and Carol and Jim were very warm, welcoming and gracious. As before, everything was very clean and comfortable. After my last stay, I had suggested that a window fan would be helpful for cooling the room at bed time, and there is now a fan in the room.
Linda
2014-05-14T00:00:00Z
What a charming stay in a house that is steps from a quaint town. Jim and Carol have friendly dogs & cats which greet you over coffee in the morning. It was lovely to meet their friends, other guests and feel right at home. One can easily walk to town of Black Mtn for groceries, a great meal out, local fun. Also a lake walk nearby and easy driving distance to Biltmore, etc..Check out Grove Hotel! *Bonus - Book Carol or whomever she suggests for a Massage when you stay.
Lee
2016-03-31T00:00:00Z
Every thing was as described. It was basically like being at home and the bed was super comfortable.
Trey
2017-03-12T00:00:00Z
Great location right off of I-40 only 15 minutes from Asheville and in walking distance of Beautiful downtown Black Mountain. Very clean, prompt communication and easy to check in (even late). Recommended!
Chris & Jana
2017-03-26T00:00:00Z
Jim and Carol's home is in a perfect location for easily exploring Black Mountain. The room was large and comfortable, with the bathroom conveniently across the hall. Communication was easy and readily available for any questions. We took them up on both dining recommendation's and thoroughly enjoyed Louise's for breakfast and the Mill for pizza. I was sorry Carol was out of town during our stay because I sure could have used one of her massages after climbing over 1000 steps at Chimney Rock! Thanks, Jim and Carol, we will be back! Oh, and your gardens are beautiful.
Kathy
2016-05-14T00:00:00Z
It was a great 3-night stay at Jim and Carol's. I slept like a baby, which is unusual. We walked everywhere the first night and next day. Their place is so convenient to so much in Black Mountain (Fresh, Dobra, Trail's End, museum, health food store, Louise's, organic tea store, hiking store, Whitehorse, etc). And, in easy driving distance, Asheville offered a couple of dining experiences and an outdoor drama at an amphitheater in the Montford area. We enjoyed being able to meet Asheville friends, while being just a short drive down the highway. Jim and Carol are friendly, kind and go of their way to accomodate. We will be back this year, at least once.
Rachel
2014-04-28T00:00:00Z
Jim&Carol were so nice with us! We missed more time in their home as we felt they are very interesting people. The house is beautiful with a lovely garden and beautiful views to the mountains and the incredible nature around. We recomend this place for sure! thanks again for your kindness!!! ☆
Esti
2016-08-03T00:00:00Z
Τύπος δωματίου
Ιδιωτικό δωμάτιο
---
Τύπος ιδιοκτησίας
Σπίτι
---
Άτομα
2
---
Υπνοδωμάτια
Black Mountain, Βόρεια Καρολίνα, Ηνωμένες Πολιτείες της Αμερικής
Well, let's just say I wish our stay could have been longer! The space was wonderful; it was comfortable, cozy, spacious, and adorable. We were warmly welcomed and will definitely return.
Cecile
2016-03-18T00:00:00Z
This is a cozy apartment above a very nice specialty market with an attached restaurant which is open for breakfast. The apartment is well-appointed and the host was very thoughtful in setting it up with a refrigerator, a stove and plenty of cooking utensils,pots, pans, etc. The bed was very comfortable. We enjoyed the sound of the train whistle and the rattle of the cars as they passed nearby. The location is very convenient to the main shopping area of Black Mountain which is within easy walking distance. Asheville is a short drive away.
Don
2016-07-11T00:00:00Z
Perfect place to stay! Comfy and close to everything. We were only in the place for a short time but will keep it on the plans for a return trip!
Denise
2016-08-07T00:00:00Z
Great place! Cozy, and relaxing are two ways to describe this place. The Juice Box (provides breakfast) has great breakfast. Kyle was very responsive with any of our needs. I will recommend for others to stay here. Hopefully we can return sometime!
Nate
2016-12-17T00:00:00Z
The absolute ideal Airbnb experience! Very cozy place with cabin-ey feel, amazing location for hiking, yoga, tea, and Asheville visits, and also very convenient access to parking and food (the hosts own a market downstairs). The hosts were very kind, just like everyone else in the area, and they were very responsive/helpful with all of our needs. Would absolutely recommend this place - in fact, we are hoping to return for another stay in the future!!
Joe
2016-01-10T00:00:00Z
As cute & cozy as it looks! The place was spotless, easy to find, and very quiet, especially at night, making it feel more remote than it actually is, which we loved. The train wasn't bad at all. The best part is how walkable it is to everything, and right off I-40. Really enjoyed our stay here and will remember this place for future mountain excursions.
Molly
2016-11-26T00:00:00Z
We decided to stop and stay in Black Mountain on a whim. We found and booked this property on a very short notice and Kyle was great. The property was clean and walking distance to everything.
Adam
2016-08-09T00:00:00Z
A clean, cozy place within easy walking distance to the downtown area. Love the market, the gardens, the chair hammocks, the chickens clucking about, and the very comfortable bed to rest in. The nightly train was no big deal. Quiet neighborhood as well. Really enjoyed being there.
Cheryl
2017-04-02T00:00:00Z
Τύπος δωματίου
Ολόκληρο σπίτι/διαμέρισμα
---
Τύπος ιδιοκτησίας
Σπίτι
---
Άτομα
3
---
Υπνοδωμάτια
Black Mountain, Βόρεια Καρολίνα, Ηνωμένες Πολιτείες της Αμερικής
2016 construyeron distancia hostal a pie del centro. acogedor dormitorio con cama de matrimonio. Plan de piso abierto con cocina completa y sala de estar con sofá cama doble. Wifi, 46" TV con reproductor de Blu-Ray y el cable. Fogata al aire libre. A pie del centro de compras, restaurantes, senderos de vías verdes, y el golf del disco volador. 20 minutos en coche del centro de Asheville.
Die Wohnung wurde gerade im Dezember abgeschlossen, 2016 und mit Airbnb im Verstand errichtet. Die voll ausgestattete Küche, Couch, TV, und Queen-Bett machen es zu einem bequemen Platz zu bleiben, wenn Sie im Spiel bleiben zu entscheiden. Die Küche verfügt über einen 4-Top-Tisch, Kaffeemaschine, Herd, Backofen, Mikrowelle, Geschirrspüler und Kühlschrank. Es gibt Töpfe, Pfannen, Geschirr und Besteck. Das Wohnzimmer verfügt über einen 46-Zoll-HDTV, Amazon Firestick mit Streaming-Video, Blu-ray-Player und Schlafsofa Queen-Size. Schauen Sie sich die Bücherregal für Bücher, lokale Informationen und Gesellschaftsspiele. Das Schlafzimmer hat ein Queen-Size-Bett, schnurlos schwarz-out Schattierungen, Wecker mit USB-Lade Ports und Schrank mit Kleiderbügeln und Aufbewahrungsmöbeln. Pack & Play verfügbar auf Anfrage für Gäste mit Kleinkindern reisen. Das Bad ist mit Abluftventilator, Hitze, gefliest und mit Seife, Shampoo, Conditioner, das Gesicht zu waschen, Lotion und einem Erste-Hilfe-Kit ausgestattet.
Unsere Nachbarschaft ist in der perfekten Lage, um alles zu Fuß erreichen, die erforderlich ist, ob es Einkaufsmöglichkeiten, Restaurants, Lebensmittelgeschäft, ein Café oder Eis! Es wird auch auf die Oaks Trail, einem Frisbee-Golfplatz, und die Montreat College-Leichtathletik-Gelände zu Fuß erreichbar. Wenn Sie in Biken sind, es auch bequem auf dem Highway zu reiten 9 auf der Straße oder in Montreat oder Kitsuma Trail für Mountainbike-Enthusiasten. Es ist nur eine kurze Fahrt zu Montreat, wo es große Wanderungen ist.
Loved the place, very comfortable and great location to Black Mountain and Asheville!
Jessica
2017-03-31T00:00:00Z
This was by far our favorite Airbnb experience. Corey thought of everything; the space was stocked with all that we needed, including a sweet New Year gift of champagne. Checking in was very easy, and she was easy to communicate with during our stay when we had questions. The Birds Nest is steps away from cute shops and restaurants of Black Mountain and a quick 15-minute drive to Asheville. Gas stations and a grocery store are also super close, and the listing is right off of the interstate. Everything is just as pictures show: bright, clean and cozy! We'll definitely be back!
Tanisha
2017-01-01T00:00:00Z
The Bird's Nest was perfectly located and had everything we needed! Very clean and updated. Would definitely stay here again.
Tiffany
2016-12-29T00:00:00Z
The Bird's Nest is ideal. It's quiet and cozy and only a short walk away from downtown Black Mountain. The details in the apartment were plentiful, from a stocked snack cabinet, coffee, hot tea, juice, sparkling water, lots of towels, shampoo, conditioner, tooth brushes, floss..I mean Corey and Theo didn't skip any of the details. Not to mention the delicious, surprise birthday cupcake they had waiting for me in the fridge when I checked in. I highly recommend this location and feel like I got more than my money's worth. I'll be back if they'll have me!
Katie
2017-02-12T00:00:00Z
Corey's place is warm, welcoming, and exactly what an Air BnB should be. She thought of everything, down to coffee, snacks, and plenty of extra blankets. Check in was easy and we felt very comfortable in this little cottage. We hope to come back soon!
Angela
2017-03-16T00:00:00Z
Nice location. Quiet setting. Corey provided everything we needed for a quick stay in Black Mountain. My kids were thrilled with the books and blocks as well as a snack when we checked in.
Danelle
2017-04-01T00:00:00Z
A cute and quiet space minutes away from great hiking and a short drive from downtown Asheville. We very much enjoyed our time and would stay here again!
Christopher
2017-03-04T00:00:00Z
This apartment was adorable and extremely well kept. Everything was already there for us and Corey left little notes around the apartment telling us where everything was stored. The bed is so comfortable and the apartment is well decorated and modern as well! Easy to access off the highway and there's even a "guest parking" spot. Absolutely enjoyed our stay here!
Morgan
2017-01-15T00:00:00Z
Τύπος δωματίου
Ολόκληρο σπίτι/διαμέρισμα
---
Τύπος ιδιοκτησίας
Σπίτι
---
Άτομα
4
---
Υπνοδωμάτια
Black Mountain, Βόρεια Καρολίνα, Ηνωμένες Πολιτείες της Αμερικής
Ubicado en una zona residencial segura esta casa es completamente nuevo (2016), impecablemente limpio, bellamente decoradas de forma cómoda para su placer. Alta velocidad Wi-Fi, Internet y televisión por cable, todo incluido. Casa en la Quinta es corto paseo hasta el pueblo de Cerro Negro, restaurantes, tiendas, parques y bares .. La casa es bueno para parejas, viajes de negocios y aventureros en solitario.
Brenda was very accomodating and her cozy cottage is well equipped. Great place for a weekend retreat, to come "home" to after a 10k run on Saturday and long, tiring (but rewarding!) hike up Mt Mitchell on Sunday!!
Megan
2017-04-10T00:00:00Z
Brenda and her cottage were both fantastic! Great location, has everything you could ask for, and very comfortable! Couldn't have asked for more.
Brendan
2017-02-18T00:00:00Z
Brenda's backyard cottage is the coziest place for a getaway. Very easily walk to downtown Black Mountain for food and entertainment. Walk or drive to Lake Tomahawk. 5 minute drive to Montreat. Or just stay in, read, drink coffee, listen to the bluebirds, and enjoy relaxing. Brenda is as sweet as they come and was so kind and welcoming. Would recommend this cottage to friends!
Katherine
2017-02-05T00:00:00Z
Brenda has created a very comfortable place to stay. The bed was super cozy and the shower was awesome. Great location for traveling into Asheville and the cute downtown Black Mountain area is within walking distance and worth a visit.
Mike and Mel
2017-03-26T00:00:00Z
Brenda is a gem like the cottage she offers! The cottage is beautiful and offers everthing you could need! We walked downtown for delectable meals. We drove a short distance to Asheville and Catawba Falls for a splendid hike! You could not beat the price and location for a romantic getaway!
Hannah Ruth
2017-02-12T00:00:00Z
Loved my stay in this little cottage. My trip was cut short by a snowstorm and Brenda was very understanding! Would love to come back and stay for a longer time in the future!
Rachel
2017-03-11T00:00:00Z
This place is charming & has everything you need. Brenda did s great job putting her cottage together.
Don
2017-03-09T00:00:00Z
Black Mountain is a great place to come for a weekend away. There is much beauty in the area and The cottage on 5th is an excellent place to stay to access Black Mountain and even Asheville. Brenda the owner has a great little place to stay, she goes above and beyond to be a great host. The cottage has all you need, it is nicely decorated. Be sure to ask her tips on places to eat and the surrounding area. This is one great thing about using this service, you can get the scoop on the local places to go. This is by far a great value for the price and when we are in the area again you can bet we will check availability for the Cottage on 5th.
Nathan
2017-03-05T00:00:00Z
Τύπος δωματίου
Ολόκληρο σπίτι/διαμέρισμα
---
Τύπος ιδιοκτησίας
Ξενώνας
---
Άτομα
2
---
Υπνοδωμάτια
Black Mountain, Βόρεια Καρολίνα, Ηνωμένες Πολιτείες της Αμερικής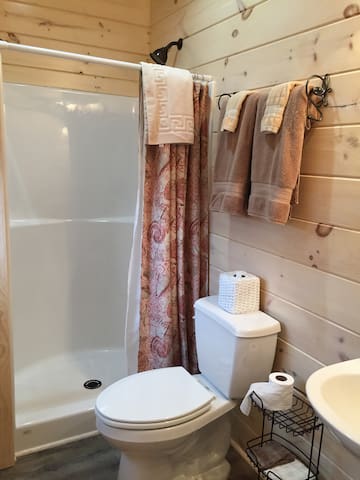 My boyfriend and I stayed here for a couple nights over spring break! We loved hiking in Montreat and Black Mountain is such an easy drive to Asheville that we got to experience the city and the breweries without having to pay city prices. We loved having this little loft to come back to at night. It was super comfy and even nicer than the pictures show!
Delaney
2017-03-18T00:00:00Z
The Loft was wonderful! It was so clean, and the hosts were so sweet. We were close to both hiking and Asheville. We loved staying here!
Hannah
2017-03-22T00:00:00Z
We enjoyed the privacy staying at The Loft gave us and the ability to be in town in five minutes. Black Mountain is a quaint town that was perfect for our three night stay.
Marie
2017-03-15T00:00:00Z
Great place, clean, comfortable, and Angie was always available to answer any questions we had, quickly. Driving downtown was a quick trip and just a few miles away. Quiet location. Thanks for the hospitality!
leigh ann
2017-04-04T00:00:00Z
Angela and Cas were fantastic hosts, and The Loft is a great little spot!
Jordan
2017-01-02T00:00:00Z
Great stay. Loved the roosters.
Julia
2016-12-26T00:00:00Z
Angela took special care to send me exact directions. I'm not sure I'd have found the place without them. It was as advertised, and perfect for three nights with my son. Clean, comfortable, well appointed. We'll be back.
paul
2014-08-04T00:00:00Z
The apartment was ideal for my husband and me. It being on the second floor gives it the lovely feeling of being up in the trees. The little balcony is private and scenic. Because it's located so conveniently close to Black Mountain, traveling to town or Asheville was easy. Angela had paid attention to every detail in the items provided for our stay - we had everything we needed. The place was clean and tidy. If we were to come back to Black Mountain, we'd try to book it again.
Rachel
2014-10-13T00:00:00Z
Τύπος δωματίου
Ολόκληρο σπίτι/διαμέρισμα
---
Τύπος ιδιοκτησίας
Σπίτι
---
Άτομα
2
---
Υπνοδωμάτια
Black Mountain, Βόρεια Καρολίνα, Ηνωμένες Πολιτείες της Αμερικής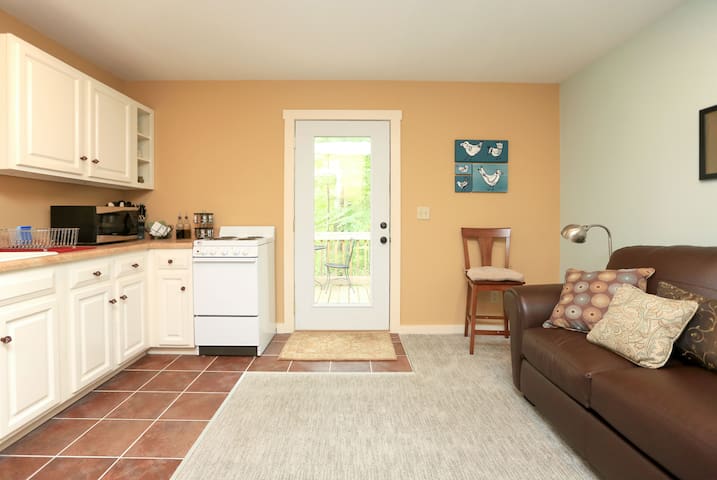 Hannah & Sam are a delightful young couple and we enjoyed out brief stay with them. The room was cozy yet comfortable, clean and they provided extra amenities such as toiletries, breakfast goodies and fresh eggs from their beautiful chickens! Upon arrival, they met us outside and quickly made us at home and treated us as guest. We would definitely stay with them again. Pam and Rob
Pamela
2016-09-11T00:00:00Z
Great experience. The hosts made banana bread. It was delicious.
krishna
2016-09-19T00:00:00Z
Sam and Hanna were lovely hosts, clean/cozy lodgings, and the breakfast spread was incredible! This was our first Airbnb experience and it couldn't have gone any smoother. Thank you, Sam and Hanna!
Calli
2016-09-03T00:00:00Z
I would definitely recommend staying at Hannah & Sam's place! Not only was it a great value, but it was clean and inviting. The hosts had suggestions for entertainment and even offered us breakfast food before we departed in the morning. It was about a 15-20 minute drive to downtown Asheville which was perfect for us. The bed was comfortable and the room was very clean and quaint. Combined with the friendly hosts, these things definitely made it a great stay!
Stephanie
2016-10-02T00:00:00Z
My friend and I had a wonderful experience staying with Hannah and Sam. They were very helpful and welcoming. You can tell that they are very experienced with hosting because they have all the amenities you could need. We didn't have to ask for anything that wasn't already there. They had it all covered. Overall, it was a great stay!
Natalie
2016-10-15T00:00:00Z
Sam and Hannah were really great! Hannah stayed up to make sure my friend and I made it in safely which was really nice. The next morning, we woke up to muffins and coffee. There is no A/C, but it did not matter in the slightest. We fed their chickens right before we left, and Sam even let me hold one! Needless to say, the next time we go to Black Mountain, we are booking with Sam and Hannah again!
Abigail
2016-10-29T00:00:00Z
House was cute, chickens were very cute! Hosts were very kind and very organized. Sam and Hannah were very considerate of our privacy. House a little difficult to find but I think that was the apps fault.
Claire
2017-03-26T00:00:00Z
This a basic room that is price competitive for the area. It is located about 1.5 miles from the center of Black Mountain. It is also less than 20 mins from downtown Asheville. The hosts are very generous. They provide free breakfast to their guests. They also offered me dinner both days I stayed which was beyond necessary. To put it simply, Hannah and Sam are friendly, caring and thoughtful people.
Kurt
2017-02-26T00:00:00Z
Τύπος δωματίου
Ιδιωτικό δωμάτιο
---
Τύπος ιδιοκτησίας
Σπίτι
---
Άτομα
2
---
Υπνοδωμάτια
Black Mountain, Βόρεια Καρολίνα, Ηνωμένες Πολιτείες της Αμερικής
Près de Montreat College, Black Mountain, Asheville. Ma place est bonne pour les couples, les aventuriers en solo, et les voyageurs d'affaires.
Une grande chambre principale, cuisine cuisine et salle de séjour spacieuse. Il y a une cuisinière, un four et un petit réfrigérateur. Assiettes, bols, verres et l'argenterie sont disponibles.
Nous sommes juste à partir Montreat College et entourés par Pisgah National Forrest. Il y a des sentiers de randonnée et un terrain de jeu fabuleux à proximité. Et dans la rue dans la Montagne Noire, la nourriture, la boisson et le shopping sont abondants et excellent.
This place is great. It's walkable to Montreat college and conference center, as long as you don't mind the short hike back up. The space is large and well maintained. I wish I would have gotten to spend more time there. Also the view in the morning is fantastic!
Jonathan & Allison
2017-03-10T00:00:00Z
Really nice place! Honestly, I don't think the pictures do just it justice. The living room is so cozy! There a lots of big windows that let in natural lighting - beautiful! The location is great. Small, quaint, and in the middle of the Montreat mountains. I loved waking seeing the fog and all of the trees. Yes, this place is certainly cozy!
Ainsley
2017-03-25T00:00:00Z
This is a great place to stay. I have been going to Montreat for many,many years and if you love Montreat you will love this place.
Marmie
2017-02-25T00:00:00Z
A lovely room, with lots of living space. Very quiet.
John
2017-03-19T00:00:00Z
Really worth
Kenji
2017-03-14T00:00:00Z
Not for old people!
Dan
2017-04-08T00:00:00Z
It is a great place especially for the value! Quiet, peaceful, and perfect for a getaway to the mountains!
Jeanne
2017-03-06T00:00:00Z
Great visit in black mountain! Place us rustic and cozy. Space for several people.
Tracy
2017-02-19T00:00:00Z
Τύπος δωματίου
Ιδιωτικό δωμάτιο
---
Τύπος ιδιοκτησίας
Σπίτι
---
Άτομα
2
---
Υπνοδωμάτια
Black Mountain, Βόρεια Καρολίνα, Ηνωμένες Πολιτείες της Αμερικής
We enjoyed our quick stay. Great host!!
Tara
2017-03-26T00:00:00Z
Close to the downtown area, very pet friendly.
Amanda
2017-04-02T00:00:00Z
Τύπος δωματίου
Ολόκληρο σπίτι/διαμέρισμα
---
Τύπος ιδιοκτησίας
Σπίτι
---
Άτομα
4
---
Υπνοδωμάτια
Black Mountain, Βόρεια Καρολίνα, Ηνωμένες Πολιτείες της Αμερικής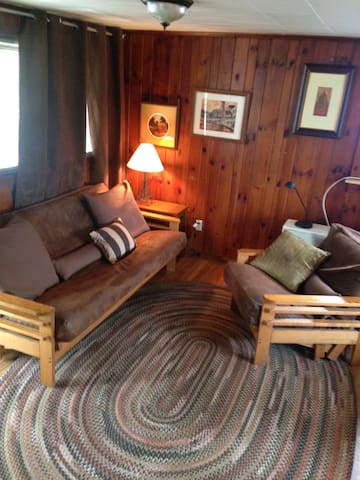 My stay at Joshua's place was my first airbnb experience. The house is in a great location to explore downtown Black Mountain by foot and a good central location to explore nearby hiking/mt. biking. We loved the open concept and the large front porch. We did not meet the host in person, but he was quick to respond to any messages/texts, had wine and coffee as a welcome gift when we reached the house and offered great suggestions for activities to do in the area. We would definitely stay again if we visit the area.
Sarah
2017-04-02T00:00:00Z
The host canceled this reservation 71 days before arrival. This is an automated posting.
Blake
2017-03-23T00:00:00Z
Τύπος δωματίου
Ολόκληρο σπίτι/διαμέρισμα
---
Τύπος ιδιοκτησίας
Σπίτι
---
Άτομα
6
---
Υπνοδωμάτια
Black Mountain, Βόρεια Καρολίνα, Ηνωμένες Πολιτείες της Αμερικής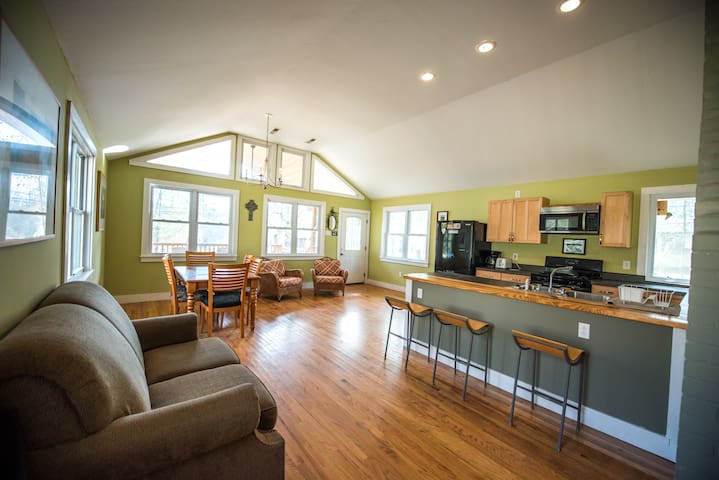 Tämä pieni mökki tuntuu kesäleirillä. Se istuu metsässä kuin leirin mökki mutta on jotain nämä vanhat oksainen mänty seinät, että juuri tuo takaisin. Mielestämme on tärkeää nukkua hyvin. Meillä on mukava (Casper patja) parivuode (mitään, kuten sängyn kesäleirillä) ja suuri tyynyt. Olemme vain kahden korttelin päässä keskustasta Black Mountain upeita ravintoloita, ihana kahvila, ja herkullista jäätelöä. Olemme myös vain viiden minuutin ajomatkan päässä vaellus Montreat
Meidän mökki sijaitsee takana autotalli ja metsässä. Se on hyvin erillään ja on tunne yksityisyyden ja vetäytyä.
Asumme pienessä historiallisella alueella Black Mountain, joka tekee meistä hyvin lähellä kaikkia asioita, jotka tekevät Black Mountain ainutlaatuinen.
This is an absolutely charming Black Mountain getaway -- roomy but snug, plus Barb and Bill are *the nicest* hosts. (We called about a tiny plumbing issue that cropped up, and it was fixed asap. Very responsive and couldn't have been kinder!) We arrived to find a fire already laid, ready to light, and thoughtful little treats in the fridge (cheese and crackers, plus coffee and creamer for the AM). Loved opening the windows to hear the trees and bugs (another thoughtful touch: they even left us a little bottle of bug spray so we could enjoy sitting outside even more). The cottage is really in a great spot whether you want to hang out in Black Mountain, or run to Asheville for shopping. Mainly, it was so cozy we just enjoyed relaxing on the patio, out by the grill, and -- of course -- lounging on the yes-it-IS-as-comfy-as-it-looks bed!! :)
Kimberly
2016-10-03T00:00:00Z
Great place! Comfy bed! Private and close to everything. Will return. Thank you.
susan
2017-04-02T00:00:00Z
This cottage is homey and the perfect location for getting away. It feels secluded, but you can easily walk into town for food and drinks.
Morgan
2017-02-19T00:00:00Z
This cottage, tucked in the woods, but central to town, is a romantic dream. The host has beautifully updated this charming cottage, yet it has original knotty pine walls, a working stone fireplace, and every amenity one could think of. The host has thought of every detail to make the stay comfortable and fun. This is a very special place, we will be back!
Peter
2017-02-02T00:00:00Z
The cottage was adorable! The patio was really nice and the view was so relaxing. The space was so charming. Reminded me of a lake cottage I used to visit as a child. There are games and neat books about the area. Nice to have a TV mounted on the wall in the bedroom too. :-) Also there is an extensive selection of movies! The couch folds out into a bed if need be too. Thank you Barb for leaving goodies in the fridge! So sweet! Within walking to downtown, which is such a cool place! Really enjoyed our stay at Acorn Cottage!
Terry and Deborah
2016-09-06T00:00:00Z
This was our AirB&B experience and was fantastic. We highly recommend Acorn Cottage. Great accommodations for relaxation and convenient to town or a stroll around the neighborhood park and lake.
Scott
2017-03-29T00:00:00Z
Can't say enough great things about our stay at Acorn Cottage. It's a well-appointment & cozy cottage with a great living space and a fabulous king bed. The little details like cheese & crackers in the fridge and coffee from a local coffee roaster made it all the more comfortable for two tired parents on a 48 hr. Kid-free getaway. We can't wait to come back!
Marsha
2017-03-19T00:00:00Z
I highly recommend Acorn Cottage. Excellent location in Black Mtn - walkable to historic downtown where you'll find plenty to do/see/eat. In a cute, woodsy neighborhood. The Cottage is very charming and stylish. Comfortable bed, cozy fireplace, nice furnishings and thoughtful notes placed around the Cottage to make the stay easy and welcoming.
Erica
2017-02-26T00:00:00Z
Τύπος δωματίου
Ολόκληρο σπίτι/διαμέρισμα
---
Τύπος ιδιοκτησίας
Ξενώνας
---
Άτομα
2
---
Υπνοδωμάτια
Black Mountain, Βόρεια Καρολίνα, Ηνωμένες Πολιτείες της Αμερικής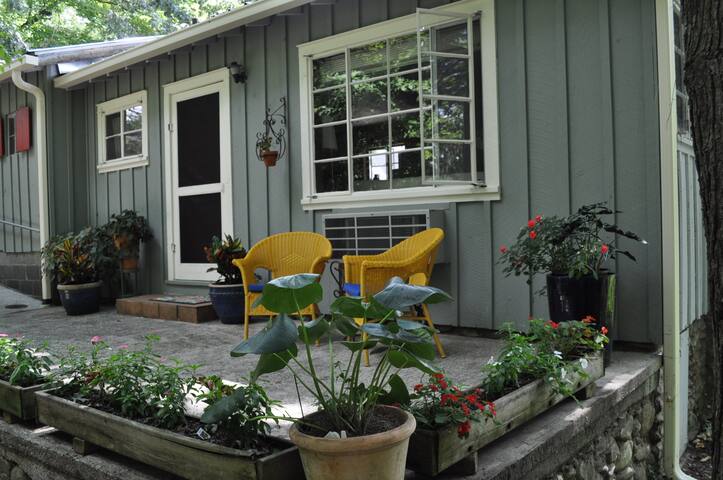 Ann was great and Penelope's place was a nice stay with clean and ample amenities!
Jared
2017-03-25T00:00:00Z
Ann's house is perfect. The pictures do it no justice. Everything is so tasteful. The beds are so comfortable, and the kitchen come equipped with anything you could need to cook. (We made shrimp scampi). Ann even took the time to stick up the fridge with juice and the pantry with snack for us. I could not be more pleased. Do not hesitate to have your stay here at Ann's place.
Samantha
2017-01-15T00:00:00Z
Ann was a great host. We literally had everything we needed & then some. Even a sweet little gift for our baby boy. So worth it! Ann was awesome & we would highly recommend her place! Very close to everything & relaxing place to stay!
Ally
2017-04-08T00:00:00Z
Absolutely exceptional! The place was warm and friendly. Very clean and we were greeted with every amenity we could need! She had breakfast foods, snacks and drinks all ready for us. Large kitchen if you're interested in cooking. Beds were comfy and she had stocked her bathroom with travel size amenities in case you needed anything. Highly recommend! :)
Becca
2016-12-17T00:00:00Z
Ann's place was amazing! She was very hospitable, had everything we needed, and having the two rooms with our two kiddos in tow just made things so much better! Great value all around :-) will definitely try to get there again soon
Samantha
2017-02-25T00:00:00Z
Ann was an extraordinary hostess with the mostess! We both appreciated every bit of detail with the snacks, food, drinks, maps, soaps and even a bottle of wine! To top it off she even thought of Christmas goodies. So thoughtful. Ann creates lasting memories in a home away from home. Such a pretty, clean place with everything we needed and then some!
Linda
2016-12-26T00:00:00Z
Fantastic, clean, modern, well-appointed place! The host was welcoming & available, but gave us our space. Lots of thoughtful "extras" were provided - snacks, toiletries, and even some blueberry bread for breakfast. We enjoyed a gorgeous sunrise from our patio. The location is close (but a bit long for a casual walk) to the adorable shops in downtown Black Mountain, we enjoyed a concert at Pisgah Brewing, and a short hop into Asheville. The mountain scenery is stunning. We'll be staying here again!
Christine
2017-02-18T00:00:00Z
Ann's place was absolutely perfect for our two day stay in Black mountain. Close to downtown and Montreat, the space was in a great location and easy to access. Ann stocked the kitchen with snacks and provided kid friendly treats. We highly recommend her space!
Laura
2017-04-11T00:00:00Z
Τύπος δωματίου
Ολόκληρο σπίτι/διαμέρισμα
---
Τύπος ιδιοκτησίας
Διαμέρισμα
---
Άτομα
4
---
Υπνοδωμάτια
Black Mountain, Βόρεια Καρολίνα, Ηνωμένες Πολιτείες της Αμερικής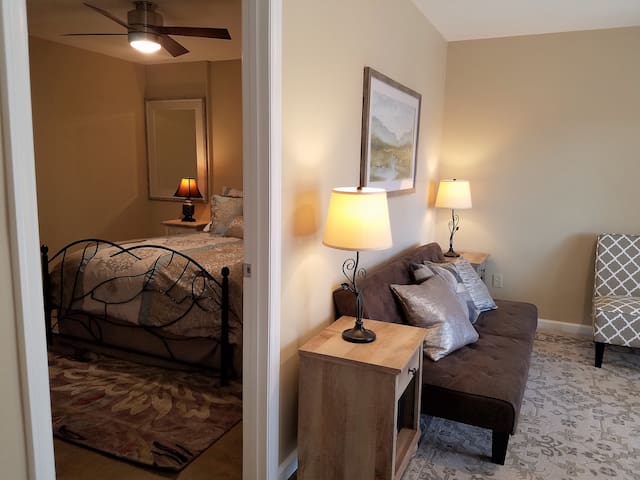 House was super cozy and Elisha was great! Waking up and having coffee (that Elisha provided, big plus!) on the porch listening to the creek was aawesome
Cooper
2016-09-03T00:00:00Z
Elisha's place was clean and cozy. I would recommend it!
kelly
2016-12-30T00:00:00Z
seanery
Edward
2017-01-29T00:00:00Z
Nice spot!
Tyler
2017-01-15T00:00:00Z
This cabin is a perfect base camp for biking in Grandfather Mountain Ranger District, and for a weekend in Black Mountain. There is easy ride-in/ ride-out access to Kitsuma, Star Gap, and Heartbreak Ridge... So once you arrive there's no need to load bikes up again. When not in the Forest, the town of Black Mountain and Pisgah Brewing are only a short drive away. Elisha was a very accommodating host, and her cabin had everything we needed to have a great weekend. I absolutely recommend staying here.
Andrew
2016-08-21T00:00:00Z
Elisha was very pleasant and responsive. Her home is quaint and cozy. The creek was relaxing and the chairs on the porch made for a great place to enjoy the morning/evening air. The bed was very soft and the bed linens could use updating. With two people, you tend to sink and roll to the middle. No linens were provided for the couch, and the towels were not in a visible area. They were stored under the sink and not discovered until our last day there. Fortunately, we brought our own. It is important to note that the shower is a smaller, standup only shower. There is no closet space for guests, no TV, and no internet. There is a large selection of books, but some of them aren't appropriate for younger guests. There were also several bags of trash were piled outside of the backdoor. The home also lacks a traditional coffee pot. This is key for someone needing that morning pick me up. Though there was a french press and hot water carafe, she was nearly out of coffee. We had to shower (3 people) and get out the door to start our day before even getting that daily cup of Joe. Arriving at night, the street is very dark. Elisha's car was left onsite, occupying one of only two parking spaces. The nearby intersection is odd and GPS often fails in the mountains. Her home is almost immediately on your right as soon as you turn on to her street. We initially passed it and looped about before realizing the GPS was having a meltdown. Elisha shared with us her opinion of good places in the area to eat, etc. We did venture to several places in nearby Asheville and a little bit beyond. Looking Glass Falls was an excellent stop we made after checkout on Sunday. Again, Elisha was very pleasant and we did enjoy our stay. This was a first AirBnB for my family and I, and it looks as though we were one of the first guests for Elisha. We hope some of our feedback will help her to improve the experience for others. This is the perfect place for someone looking to "get away from it all." Ideal for taking a weekend, disconnected, with no real agenda.
Shane
2016-08-15T00:00:00Z
We loved our stay at this cabin! It was really quiet and peaceful, and Elisha was responsive to our questions. We would definitely stay here again!
Rebecca
2016-10-09T00:00:00Z
Had a tough time with check in, but otherwise Elisha was a great host. The place was very clean and quiet. Elisha even left eggs and bread in the fridge for breakfast. I would recommend her place for anyone looking for a quiet retreat on Black Mountain.
Erwin
2016-11-12T00:00:00Z
Τύπος δωματίου
Ολόκληρο σπίτι/διαμέρισμα
---
Τύπος ιδιοκτησίας
Σπίτι
---
Άτομα
2
---
Υπνοδωμάτια
Black Mountain, Βόρεια Καρολίνα, Ηνωμένες Πολιτείες της Αμερικής
Τύπος δωματίου
Ολόκληρο σπίτι/διαμέρισμα
---
Τύπος ιδιοκτησίας
Διαμέρισμα
---
Άτομα
4
---
Υπνοδωμάτια
Black Mountain, Βόρεια Καρολίνα, Ηνωμένες Πολιτείες της Αμερικής
Shirley was so pleasant and sweet! She greeted us out front as we pulled in to the very convenient guest parking spot. She led us to our charming cottage and showed us around. We fell in love with the cottage and Shirley immediately! The cottage was clean and just like the pictures we viewed. Shirley's garden area is so beautiful and private and peaceful! She even had a birdhouse complete with baby bluebirds right outside one of the side windows of the cottage for our nature viewing pleasure and education.
Mimi
2016-07-04T00:00:00Z
Great host and lovely cottage! Make sure to plan some time around the Black Mountain area and not just Asheville.
Tanner
2016-12-18T00:00:00Z
Great place to stay!
Tiffany
2017-04-02T00:00:00Z
This was a fantastic experience from the beginning. Shirley was accommodating, friendly and welcoming. She made it clear that she truly cared for us and our comfort. The cottage itself is exactly as beautiful as it is in the pictures. Every detail was in place and perfect. Black Mountain is a beautiful and quiet town with so much charm. It is very walkable and has enough restaurants and things to do to keep you busy for a weekend, however, Asheville is a short drive away down the Interstate. We would definitely stay here again and would recommend it to anyone.
Shawn
2015-08-09T00:00:00Z
Shirley has done a beautiful job making her little cottage a cozy and welcoming place to stay. We were looking forward to walking to restaurants. Instead the weather turned snowy and cold, but the snow highlighted the garden and showed off all her special (URL HIDDEN) was a lovely sight to wake up to snow in the garden. I would love to visit again when the weather is warm and the garden can be fully enjoyed ! Dinner at Thai Basil was yummy as well as Black Mountain Bistro. Black Mountain is a charming quiet town.
Kim
2017-03-12T00:00:00Z
This cottage is by far my favorite Airbnb location. Shirley treats you like family, and helps you setup the cottage for your occasion. I had a big smile before getting there derived from my interaction with Shirley. The location is amazing, and I highly recommend Black Mountain over Asheville should you seek a quiet romantic getaway. The locals are all friendly, and treat you like their own. Lookout Brewery puts out great beer, and had excellent music on Friday night. Fresh Pizza competes, if not surpasses, the high-dollar pizza restaurants in Atlanta. If you are on the fence about booking this cottage, jump on over because you will not regret staying here. We took the short drive to the Biltmore, but forget Asheville, Black Mountain is a better mountain town, and even better when you stay in The Country Girl's Cottage!
Burton
2017-02-19T00:00:00Z
We had a Wonderful stay at country girl cottage! Time spent with family, browsing the local shops and sitting outside at Louis's kitchen for breakfast! Everything was so perfect! Thank you Shirley!We would love to come stay again. Emily and Ted!
Emily
2015-11-06T00:00:00Z
Our trip to Black Mountain and our stay at Shirley's cottage was so lovely! Her cottage is even more than expected - it is immaculately clean, thoughtfully decorated, and so cozy! We loved all the details Shirley had thought of, including fresh flowers in the cottage from her garden, a fire pit which she lit for us one night, and home-made bran muffins for breakfast one morning. The location was excellent, within walking distance of everything in town. Thank you so much for your kindness and hospitality Shirley, we can't wait to come back and stay in your magical cottage!
Caroline
2015-10-17T00:00:00Z
Τύπος δωματίου
Ολόκληρο σπίτι/διαμέρισμα
---
Τύπος ιδιοκτησίας
Μπανγκαλόου
---
Άτομα
2
---
Υπνοδωμάτια
Black Mountain, Βόρεια Καρολίνα, Ηνωμένες Πολιτείες της Αμερικής
1

–

18

από

133 ενοικιαζόμενοι χώροι
Εισάγετε ημερομηνίες για να δείτε τις πλήρεις τιμές. Ισχύουν πρόσθετες χρεώσεις. Ενδέχεται να προστεθούν φόροι.
Χώροι σε κοντινή απόσταση: