Beautiful cottage with 2 bedrooms and WIFI . 5 minutes to the town square. Lovely walled garden with bbq and garden.
Τύπος δωματίου
Ολόκληρο σπίτι/διαμέρισμα
---
Τύπος ιδιοκτησίας
Σπίτι
---
Άτομα
4
---
Υπνοδωμάτια
Alhama de Granada, Andalucía, Ισπανία
Situated in the heart of the historical Arabic quarter overlooked by the impressive 15th century Hospital de la Reina, Casa Isabella is a bigger than average ground floor, one bedroom apartment that has been renovated to a high standard maintaining it´s original charm and character. Casa Isabella covered in terracota floor tiling throughout, and whitewashed walls, consists of a large entrance hall. A spacious living/diner with it´s original wood beamed ceiling and thick stone walls. A typical well equipped Andulician style kitchen, that opens onto a sunny terrace with BBQ and patio furniture for outside dining. There is a good sized bedroom with double bed. A walk in shower and separate W.C. Facilities include free internet, TV with uk freeview channels plus Spanish channels, DVD player and selection of films. Linen and towels provided On stepping out of the apartment we find ourselves in a labyrinth of narrow cobbled streets taking us through the history of the Arabic quarter between it´s houses and monuments: the Cathedral de la Incarnation, Wamba fountain ,the castle……. Lost amongst it´s architecture and alleyways we soon refind ourselves on the path into the impressive gorge with it´s old mills, river and nature in all it´s splendour. On another route we encounter the hot thermal springs which give the Arabic name to this town, located a ten minute stroll away. The main town centre with it´s modern amenities is a 5 minute walk away, banks, shops ,restaurants and numerous bars offering a selection of good wines and drinks served with their delicious complimentary tapas that vary with the proud culinary touch of each bar. In search of relaxation and refreshment we have two public swimming pools, one of which has one of Alhama's best restaurants. There are two spas offering Arabic baths, massages and an array of therapeutic treatments.
Gary was incredibly helpful and the apartment was much more spacious than we were expecting! Perfect for exploring the old town and the amazing gorge!
Richard
2016-08-06T00:00:00Z
Nuestros días en Alhama fueron inolvidables. Gary es una gran persona y nos atendió, desde el primer momento, con gran dedicación y hospitalidad. Su piso es tal y como aparece en las fotos, cuenta con todo lo necesario, y cada espacio ha sido arreglado con esmero. La ubicación es inmejorable. A sólo unos pasos de la Catedral de Alhama y rodeado de antiguos edificios públicos y casas señoriales que bien vale visitar, pues la ciudad de Alhama es un lugar para pasear con calma, disfrutar de su arquitectura y gozar de su tranquilidad. Al mismo tiempo, se puede disfrutar del contacto con la naturaleza y admirar, en «Los Tajos», un paisaje sorprendente. Esperamos volver pronto.
Víctor
2015-07-09T00:00:00Z
Fantastic. Great bloke, great place. Beautiful town. Really enjoyed our stay.
Pueblo
2016-09-02T00:00:00Z
Wonderful stay in Alhama! The place was a wonderful traditional home, it had everything we needed, the kitchen was fully stocked, the shower had great water pressure and lasting hot water. Great location, close to the gorge and plaza constitution. Gary was very helpful and welcoming, we would definitely stay here again!
Mark
2014-04-24T00:00:00Z
Alhama er en fin by at bruge som udgangspunkt både for Vandreture og ture til Alhamra, Malaga og Cordoba. Gary er en informativ og meget venlig vært, og huset levede op til vores forventninger. Sjovt at bo i det arabiske kvarter
Per
2015-11-23T00:00:00Z
Nous avons passé un bon moment chez Gary. L'appartement/maison est idealement situé pour decouvrir la region alentour. Merci a Gary pour ses bons conseils. Nous avons particulierement apprecié le lac de Berjemales. Annabel et Mathieu
Mathieu & Annabel
2016-08-10T00:00:00Z
Apartamento acogedor y bien cuidado, en el corazón del pueblo, zona tranquila, ideal para desconectar, gracias Gary.
Reda
2016-11-01T00:00:00Z
A good spot in the old centre of Alhama, to visit Alhama and surroundings. The gorge is beautiful and a Nice stroll. The kitchen of the appartment has a very Nice atmosphere and gary gave us some good tips and welcomed us in a very hospitable way with a bottle of wine.
Thomas de Jager & Liesbeth Elshoud
2016-07-22T00:00:00Z
Τύπος δωματίου
Ολόκληρο σπίτι/διαμέρισμα
---
Τύπος ιδιοκτησίας
Διαμέρισμα
---
Άτομα
2
---
Υπνοδωμάτια
Alhama de Granada, Ανδαλουσία, Ισπανία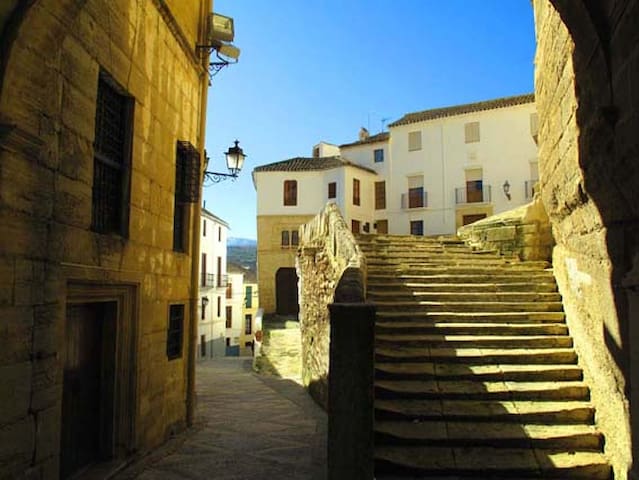 Welcome to Casa de los Espejos, or "The House of Mirrors". Sleeping up to eight people (plus additional cots), our beautiful Andalucian townhouse provides plenty of space as a decadent base to explore the magic of Alhama de Granada and the stunning surrounding countryside. Previously listed in the Sunday Times as one of "Europe's 100 Sexiest Villas" and by The Guardian as a "Five Star Villa for aTwo Star Price", the house is ideal for both couples, families with children and group bookings.
Τύπος δωματίου
Ολόκληρο σπίτι/διαμέρισμα
---
Τύπος ιδιοκτησίας
Σπίτι
---
Άτομα
8
---
Υπνοδωμάτια
Alhama de Granada, Ανδαλουσία, Ισπανία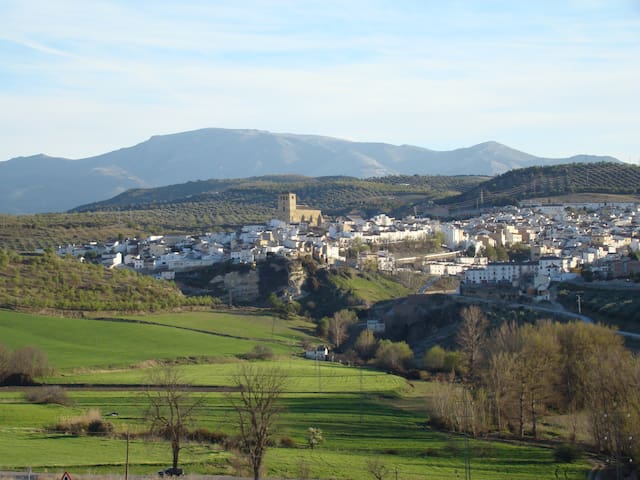 This house, located in Alhama de Granada, is ideal for 6 vacationers. It offers 3 bedrooms, a private pool, a furnished garden and a terrace.
This house, located in Alhama de Granada, is ideal for 6 vacationers. It offers 3 bedrooms, a private pool, a furnished garden and a terrace. The lounge is perfect for unwinding after a day of exploration. Curl up on the comfortable sofa and enjoy a good book in front of the fireplace. The kitchen is well-equipped for cooking up your favorite meals. Enjoy your feast around the dining table which seats 10 or outside, in the garden, on the balcony or on the terrace enjoying views of the mountains, the swimming pool and the lake. The house has 3 comfortable bedrooms, 1 including a double bed and a private bathroom including a shower and toilet and 2 including a double bed. The bathroom is fitted with a shower and toilets. The house features a desk, cleaning products, ironing equipment, a washing-machine and air conditionning. Notice that the cleaning, towels, bed linen and tourist tax are included in the rental fee. Parking is available onsite and is private. Smoking inside is not allowed. Pets are not allowed. Parties are allowed.
This house, enjoys a privileged location that will allow you to enjoy your stay in the area. Many activities await you in the surroundings such as Mountain biking, Hiking, Cycling and Hunting. Torre del mar beach is 30 km away from the house. You will also find great bars and restaurants at 1000 m and a supermarket within 3 km.
Hemos pasado un fin de semana un grupo de / amigos en la casa y a pesar de que ha estado lluvioso, hemos estado muy agusto en la casa. La casa tiene una buena chimenea y además es confortable. Situada en un entorno natural a 2 kms de Alhama, Los anfitriones han sido muy amables y nos han dejado preparado todo lo necesario para disfrutar del fin de semana
maria angeles
2017-03-05T00:00:00Z
Τύπος δωματίου
Ολόκληρο σπίτι/διαμέρισμα
---
Τύπος ιδιοκτησίας
Σπίτι
---
Άτομα
6
---
Υπνοδωμάτια
Alhama de Granada, Ισπανία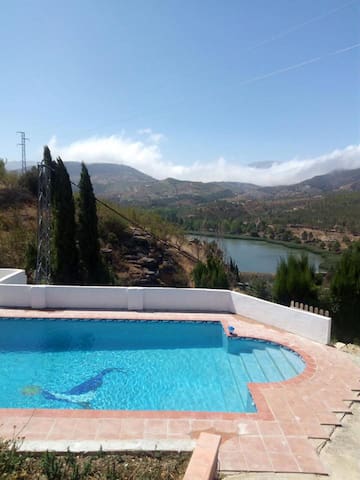 Carmen is our lovely apartment at the back of our restored town house. Living space is on the ground floor and the bedroom is on the first floor. The best feature is the sunny courtyard which is very peaceful. It has a barbecue and tables and chairs for dining. Our house is at the heart of the ancient market town in the historic Arabic Quarter. Great walks down the famous gorge are on the doorstep. Nearby are lively bars with free tapas and cafes and restaurants. The town has several pools.
Ideal for couples or small family. Bigger families can book the adjoining apartment Cervantes. The lovely sunny courtyard is ideal for outdoor eating and barbecues. Carmen occupies both ground floor and first floor at the back of the house. The ground floor rooms lead out onto the garden through double doors. Downstairs there is a traditional kitchen with full oven, fridge freezer. There is a wet room and a lovely living room/library with over 1000 books. It's quite cool in summer and cosy in winter with a wood burning stove. Upstairs is a spacious bedroom looking out over the countryside. We have a folding bed for one extra guest. This can be in the living room or bedroom.
All our guests say that Alhama has a special kind of magic and it's true. It's a lively market town with great historical relevance. The ancient Arabic quarter where the apartment is located is full of interesting buildings. Two bustling squares are surrounded by bars and cafes and the tapas come free with every drink! It's a walker's paradise too with a stunning scenic gorge and some great hiking. This is true Spain far from the tourist spots, but with a real beating heart. The locals are the friendliest people and will welcome you to stay in their beautiful town.
Τύπος δωματίου
Ολόκληρο σπίτι/διαμέρισμα
---
Τύπος ιδιοκτησίας
Διαμέρισμα
---
Άτομα
3
---
Υπνοδωμάτια
Alhama de Granada, Andalucía, Ισπανία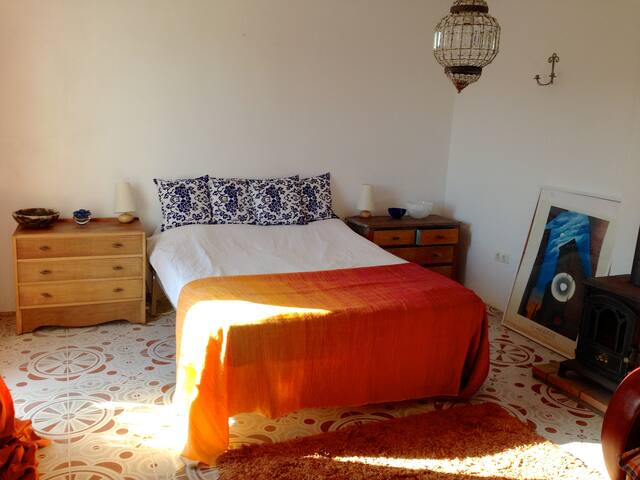 A lovely old Andalucian house in the Arabic quarter of the ancient spa town of Alhama de Granada. House has 3 good sized double bedrooms with balconies. Two bathrooms, modern kitchen, living room & private jacuzzi. Roof terrace with fantastic views,
The house has been beautifully renovated by craftsmen, using locally hand made terracotta tiles, wooden shutters and other sympathetic materials. There is also a wood burning stove for those chilly winter evenings. There is plentiful on-street parking outside close to the house. The water temperature in the jacuzzi can be easily adjusted and thus used all year round.
Alhama de Granada is a very beautiful, traditional, lively quintessential and ancient Andalucian market town. It is perched along the edge of a deep limestone gorge, Los Tajos. In the bottom of the gorge the Rios Alhama river flows, there are lovely little pools to cool off in the summer months. The town has grand medieval architecture, a thousand year old Arabic quarter and no shortage of lively tapas bars. There are fantastic squares where you can while away the hours sipping your coffee or glass of wine and watching the world go by. Surrounding Alhama are rolling hills, attractive small villages, lakes, rivers and stunning views extending to the spectacular Sierra Nevada mountain range.
The house was perfect for us. It's in a good position in old part of town and just 2 minutes walk from the spectacular gorge and the town square with it's excellent restaurants and bars. We were met by Sami, a very nice friend of the owner Stephen. Sami showed us round the house and from the roof terrace pointed out some landmarks, location of shops and good walks. The house is on 4 floors, kitchen and sitting room on the first floor, most bedrooms and bathroom above and the roof terrace on top. The view from the terrace is lovely, a great place to chill out on warm evenings (only twice for us as we picked the wrong week weather wise, just the luck of the draw!). The jacuzzi is on the ground floor at the back and is open to the sky. In the evening it was great to relax in the warm water with the stars up above. The house is quiet, spotlessly clean and tidy and nicely appointed with a few Moroccan-style hanging lamps that give it a hint of Moor-ish atmosphere. Parking in a small square right outside the house was no problem. The streets are unbelievably narrow in the old part of town but we soon got the hang of things and enjoyed driving down them. A small car is definitely the best option. Our hire car was a Corsa and that was just fine. A big car would still be OK but you might need to park further away, there are plenty of places at a radius of 100 metres. Alhama itself is very old and pretty, the people welcoming and friendly, the gorge much more impressive than we expected. Granada is under an hour away, Malaga 1hr 20, and Ronda just over 2 hours but well worth the visit. Best convenience store : Dia, hard to find the first time but Sami can explain how to get there. Best restaurants and bars : hard to choose, all the ones we tried in the main square close to the house were very good. All in all a great base to stay, we would certainly recommend it.
paula
2015-03-28T00:00:00Z
A delightful old house in a charming old town. The place was very quiet and comfortable, with the added bonus of the jacuzzi. One feels embedded in the old part of town, with the church square just outside the front door and a splendid view from the roof terrace. It is like a small magical labyrinth, with twisty stairs and passages leading up and down, and only a couple of low head bumping spots which is pretty good for these old places. Navigating in and out in the car was a little hairy, with very narrow streets, but once we'd done it once or twice it wasn't too difficult. Don't attempt it with a larger vehicle though. We were met by a friend of the owners who showed us round and explained everything, and there were some nice greeting touches and a few essentials provided. The trip in and out of Granada wasn't difficult and we were able to visit locally and as far afield as Cadiz in day trips. We only used one bedroom, but there is room for more with two additional bedrooms available. The town itself has a striking gorge, some characterful architecture, and pleasant bars and cafes.
Sean
2016-11-09T00:00:00Z
Sami greeted us and was very responsive during our stay. Alhama is a beautiful small town in the middle of an olive growing area. Amazing views and a lovely walk down the gorge. As we visited in early October, many of the cafés and restaurants were closed in the evenings limiting choice. Those we visited were good value and friendly . If you want to cycle pre book bikes early. If visiting the Alhambra in Granada,this also needs booking early.
sheila
2016-10-09T00:00:00Z
My family of 5 had a wonderful time in Alhama de Granada. Our communications with Stephen and Sami (who was our contact in town) were courteous and prompt. Fortunately, we connected with Sami ahead of time so had clear instructions on how to get to town, and she met us at an easy to find spot to direct us the final few yards. The house was great, more than big enough for us; we never felt on top of one another. Each of the 3 bedrooms is large, with high ceilings and ample storage. The beds were extremely comfortable and the comforters and heaters were appreciated for the chilly Spring evenings. The hot tub got a lot of use as did the upstairs terrace overlooking the fields. The only difference from the photos is that the fields were green so early in the Spring. I especially loved having my morning coffee and just enjoying the quiet and the view. Clearly, a lot of care went into all of the details. I especially loved the small windows and light fixtures. My girls loved the headboards. The kitchen had all the basics (and some not so basics as well as regional cookbooks!) and we bought anything else we needed from the nearby Dia. There was even a carrito so I could walk all the groceries back (and considered that my exercise for the day!) I had to work for a few days, and appreciated the consistent wifi. One of our favorite touches were the books. Usually, vacation homes have beach books--while there were some of these, there were also many other books that we really wanted to read: Yates, Cervantes, Stewart and more, as well as books for our teen and littles. At first, my kids were skeptical of a week w/out TV, but between the books and the games (and we also brought puzzles) inside, and the great walks outside it was a wonderful week to reconnect. There were also a lot of great guide/tour books. We visited the Alhambra in Granada and were excited to read the guidebook afterwards. The town is just right, for visiting, too-- we never felt that we had to leave. We enjoyed walks through the Tajos in the mornings, helados and cafe in town in the afternoons and tapas later in the evening after we'd settled our kids. We also had wonderful meals at La Seguiriya-- make sure to check in early enough to have paella at least once. What can I say? This was a great family vacation and this house played a huge role in our experience.
Lori
2015-04-05T00:00:00Z
Staying at Stephen's place was a real pleasure. The house is fantastic, even during 'coldish' winter days you can use the fireplace to make it nice and cosy. Tiny issues were solved immediately by a lovely lady, who also explained us all we needed to know about the area and possible day trips. The terrace gave us a great view over the small town and the landscape around. Everybody in the village was really friendly and we loved being the only tourists. We highly recommend Stephen's house.
Thomas
2015-03-04T00:00:00Z
The house has a fantastic location within 3-4 minutes walk of the main square of Alhama. We were met and shown round by Steve's friend Sami who provided lots of useful local info as well as very quickly providing a fan for the bedroom. The roof terrace has amazing views and having the jacuzzi to relax in at the end of the day was a real treat. Unfortunately we didn't get to see much of the 'real' Alhama as the Feria was on over the weekend we arrived and every bar and restaurant was full to capacity. The town certainly had a great buzz over the three days but we we weren't able to experience the lovely laid back feel of the place until our last day on Tuesday. Overall a very enjoyable stay but not quite as relaxing as we had had in mind.
Caroline
2015-09-17T00:00:00Z
Típica casa de pueblecito muy céntrica. Todo a mano. Camas muy grandes y cómodas. La casa en general muy acogedora. Sin Televisión, pero no hizo falta para nada. Y el Jacuzzi espectacular. Sin dudarlo repetiré.
Ernesto
2014-12-09T00:00:00Z
We were met at 11pm to be shown where to park and to be let into the house. The house has lots of character and is in a fantastic location right in the Plaza de presos opposite the old prison and main church. Very central and a quick walk to all the good bars, main square etc. Alhama is a beautiful town to spend time in and we all loved staying in the house ( including the kids). The hot tub was a favourite.
Ione
2014-10-31T00:00:00Z
Τύπος δωματίου
Ολόκληρο σπίτι/διαμέρισμα
---
Τύπος ιδιοκτησίας
Σπίτι
---
Άτομα
6
---
Υπνοδωμάτια
Alhama de Granada, Ανδαλουσία, Ισπανία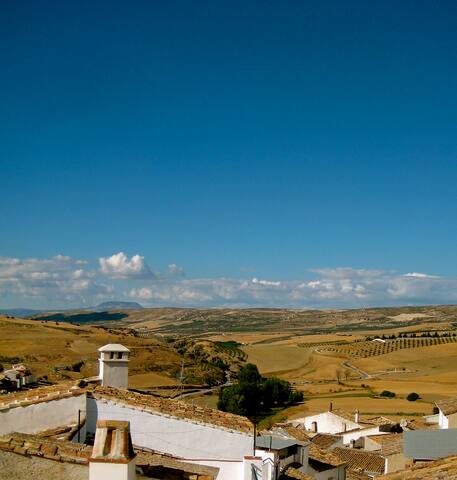 Conjunto rural , compuesto de : Baños Árabes en Cueva; hidromasaje, baño turco, masajes, 3 piscinas a distintas temperaturas 8 Alojamientos en Cueva con decoracion Arabe, calefacción, Tv y baño completo 21 Habitaciones con calefacción, Tv y baño com
A friendly welcome and explanation in the restaurant. We could use the hammam an hour before opening time because we were travelling with kids.
Marieke
2015-07-31T00:00:00Z
Τύπος δωματίου
Ιδιωτικό δωμάτιο
---
Τύπος ιδιοκτησίας
Σπηλιά
---
Άτομα
2
---
Υπνοδωμάτια
Alhama de Granada, Andalucía, Ισπανία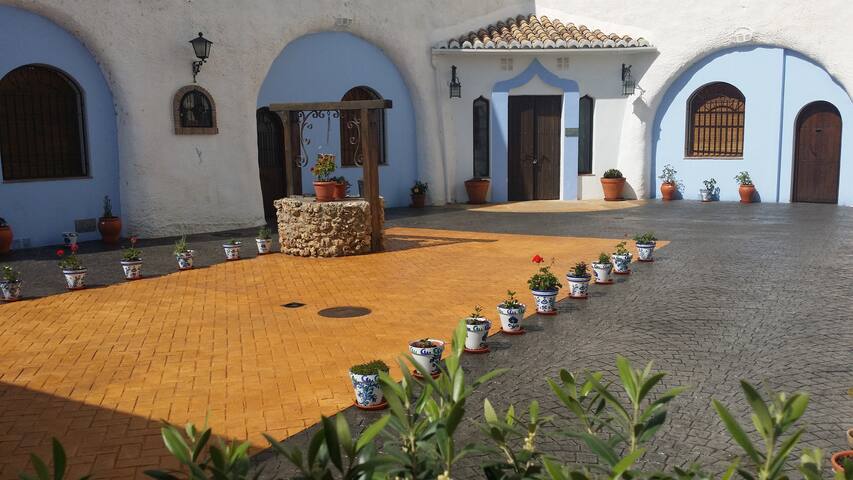 Hostal en el centro del pueblo de alhama de granada, con habitaciones dobles con uso individual (30€), habitaciones dobles (50€), y habitaciones triples (65€). Trato familiar y ambiente acogedor, en un entorno rural incomparable (URL HIDDEN)
Τύπος δωματίου
Ιδιωτικό δωμάτιο
---
Τύπος ιδιοκτησίας
Άλλο
---
Άτομα
2
---
Υπνοδωμάτια
Alhama de Granada, Ανδαλουσία, Ισπανία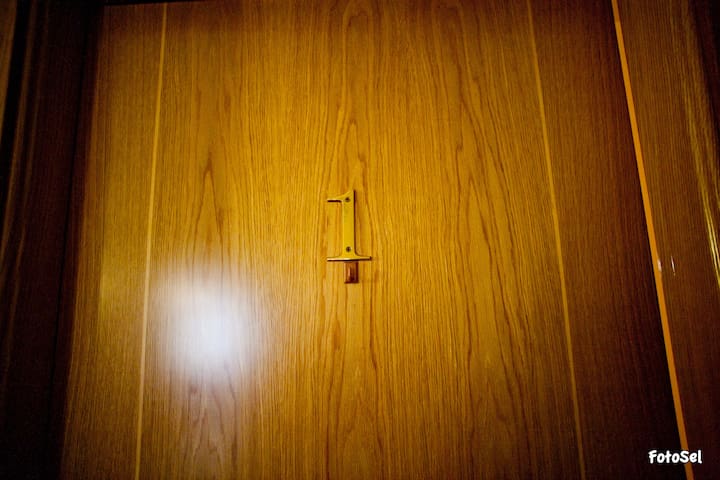 Apartamentos Salmerones is located in the historic center of Alhama de Granada (Granada, Spain). It was completely renovated in 2010, so it has all the necessary amenities to ensure that guests enjoy their stay in this beautiful town. The apartment offers free Wi-Fi, heating and air conditioning, and has 110 square meters distributed as follows: 2 bedrooms (with 2 single beds), a bathroom (with shower), a large living room with flat screen TV, fully equipped kitchen with dishwasher, microwave, etc. and a small patio. The maximum capacity of the apartment is 4 people + 1 extra bed in sofa-bed in the lounge if needed (Free). Located midway between Málaga and Granada, both are around an hour's drive away. Torre del Mar Beach is 50 km from the apartments. Free public parking is possible at a location nearby (reservation is not needed). Video in Youtube: write "Apartamentos Salmerones" in Youtube.
The apartment and the hosts were really fantastic. 5 stars! We were greeted by Maria, who speaks English as well as Spanish which was a great help. Communication was excellent. The beds and pillows were comfortable and the bathroom is spacious and comfortable. We had a fantastic stay and loved Alhama. Thanks very much!
Susan
2014-07-03T00:00:00Z
We received a warm welcome from Ana. She is a great host and advised scenic places to go. The apartment is great and clean. However, it happened odor smell due to occasionally drainage problem in the kitchen but I'm quite sure it will be fixed in your next visit.
Kelvin
2015-06-09T00:00:00Z
Todo perfecto para un fin de semana de relax. Agradable anfitriona y apartamento muy limpio y con muchas comodidades. Recomendable.
Jorge
2016-10-30T00:00:00Z
Ana was a really lovely host. She was very helpful and gave us a lot of information on the area, things to do and places to see and dine at. The apartment was amazing and surpassed our expectations. If you are looking for a beautiful apartment in a quiet, authentic small village then Ana's apartment in Alhama is the place. A haven in a lovely town!
Olivia
2015-04-05T00:00:00Z
We had a wonderful time at Apartamentos Salmerones. The flat is spacious and felt just like home. Ana and the family are very friendly and full of good advice on activities and places to go. The town itself is wonderful with stunning scenery, great food and soothing hotsprings. We hope to visit again!
Joji
2013-11-11T00:00:00Z
The place was very clean and the kitchen worked well. It was good to have a thermostat to regulate the heat. The town is charming with very few tourists. The hosts, who live an hour away in Granada, were generous enough to offer a slightly discounted rate, though the total for three nights was well over 200€. I don't like to be critical and it is my intention that the following words are of help to fellow travelers as well as the hosts: Unfortunately there was a powerful smell of formaldehyde that caused me a good deal of dizziness. Also unfortunately, Maria, the contact person from the family, was clearly angry and annoyed with me when I phoned her asking if there were towels for use at the hot springs on the property. Keep in mind that she gave me her cell phone number and told me to call her with any questions or concerns. I understand I called her at 8:30 AM which is a bit early for a University student, but it was 8:30 AM not the middle of the night. When I checked out of the apartment, the head of the family initially told me I had called Maria too early and he was indifferent to my concerns regarding the smell. After some additional discussion between us he eventually apologized, which I appreciate. I am not asking for a luxurious five star hotel experience when I use Airbnb. I do ask, however, to be treated with basic respect, kindness, and dignity when communicating with hosts. In the future perhaps a different contact person would work out better for everyone. Again, I regret saying anything negative here but I don't want to be dishonest about my experience.
Mark
2016-12-29T00:00:00Z
Our group of three had a wonderful stay at this apartment with just a few minor hiccups that Ana and her family sort to resolve quickly. The apartment itself is decorated beautifully and traditionally, comfortable and equipped with of all the amenities and home comforts that you could need. Ana was kind enough to meet us at the apartment very early in the morning after our flight and came back the next day to tell us about the town and what it had to offer. We were dismayed when the air-conditioning broke, sending a flood of water into the bathroom and slightly disrupting our plans but Ana and her father worked hard to fix the problem quickly and offer us suitable alternatives. Ana was always available to answer any questions and suggest great places to visit and restaurants to eat at. The town itself is charming, the locals friendly and we were thrilled to discover that a local festival was being held while where were there. We would visit and stay in this apartment again – it offers such great value for money and lovely hosts. Highly recommend booking the apartment and visiting the town's hot springs!
Mo
2016-08-21T00:00:00Z
Τύπος δωματίου
Ολόκληρο σπίτι/διαμέρισμα
---
Τύπος ιδιοκτησίας
Διαμέρισμα
---
Άτομα
4
---
Υπνοδωμάτια
Alhama de Granada, Andalucía, Ισπανία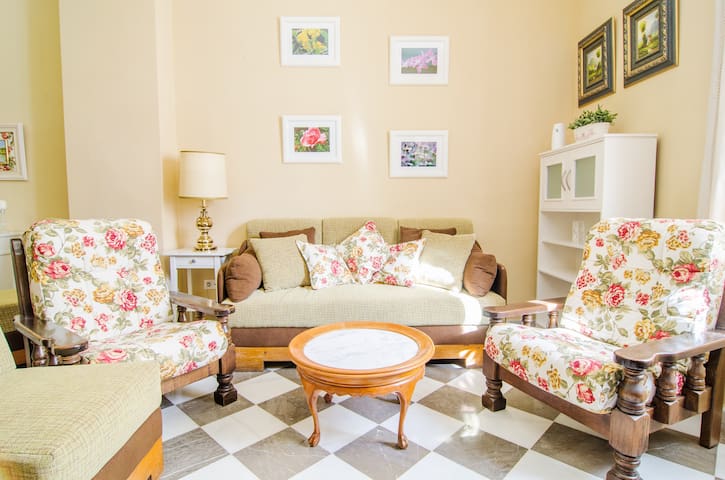 Casa La Siesta is a traditional style town house set in the centre of the town which has been completely renovated whilst still keeping original features. La Siesta has one double and one twin room, a family shower room and a seperate toilet.
Located on a wide road with plenty of on-street parking (unusual in Alhama). Lounge area featuring high beamed ceilings with log burning stove for colder months. Traditional Spanish style kitchen with high beamed ceilings and French windows leading to private roof terrace with views over the surrounding countryside and parts of Alhama. Close to the bars and restaurants with easy access to the shops and the weekly market. Wi fi internet access available. A welcome pack containing local produce will be ready for your arrival.
Alhama de Granada is a lovely typical Spanish town, the locals are friendly and helpful, all bars offer free tapas with both soft and alcoholic drinks and this is a great way to sample the local cuisine.The fabulous city of Granada is just 45 minutes from Casa La Siesta, here you can wander the streets taking in the atmosphere of this ancient city. Shops range from bustling Arab markets selling Moroccan wares to chic boutiques offering designer fashions. The many restaurants and bars offer a fantastic array of dishes and local delicacies, there are patisseries full of sweet offerings, ice cream shops with every flavour you can think off, from plain vanilla to exotic tastes like chilli chocolate and water melon all beautifully displayed. If shopping is not for you what about visiting the historic cathedral or the brilliant Science Museum with lots to keep both kids and adults interested.
The host canceled this reservation 44 days before arrival. This is an automated posting.
Laura
2015-07-26T00:00:00Z
We had an absolutely wonderful stay at Casa Siesta. Jeff was a great host and we even had some local produce for lunch waiting for us on our arrival (including wine)! The house is excellently situated close to the main little square with some great tapas bars, a bakery and an ice cream place. The town is pretty with a cute museum and a bit of an old town to wander round and it is really well placed for visiting Granada and Malaga. The stars of our trip were the thermal baths that were free to sit out in in the open, and the blue, blue lake for swimming in just a 20 minute drive away, as well as the Alhambra of course! We will definitely be recommending Casa Siesta to our friends!
Kate and Flora
2014-09-24T00:00:00Z
Τύπος δωματίου
Ολόκληρο σπίτι/διαμέρισμα
---
Τύπος ιδιοκτησίας
Σπίτι
---
Άτομα
4
---
Υπνοδωμάτια
Alhama de Granada, Ανδαλουσία, Ισπανία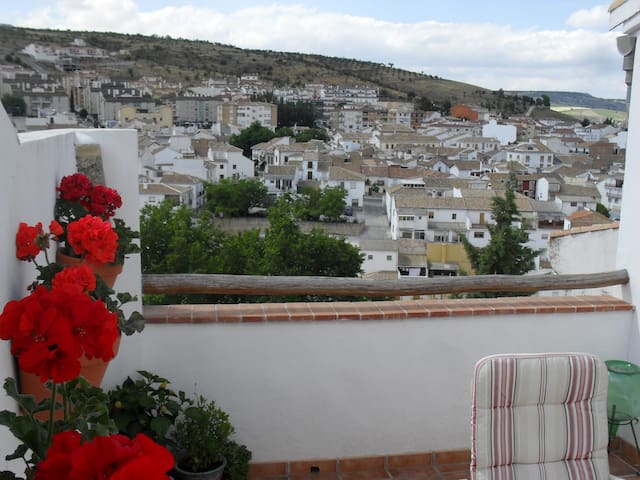 A quirky, huge cortijo which comfortably hosts 14. Set within the stunning Sierra Tejeda national park, secluded yet only 9km to the nearest town. 2 pools to keep you cool in the heat, yoga shala to chill out, or mountain walks/biking to invigorate.
The house is secluded but not too far from the nearest town so you can easily get supplies. We have 13 acres of our own land to explore as well as the entire natural park that surrounds the house.
The are no neighbours permanently in residence. For a good night on the town go to Alhama de Granada and try bar El Tigre, or Bar La Placeta.
I have just returned form a two week stay at Cortijo La Vina and had THE best stay! We landed very late in to Malaga (2am) and picked up a car from (URL HIDDEN) After an hour and 20min drive we met Edward (Cortijo La Vina's owner) at a hotel colse by and followed him the rest of the way. Edward could not do enough for us throughout our stay. He even took us to his village for lunch one afternoon. The lunch was so impressive (view and food), that we rebooked for my sisters 21st birthday celebrations. The cortijo (farmhouse) is located down a very rural dirt track (we didn't have a 4X4 and managed fine). After arriving at the cortijo we were shown the rooms by Edward and and have a quick explore of the place. All the bedrooms are beautiful in their own way. I had the master suite with windows on every side of the room offering views of each pool, the mountains and entrance. This room has a very quirky bathroom area as each of the facilities are located in old animal food storers! Other bedrooms feature doors hand carved in the Atlas mountains, handmade baths, lovely tiles and all offer an exceptional view. I travelled with my partner, parents, siblings and niece(4yo) & nephew(3months), 14 of us in total. We found there was plenty of space for us all within the cortijo and its grounds. I would not recommend this place if any travellers have difficulty getting around or are wheelchair users. We did have to keep a close eye on my niece (4yo) as there are a lot of steps and edges around, but she was fine. The star of the show for me was the courtyard! It has beautiful planting and the pond and stream are just amazing. I would spend at least a couple of hours a day chilling here with a book or a drink or even watering the beautiful plants. Such a serine area, I would stay here again just to be in the courtyard again! There is no phone signal in the cortijo and we had some issues with the wifi while we was there, so be prepared to be "off grid" during your stay. Cortijo La Vina is surrounded by farmland and twice throughout our stay the local farmers called us over to give us baskets full of fresh local vegetables they had just picked! During our stay we also headed to the waterpark at Torrie Del Mar which was about 40mins away, the two local villages (15-20mins) and Edwards Village (very much recommend the gambas pil-pil in the restaurant). Alhama De Granada has a market on Friday morning and all the shops you could need. In conclusion; This place is perfect if you want to escape for a while and submerse yourself in the Spanish countryside. Make as much noise as you like and relax by one of the pools.
Leon
2016-08-07T00:00:00Z
We spent very very good hollidays in the Cortijo la Viña. The house is really secluded, lost in the middle of cultivated fields, a really quiet place with the Maroma mountain in front of you when you are in the swimming pool. We were 12 people (6 adults + 6 teenagers) and everybody had is own space. All room are unusual (especially the bathroom made with old animal food storers) and have a special decoration. Edward is a fantastic host who do all he can to take care of his guests, you can ask him for good addresses in the area... We recommend this house for everybody who want to discover the real Spain and not only the touristic coast. A car is necessarly needed as the house is at 15 min from Alhama de Granada by car. We really thank Edaward for his welcome and for the stay we spent.
Yann
2016-08-20T00:00:00Z
Τύπος δωματίου
Ολόκληρο σπίτι/διαμέρισμα
---
Τύπος ιδιοκτησίας
Βίλα
---
Άτομα
15
---
Υπνοδωμάτια
Alhama de Granada, Ανδαλουσία, Ισπανία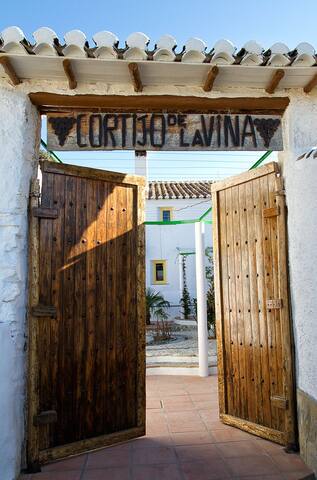 This light and airy loft is at the top of our restored townhouse. Designated and licensed as a 'Vivienda Turistica de Alojamiento' by the Andalucian Tourist board it has stunning views from a sunny private terrace. We are right in heart of the ancient and historic Arabic Quarter of Alhama de Granada it is minutes walk from lively tapas bars, pavement cafes and shops. The town is famous for its hot springs and beautiful gorge as well as its authentic Spanish culture, music and arts events.
The apartment has one of the best views in Alhama. It looks out over the beautiful countryside of Andalucia. From the terrace you can look out over rolling hills,fields and olive groves beyond the river valley. Lorca accommodation is furnished with modern furniture, wooden floors and original art works. The sleeping area has a very comfortable king size bed. The living space has a sofa, dining table and chairs and a wood burning stove for when the evenings are cooler. A selection of dvds and books are provided. The spacious, modern bathroom has a walk in shower, double sinks and a huge bath big enough for two- perfect for a romantic weekend or honeymoon. From the bath you can lie back and look out over the landscape. Leading from the living room there is a modern studio kitchen with halogen hob, sink and fridge. The kitchen leads straight out onto a sunny terrace furnished with a table and chairs.
All our guests say that Alhama has a special kind of magic and it's true. It's a lively market town with great historical relevance. The ancient Arabic quarter where the apartment is located is full of interesting buildings. Two bustling squares are surrounded by bars and cafes and the tapas come free with every drink! It's a walker's paradise too with a stunning scenic gorge and some great hiking. This is true Spain far from the tourist spots, but with a real beating heart. The locals are the friendliest people and will welcome you to stay in their beautiful town.
Τύπος δωματίου
Ολόκληρο σπίτι/διαμέρισμα
---
Τύπος ιδιοκτησίας
Διαμέρισμα
---
Άτομα
2
---
Υπνοδωμάτια
Alhama de Granada, Andalucía, Ισπανία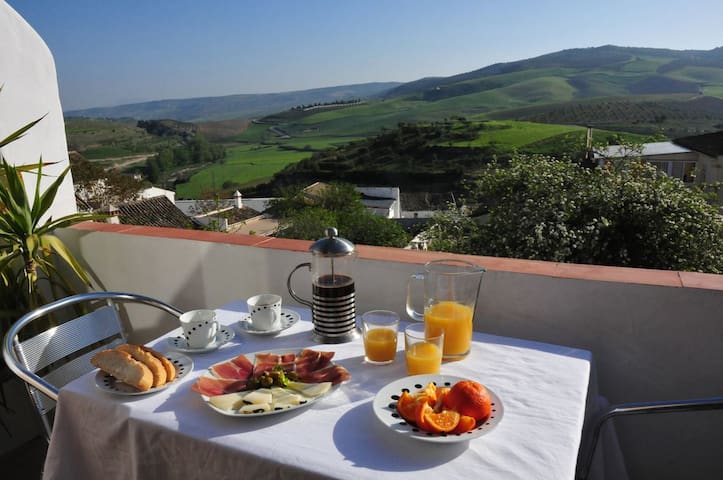 Apartamentos Salmerones is located in the historic center of Alhama de Granada (Granada, Spain). It was completely renovated in 2010, so it has all the necessary amenities to ensure that guests enjoy their stay in this beautiful town. The apartment offers free Wi-Fi, heating and air conditioning, and has 130 square meters distributed as follows: 2 bedrooms (one with double bed and one with 2 single beds), 2 bathrooms (with shower), a large living room with flat screen TV and fully equipped kitchen with dishwasher, microwave, etc.. The maximum capacity of the apartment is 4 people + 2 extra beds in sofa-bed in the lounge if needed (Free). Located midway between Málaga and Granada, both are around an hour's drive away. Torre del Mar Beach is 50 km from the apartments. Free public parking is possible at a location nearby (reservation is not needed). Video in Youtube: write "Apartamentos Salmerones" in Youtube.
Apartment is super nice. The furniture and the atmosphere makes you feel like you are in a proper Spanish home with antique touches. the area is central and the bars around the apartment are very busy, tasty and cheap. Ana's parents were super nice to wait for us in the apartment as we were running late, also they told us a lot about the area and what to explore
Fuego
2016-10-30T00:00:00Z
Τύπος δωματίου
Ολόκληρο σπίτι/διαμέρισμα
---
Τύπος ιδιοκτησίας
Διαμέρισμα
---
Άτομα
4
---
Υπνοδωμάτια
Alhama de Granada, Andalucía, Ισπανία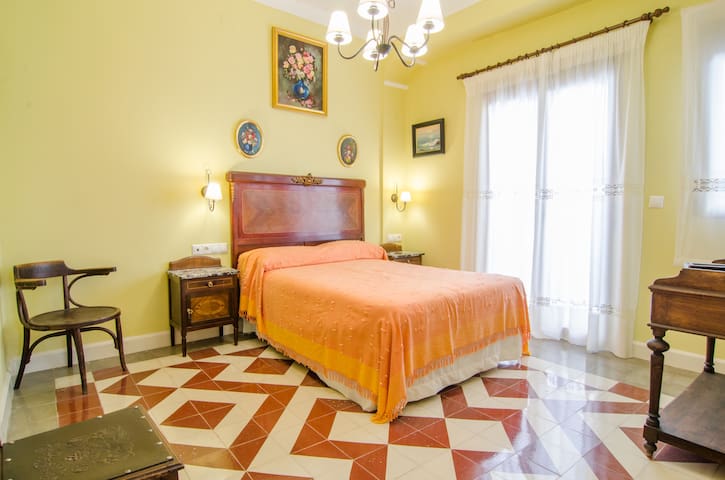 Spacious village home with space for couples, families, or groups. House boasts spacious american style kitchen with island and open dining area, large interior patio with fountain for al fresco dining or relaxation, and roof terrace with views of the rooftops of the village. House is steps from the historical central plaza of Alhama de Granada, and various restaurants, bars, and cafes.
Casa Chocolate was renovated completely to conform to the traditional style of open and airy Andalucian architecture. The house boasts an interior patio and roof terrace. The bedrooms and baths are also very spacious with a blend of classic charm and modern convenience.
Casa Chocolate is located steps from the main plaza of the historical center of Alhama de Granada. The house is within a short walk of all that Alhama has to offer. We are also a very short drive from Granada and Malaga city centers as well as the beaches of costa del sol.
Τύπος δωματίου
Ολόκληρο σπίτι/διαμέρισμα
---
Τύπος ιδιοκτησίας
Σπίτι
---
Άτομα
10
---
Υπνοδωμάτια
Alhama de Granada, Ανδαλουσία, Ισπανία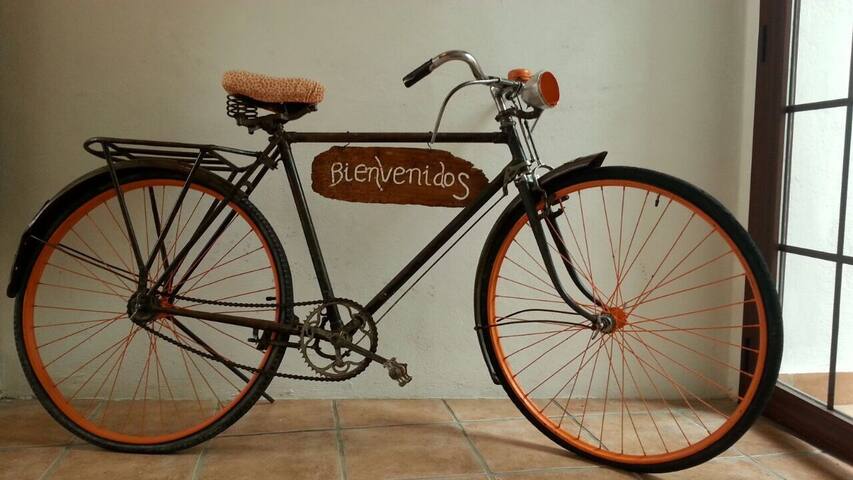 Beautiful newly renovated town house with three spacious living room fireplace outdoor patio and barbecue to enjoy a site espectacular.Beautifull country house to enjoy a perfect vacation with family or friends in a beautifull garden barbecue place
Τύπος δωματίου
Ολόκληρο σπίτι/διαμέρισμα
---
Τύπος ιδιοκτησίας
Σπίτι
---
Άτομα
6
---
Υπνοδωμάτια
Arenas del Rey, AL, Ισπανία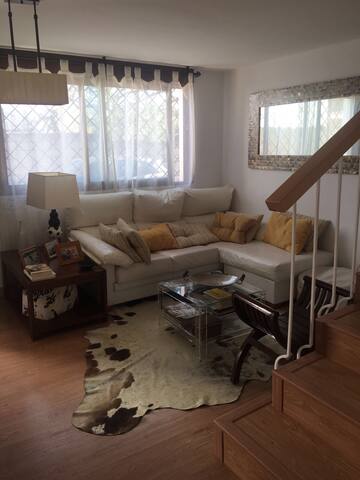 Hostal en el centro del pueblo de alhama de granada, con habitaciones dobles con uso individual (30€), habitaciones dobles (50€), y habitaciones triples (65€). Trato familiar y ambiente acogedor, en un entorno rural incomparable. (URL HIDDEN)
Τύπος δωματίου
Ιδιωτικό δωμάτιο
---
Τύπος ιδιοκτησίας
Διαμέρισμα
---
Άτομα
3
---
Υπνοδωμάτια
Alhama de Granada, Andalucía, Ισπανία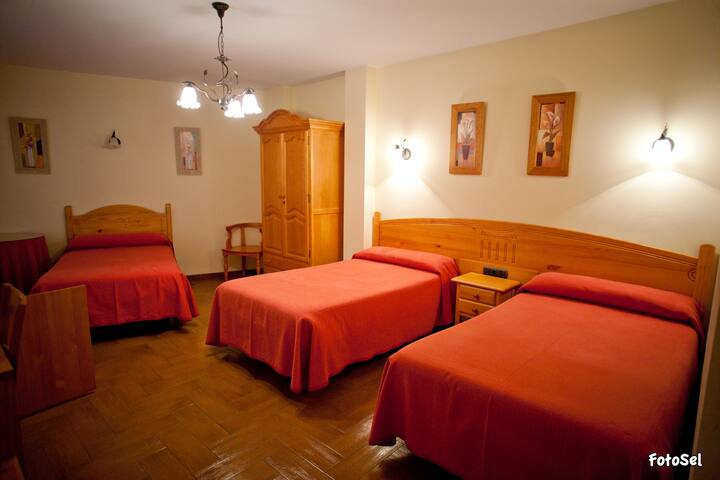 Casa Baldomero esta en la aldea del Acebuchal, enclavada en el Parque Natural de Sierra Tejeda, Almijara y Alhama, a 6 kilómetros de Frigiliana y 10 de la playa de Nerja. Teniendo montaña y playa a no más de 20 minutos, todo un privilegio.
Si buscas tranquilidad y relax, este es tu sitio. Sin apenas cobertura telefónica y con una sauna en la que poder relajarte, podrás disfrutar de un autentico descanso.
El Acebuchal es una aldea que con la Guerra Civil desapareció, pero que en los últimos años ha resurgido con fuerza como punto de turismo rural. La aldea está compuesta por 41 casitas, cuidadas por sus propietarios al máximo, y que mantienen una encanto especial con el entorno natural que las rodea. En la aldea además, se dispone de un Restaurante en el que poder degustar de los platos típicos de la zona, así como de carnes de caza.
El trato de Baldomero fue muy bueno, nos recibió en Frigiliana y nos guió en coche hasta el acebuchal. El estado de la casa tanto externo como interno es muy bueno. Después de haber leído los demás comentarios he de decir que el anfitrión presta atención a ellos ya que en la cocina había aceite y sal y no faltaban ni cuchillos ni ambientadores. Como ha observado otro huésped, la cobertura (por lo menos de Vodafone) en la casa no es perfecta, lo cual nos ayudó a mi pareja y a mi a desconectar un poco. Un punto para la casa es la sauna, la cual en pleno verano no nos ha hecho falta. Elegimos este alojamiento basándonos principalmente en el precio y no nos defraudó. Siguiendo el consejo de Baldomero hicimos el ascenso del río Chillar, lo cual fue un auténtico acierto. Totalmente recomendable para amantes de la naturaleza.
Ildefonso
2016-08-05T00:00:00Z
Es un lugar idílico, para un contacto único con la naturaleza. Los anfitriones son encantadores, educados y serviciales. La casa es típica de la zona y reúne todas las condiciones para una agradable estancia. Lugar muy apropiado para los amantes del senderismo, con varias rutas marcadas. Se puede disfrutar de las distintas playas de la costa Malagueña y Granadina aún estando en plena sierra.
Esperanza
2016-08-11T00:00:00Z
Baldomero es una persona encantadora que te facilita la estancia, muy agradable. El alojamiento está en un enclave que nada tiene que envidiar a su pueblo vecino Frigiliana, el acceso no es asfaltado pero está en condiciones correctas para llegar. Hay un bar muy cerca donde uno puede desayunar o comer bien. La casa por está muy bien restaurado y con todas las comodidades. Una zona perfecta para estar más frescos en verano.
Ruben
2016-08-28T00:00:00Z
Baldomero's house is as he described. Acebucal is a nice place to relax and recharge. The restaurant in town closes early, but there are several in the hills close bye.
Paul
2016-04-30T00:00:00Z
The house was clean, warm and welcoming. Location was great. Kitchen was minimal; two hob rings and a microwave, lacking in some cutlery and utensils. We were first booking of the season and the lower floor bathroom needed ventilation. Main bedroom was spacious, comfortable bed and lovely view from the balcony.
David
2016-03-23T00:00:00Z
La experiencia ha sido fantástica. Lugar perfecto para desconectar y pasear por las distintas rutas que ofrece este emplazamiento. Baldomero es muy atento y en la casa puedes disfrutar de una total intimidad. El pueblo es precioso y la casa estupenda y muy acogedora. 100% recomendable. Quien venga querrá volver.
Rtm1313
2017-01-01T00:00:00Z
La casa de Baldomero es tal y como se muestra en la web. Ofrece una inmejorable relación calidad-precio. Es cómoda y bastante acogedora. Además está decorada con buen gusto, llamándonos especialmente la atención los techos de madera. Tuvimos bastante suerte con el tiempo, por lo que pudimos disfrutar de las dos terrazas. En este sentido, fue genial poder tomar el aperitivo en la terraza de la planta alta, disfrutando de la vista. De hecho estábamos tan agusto que decidimos almorzar allí mismo. Por último quiero recalcar que Baldomero ha sido una persona muy accesible, pudiendo contactar fácilmente con él previamente a la entrada. Además nos ofreció flexibilidad, permitiéndonos entrar antes y salir después de las horas establecidas. Por todo ello, no tengo la menor duda en recomendar la casa de Baldomero.
Francisco Javier
2016-12-26T00:00:00Z
Bonita y acojedora casa situada en una aldea preciosa y con muchisimo encanto, el anfrition muy amable y cordial volveremos
Tamara
2017-04-09T00:00:00Z
Τύπος δωματίου
Ολόκληρο σπίτι/διαμέρισμα
---
Τύπος ιδιοκτησίας
Σπίτι
---
Άτομα
4
---
Υπνοδωμάτια
Frigiliana, Andalucía, Ισπανία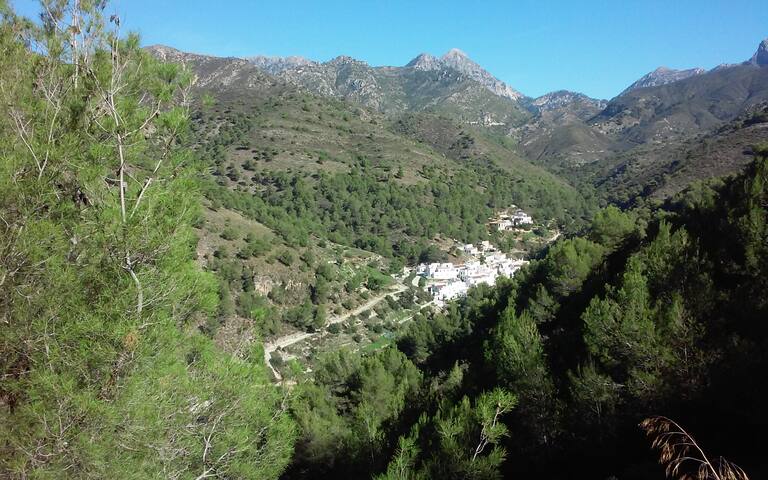 This holiday let is the first floor of our lovely town house. Designated and licensed as a 'Vivienda Turistica de Alojamiento' by the Andalucian Tourist board it has stunning views from a sunny private terrace. We are located in the heart of the lively market town of Alhama de Granada home to the famous hot springs, a wonderful deep gorge for walking and great bars with top quality food and drink. In our town the tapas are still free with every drink. A beautiful area of real Spain.
Cervantes accommodation sleeps two and a third person on a mezzanine sleeping platform in the living room. It is decorated in Moroccan and Andalucian style. There is a beamed double bedroom The bedroom has a blue antique double bed, wardrobe space and a beautiful turquoise wet room. Double glazed doors in the bedroom and living room open onto the street and from them you can see the bell tower of the church Santa Maria. An arch leads to a living room with a beamed ceiling and terracotta floor. A pretty feature is the alcove day bed which turns into an extra single sleeping area at night. There is a red art deco sofa and lovely red eco-pellet stove. This is programmable to the time and temperature you want and all pellets are included. With the double glazing and the stove the apartment is a cozy winter space. You won't need it in the summer! At the back of the apartment is a blue tiled Andalusian kitchen with sink, hob, fridge and table and chairs. This leads out onto a spacious terrace with great views of the Andalusian countryside. The sun filled patio is furnished with table, chairs, sun loungers and a barbecue. Wifi is available- bring your laptop. There's plenty of films and books for quiet nights in or afternoons on the terrace.
Cervantes looks out over the most stunning Andalucian countryside and yet we are at the heart of an ancient and very historic town. It's very peaceful and tranquil and you feel really close to nature without being in a remote location. You can sip a drink on the terrace and watch the light change over the olive groves, see the farmer plough his field, the goatherd drive his animals home and spot many birds of prey. Summer evenings bring spectacular shows of shooting stars. If you wish to holiday with family or friends you can rent two other apartments in the same house. You will still have your own privacy but be together! It's an inspiring place for writers and artists. The light is wonderful. In a few minutes you can walk to the magnificent gorge with its ruined flour mills and abundance of flora and fauna. Five minutes brings you to two traditional squares surrounded by lively bars where the tapas are still free and top quality Rioja is served at €2 a glass! The local wine is also very good and frequent wine tasting evenings are on offer. The town has an annual festival of wine too! Alhama is drawing a reputation for its tapas bars and holds regular tapas trail events. The town also produces its own olive oil, Miel de Cana (sugar cane molasses), cheese and honey. A little local shop is round the corner and the owner, Pedro, speaks good English and stocks just about everything. A few smaller artisan's shops have also opened selling good quality local produce and gifts. The Friday market is a short walk away and sells fruit, vegetables and olives grown in the region. Fresh healthy food on the doorstep. Alhama is a food and drink lover's paradise. A short drive takes you to the hot springs after which the town is named. Swimming can be in the local pool or at Lake Bermajales only a 15 minute drive away.
A really nice, cozy and quite place in the most admirable part of Alhama. It has all the things you need for cooking and serve yourself on a great terrace with lovely views and chirping birds around.
Sonja
2017-04-04T00:00:00Z
Era perfecto. The location is very good, close to the centre and the gorge. The apartment is beautiful and very comfy. Marvelous view from the terrace. Very good communication and they have been very helpful and nice. Thanks a lot!
Lina
2017-03-03T00:00:00Z
Τύπος δωματίου
Ολόκληρο σπίτι/διαμέρισμα
---
Τύπος ιδιοκτησίας
Διαμέρισμα
---
Άτομα
3
---
Υπνοδωμάτια
Alhama de Granada, Andalucía, Ισπανία