Our contemporary hotel room style studio is located in the heart of Seattle's Columbia City neighborhood. It comfortably sleeps two and is only a block from great restaurants, shops and entertainment. It's a great place to start your stay in Seattle!
Our contemporary hotel room style studio is located in the heart of the Columbia City neighborhood. It comfortably sleeps two and is only a block from great restaurants, shops and entertainment. It's a great place to start your stay in Seattle! We designed the space with the Airbnb traveler in mind, so it will quickly become your home away from home. This is a completely separate 250 sq. ft. studio that sits behind the main house. It's modeled after a contemporary hotel room and loft studio with its modern design, high ceiling, contemporary finishes, and lots of natural light. Inside you'll find a queen bed with fluffy pillows and blankets, butcher block counters and desk, ceiling fan, microwave, flat screen TV, WiFi, and a Keurig beverage system and small refrigerator--both with complimentary drinks and snacks. The contemporary theme is continued in the bathroom with its granite countertop and subway tiles in the shower. The bathroom also has a fair sized closet with enough room to hang a few items and store your luggage. We provide towels and washcloths for two people, as well as a hair dryer, soap and shampoo. Behind the studio is a dedicated off-street parking space with access via the alley. Getting here is easy as it's only a four block walk from the Columbia City light rail station and less than 10 minutes from Interstate 5. A bus stop that services several routes is only a block away, should you want to take the bus to get around during your stay. ------------------------------------------- Check out our Guidebook to see all of the great restaurants and other things to do in Columbia City that are all within a two block walk. The guidebook can be found in the upper right corner of the page on the web site only. ----------------------------------------------- The door has a keypad entry lock which makes check in / check out quick and easy. I'll meet you at the space take a few minutes to show you how things work and that's it. Registered guests will have exclusive access to the entire unit and everything inside including the complementary beverages and snacks. You'll also have use of the dedicated off-street parking space which is big enough for a large sedan. The main house is a duplex and both units are rented by our full time tenants so our interaction with each other depends on you. We'll meet you at check in to show you around the space and answer any questions. We live only a few blocks away and are available via phone or text to provide advice, directions, etc. should you need them. Columbia city is one of the most walkable neighborhoods with plenty of restaurants, shops vintage stores and an active night life all only one block away. Several bus routes with frequent schedules are only one block away, four blocks away is the Columbia City light rail station which provides service to downtown Seattle in about 20 minutes or the airport in about 30 minutes.
Columbia city is one of the most walkable neighborhoods with plenty of restaurants, shops vintage stores and an active night life all only one block away.
Great location and convenient to everything. The bungalow was a great first experience for a first time airbnb'er. They definitely cater to your needs!!
Andrea
2016-05-22T00:00:00Z
Marcus met us at the studio, and he was extremely helpful. The studio was better than he and Lara described in the listing and pictures don't it justice. This was our first airbnb experience and it set a high bar for our lodging expectations.
James
2015-04-13T00:00:00Z
We had a great time staying in the bespoke annex behind Marcus's house. it was in a really lovely neighbourhood with lots of nice restaurants, cafes and bars, and it was so convenient with the light rail into downtown being so close. The coffee machine was a nice touch for our morning caffeine hit, and we loved the ceiling fan which was so quiet but gave a lovely breeze to keep us cool at night. It was great to have the use of a parking space too as the boat race was on and the streets were really busy. Thanks for a great stay in Seattle!
Francesca
2016-08-08T00:00:00Z
My wife and I were in Seattle the past couple of days and looking for place between the airport and downtown. We found this place and booked right away. Everything was BRAND NEW, clean and we couldn't have asked for a better location. It was a 20 minute light rail north to Sea-Tac and a 30 minute ride downtown. There are great restaurants, bars and shopping all around Columbia City and we ended up spending more time in the neighborhood than downtown in Seattle. IF I COULD LEAVE 6 STARS I WOULD!
Curtis
2014-06-13T00:00:00Z
An adorable little spot. The description was perfect as it felt like a miniature hotel picked up and dropped off in a pleasant neighborhood. Check-in and check-out was easy and communication was easy. Although we've traveled to Seattle before it was nice to be outside of the city center, but in a convenient location to quickly get wherever we wanted. The keyless entry gave us a peace of mind when coming and going. We appreciated the list of recommendations that Marcus provided in the guest binder. A lot of love and attention was put into this place and we definitely felt it.
Maggie
2016-04-07T00:00:00Z
Very comfortable. Great place to explore Seattle from. Great neighborhood to explore. Great hosts. We will definitely be back!
James
2015-05-03T00:00:00Z
We loved the experience at Marcus and Lara's Studio. Columbia City is a nice neighbor hood and there are great Coffee shops and Restaurants just a few blocks away. The light Rail is also just a short 4 block walk. Marcus was very helpful and accommodating, even when we were late arriving to the Studio after issues at the airport. He walked us through, gave us suggestions on where to go, what to eat, etc. He was very friendly. The studio had a nice, comfortable bed, a TV, wifi, bathroom and shower and Keurig for coffee! My girlfriend and I would definitely stay again.
Ben
2015-06-25T00:00:00Z
The studio apartment was very clean and comfortable, everything was as stated on the Airbnb website. And it just happened to be located 2 blocks from where Andra's daughter lives so that worked out perfectly. Although we never met up with Marcus, he made it easy to check in and we'd definitely stay there again. Thanks for opening up your place to us.
robert
2016-09-14T00:00:00Z
Τύπος δωματίου
Ολόκληρο σπίτι/διαμέρισμα
---
Τύπος ιδιοκτησίας
Ξενώνας
---
Άτομα
2
---
Υπνοδωμάτια
Σιάτλ, Ουάσινγκτον, Ηνωμένες Πολιτείες της Αμερικής
Home-Away-From-Home in Columbia City Nestled in the branches of an Eastern White Pine w/ view of Lake Washington, the cozy two bed unit has a, large deck, full kitchen, dining area, living room & off-street parking. Stay Business Ready with WIFI high speed internet, cable television & premium channels. Nearby Rainier Ave has acclaimed eateries, shops and live music venues. Exploring Seattle is easy. Hop on the nearby Link LightRail, Metro bus, or grab a UBER, Lyft or Car2Go. Great reviews!
Seattle's buzzing about what's happening in South Seattle. Rightfully gaining the attention, Columbia City's soulful vibrancy is a perfect example of what a Pacific Northwest community can be. Just a couple blocks off Columbia City's Rainier Ave (main street), the unit stays quiet, calm and protected by a grandfather Pine. The quiet street, at the edge of a bluff, overlooks Genesee Park, Playfields, Play Structures and Dog-park at Lake Washington. Overlooking the front-yard garden, the unit has an open plan dining area and living room, a table for 4 (seating for 5) and couch that both sit in expansive ceilings and get plenty of light. Perfect for enjoying a cup of Seattle's best coffee brands, and bird watching. Regular aviary visitors include anything from, chickadee's and hummingbirds, to Stellar Jays and woodpeckers, to Bald Eagles and the famous Seward Park Parrots. The cozy one bedroom with queen bed (and couch that unfolds to a second queen bed) and full bathroom (with tub/shower and plenty of hot water) can comfortably fit 4. (We only use unscented and hypo-allergenic laundry soap to wash the bed linens and the mattress is covered in a hypo-allergenic zip.) We provide all the bed dressings and bathroom essentials (soap and shampoo) you will need (iron and board at request, and laundry service, only in unique situations provided). The full kitchen includes a refrigerator, oven/stove and dish washer, and all the cookware and dishware you'll need to cook your own gourmet meal with the freshest of organic ingredients from the Columbia City's Farmers Market and PCC Natural Food Market. Basic kitchen essentials include oils and seasonings (forget something or need snacks and drinks? Everything is available for purchase in Columbia City). Being Business Ready, with wireless high speed internet and a 32-inch flat screen television with cable television (Roku, Apple TV, Amazon Firestick, etc. connectable) you are kept up-to-date. An easy stroll away is the business district of our Columbia City neighborhood. It's a Free Public Wi-Fi Hotspot and free Xfinity Wi-Fi hotspot for Comcast customers.
Respecting History, Melting pot and Income diversity. Home to one of the most diverse zip codes in the country, and highlighted by reviews from the SeattleMet, The Seattle Times, and The Stranger, the neighborhood recently has become known as, "one of the hottest new neighborhoods in Seattle," and has one of Seattle's highest WalkScores. Seattle's South-End is an exciting hodge-podge of delicious eats from around the world, locally owned businesses and well known Seattle faves. Columbia City boasts a historic library, movie theater, yoga studio, jazz club, community center and artist collective, and promotes restaurant and fresh market cuisine that spans Italian, Vietnamese, Middle Eastern, American, Senegalese, Latin, cheap eats, upscale and more. We are urbanite singles, established couples and families and students and teachers. Local employee and business owners, 9 to 5er's, urban farmers and Link Light Rail surfers. We all are cooks, artists and activists. For more information on things to do, see and eat in the area, parks, play grounds, and beaches or anything not-in-your-guidebook information please contact and ask anytime. Find us online with Instagram @columbiacitytreehouse, (SENSITIVE CONTENTS HIDDEN) @ Columbia City Treehouse and our Website (coming soon)! We are constantly updating their information.
We enjoyed our stay tremendously- so much that we will soon be back! Franka, Dexter and Eric
Franka
2012-09-01T00:00:00Z
The treehouse was exactly what we needed for our stay in Columbia City. It's very comfortable and Jay and his family took care of us as if we were their guests. We've already booked this location for our next visit.
Kathleen
2014-07-21T00:00:00Z
The apartment was exactly what we needed - clean, attractive, well-stocked. Perfect for a couple. Jay made it super easy to accomodate our late arrival too. There are several good restaurants and markets within a few blocks. And there's a view of Lake Washington from the deck and bedroom. Will definitely stay again when we're in Seattle.
Kristine
2014-12-17T00:00:00Z
Wonderful little place up in the trees. Very modern and clean, but with a rustic homey feel. A very convenient location for day trips to the flight museum, downtown, Pioneer Square, and the stadiums. Three things we must share... Just north on Raineer Ave., we found Borracchini's Bakery that had super awesome deserts, sandwiches and soup for a great price, and a produce market at 2119 Rainier (can't remember the name) that had unbelievable prices on fruits and vegis. Finally, Seward Park on Lake Washington is a short distance away and has beautiful views, lots of walking trails, and a great playground for the kids. Thanks for the stay and give Gigi a pet on the head for us.
Stacey
2014-04-13T00:00:00Z
Our little family enjoyed a comfortable stay at the Columbia City Treehouse Apartment. The accommodations were true to description. We greatly appreciated the well-stocked kitchen. It made making meals a breeze. Jay and his family were very welcoming. We hope to come back in the summer so we can do more exploring in the neighborhood!
Rochelle
2015-02-23T00:00:00Z
My husband and I stayed at Jay's Treehouse for three nights. It is located on the hillside of Columbia City. The Treehouse is very clean and well equipped as it is described. We love sitting on the deck enjoying the breeze and walking around the neighborhood admiring the berry bushes. We didn't have rental car those three days. It was quite a hike from Columbia City Light Rail Station to Treehouse with two suitcases or groceries even it is only a mile away. The bed is very comfortable. We enjoyed our stay there very much.
Wendy
2015-07-16T00:00:00Z
Great place to start the year! Loved it at Jay's, very nice family. Very accommodating, and amazingly nice. This place was a wonderful place to stay, even if it was for 2 nights. It almost seemed to good to be true. All the previous comments were on point, so don't you give it a second thought if you are considering your stay here. Would definitely come back here if given the second chance. Thank you again Jay!
Cristina
2014-01-03T00:00:00Z
Cozy accommodations ! Jay was the perfect host, and we stayed warm and dry during a major freezing Seattle week.
Bea
2016-12-14T00:00:00Z
Τύπος δωματίου
Ολόκληρο σπίτι/διαμέρισμα
---
Τύπος ιδιοκτησίας
Διαμέρισμα
---
Άτομα
4
---
Υπνοδωμάτια
Σιάτλ, Ουάσινγκτον, Ηνωμένες Πολιτείες της Αμερικής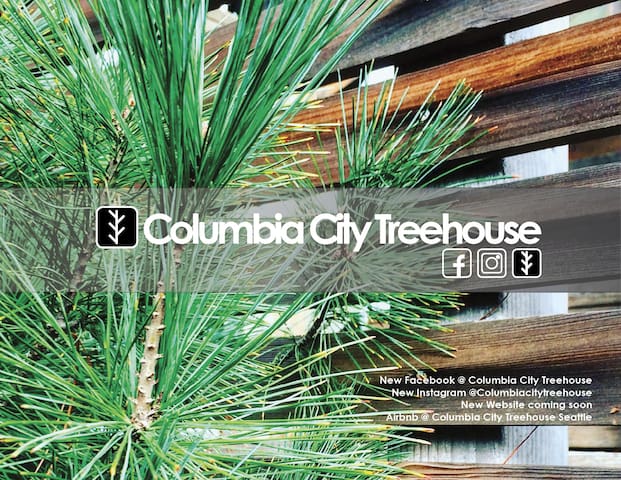 1 of the 2 bedrooms. This one is slightly bigger with softer mattress for the bed. -Close to light rail station (5-10mins walk): easy access to downtown and airport -Private bedroom w/ own bathroom UPSTAIRS -New house & very clean room -Quite & walkable neighborhood -Free street parking in front of house -Self check-in available (fine to arrive late at night) -Within car2go zone
Note that our bedroom is Upstairs. You will need to use the stairs. The light switch is right at the front door after you come in above the shoe basket(in case you check in later of the night). There is a step-down into the dining room from the entry way, so please watch your step. Scroll through all the pictures including: 1) a chart I created to explain the light rail system 2)a page from our guest book highlights places to visit in Seattle! 3) inside of our house and our front door (which can be helpful when you are checking in)
There are guests asking if the neighborhood is "safe". "Safe" is a very objective term and depending on what you compare to. For the past 3+ years living in this house, we never have any safety issues. I use the light rail to commute to work every day and walk from light rail station back home. We love this neighborhood and picked it when we bought our house. Note that this is in the middle of the city, so it will not be like a college town in the middle of the corn fields.
Kyle & Yissie were so nice hosts! The house was super clean and cozy. The neighbors were safe. And it was near the link station so we were very convenient to go to the downtown.
kyujin
2017-03-02T00:00:00Z
Kyle and Yissie are awesome ! and their home is lovely
Millie
2017-03-23T00:00:00Z
Had a nice last minute stay with this nice young couple. Just what I needed. Proximity to light rail was a 12 minute walk through a nice newer looking part of town. Dined at a great new Thai restaurant.
David
2015-10-30T00:00:00Z
It was great staying here. Yissie and her husband are very nice. Room was very comfortable and had a lot of space.
Cameron
2016-04-26T00:00:00Z
Nice bedroom and private bathroom, very modern beautiful house. Yissie and her husband were great hosts!
Isaac
2016-02-02T00:00:00Z
I really enjoyed staying here, the house is clean and the bed was deceptively comfortable. I highly recommend...
Darren
2015-05-31T00:00:00Z
Nice place and beautiful house!
jiali
2015-07-03T00:00:00Z
We felt like in hotel. We stay for one night only. We didn't expect so warm and nice invitation it made nice atmosfer after long day spend in car and traveling.
Štěpán
2016-10-03T00:00:00Z
Τύπος δωματίου
Ιδιωτικό δωμάτιο
---
Τύπος ιδιοκτησίας
Αρχοντικό
---
Άτομα
2
---
Υπνοδωμάτια
Σιάτλ, Ουάσινγκτον, Ηνωμένες Πολιτείες της Αμερικής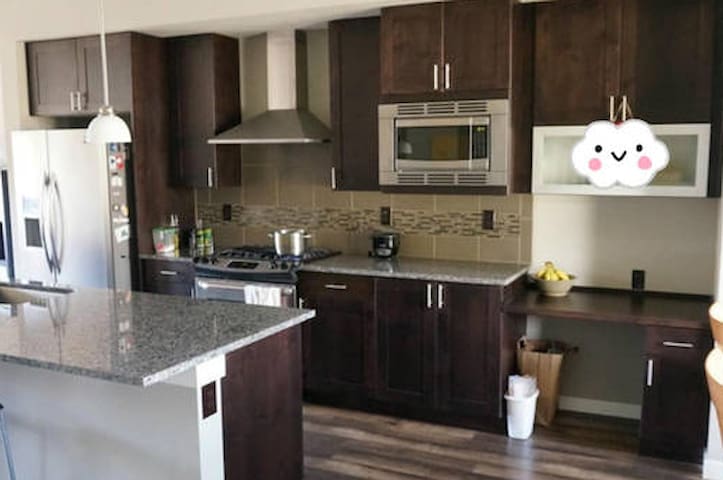 Relax and enjoy the privacy of your own Seattle garden cottage with easy access to Downtown Seattle. Your host Julie is welcoming and full of all of the Seattle expertise and tips you will need to have a fantastic getaway.
Welcome! Relax and enjoy the privacy of your own Seattle garden cottage with easy access to Downtown Seattle. Your getaway cottage is centrally located just 18 minutes from SeaTac airport and downtown Seattle - and now you can ride the new Light Rail! Walk 5 minutes to vibrant and historic Columbia City with loads of great restaurants, a fantastic natural foods grocery, cafe and deli called the PCC, art galleries, cinema, live theater, and a historic library. Search for Columbia City in NY Times for a helpful travel review. Your accommodations include a bright cozy cottage, supremely comfortable Queen sized bed, sky lights, 3/4 bathroom, ceiling fan, gas fireplace, wet bar kitchen, a complimentary fruit bowl and tea, WIFI, and French doors overlooking a private garden. A spacious flagstone patio with a private large hot tub to relax are complemented by a gorgeous territorial view. Lake Washington and Seward Park offer some of the best walking and biking paths in Seattle and are just minutes from the cottage. Whether you're from the NW, visiting family and from the States or abroad, you will love your private zen garden retreat. Welcome!
Julie was an excellent host and her garden cottage was in a great location within walking distance to Lake Washington, a grocery store and a street with shops/restaurants. The Light Rail train stop is nearby and easy to get to downtown Seattle. The garden was beautiful and the hot tub was great to relax in.
Ryan
2015-08-17T00:00:00Z
Had a great time! Such a lovely place and Julie was very friendly and informative of community events, etc.
Stephen
2012-09-10T00:00:00Z
Julie was a great host - very responsive and made sure everything was taken care of. Her place is amazing and I'd definitely come back and stay at her place again.
Abhishek
2016-07-20T00:00:00Z
My wife and I were looking to stay in a relaxed spot in an up-and-coming neighborhood and we hit the jackpot with Julie's cottage. Very clean, quiet, with peaceful vibes and a fantastic garden with several visiting bird species and a lovely view up the hill at night whilst sitting in the hot tub. Everything you need in the little kitchen, and a cute little porch overlooking the garden for breakfast! Walking distance to all the local-owned restaurants and pubs. Also walking distance to a lakeside trail and the old-growth forest in Seward Park which is perfect for a nice walk, hike, bird-watching, nature center. It's a quick drive right into downtown Seattle. Columbia City is a diverse and buzzing little community and Julie's cottage couldn't be in a better spot. We will definitely stay here again.
ZACHARY
2015-03-13T00:00:00Z
Julie's cottage was beautiful, serene, and very well situated in the very happening Columbia City neighborhood. The strings of lights inside and out gave the place a touch of magic escapism, and the hot tub was wonderful. The location is perfect for exploring Columbia City, but also close enough to a light rail station for farther travels into the city. Julie was very helpful and responsive to my every need and request!
Marlena
2017-01-21T00:00:00Z
Absolutely amazing! We had such a wonderful time in the cottage! It was cute, clean and had the most beautiful garden to enjoy! We will highly recommend to others and hopefully get to stay again ourselves! Julie was such a sweetheart and so helpful!
Travis
2015-06-06T00:00:00Z
Our host was very gracious and courteous to our privacy. She was a perfect comminicator, and checked in (through text) to make sure all was well with our trip which was appreciated. She made herself available when we needed her, and that is greatly appreciated. The cottage was very warm (the pictures don't do the inside justice) and calming.
Seth
2016-06-20T00:00:00Z
Excellent cottage. Location is great as well; close to nice restaurants, Seward Park and also both the airport and downtown Seattle. Julie kindly accommodated a couple of my last minute requests, and she makes sure that you feel at home at this nice property. I highly recommend Julie's cottage to anyone visiting the area.
Mert
2012-09-04T00:00:00Z
Τύπος δωματίου
Ολόκληρο σπίτι/διαμέρισμα
---
Τύπος ιδιοκτησίας
Μπανγκαλόου
---
Άτομα
2
---
Υπνοδωμάτια
Σιάτλ, Ουάσινγκτον, Ηνωμένες Πολιτείες της Αμερικής
This artistic 1-bedroom apartment on the ground floor of a classic 1931 home is designed for travelers who appreciate a quiet oasis in Seattle's urban Central District neighborhood. Private entrance with key code entry. Kitchenette. Full bath. WiFi. Laundry. Magical garden! Walk to cafes, p-patch garden, restaurants. Steps to buses (#2, 3, 8, 48) to downtown, Pike Place market, Space Needle. Free street parking, 100% natural green clean, fragrance-free home. 5% donated to local charities!
My guest space is a fully furnished one-bedroom basement apt with a full bath, living room and small kitchenette with your own private entrance and access to a tiny magical garden. Quiet urban retreat with music, books and maps on Seattle parks and neighborhood local hot spots (Cortona Cafe, Katy's, St. Clouds, Hi-Spot), wifi, one bicycle, popcorn, chocolate, coffee, tea and snacks provided. Walk 1-3 blocks to 4 buses. On street parking is free. Sales tax included. A tiny Notebook laptop with a DVD player is provided for watching movies. 5% of all proceeds are split between two community agencies: - The Urban Rest Stop for the homeless in Seattle and - Coyote Central, an innovative Central District Youth Arts organization
Foot friendly with lots of community gardens, called p-patches! I am in a neighborhood called the Central District (locals call it 'The CD') between the fantastic local eateries and shops in nearby Capitol Hill and Madrona 'hoods.' Like many US cities, the CD neighborhood has both has million dollar homes as well as a homeless population.
Julie was a great host. She was responsive and answered any questions we had about her place and Seattle. If you don't know where to go or what to do on your trip to Seattle, there are guides and maps to different activities around town on the dinner table. There is plenty of space to relax and unwind. There is a bedroom area and the living area which you typically don't get at a hotel. Makes you feel like your living like a local. If you are not used to the cooler weather, there are heaters placed throughout the space and blankets so it wasn't a problem for our stay. Everything was clean and worked without problems. The fresh flowers and the little food treat we got was a nice touch. Thank you. I would recommend Julie's place to anyone looking for a place to stay in Seattle. Another extra bonus, free parking. We stayed at a downtown hotel and paid $30+ a day which I found to be a bit much. We had a rental car during our stay but public transit is close by, maybe next time we go to Seattle, we'll use that more. I would recommend Julie's space for anyone looking for a place to stay in Seattle.
Harold
2011-10-03T00:00:00Z
Julie's guest apartment is beautiful, and she is a wonderful host. Eager to start exploring Seattle, I asked Julie if she would be able to accommodate our early arrival. She was more than happy to accommodate us getting in hours before check-in, and she welcomed us with open arms. The place is a sweet and cozy dwelling. The decor and furniture were artistic and fun. Both my partner and I were excited to return to our temporary Seattle home. The apartment is central and located just about 20 min from just about any and everything you would like to visit. Julie was quick to give us food suggestions and directions. She even had some fun walk guides to explore Seattle. Julie's place has a warm, artsy, fun, and homey vibe. It is perfect for a vacation in the windy, wet, and adventurous city of Seattle. I love this place. And I recommend staying with Julie any day. I cannot wait to return to Seattle and stay with at Julie's place.
Victoria
2012-01-24T00:00:00Z
I really appreciate how seriously Julie takes being eco-friendly. All the cleaning products are eco-friendly and top quality. The house is located in the Central District of Seattle within walking distance of Capitol Hill, Madrona and Lake Washington. I got used to staying here very quickly. Julie is a caring and helpful host. She has tones of info to help you navigate the city and even a bike for you to borrow.
Kehinde
2014-02-18T00:00:00Z
Julie was a fantastic host for our stay in Seattle. Very friendly, helpful, with lots of tips to make our visit to the city as enjoyable as possible. The rental is a really nice, cozy space. It's also located very close to a number of bus routes that let us not having to drive in the city at all once we arrived. If we get the chance to go back, I'm sure we will be trying to stay here again.
Joseph
2014-07-23T00:00:00Z
Julie was flexible and welcoming and the apartment was very comfortable and clean. We would happily book this apartment again.
Cari
2016-02-02T00:00:00Z
We loved staying at Julie's apartment in Seattle! It's location is a great neighborhood, close to so many things. The accommodations were wonderful; we were very comfortable. The bed provided a great rest and Julie is a very kind and generous hostess. We wholeheartedly recommend this lovely place(URL HIDDEN)
Elizabeth England
2012-08-15T00:00:00Z
Julie made both my mom and I feel very welcome in their home. The location was very central and made it very easy to travel to other neighborhoods in Seattle. She provides great resources for you to map out your trip. My only concern was that you could hear people upstairs walking around. I myself am a deep sleeper but this could affect others.
Jessica
2014-12-26T00:00:00Z
Julie's downstairs apartment was very comfortable and spacious. We had everything we needed. Great location to reach different Seattle venues. Neighborhood was quiet and plenty of parking.
Sharon
2015-01-07T00:00:00Z
Τύπος δωματίου
Ολόκληρο σπίτι/διαμέρισμα
---
Τύπος ιδιοκτησίας
Σπίτι
---
Άτομα
3
---
Υπνοδωμάτια
Σιάτλ, Ουάσινγκτον, Ηνωμένες Πολιτείες της Αμερικής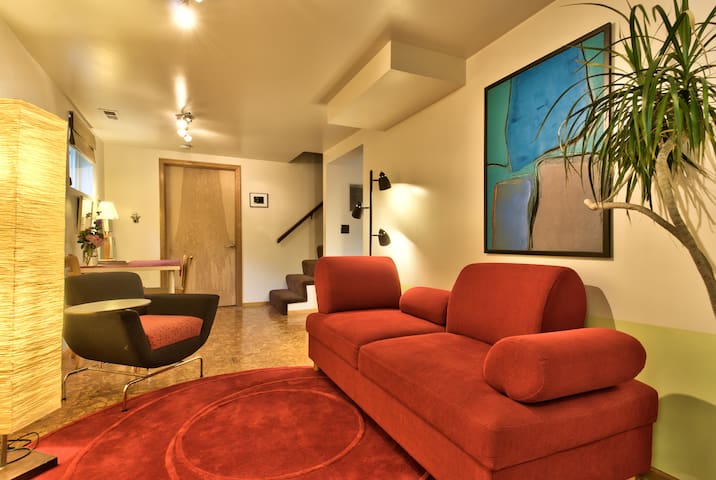 Private cottage nestled in wooded area next to a creek and waterfall. Perfectly located, just minutes from restaurants, entertainment, and I-90 to get to Seattle or the cascade mountains. Also, we have another cottage next to this one. Look for listing "Private cabin right on creek".
Charming creekside cottage with deck. Quiet and private. Accommodates up to 2 people, has small private restroom with shower only. Sink alcove with under-counter refrigerator, microwave, Kuerig coffeemaker, flat screen TV with DVD player, hair dryer. We have high speed internet and cable service to cabin. One Queen size bed. Private off road parking right next to cabin. No smoking please, no excessive alcohol or illegal drugs on property.
Our cottage is nestled in a forested area with a creek and waterfall to provide a private, quiet, and peaceful stay. You feel like your away from it all, yet you are just one minute from Issaquah Highlands with shopping, restaurants, and entertainment.
Neat cottage with a great view of the creek!
Curt
2017-02-11T00:00:00Z
We really enjoyed our time at the Waterfall Cabin! Pete and Mary Kay were great. They stopped by and made sure that we felt welcome. The cabin was exactly as advertised; a small, cozy cabin just outside quaint downtown Issaquah (and close to Seattle as well). You can hear the waterfall from inside the cabin.
Lindsay
2015-01-05T00:00:00Z
Getting to the cottage late, they left the key and some treats for me. My hosts were very accommodating and gracious. I'd highly recommend anyone that wants a little serenity in Issaquah.
boyd
2015-11-07T00:00:00Z
This was my first air b &b experience and I couldn't ask for a better one. Everything was exactly how it looked in photos and Pete & Mary Kay had the place ready before we arrived even though we arrived a little earlier than expected. It was very peaceful and they only contacted us once in a while to see if we needed anything. I felt bad that we weren't able to meet with both of them since our hours at the place conflicted with theirs and we were much busier than expected so we were mostly there just to sleep, but we briefly spoke to Pete who seemed very nice. We didn't pick up a rental car until 2 days after we arrived and we found it incredibly easy to walk to stores and restaurants nearby. I would recommend this place to anyone looking to stay in this area. The stay is very quiet with beautiful surroundings, yet civilization is still within walking distance so it is the best of both worlds.
Shelly
2016-07-26T00:00:00Z
Very cute cottage. Loved our stay here.
Chris
2015-12-17T00:00:00Z
My husband and I stayed at this cute little private cottage in Issaquah during the first week of November. It is a quaint mother-in-law cottage next to the owner's home, which at first made me a little apprehensive. We arrived to find the property well lit with Christmas lights, a well manicured green space and a text with easy to follow directions to gain access to the cottage. It was incredibly private and we did not feel spied on or intruded on by the owners of this beautiful home, even when they came over to visit a few days into our stay. The cottage itself was a clean, cozily decorated one bedroom space with a kitchen nook and private bathroom, including a small refrigerator, microwave, Keurig machine and blow dryer. The bed was comfortable and there was a large tv with cable and a DVD player available. Everything was located centrally and we were within minutes of food, friends and entertainment. The drive to Seattle is less than 20 minutes from here. I would definitely suggest this cottage to anyone staying in the area. It was an incredibly comfortable week and I thank my hosts for having us!
Jeanette
2015-11-06T00:00:00Z
We had a really good time. The cottage is great and we really loved it. It's too bad we were in such a rush we didn't have time to meet the hosts, but even still they were super attentive and ready to meet any of our needs.
Daniel
2016-09-05T00:00:00Z
Such an incredible place to stay! My new wife and I were greeted by the easy to find and exceptionally beautiful little cottage one hour after our wedding reception. It was everything we could have hoped for to start our honeymoon together. Pete and Mary Kay went above and beyond to make our visit special. They fulfilled a special request of mine with immediate response and incredible fulfillment. I highly recommend cottage to anyone. I can't wait to come back!
Max
2016-09-06T00:00:00Z
Τύπος δωματίου
Ολόκληρο σπίτι/διαμέρισμα
---
Τύπος ιδιοκτησίας
Ξυλόσπιτο
---
Άτομα
2
---
Υπνοδωμάτια
Issaquah, Ουάσινγκτον, Ηνωμένες Πολιτείες της Αμερικής
Our hospitality room has a shaded view into the front garden, and is adjacent to a bathroom with a walk-in tub. The house is less than a mile from downtown Issaquah, but up on the mountain on a quiet loop with lots of big trees. Great breakfasts.
This house was formerly "Mountains and Planes Bed & Breakfast," noted for "service you have not had since Mom" and a serene atmosphere for personal retreats. We are close to Hillside Park and to the trails of Squak Mountain. Your hostess has lived in Asia and West Africa and entertained guests from around the world. She loves to cook.
Issaquah started as a small agricultural area and mining community in the 1800's, but has grown rapidly since 1990. The old downtown area still retains some of the historic character and features a railroad depot and the old town hall which have become historic museums. We have a state park on the lake, numerous hiking trails in the mountains, and a paragliding center. Seattle is 17 miles to the west and ski slopes are about a half hour drive to the east. It is an area of big trees and lots of natural beauty. Yes, there are still some black bears in the neighborhood. Gilman Village is a distinctive shopping area housed in rescued Victorian houses from around the area. Boehm's Chocolates is our local cottage industry where the sights and flavors will make you think of the Austrian Alps.
Elizabeth was a wonderful host. Within 5 mins she responded to my request. My son was traveling and needed a place to sleep. It was late and she was out. But she immediately responded and drove to her house to meet my son. She welcomed him with a cup of hot tea and then text me to let me know that he had arrived. She had a very clean room and a comfortable bed for him to sleep in. My son said that she was very caring and sweet. He had a really good rest that night. I am also a host in Florida and I am very happy to know that there are others that will take care of someone especially that late at night. Thank you so much Elizabeth , Michelle
Michelle
2016-05-03T00:00:00Z
My stay at Big Bear Place was absolutely a number 12 on a scale of 1-10. Miss Elizabeth made me feel very much at Home in her home. She is a very pleasant, special individual with a heart of pure gold. My stay was well beyond my expectations. Thank you Miss Elizabeth!!
Rodney
2016-01-31T00:00:00Z
Very nice. Very reasonable price. I loved our conversation.
Steve
2016-05-06T00:00:00Z
Elizabeth was wonderful, very welcoming, quietly charming and beautiful, great neighborhood, well appointed house, and in several years of staying in airbnb homes, this was my very favorite.
Paul
2016-08-02T00:00:00Z
This was my first Airbnb experiences and it exceeded my expectations. I did not expect much in the way of accommodation, but Elizabeth was very helpful in suggesting excellent sights and hikes. She even let me borrow one of her backpacks. She also mentioned that she previously ran a bnb, which was certainly fitting. I felt like this room was worth more than the overnight fee.
Cameron
2016-08-19T00:00:00Z
Elizabeth is a very warm and welcoming hostess. The breakfasts are what makes the day special and get you off to a great start. Your stay will feel like you're at home and you will find that she is most kind, endearing and accommodating. She has a great cause for humanity and it's a joy to know that she has a great heart for all. You will enjoy her cat Numa...who keeps things entertaining.
lisa
2016-11-22T00:00:00Z
Had a fantastic stay at Big Bear Place hosted by Elizabeth. She is a fantastic woman with such a refreshing take on everything. I especially enjoyed our morning and evening chats. I would definitely recommend this place and would stay here when I'm in the neighbourhood. Oh and she makes excellent breakfast :-)
Si
2016-11-13T00:00:00Z
Poor Ellie was fighting off the last stages of a cold when I arrived, however she enlisted a friend to let me in & show me around. She also wrote a personal letter to me to let me know about my stay & also that I could text or call her downstairs. It all worked perfectly. Her room was a perfect space for me to sleep & wash up for a drive back to Wenatchee from Seattle. Because the pass was questionable, Ellie was great at relaying the mountain pass notes online, finding a place where I could purchase chains if needed and so on. She was very resourceful. She offers breakfast, but I initially thought I was heading out early, so had tea & nibbled on raspberries. The Big Bear Place is in a very hilly wooded park like area that sits beautifully above town. It's a very short drive into town where there's everything. I visited the Egg & Us since the pass was still icy. Big portions & quite delicious: seasonal muffin & the breakfast burrito where accompanied with tons of fruit. I also visited Rewind, a downtown consignment store, where I found one of a kind pieces. The owner was quite helpful.
Dorrinda
2015-12-07T00:00:00Z
Τύπος δωματίου
Ιδιωτικό δωμάτιο
---
Τύπος ιδιοκτησίας
Σπίτι
---
Άτομα
1
---
Υπνοδωμάτια
Issaquah, Ουάσινγκτον, Ηνωμένες Πολιτείες της Αμερικής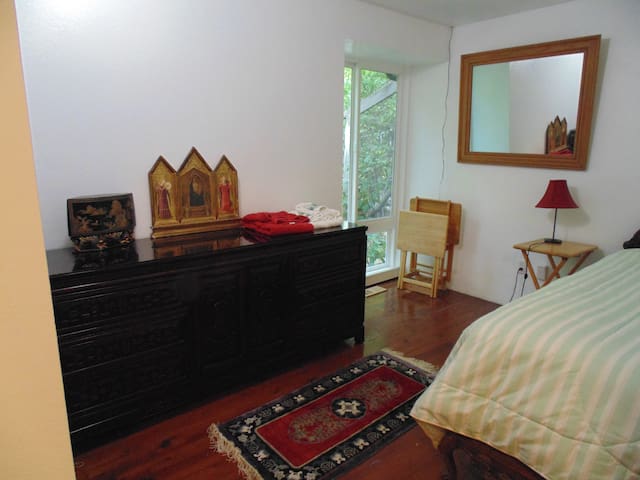 This charming home is perfect for individuals, couples, or a family with kids. Centrally located in a residential neighborhood, it is 10 minutes to downtown Seattle, Capitol Hill, or Columbia City. It is adjacent to a park and the I-90 trail. It has a bedroom with a full bed, a nook off of the kitchen with a pull out bed (full), and a large living room and dining room.
Τύπος δωματίου
Ολόκληρο σπίτι/διαμέρισμα
---
Τύπος ιδιοκτησίας
Σπίτι
---
Άτομα
4
---
Υπνοδωμάτια
Σιάτλ, Ουάσινγκτον, Ηνωμένες Πολιτείες της Αμερικής
Two rooms w/ bathrm w/shower, private entrance, mini fridge, microwave, Keurig coffee maker, (no kitchen room) 1/2 Mile off I-90. Two blocks: 12 restaurants,grocery,(live theater) @ Village Theater,3 blocks to SalmonHatchery,close to hiking/biking trails,GilmanVillage shopping is 1 mile, 25Minutes to Seattle,20Minutes to Snoqualmie Falls, 35 minutes to skiing Snoqualmie Pass. Easy public transportation bus stops 1 block from house. 3 miles to worldclass Seattle Paragliding Park.
You get 2 rooms and bathroom w/shower. Bedroom #1 has queen bed, #2 room has a full bed. Both rooms have closets. Mini fridge, Keurig coffee maker, microwave, glasses & coffee cups (no separate kitchen room) outside porch entrance. Lovely accommodations in historic old town Issaquah. Perfect for business travelers, couples and or small families. You will have access high speed internet. There is a 40" TV in the master bedroom with HD cable channels including ESPN as well as free on demand movies and TV shows. Host lives on property.
Views of Issaquah Alps, 1/2 mile from 1-90 onramp, 1 block from major express bus to downtown Seattle, 1 block to bike trail to East Lake Sammamish trail, 12 restaurants within 3 block area, 3 blocks from (live) Issaquah Village Theater, 1 block to Front Street Market, 1 mile from Swedish Hospital, 2 miles to Costco Headquarters, 2 blocks from Issaquah Salmon Hatchery. Across street from Gilman Town Hall Museum. 3 blocks from trail head to Issaquah Alps hiking trails. Issaquah Train Depot Museum is 2 blocks from my house. World famous Seattle Paragliding Park (Poo Poo Point) is 3 Miles south on Issaquah Hobart Road. 8 minute drive to Lake Sammamish State Park.
Nancy was there at the agreed time. Showed us around explained everything and made us feel welcome. The place is very nice as is the area. Walking distance from nice restaurants and bars. Nice touches like travel toiletries and fruit in room as well as a stoked fridge with drinks. Good value as there were three if us.
Liam
2016-06-26T00:00:00Z
Great location. Walking distance to downtown issaquah. I've stayed here a couple of times.
Steve
2016-10-13T00:00:00Z
I love staying here. Right near downtown, but far enough that parking is easy. Good price No kitchen or living room. But convenience is nice.
Steve
2016-10-27T00:00:00Z
Nancy's place was very cozy. She had it stocked so we didn't need anything (towels, coffee, covers, heaters). We could walk to everything in downtown Issaquah. We would happily stay here again.
Daniel
2017-02-02T00:00:00Z
super private and really convenient. very cozy
connor
2016-10-18T00:00:00Z
Nancy's place is great. Nancy is a wonderful host and offers a very reasonable price for the location of the place. I highly recommend staying here!
Emily
2017-02-18T00:00:00Z
Overall a great place to stay. Very clean and comfortable. It was also close to downtown, several restaurants and the theater. We were traveling with two small children and it was a little bit of a tight space for two adults and two children. There was no TV but good internet and we managed with other technology so that didn't seem to bother us too much. Overall a very nice place to stay(URL HIDDEN)
Ceora
2016-09-14T00:00:00Z
All the reviews are spot on, Nancy was a great host - I truly enjoyed staying at her place. Impressively clean, lots of nice amenities, fast wifi, and a perfect location in Issaquah. Thanks for the great experience, this is what airbnb is all about.
Chris
2016-07-29T00:00:00Z
Τύπος δωματίου
Ολόκληρο σπίτι/διαμέρισμα
---
Τύπος ιδιοκτησίας
Διαμέρισμα
---
Άτομα
4
---
Υπνοδωμάτια
Issaquah, Ουάσινγκτον, Ηνωμένες Πολιτείες της Αμερικής
A comfy, quiet bedroom with high quality Queen bed plus clean, private full bathroom with 24hr hot shower & towels The codon is located in a beautiful community with large public green land, community running trails, and stunning views of mountains.
You will live in a cozy bedroom with a large attached closet. Indoor bathroom is clean, only for your use. The bathroom is luxurious and covered in slate tile.
The community is very peaceful and quiet. You can read sitting on the bench in the community park, run into woods along the hidden community trails, or watch sunset over Sammamish lake. Street parking is available and free.
I enjoyed the scheduled events near and around general areas between Issaquah WA and Seattle WA. I ate nice foods from Safeway groceries and nearby Chinoise restaurant with other guest staying and went to a restaurant with Sixu and guest. I helped the guest to a hostel on my way out when he wanted to see more downtown sight seeing because he didn't have a car. Sixu was generous to pick up this guest to her home from downtown and give ride to restaurant as well. I met them in my car to restaurant and had meal together at Din Tai Fung in Bellevue WA. We went to Washington State Convention Center to attend PAX PRIME on Saturday. I was able to get a ticket from people leaving the expo. We got separated and could not find each other because signal loss due to building structure. I and other guest walked to local Sushi restaurant Chinoise and also walked 2 mile trail walking. We got up next day at 6 am and made breakfast together and tried not to disturb Sixu. I cleaned up all the dishes we used and swept the floor where a plant had fallen and spilled a dirt on the floor from wind blowing into the house. I removed my groceries and made the bed and put the key on the table in my room that I stayed in. Sixu was slightly I'll by weather with rain and she wasn't well on Saturday, plus she had to rush through convention events alone while other guest had meetup before his expo performance outside.
Parker
2015-08-31T00:00:00Z
Sixu was a great host. She confirmed my reservation less than 1 hour and she sent a message confirming my arrival time. Her place is located in a great neighborhood and I came with my fussy 5 year old. The room was very clean and located on ground floor which was very convenient. There was also an on street parking available even though it could get busy. Sixu was very accommodating, and she let me to use the washing machine outside the hours. She even let my 5 year old play with her nephew's toy. I really recommend her place if you like staying in a quiet eastside neighborhood. Thank you Sixu! All the best :)
Rizka
2016-07-20T00:00:00Z
Very friendly host. House is very nice. Bed is comfortable. Highly recommend.
Joel
2016-07-31T00:00:00Z
Sixu was so pleasant when we were to tired to visit, she let us have the room right away and we slept so good the first and second night I would recommend the quite and comfortable room to anyone who needs accommodations this close to Issaquah WA. Very easy access to and from the I-90. I would stay with her again. She was helpful and pleasant and also her roommate.
Pamela
2015-10-24T00:00:00Z
This is a very comfortable and well furnished place. It is very relaxing to "come home" to this place. I felt very welcomed which makes a trip away from home relaxing and enjoyable.
Doug
2017-02-23T00:00:00Z
Hostess was great! Nice room. Very clean and comfortable.!
Rayna
2016-09-26T00:00:00Z
Sixu was a wonderfully kind and polite host. She was genuinely concerned about my comfort during my stay. Suix is extremely easy to communicate with. The property is exactly as described (very basic) and is located in a very peaceful neighbourhood, not more than two years old. My room was located on the ground floor and had an adjoining private, en-suite bath. Nice! Both the bedroom and bathroom were clean, tidy and comfortable. The location was perfect for my needs and was within walking distance of local restaurants and shops. I stayed 5 very peaceful nights at Sixu's home and look forward to returning next time I'm in Seattle. Thanks for the great hospitality!
Dean
2015-08-24T00:00:00Z
The host is very nice and friendly and the stay was wonderful. Room was clean and tidy. The place is convinent only like 10 mins away from the grand ridge plaza where u can take bus to downtown.
Gary
2016-12-02T00:00:00Z
Τύπος δωματίου
Ιδιωτικό δωμάτιο
---
Τύπος ιδιοκτησίας
Αρχοντικό
---
Άτομα
2
---
Υπνοδωμάτια
Issaquah, Ουάσινγκτον, Ηνωμένες Πολιτείες της Αμερικής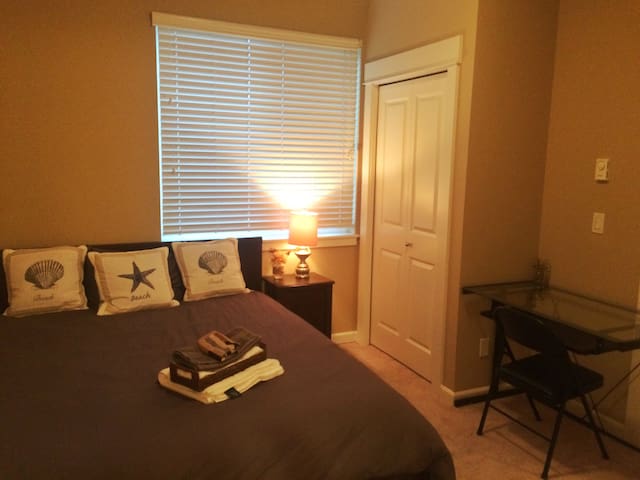 Enjoy an updated master bath, comfy king bed, and high-end kitchen with forest views from every window in this upper-level unit. Just a quick drive to Seattle, Bellevue, or ski resorts and just 5 mins from Issaquah, Village Theater and restaurants. Nestled between Squak and Cougar Mtns, you'll find endless hikes. Look at our downstairs listing, or book the whole house! "House in the Woods (lower unit)" "House in the Woods (whole house)"
This house offers the best of both worlds: literally minutes from charming Olde Town Issaquah, the freeway and the conveniences of urban life, yet tucked against a mountainside and surrounded by a canopy of trees (and fresh air!). KITCHEN Enjoy cooking in our well stocked kitchen! Having the appliances, knives, serving bowls, crock pot, and some spices in the pantry will make your stay easy and comfortable. The kitchen features a Viking range, plenty of counter space, 2 ovens, and 2 sinks (one large for dishes and one near the stove for food prep). SLEEPING Our master bath was uniquely designed to be soothing and relaxing. It includes a large neo-angled tub with a waterfall faucet and a high-end walk-in glass shower. The bedroom has solid wood glass-front cabinets, walk-in closet, king bed, sitting chair and upcycled details all around. The queen sleeper sofa in the living room is easy to set up and take down with smooth and light weight mechanisms. The white leather couch can also be used as a bed, or if guests prefer, there is plenty of room for your personal air mattress (or two) in the living area. LIVING AREA You'll find special pieces throughout, including up-cycled remodels, high-end updates, and antique built-ins from local lakefront mansions. The unit is truly one of a kind! Also enjoy the in-floor geothermal radiant heating and cooling system and distilled water straight from the pigot at the kitchen sink. The large living room has a flat screen tv, plenty of seating, and is connected to the kitchen with an open floor plan for optimal socializing. You'll also have sliding door access to the front patio on one side and the deck on the other. With wall to wall windows, you'll see tree views on three sides. NOISE Because there are two units in this house, we ask that you respect quiet hours between 10pm and 8am. The home is nestled in the trees right along Hwy 900, a high-traffic road between Issaquah and Renton. Expect to hear cars and trucks pass by day and night from inside the house, but also enjoy the sights and sounds of mother nature all around you. See photos for proximity to the street. LOCATION Being on Hwy 900 means you won't spend extra time driving through neighborhoods or city streets to get to your destination. From the house, zip right onto this scenic road and hit the freeway, town or trailheads within minutes. Note that commute hours in the morning and late afternoon create heavy traffic on this road, I-90, and main roads in Issaquah, so plan accordingly. Outdoor enthusiasts will find two ski resorts less than an hour away, as well as boating/swimming, miles of cycling, running, fishing, downhill biking, destination hiking and even paragliding just down the road. BOOKING ALTERNATIVES Contact me if you'd like to add more people than is allowed. The house was remodeled to be booked as one large house, OR as two separate and private units (one on each level). Fastest way to find them is an Internet search for: "House in the Woods (lower unit) Issaquah" "House in the Woods (whole house) Issaquah" If you're sensitive to road noise, note that the upper unit's wall-to-wall windows and open floor plan do make it easier to hear the cars/trucks. Although you still hear traffic in the lower unit, it's much quieter. (We recently purchased this home from friends who also hosted House in the Woods on Airbnb. If you've stayed here before, you'll notice that the furnishings and vibe are exactly the same! If you're new to this listing, check out our photos for examples of previous reviews on this unit.)
Private property, no visible neighbors, surrounded by forest trees and landscaping. Property is along Hwy 900, a high-traffic road. Professional maintenance workers may be on exterior the house for landscaping or pest control. They may also access the open land to the right of the house (behind tree coverage) by entering from Hwy 900 and turning right at the split in the driveway. Close to Trader Joes, PCC, Costco, Safeway, Target, REI and much more!
Almost forgot to review! We loved this place. I looked through hundreds of listings trying to find the perfect place for a surprise anniversary/Valentine's Day weekend getaway...and this was the perfect choice.
Curtis
2017-02-12T00:00:00Z
Coleen was a wonderful host, she even gave us a redbox card to use. We really enjoyed straying in her beautiful home! Very secluded and cozy but also close to restaurants and shops as well.
Nataly
2017-02-11T00:00:00Z
Super gorgeous home! It's perfect for adventures in the woods or to just relax inside with a scenic view! The host is very sweet. I will definitely be booking again!
Aubrey
2017-02-16T00:00:00Z
Gorgeous, clean, spacious. Exactly what I was looking for. Will definitely stay here again!
L'Erin
2017-02-28T00:00:00Z
This is a beautiful property with high end amenities throughout. Communication with Coleen was perfect and the location is central to all things Seattle. A++
Eric
2017-03-02T00:00:00Z
Lovely place with lots of room. Perfect for groups of people. Coleen is amazing with communicating with renter. Highly recommended.
lydia
2017-03-19T00:00:00Z
Beautiful home! We had a wonderful stay! My teen daughters enjoyed the house, kitchen is great to cook in, all the items that are needed are already there. Good location - easy access to I-90. We are new to AirBnB and enjoyed it more than a hotel. We will definitely do it again!
Nora
2017-04-07T00:00:00Z
This home is like no other! We wanted to basically fall of the grid and relax and this place did exactly that. Coleen is so great in communicating everything you need to know. She was very upfront with things that had happened due to the current storms, there were no surprises upon arrival. The best part is the bathroom! Yes I know, but the minute you sink into the large jacuzzi tub you will understand. I highly recommend this House in the Woods for anyone wanting a quiet place to unwind and relax. We are already planning our next stay!
Sara
2017-02-14T00:00:00Z
Τύπος δωματίου
Ολόκληρο σπίτι/διαμέρισμα
---
Τύπος ιδιοκτησίας
Σπίτι
---
Άτομα
5
---
Υπνοδωμάτια
Issaquah, Ουάσινγκτον, Ηνωμένες Πολιτείες της Αμερικής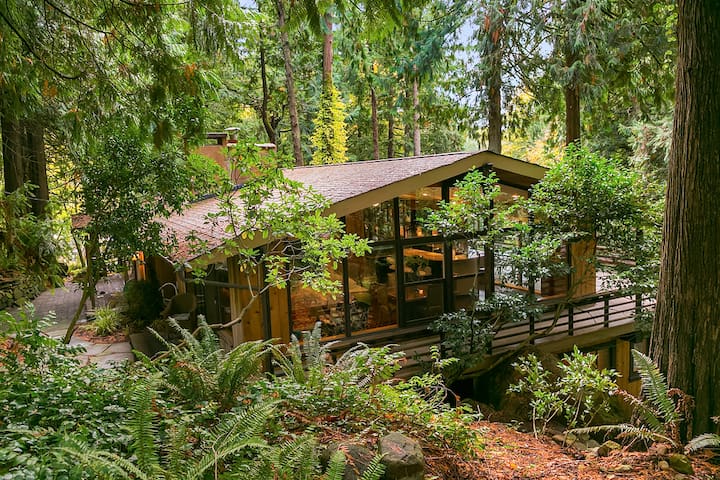 Stay with us and enjoy the convenience and excitement found in dense cities, the quality of life found in the suburbs and the solitude of nature found in the woods. Work, play or chill, this is your launch pad! PLEASE NOTE: Our listing comes with two separate bedrooms and a private bathroom, one of the bedrooms has a queen bed and the other a single bed that can pull out into a comfortable king. Both bedrooms are shown listing photos.
Enjoy a tranquil private bedroom with cable TV and internet, plus a private full bath. A separate private bedroom/family/TV room is included for relaxing or accommodating your larger group. Share our home; kitchen (no microwave), laundry and common spaces. Our home is located on a quiet suburban street but just a five minute walk to a vibrant new commercial district with cinemas, a wide variety of quality eateries, shopping and more. Search "Issaquah Highlands Directory" for a list of those close-by establishments. We have made many menus available for your selection. If you are feeling the need to relax and center yourself, there are two great Hot Yoga studios within 5-10 minutes (we have yoga mats and towels for your use). Or head the other way and find yourself wandering peaceful wooded trails (maps provided). Ride to World Class mountain biking at Duthie Hill Park via Grand Ridge Trail (seriously, search Go Pro videos of these rides. I feel like wearing a helmet just to watch them!) But when work calls, you have high speed Luxul wireless access plus real life access to all the major metropolitan Seattle employment centers too (travel times listed below). Keurig Coffee maker for easy on-the-go coffee or tea. An electric tea kettle and small fridge are in your room, plus refrigerator space available in the shared kitchen. My husband Andrew travels the State using AirBnB and we've vacationed as a family doing the same. We've set up our AirBnB place to address the wants and desires we have as business and/or pleasure travelers.
Issaquah and our neighborhood, the Issaquah Highlands are located on Interstate 90 at the eastern edge of the greater metropolitan Seattle area. From here West, cosmopolitan vitality. From here east, wilderness tranquility.
Our third visit! Again...wonderful!
Harry
2016-06-25T00:00:00Z
We had a great stay with Stephanie and Andrew. They were very friendly and helpful hosts and their beautiful home was in a great new area and so convenient for us for visiting family. The room and bathroom were immaculate, comfortable, peaceful, and very classy. They provided many comfort items such as a small fridge stocked with bottled water, fluffy towels (others have mentioned), and great snacks- granola bars, almonds, and chocolate! We greatly appreciated the welcome we received when we arrived late in the evening after our long flights and they were great about our leaving at a crazy early hour to make our flight home. We highly recommend staying with Stephanie and Andrew! Five stars!!
Jan
2014-10-21T00:00:00Z
Andrew and Steph were most gracious hosts; they welcomed us into their home and made sure we were comfortable. Our room was inviting with extra touches that made us feel right at home. We couldn't have asked for a better "home away from home". Would definitely recommend it!
Susan
2015-12-31T00:00:00Z
It was very nice experience to stay with Andrew & Stephanie again when we visit our daughter's family in Issaquah. The room is very comfortable with a room fridge and restful bed. It and the bathroom are very clean with needs provided. The kitchen is available but we only used the Keurig for coffee in the morning. The location in the Highlands makes all sorts of shops available. We would plan to stay here again on our next visit to Issaquah.
Sheldon
2015-08-25T00:00:00Z
It was a pleasure to awaken in Stephanie and Andrew's rooms. And a relief to return to them after long days. They considered all comforts and amenities and were clearly experienced in their role as consummate hosts. A fresh and relaxing ambiance overall.
Claire
2016-09-03T00:00:00Z
Exactly as advertised, this is a very clean and very quiet room in a beautiful centrally located Issaquah neighborhood. It was very convenient to our scheduled (and unscheduled!) itinerary. Stephanie and Andrew were very, very nice hosts and we would absolutely stay here again.
Ed
2015-02-21T00:00:00Z
Great place to stay. All family members were warm hearted and we had great time there. Everything in room was clean.
军
2016-12-28T00:00:00Z
Stephanie & Andrew are wonderful hosts and provide a warm, welcoming, and comfortable Airbnb experience.
Michael
2016-11-25T00:00:00Z
Τύπος δωματίου
Ιδιωτικό δωμάτιο
---
Τύπος ιδιοκτησίας
Σπίτι
---
Άτομα
4
---
Υπνοδωμάτια
Issaquah, Ουάσινγκτον, Ηνωμένες Πολιτείες της Αμερικής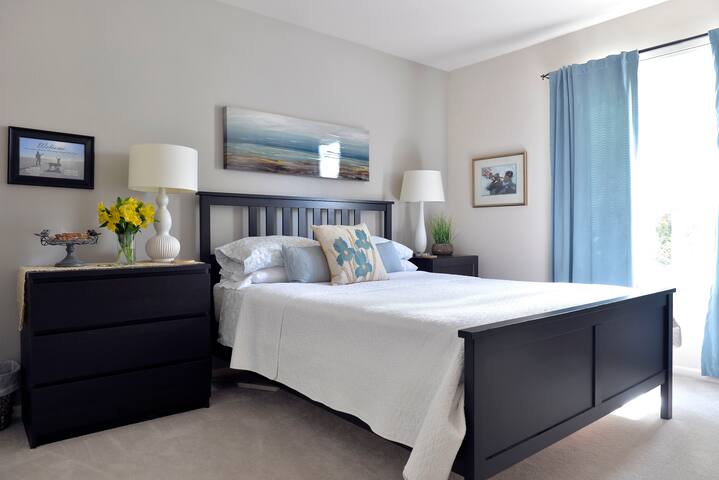 It's a two bedroom apartment with extra room/day bed. Located in beautiful Issaquah, WA. 20 minutes from Seattle, Redmond or Bellevue or Lake Sammamish. Minutes from hiking trails. Complex includes outdoor swimming pool and exercise room.
Close proximity to restaurants, movie theatres, parks and mountain biking. It's a two bedroom apartment but with a piano room with a comfortable day bed and full privacy, so it's in effect a bedroom, just no closet space in the room. Bathroom located just across the hall from that room.
Great access to freeway and amenities.
was great...lived the cat
Karima
2015-06-19T00:00:00Z
Rick's place was a perfect place to stay while attending a wedding close by. I didn't have time to check out much of the things nearby, but there was a great view of the mountains from the sitting room. His replies were prompt and helpful; great directions for checking in and out.
Jesse
2017-01-16T00:00:00Z
Rick's apartment is nice and in a good location. Communication with Rick was very clear and prompt. I would come back and stay with him again!
Prodpran
2015-11-28T00:00:00Z
My sons and I enjoyed our stay at Rick's place and would definitely book again if in the area!
Heather
2017-01-29T00:00:00Z
Beautiful apartment with lots of space and a very friendly cat. Rick was a great host and gave us lots of private space. Only reason for star deduction was that despite apt being clean, bedsheets had not been changed prior to our arrival, which was very surprising.
Danielle
2014-10-15T00:00:00Z
The host canceled this reservation 18 days before arrival. This is an automated posting.
Heidi
2016-05-13T00:00:00Z
Myself and 2 friends were in the Issaquah area to attend a wedding. Rick's place was exactly as advertised. Clean, spacious, comfortable. All 3 of us are very happy with our stay. I would repeat if I find myself in the area again. Zuzu the cat is super chill also. Thank you!
Max
2015-06-21T00:00:00Z
This place was warm and inviting and easy to get to. We felt at home the moment we walked in the door! Rick's instructions for were easy to follow and very helpful. Everything about our stay was amazing! We'd definitely stay here, again!
Deb
2016-02-22T00:00:00Z
Τύπος δωματίου
Ολόκληρο σπίτι/διαμέρισμα
---
Τύπος ιδιοκτησίας
Διαμέρισμα
---
Άτομα
4
---
Υπνοδωμάτια
Issaquah, Ουάσινγκτον, Ηνωμένες Πολιτείες της Αμερικής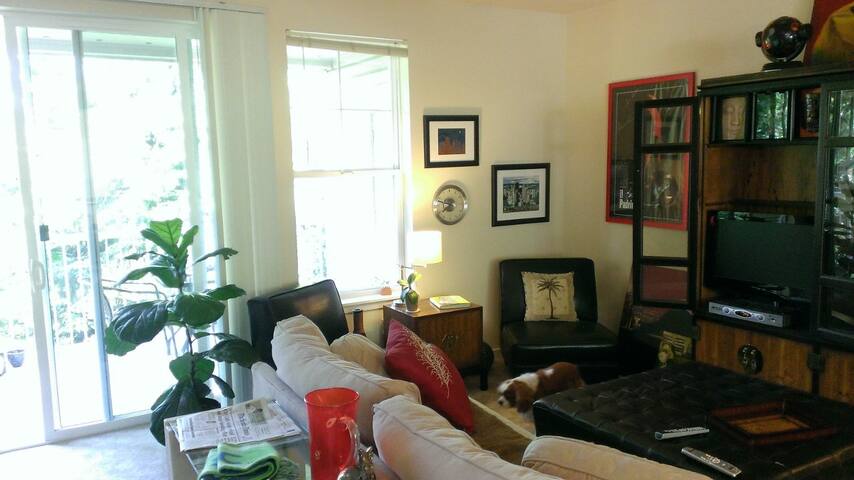 Come enjoy a clean & bright house in the vibrant Olde Town district of Issaquah and be steps away from famous restaurants, world class live theater, galleries, parks, playgrounds, & endless outdoor activities--all within 30 mins of downtown Seattle!
Easy to find, and close to everything! SeaTac Airport: 22 miles, 27- 42 minutes Seattle Ferry Terminal: 16.8 miles, 22 - 38 minutes Safeco Field / Century Link Stadium (downtown Seattle) 16 miles, 19 - 34 minutes Space Needle: 18.5 miles, 24 - 39 minutes Microsoft Campus: 10.2 miles, 19-23 minutes Duthie Hill Park: 4.7 miles, 12 minutes Alpental (Skiing): 36 miles, 34 minutes The house is clean, bright, comfortable and quiet. Ideal for groups of 4 people, it can comfortably work for families of up to 6 for shorter stays. With a spacious 900 square feet, there's plenty of room to stretch out and relax. Both bedrooms feature comfortable beds with top notch linens, plenty of pillows, and full closets for clothes and personal belongings. The "master" bedroom is extra long, with lots of space to set up the Pack-n-Play. The living space is open, airy and inviting--a perfect place to kick back and relax. The interior is inspired by boutique motels and provides a stylish, inviting and fun place to spend time. You'll find a thoughtful mix of new and vintage furnishings, a rotating selection of original artwork, and everything you need to enjoy your stay. Weather permitting, there's a comfortably shaded patio with outdoor dining set to enjoy lunch, or just relax to the babble and splash sounds of Issaquah Creek that fill the air. The fully fenced yard is professionally maintained and has mixed shade/sun throughout the day across the nice flat lawn--a perfect place lay out, or for young kids to play. The house is ideal for families and small groups who want to experience the best of the Pacific Northwest, but would rather stay near the mountains than Downtown Seattle.
"Olde Town Issaquah is ideal for people who want to experience the real Pacific Northwest, but prefer being close to the mountains instead of downtown Seattle." --A past guest Olde Town is the original Issaquah township built back before floating bridges connected the East side of Lake Washington to downtown Seattle. Built on the broad, level, valley terrain, Olde Town is a throwback to better times with neighborhoods built at human scales (no need for cars), clustered around a main drag--in this case, Front Street. Front Street offers more than a dozen restaurants, many of which are Seattle area favorites--including JaK's Grill, the Issaquah Brew House, and Max's World Cafe. Issaquah is also known as 'Trailhead City' and is host to miles of hiking and biking trails, many within a short distance from your front door. Surrounded on two sides by expansive state parks, nature is never far.
It is a lovely place. My family was visiting from Costa Rica and they love the house. It was in a great location. The host were very accommodating and made my family feel welcome. This was actually our second stay here in a 2 week period and my family will most definitely wish to stay here again next time they visit from out of town.
Mariano
2016-01-02T00:00:00Z
We had another enjoyable stay. Clean, attractive, comfortable, and a great location.
Stephen
2015-03-21T00:00:00Z
Sarah greeted us at the property upon arrival. She let us in and gave us a quick tour of the place. The listing was very accurate to what we saw online. It is perfect for 2-4 people. It is quaint and very comfortable! Sarah was very easy to get in touch with, and would always respond back almost immediately. The neighborhood and town itself is so neat! There are local shops and yummy restaurants walking distance. The place is only about 30 minutes away from Seattle, so to check out the city was very accessible. We also took advantage of the nature surrounding us and close range mountain resorts for two days of skiing. This place felt like a home away from home and I would recommend it to anyone, and would feel so lucky if we were welcomed back. :)
Chazelle
2016-03-17T00:00:00Z
What a great place! Super well equipped throughout and has the comfiest beds! Short walk to the old town and a lovely playground for the kids just round the corner. We really enjoyed our stay. Thanks :)
Kate
2016-05-18T00:00:00Z
A really nice place to stay . . . Very clean and tidy, great art on the walls, and an easy walk to all of the great restaurants in old town Issaquah. This side street location is very quiet, and the bedding is possibly the most comfortable in the world! High marks from me!
Ray
2016-03-25T00:00:00Z
Our family of four had a great stay-cation in Issaquah at Jay and Sarah's place! The house was very clean and well stocked. We especially liked the walkability to downtown Issaquah and Gilman Village for shopping and eating out. Jay was a great host, stopping by shortly after we arrived to welcome us. Thank you so much!
Megan
2014-11-04T00:00:00Z
Our stay at Jay and Sarah's was wonderful. They were more than willing to accommodate any needs we had and checked in on us after the first night! Jay was always quick to respond to any questions we had prior to or during our stay which was wonderful. The beds were comfortable, the neighborhood is quiet and being walking distance to Front Street's restaurants, a bakery, etc. was a great perk. It was so nice to have a full kitchen, laundry and living space. Far better than a hotel. I would definitely recommend their place and hope to stay there again during my next trip.
Julie
2015-04-29T00:00:00Z
Very nice accommodation; clean, comfortable, great location, outstanding hosts. One of the best equipped airbnb kitchens I've seen. Highest recommendation; would definitely stay here again.
Ron
2016-05-12T00:00:00Z
Τύπος δωματίου
Ολόκληρο σπίτι/διαμέρισμα
---
Τύπος ιδιοκτησίας
Σπίτι
---
Άτομα
6
---
Υπνοδωμάτια
Issaquah, Ουάσινγκτον, Ηνωμένες Πολιτείες της Αμερικής
Nice and cozy room with a very comfortable bed. Beautiful view of the Cascade mountains. Close to shops, Costco, REI, outlet mall and many 5 stars restaurants. A 20 minute drive from Seattle with endless hiking and bicycle trails. We welcome your pets, sorry no cats.
Hiking trails within walking distance, amazing view of the mountains. Close drive to ski resorts, camping, Woodinville winery tours, Snoquolmie Falls, concerts at the Gorge, etc..
Friendly neighbors. Quiet neighborhood. Very short walk to multiple nature/hiking trails.
My husband and I had a nice stay at Violeta's place! It was very easy to find, had ample parking spaces, and is located in a nice quiet neighborhood. The house and room we stayed in we're very clean and welcoming. Violeta was a great host, met us when we arrived, and made sure we settled in nicely. We had our pug Frank with us and he had a great time too! I'd like to spend more time since we had a short stay we didn't get to check out the walking trails all around the neighborhood.
Naomi
2017-03-25T00:00:00Z
Τύπος δωματίου
Ιδιωτικό δωμάτιο
---
Τύπος ιδιοκτησίας
Διαμέρισμα
---
Άτομα
2
---
Υπνοδωμάτια
Issaquah, Ουάσινγκτον, Ηνωμένες Πολιτείες της Αμερικής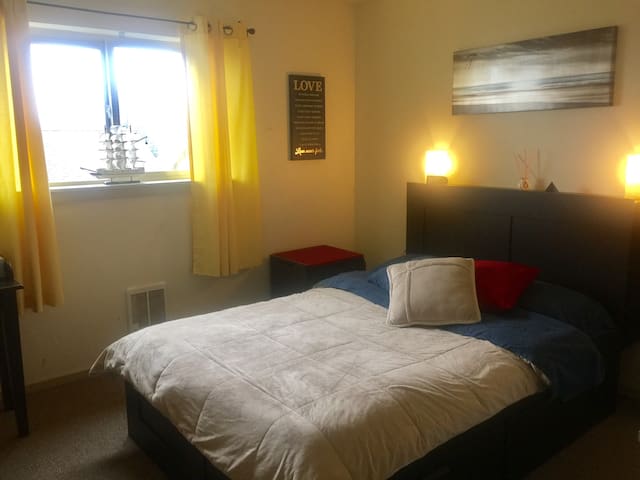 My place is close to the airport, parks, the city center, and public transport. You'll love my place because of the light, the ambiance, and the outdoors space. My place is good for couples, solo adventurers, business travelers, and families (with kids).
Τύπος δωματίου
Ολόκληρο σπίτι/διαμέρισμα
---
Τύπος ιδιοκτησίας
Σπίτι
---
Άτομα
4
---
Υπνοδωμάτια
Burien, Ουάσινγκτον, Ηνωμένες Πολιτείες της Αμερικής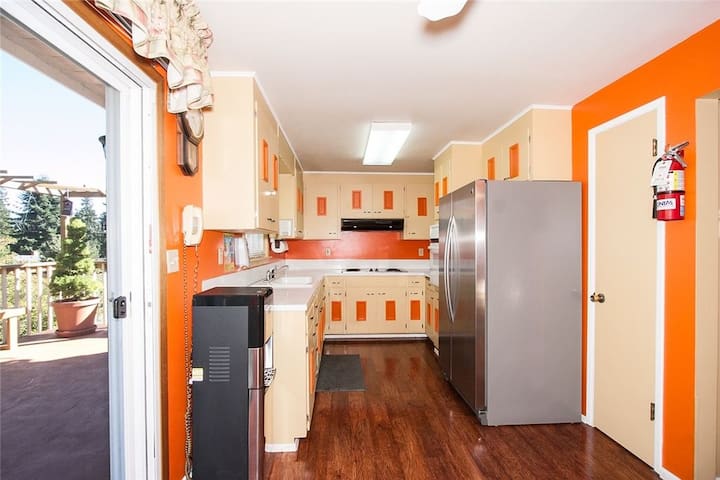 Our home sits hill-top in beautiful Highlands with amazing views to Seattle, Bellevue, the mountains. Our amenities include Big Fish Grill, RAM Restaurant, Caffe Ladro, Safeway . . . even our own neighborhood Cinema! Feeling like you've just seen this listing? You have! We have TWO lovely rooms to book privately for 2 guests each or in combination for 4 guests. Each room is spacious, well-appointed with its own entry & comfy new double-bed. Come enjoy your stay in our wonderful, safe community!
Each bedroom is very spacious while still feeling cozy and comfy. Each space also has the flexibility of being a one-BR guest accommodation for 1-2 persons OR a 2-BR combined suite for up to 4 guests in your party. This makes our space perfect for the single traveler, the couple on a nice 'getaway', or the family affair with children along! Rooms are 'Jack & Jill' style with bath adjoining; ideal for having parents in entry bedroom with children safe and comfy in adjoined 'inner' room (away from exterior doors)! **NOTE: Other than different entries and their own distinct décor, each room is amply furnished and offers its own lovely space and charm. Understand that when rooms are booked separately, they will be booked based on my booking calendar as best suits each room's availability ease. Unless specified by guests, one bedroom will not be preferred over the other in booking. So, if you particularly like one bedroom over the other ('Sunshine' over 'Seaside', for example!), be sure you request your room preference when you first book! Otherwise, rooms will be designated per guests upon arrival as my booking calendar best allows. Thank you for being flexible here!
The Issaquah Highlands is an amazing neighborhood. Always growing and thriving! All new shops for anything you need, varied and tasty restaurants (for intimate dining as well as family affairs), new cafes for a lingering cake & coffee, . . . even our own neighborhood multi-plex Cinema! Great schools which is always a tell-tale indicator of the kind of community you are living/staying in. The Highlands particularly are a very safe and inviting place to be! Add to this that Issaquah is super convenient if you want to make it your 'home base' for further exploration of the greater Seattle area. Seattle is a 20-minute drive from our house; Bellevue only about 15 minutes away. Of course, the Winter Sports (snow sports) are also very near with the Snoqualmie Mountains just down the road from us. Lots of cycling, hiking, and an endless amount of trail-walking to explore the area. Neighborhood parks (with children's playgrounds) are found every couple of blocks here in the Highlands. ***Noteworthy: Issaquah Highlands is also recognized and becoming quite distinguished in the United States as a very progressive GREEN community! Read up on it!
Laurie's place was perfect for us! A short drive into the city, excellent accommodations, and a great host! We enjoyed sharing travel stories and getting helpful tips and info! Definitely would visit here again!
Holly
2017-01-01T00:00:00Z
Beautiful location, easy access to city, comfortable & clean room, and great host communication!
Holly
2016-12-31T00:00:00Z
Laurie was super host who made me feel very welcome and comportable in her house. Also, I met her kids. They are so cute. I enjoyed having private room and common areas like dress room and bathroom. Common areas didn't have any problems. The room were very comportable to go to bed everyday because of a big size bed. Also, she accepted my personal requests like mucrowave and a small heater for me. The neighberhood was quiet, and the location was fantastic for easy access to everthing from shopping ti dining. Thank for your help and support for my staying at Seattle !
동훈
2017-02-19T00:00:00Z
It was a great value
Isaac
2017-01-12T00:00:00Z
We had a wonderful stay here! We had a nice cozy room with lots of privacy and a really nice adjoining bathroom. We felt very comfortable, the bed was really nice, and there was a coffee maker in the room so we could make tea whenever we wanted. Lg herself is very friendly and went out of her way to make sure we had everything we needed and were comfortable. As a host I feel like she goes above and beyond for her guests. I would absolutely recommend staying here, and would stay again if I were back in the area!
Olivia
2016-10-17T00:00:00Z
This was a great place to stay! Very clean and comfortable. Laurie was very flexible with us on our check in time and had everything ready. Extremely friendly and very easy to communicate with. Definitely went above and beyond to make us feel welcome and comfortable in her home. Would definitely recommend staying here, and hope to stay here again on our next trip to the area!
Michelle
2016-10-23T00:00:00Z
I had a great stay at Laurie's home. The room was very clean, comfortable, and private. Laurie was an amazing host going above and beyond to make sure I had everything I needed. I will definitely stay again if I ever need a room in the Issaquah area.
Ben
2016-11-11T00:00:00Z
Laurie is an excellent host and goes out of her way to make you feel comfortable and at home. The rooms are large and the bed is very good. Also there is a private entrance and plenty of parking so that is not an issue. The home is high on a plateau over looking the valley and mountains and the neighborhood has many beautiful homes. I recommend Laurie's place to anyone visiting or staying for a short stay in the Issaquah area.
curt
2017-02-24T00:00:00Z
Τύπος δωματίου
Ιδιωτικό δωμάτιο
---
Τύπος ιδιοκτησίας
Σπίτι
---
Άτομα
2
---
Υπνοδωμάτια
Issaquah, Ουάσινγκτον, Ηνωμένες Πολιτείες της Αμερικής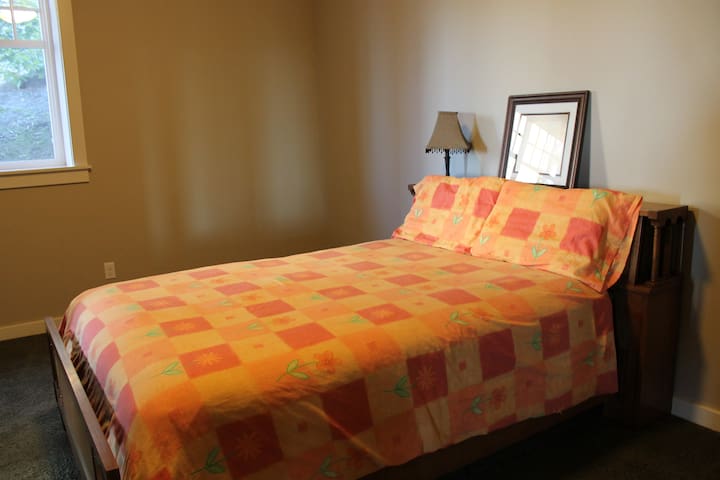 You'll be staying in our 400 sq ft over-the-garage studio carriage house. There is a private keyless entrance on the door with outdoor stairs in a quiet backyard. You'll be just minutes to I-90 and just a few blocks from shopping, dining, movies, and transit.
The carriage house has a queen bed, full futon sleeper, desk and office chair, 3.5 cf fridge, microwave, coffee maker, 100 Mbps up/down internet service, table with 2 dining chairs, TV with HD antenna and Amazon Fire TV stick for streaming, and dresser and shelving for storage. The full bathroom is stocked with large Egyptian cotton towels and basic toiletries. There is natural light in the daytime with black out curtains for the larger windows at night.
The carriage house is just blocks from Grand Ridge Plaza, Issaquah Highlands Park and Ride, and Swedish Hospital. There are many restaurants, a Regal movie theater, and shopping all within walking distance. There are also walking and mountain bike trails in the neighborhood.
My stay at Virginia's place was great. Comfortable bed, clean,quiet living space. Her home was close to everything I needed. I will definitely visit her site first when I travel to the area in the future. Thanks,Bev
Beverly
2016-11-20T00:00:00Z
The listing description was exactly as advertised. Clean, beautiful and quiet, we had a wonderful stay. All the information you needed to know about the home was clearly written out and easy to follow. We would return in a heart beat.
Shannon
2016-07-11T00:00:00Z
Virginia's place is located in a nice and quiet neighborhood. Impeccably clean and has all the basic amenities you would need for your stay. When I needed help with something, Virginia addressed it right away. Highly recommend staying here!
Jennifer
2016-07-30T00:00:00Z
I unfortunately never got to meet Virginia, but this was a fantastic place to stay! I was in town for a conference, so I was only home to sleep, but it was a comfortable bed in a great location - close to shopping, restaurants, grocery and a movie theatre to boot! It has all the amenities of a hotel room, but with more space.
Elly
2016-11-05T00:00:00Z
Since this is our second stay at the Carriage House, we are definitely in the category of satisfied travelers. We needed to be close to medical facilities in Bellevue, and this fit the bill. It's quiet, comfortable and spotless. On this visit we began to explore the neighborhood, and found it to be close at hand with attractive restaurants, a well stocked Safeway and a handy cafeteria at the nearby Swedish Hospital. We'll return in the near future.
Edmund and Diana
2016-04-12T00:00:00Z
What a beautiful area and place to stay! It was so clean and comfortable. It was our very first airbnb experience, and they made check-in so easy and convenient. The area was very peaceful and quiet, and the interior was decorated so elegantly. Thank you!
Emy
2016-06-07T00:00:00Z
We stayed here to visit friends over the Thanksgiving holiday. It was easy to find and we could go in and out without any problems. The heater kept us up at night. It was in a great location if you need a place to stay in issaquah.
Sarah
2016-11-25T00:00:00Z
Beautiful neighbourhood. , close to transit and close to Seattle. We stay one night, arrived quite late and left early in the morning, because of our tight schedule we couldn't have time to chat with them to much. I really recommend to stay here if you are visiting Seattle or the north west coast.
Hernan
2016-05-07T00:00:00Z
Τύπος δωματίου
Ολόκληρο σπίτι/διαμέρισμα
---
Τύπος ιδιοκτησίας
Ξενώνας
---
Άτομα
4
---
Υπνοδωμάτια
Issaquah, Ουάσινγκτον, Ηνωμένες Πολιτείες της Αμερικής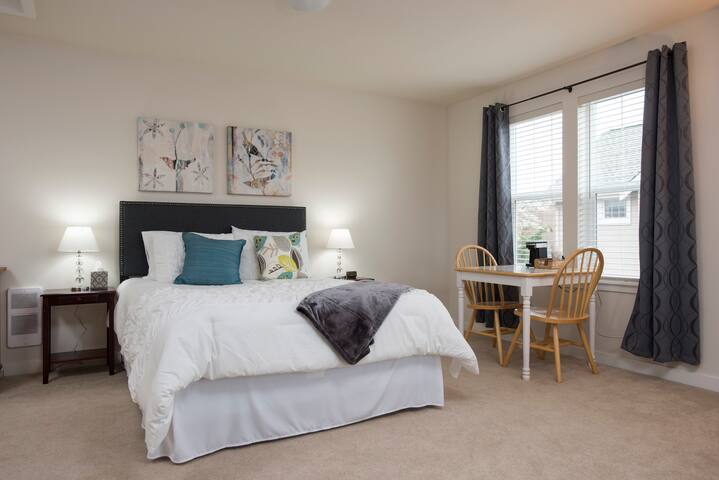 Issaquah - Airbnb
:
Μέσος όρος

5

στα

5

αστέρια από

2208

κριτικές επισκεπτών
1

–

18

από

Πάνω από 300 ενοικιαζόμενα
Εισάγετε ημερομηνίες για να δείτε τις πλήρεις τιμές. Ισχύουν πρόσθετες χρεώσεις. Ενδέχεται να προστεθούν φόροι.
Χώροι σε κοντινή απόσταση: