Εισαγάγετε την ημερομηνία άφιξής σας στη μορφή ηη/μμ/εεεε
Εισαγάγετε την ημερομηνία αποχώρησής σας στη μορφή ηη/μμ/εεεε
Καταχωρήσεις στις οποίες μπορείτε να κάνετε κράτηση χωρίς να περιμένετε την έγκριση του οικοδεσπότη.
14 ενοικιαζόμενοι χώροι
· Kirkton of Maryculter
14 ενοικιαζόμενοι χώροι
· Kirkton of Maryculter
Εισάγετε ημερομηνίες για να δείτε τις πλήρεις τιμές. Ισχύουν πρόσθετες χρεώσεις. Ενδέχεται να προστεθούν φόροι.
Αυτόν τον Ιούλιο και τον Αύγουστο, μπορείτε να δοκιμάσετε κάποιο από αυτά τα 100 κορυφαία σπίτια, σε μεγάλο εύρος τιμών, και να ζήσετε την εμπειρία της Σονόμα από τη ματιά ενός ντόπιου. 24ωρη δυνατότητα άφιξης, Άμεση Κράτηση και τοπικό κρασί και σνακ για να χαλαρώσετε και να απολαύσετε το ταξίδι σας.
My place is close to Shops No 19 Bus Route Countryside.
Great stay -quiet and tranquil setting. Just what I needed after a hard day's travelling. Gracious host!
Susanna
November 2016
Τύπος δωματίου
Ιδιωτικό δωμάτιο
---
Τύπος ιδιοκτησίας
---
Άτομα
1
---
Υπνοδωμάτια
1
Peterculter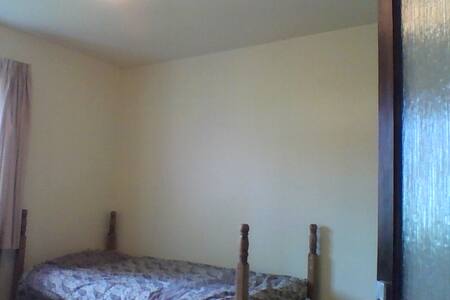 A comfortable and cosy private detached family cottage with 2 double bedrooms. Cottage is ideally located between Aberdeen, Stonehaven & Banchory with lovely walks, fishing & golf etc. Wifi provided and freeview HD TV. A spacious open plan kitchen/dinning room, power shower and utilities etc. Also a welcome pack of kitchen essentials provided such as tea, coffee, juice sugar, milk, bread and cereal etc.
2 Bedroomed fully furnished private cottage in a beautiful part of Aberdeenshire countryside. Near Royal Deeside and very close to city and local market towns of Banchory and Stonehaven. You have full use of house and outside enclosed cottage garden area. Cottage is part of small family run farm. We live nearby in our farmhouse and are be available for any queries and assistance. Otherwise you would have complete peace and privacy, surrounded by beautiful scenery. Great getaway place for a relaxing chill out break. Alternatively city is 8 miles and two market towns Banchory, Stonehaven also approx 8 miles away. Lots of castles, coastal walks and lovely places to enjoy. Please read house rules regarding pets. Use of house and outside enclosed cottage garden, where there is a picnic bench area. Also a heathland and woodland walk area ideal for dog walking. Please read house rules regarding pets. I like to respect my guests privacy but I am usually nearby or contactable if and when needed.
Its beautiful scenery, tranquility and peace. Very handy for sight seeing and great for getting away from the hustle and bustle. Being in a rural setting I would recommend you have your own or hired transport. As it is in a rural location having your own transport would be ideal.
Stunning cottage. Interior decor is home from home. Brilliant welcome with fresh milk orange juice butter and home made jam which meant we could relax with a cup of coffee after a long drive. The facilities were brilliant. Free range chickens walking by the door so cute. A lovely base to explore the highlands and catch up with family. A relaxing holiday a home from home. We will definitely be back.
patricia
June 2016
Donna is a very friendly host. She took the time to explain how the different features of the home worked. She gave us a lot of information about sightseeing in the area. The place was spotless and had everything you might need for a comfortable stay. I highly recommend her place!
Bianca
September 2016
Donna and her husband were very helpful and welcoming. I would highly recommend the cottage.
Helen
October 2016
We booked the cottage for 2 nights. We were very impressed with the standard of furnishings and the location - 20minutes drive from Aberdeen city centre was ideal. Donna welcomed us and provided us with some basic supplies which were much appreciated. Would recommend staying here.
Evelyn
October 2015
My Colleague and me staid for 3 nights. Donna and her partner were lovely, very nice people ! The cottage is a beautiful little house all new restored and cosy. We had a very nice time there I totally recommend this place.
Léa
April 2016
The cottage is lovely! Looks a little worn from the outside but the interior is to a very high standard, beds extremely comfortable and the shower is a beast (in a good way) Quite close to the city, can be very difficult to find attached night. Get your bearings before it gets dark Donna was nice, showed us round, didn't see her too much but definitely a good host
Matthew
March 2015
We received a very friendly welcome and instantly felt at home. The Roost is situated on a farm but has its own private garden with everything you need and Donna is only a minute away if you want to get in touch. The Roost is clean, very comfortable with good facilities. Donna provided us with some basics to start including fresh eggs from the farm which were delicious! We would definitely recommend staying here and will be back ourselves!
Gillian
August 2015
Cottage is great! Donna met us there all in a panic as we showed up a little early before she had finished preparing the cottage. After we calmed her down she gave us directions to grocery's and we took off to get some, not before Donna let us know we didn't need any condiments or bread, milk, tea and coffee a nice touch!
Wayne
February 2016
Τύπος δωματίου
Ολόκληρο σπίτι/διαμέρισμα
---
Τύπος ιδιοκτησίας
---
Άτομα
4
---
Υπνοδωμάτια
2
Αμπερντίν
Bright and airy room in our converted steading in a beautiful and peaceful location, yet only 7 miles from Aberdeen City. Includes en suite bathroom, tea/coffee making facilities, hairdryer, TV, wi fi, use of small fridge and microwave. Travel cot and mattress available for children.
We live in a converted steading that we converted 12 years ago, it is a lovely spacious family home for our rather large (6 children, although some quite grown up now, so only 3 at home ) family and friends. We live on a small holding with our own chickens, pony ,lots of sheep and a very friendly dog who may well bark at you as you arrive !! You are very welcome to enjoy our surroundings, lots of lovely walks in our area as well. We are usually about and happy to have a chat. Also to help with any information needed about this beautiful area we live in and of course Aberdeen itself.
We live in a beautiful part of Aberdeenshire, yet only 7 miles from the city centre. Public transport is rather limited as we live off a main bus route, so a car or bike is pretty essential.
We had a wonderful time staying at The Steading. Judith and her family were very welcoming and willing to help with whatever we needed. There was a supply of croissants, milk, juice to get us started which came in handy. Our toddler loved the animals - especially the dogs and pony!
Sarah
February 2016
We absolutely loved the house and the surrounding area. Jane and her husband as well as the cute dog and the adorable little puppy made us feel welcome right away. The room has everything you need plus everything you could possibly need ;) Staying here was the reason for us to seek out rooms outside of bigger cities for the rest of our trip as they are so much more relaxing and interesting! We would recommend everyone to stay with Judith and her family.
Daniel
November 2015
If you want a peaceful surrounding a little away from the beaten track, this room is really great. Spacious, clear, well furnished ( fridge and microwave), clean with a comfortable bed. Twenty minutes ride by car from the fabulous Dunnottar castle.
Claude
September 2016
Judith was really welcoming and the room was big, clean and very comfortable. Although it wasn't part of the original deal, we asked Judith in advance if she would do us a cooked breakfast in the morning for an extra fee. She obliged and it was lovely!
Michael
September 2015
We stayed just one night but everything was perfect. Everyone was very kind and welcoming and the room was nice and clean. We really appreciated to have tea and coffee and a snack waiting for us as well as a fridge and microwave, even if we didn't use it. It more like a little studio than a bedroom. The area is very nice and quiet. Would definitely stay again at Judith's if we are back in the area!
Laure
September 2015
Wir sind von Judith und ihrer Familie herzlich empfangen worden und fühlten uns direkt wie Zuhause. Das Zimmer ist genauso wie beschrieben und die Räumlichkeiten sind absolut sauber und sehr geräumig. In der Umgebung befinden sich sehr viele Sehenswürdigkeiten und der gemütliche Pub liegt ungefähr 1,5 Meilen entfernt. Wir fühlten uns bei Judith sehr wohl und würden die Unterkunft auch weiterempfehlen. Vielen Dank liebe Judith für den netten Aufenthalt bei Dir.
Andreas
May 2016
After nearly 2 hours we quit searching for it.
Martina
July 2016
This was a fantastic stay. Very convenient place, a wonderful host and room. We very much enjoyed it.
Jochen
September 2015
Τύπος δωματίου
Ιδιωτικό δωμάτιο
---
Τύπος ιδιοκτησίας
---
Άτομα
2
---
Υπνοδωμάτια
1
Aberdeenshire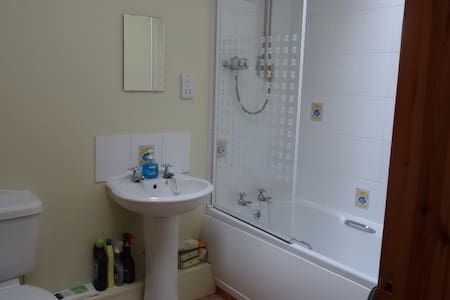 Our listing is perfect for people visiting Scotland as well as those looking for business-oriented longer-term accommodation. Our flat has the best of both worlds; it is within close proximity to Aberdeen city centre and Westhill with the advantage of being surrounded by beautiful castles, countryside, the Cairngorm mountains and Glenshee ski resort. Please enquire and we'll do our best to accommodate all your needs and wishes during your stay.
We have a three bedroom flat with a modern bathroom and an open plan living room-kitchen with a beautiful exposed granite wall and a wood burning stove. Guests have access to the shared bathroom and the living room-kitchen. If the weather is good, we also welcome you to enjoy our shared drying green. Myself and my partner work M-F 9-5 and are quite busy outside of work but we will always ensure we are around to welcome you, accommodate your specific needs and would love to share with you our favourite places to visit, restaurants to check out etc
Peterculter has everything - a local supermarket, pharmacy, hairdressers, sport centre and various restaurants, pubs and takeaways. There is a bus stop 1 minute away that runs very frequently to Aberdeen. From there, a train station connects you to the rest of Scotland. We have three house rabbits! They are very friendly and we hope you enjoy their company too.
I wasn't in the property very long, but I appreciated the Very comfortable bed, the quiet, the very clean tidy bathroom, and the good communications. I didn't use wifi or kitchen, and was away early in the morning.
Mike
December 2016
Absolutely fantastic experience, Lotte and her boyfriend couldn't have been better hosts. They are an amazing couple, who made us feel welcome and at home. They are really fun to talk to and their house is gorgeous and tidy. The three rabbits are cute, friendly little furballs. :-) Thank you for this lovely first Airbnb experience, would choose you again without hesitation.
Dániel
July 2016
The host, the house and everything is better than in pictures , all great
Gabriel
August 2016
What a lovely clean home and host. I would definitely recommend.
Gurdip
August 2016
We stayed at Lotte and her boyfriend one night on a trip around Scotland. They are really uncomplicated and made us feel welcome, also have a really nice house to stay at. We can definetly recommend them!
Alexandra
June 2016
Τύπος δωματίου
Ιδιωτικό δωμάτιο
---
Τύπος ιδιοκτησίας
---
Άτομα
2
---
Υπνοδωμάτια
1
Peterculter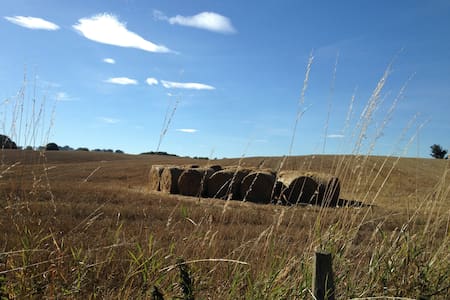 Located in the village of Peterculter on the main access route to Royal Deeside, the settlement offers a wide range of amenities including a highly rated golf course. The Studio lies only a short bus ride from Aberdeen City Centre. Whether visiting the area and its surroundings as tourists, or travelling for professional or business reasons, this unique property with stunning countryside views and riverside walks offers a warm relaxing alternative to traditional accommodation.
The studio is on two floors with open plan lounge kitchen dining and separate toilet upstairs. Private east facing deck accessed off the east facing kitchen, and south west facing small balcony accessed off the lounge. The German kitchen is fully fitted with high specification white goods, and well provided with crockery, utensils etc. Intigrated washer/drier located in cloakroom. The lounge sofa can be changed into a comfortable double bed Two bedrooms are accessed off the downstairs entrance hall. The master bedroom has ensuite shower-room and walk-in wardrobe and storage cupboard. The bedrooms all having plenty storage fitments and the small bedroom has a laptop desk and single bed with pull-out. The recently built property has underfloor heating and insulated to the highest possible standard. The property is accessed off a very quiet and peaceful residential street with two parking spaces on the paved driveway. The property owners reside in the adjacent main house and will be on hand to welcome guests and provide any help and assistance required. A welcome pack of basic provisions is include and any additional special requirements can be arranged by agreement.
Τύπος δωματίου
Ολόκληρο σπίτι/διαμέρισμα
---
Τύπος ιδιοκτησίας
---
Άτομα
4
---
Υπνοδωμάτια
2
Peterculter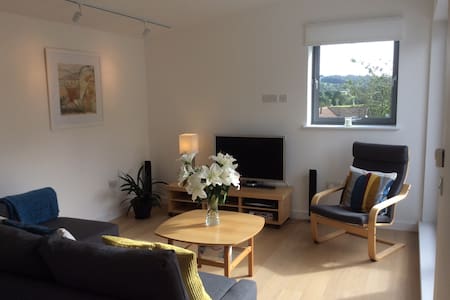 A good night's sleep requires a peaceful and restful guestroom and at Maryculter House Hotel Fishing Lodge we offer a double room with the warmth and comfort that befits the quality of this beautifully situated lodge. The Fishing Lodge is located next to Maryculter House Hotel with access to all of their facilities including breakfast, lunch and dinner as well as the cosy and comfortable Residents Lounge.
Τύπος δωματίου
Ιδιωτικό δωμάτιο
---
Τύπος ιδιοκτησίας
---
Άτομα
2
---
Υπνοδωμάτια
1
Maryculter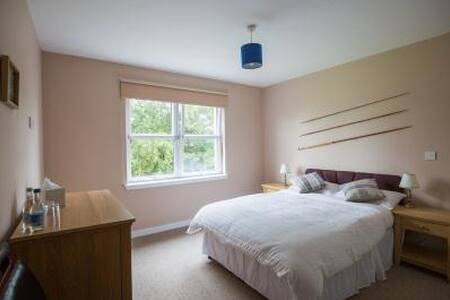 Our luxury award winning Bed and Breakfast accommodation is conveniently located in a rural location between the city of Aberdeen and the gateway to the stunning Royal Deeside. This accommodation is ideal for travellers, tourists, and small groups. Free Private Parking and delicious cooked Breakfast.
Accommodation is recently refurbished to the highest standard. Very quiet, comfortable and equipped for a relaxing stay. Our guests always receive a warm welcome. Guests will be allocated a comfortable bedroom with private toilet & shower, and access to the reception/lounge all day, and breakfast room in the mornings. On arrival and departure and we welcome any questions they may have throughout their stay
Maryculter is a charming rural location on the outskirts of Aberdeen. Nearby restaurants include the Lairhillock, the Maryculter House Hotel restaurant and bar, and the Old Mill Inn restaurant. Over the river there is also many amenities, shops, and restaurants including an M&S petrol station. Transport can be arranged by Taxi 10 minutes by car into Aberdeen. 10 minutes by car to Banchory. Lots of tourist attractions nearby.
Τύπος δωματίου
Ιδιωτικό δωμάτιο
---
Τύπος ιδιοκτησίας
---
Άτομα
2
---
Υπνοδωμάτια
1
Aberdeen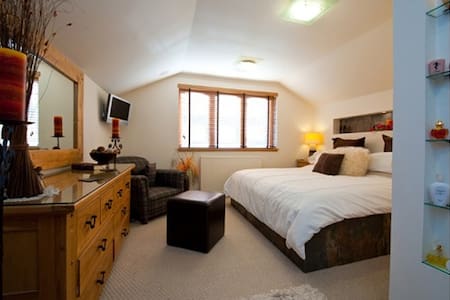 Available Friday to Sunday. The room features a double bed with high quality mattress and plenty of storage space. You will have access to the rest of the homes' added luxuries including fully outfitted gourmet kitchen with espresso machine, Scandinavian style lounge with Bang & Olufsen television and sound system.
Τύπος δωματίου
Ιδιωτικό δωμάτιο
---
Τύπος ιδιοκτησίας
---
Άτομα
2
---
Υπνοδωμάτια
1
Peterculter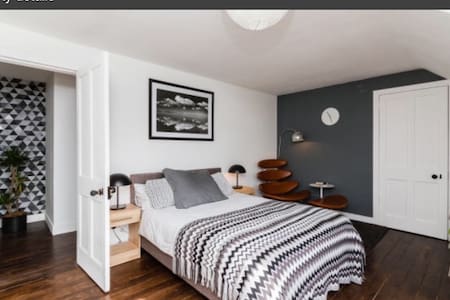 Lairhillock Lodge is 6 miles from Stonehaven and a 20 minute drive into Aberdeen city centre. It is right next door to the Lairhillock Inn where guests can enjoy drinks/lunches/evening meals. The Lodge is in a peaceful rural location where you can enjoy a good nights' sleep and a hearty breakfast the next morning. The breakfast consists of both hot and cold options to suit everyone's taste..
Très bon logement, conforme à la description. Le petit port de pêche de Stonehaven se trouve proche de l'hébergement. L'hébergement est situé un peu en retrait dans la campagne, au calme. Il est quasi neuf et très propre. Je recommande !
Kévin
October 2016
The host canceled this reservation 187 days before arrival. This is an automated posting.
angela
A very good, quite place to stay. We loved the breakfast and the highly recommended restaurant.
Stefan
October 2016
Τύπος δωματίου
Ιδιωτικό δωμάτιο
---
Τύπος ιδιοκτησίας
---
Άτομα
2
---
Υπνοδωμάτια
1
Netherley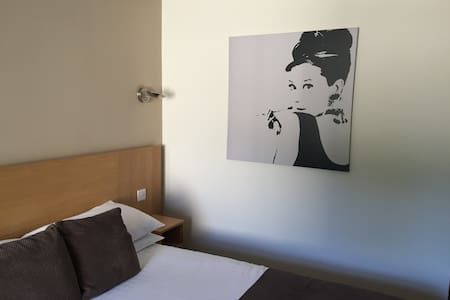 The Anvil, was the Netherley Estate blacksmith's smiddy until the 1950's when it converted to a dwelling house. It has been upgraded over the years and now has 3 bedroom, 2 bathrooms and a spacious lounge. It sits in approximately 1 acre of ground. It is constructed of granite and has 3 foot thick walls. It is a 10 minute walk from "Lairhillock Inn" an old coaching inn that serves good food and real ales.
Guests will have access to all the rooms downstairs, with the bedroom and bathroom for their sole use. Roger and Rose have a lot of information on local attractions.
The house is 12 miles from Aberdeen, 6 miles from Stonehaven, a fishing village with harbour, qnd 12 miles from Banchory. There are a numbter of golf courses in the vicinity, plus there are many castles including Dunnottar which was buuilt c1300 There is ample parking at the property.
We had a fantastic stay at the Anvil. Roger and Rose are truly the best Airbnb hosts we've had! They are so welcoming and friendly, they made us feel right at home. The room was very clean and comfortable. Roger and Rose gave us very good information for the rest of our trip and we had many lovely chats. We loved the Lairhillock Inn which is just down the road. HIGHLY RECOMMEND staying with Roger and Rose!!!
Eliza
November 2016
Τύπος δωματίου
Ιδιωτικό δωμάτιο
---
Τύπος ιδιοκτησίας
---
Άτομα
2
---
Υπνοδωμάτια
1
Netherley
A beautiful self contained first floor apartment within a traditional granite Aberdeenshire farmhouse with views of the River Dee. Part of a working farm with deer, horses, cattle, chickens, cats and a dog. A peaceful retreat just 8 miles from Aberdeen city. As well as the cosy flat you will have access to our private fire pit and hand crafted pirate ship on our riverbank next to the Dee, the perfect spot for an evening BBQ. It is also possible to arrange carriage rides and lessons.
We recently upgraded the living space in this first floor apartment which is accessible by stairs within the farmhouse. Our aim was to make it comfortable and quirky, a place to enjoy some peace away from the city in a spot which my family has enjoyed living in for almost 50 years. You can access the apartment from its private door which leads to a hallway where coats and shoes can be left. Occasionally the other residents will access this hallway to reach the freezer and the washing machine. Then you climb the stairs to the living space. There is a corridor which leads to the bedroom and bathroom from here. The apartment is part of the house belonging to my mother Jane - the farmer - and her husband Ewan. It is very much a working farm and a carriage driving centre, so if you are interested in horses and animals, this is definitely the place for you. If you would like to arrange a carriage ride or lesson, then please let me know - charges will apply. We will be very happy to give you advice on places to visit in the local area and beyond, including walks, biking trails and other historic sites.
This is a beautiful spot close to the city of Aberdeen situated on Royal Deeside. It's the ideal base for exploring this beautiful area, less than an hour from the Cairngorms National Park and approx an hour to Balmoral. There is world class salmon fishing on the River Dee (we can point in the right direction with arranging that) and many golf courses close by. We are around 10 miles from the rugged coastline of the North Sea and the iconic Dunnottar Castle near Stonehaven. The nearest shop is over the river in Peterculter approx 2.5 miles away. We are located 3 minutes walk away from Maryculter House Hotel where you can eat and drink. There are other eateries we can recommend in the local area which can be reached by car or bike. T It is definitely advisable to have a car. However, you could reach us by taxi or a bus at the other side of the river in Milltimber and walk from there (approx 2 miles). It is also possible to arrive by bike and we would welcome cyclists. It takes about 15 minutes to drive to Aberdeen city. It's 10 miles to Stonehaven and 10 miles to Banchory. Aberdeen Airport is 30 minutes drive to the north.
Our stay here was perfect. I couldn't ask for anything better. Everybody was nice and helpful, quick to offer advice and suggestions. I looked forward to my conversations with Jane. I really enjoyed waking up to the sight of deer grazing every morning. I would, without a doubt, stay here again.
Bryant
July 2016
Lovely location and setting on a working farm, handy for driving into Aberdeen and surrounding areas although a car is recommended. Hosts very welcoming and happy to help. Flat had everything required for a weekend stay - microwave and hob but no oven (not a problem for us). We would happily go back in future!
Gary
July 2016
very nice place in the countryside, with beautiful view on horses and deers; our hosts Ewan and Jane were very helpful and friendly, we really enjoyed our stay
claire
August 2016
Wir hatten eine sehr schöne Zeit auf der Farm. Jane und Ewan (Helens Eltern) waren extrem gastfreundlich und immer mal für einen kleinen Plausch da, so haben wir auch einige 'Local'-Tipps erhalten. Die Umgebung ist sehr idyllische und man kann von Peterculter viele sehenswerte Orte gut mit dem Auto erreichen. Die Unterkunft war sehr sauber ... klein aber fein (für uns 3 war es völlig ausreichend). Wir hatten viel Spaß und würden immer wieder hin fahren. Tausend Dank!
Sophie
August 2016
Helen was a great host. She made sure that we felt welcomed. She and her family were happy to advice us about places to visit and how to get there. The flat is very comfortable, clean and well equipped to the extend that we couldn't imagine anything to be added. The farm is a peaceful and beautiful place that offers opportunity to escape from busy, urban life. We have enjoyed watching the farm animals and the carriage ride was a great fun too! The farm is a good spot for anyone interested in exploring the East Coast of Scotland, fantastic beaches to see: East Haven, Lunan Bay and Red Castle, Stonehaven with Dunottar Castle, St Cyrus, Balmedie, Newburgh with the seals. We have collected lots of beautiful memories, great holiday!
Karolina
August 2016
Very nice, calm, in contact with nature, wild and farmed animals, nice views of deers, rabbits and horses from our windows! Besides, close to Aberdeen, Stonehaven, and other sites of Historic Scotland. Jane and and her husband were so respectful and welcoming. We will sure recommend it for family, friend and couples and people fond of nature!
SANDRA
July 2016
We were warmly welcomed and shown round on arrival. The flat is cosy and inviting with everything provided that one could wish for. We loved staying on the farm surrounded by horses and deer and enjoyed chatting to Jane and Ewan who were charming and friendly hosts. The farm was perfectly situated for us as it is only a short drive from Aberdeen and yet in a beautiful spot on the river Dee. We were given helpful tips on where to go, what to see and where to eat which were very much appreciated.
Katzi
October 2016
Τύπος δωματίου
Ολόκληρο σπίτι/διαμέρισμα
---
Τύπος ιδιοκτησίας
---
Άτομα
5
---
Υπνοδωμάτια
1
Aberdeenshire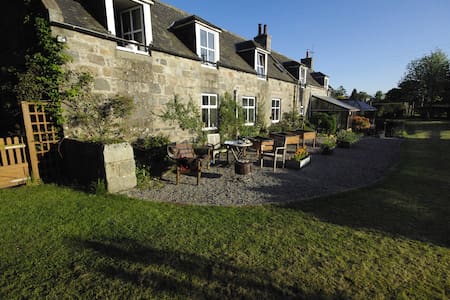 Stunning 5 bedroom furnished detached house in Bieldside, Aberdeen area available for long term let. Gas Central Heating & Double Glazing. School Catchment Area: Cults Primary School & Cults Academy. No DSS and no smoker please.
Τύπος δωματίου
Ολόκληρο σπίτι/διαμέρισμα
---
Τύπος ιδιοκτησίας
---
Άτομα
1
---
Υπνοδωμάτια
5
Bieldside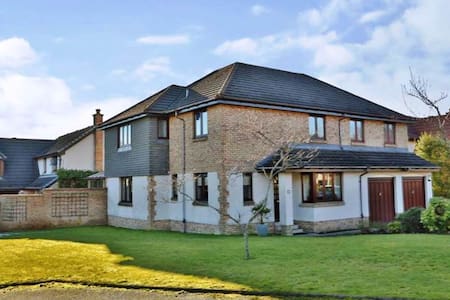 A good night's sleep requires a peaceful and restful guestroom and at Maryculter House Hotel Fishing Lodge we offer a twin room with the warmth and comfort that befits the quality of this beautifully situated lodge. The Fishing Lodge is located next to Maryculter House Hotel with access to all of their facilities including breakfast, lunch and dinner as well as the cosy and comfortable Residents Lounge.
Τύπος δωματίου
Ιδιωτικό δωμάτιο
---
Τύπος ιδιοκτησίας
---
Άτομα
2
---
Υπνοδωμάτια
1
Maryculter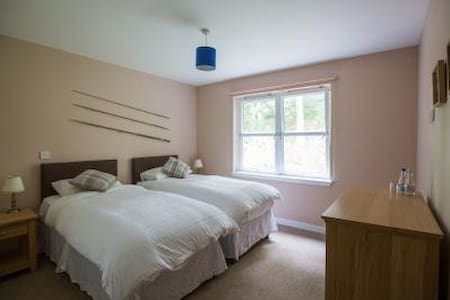 Quiet room in a quiet area. Two bedroom flat sharing with female owner (48). Peterculter is on a city bus route and has easy access to Deeside and the countryside. There are local shops, pubs and restaurants. Lovely walks nearby.
Quiet ground floor flat with small shared garden. Unrestricted parking on street. Guests are welcome to use kitchen and living room. I enjoy having people to stay and will offer advice on things to do and see in area.
Village type area which is a suburb of Aberdeen. Italian, Indian, Chinese restaurants and pub food available. Regular city and country buses.Night buses at weekend. I work in a hospital and only rent the room on my days off.
Angela was a fantastic host. She was very helpful throughout my 10 day stay, and made me feel at home. Her place is clean and tidy. Supermarkets, coffee shop, restaurants and a fast-food are just five minutes away. The area is very nice and quiet. I would definitely stay at her place again. Thank You
reza
June 2016
Angela made me feel very welcome, enjoyed coffee and a chat before having a hot shower and sleeping well.
Dee
July 2016
Τύπος δωματίου
Ιδιωτικό δωμάτιο
---
Τύπος ιδιοκτησίας
---
Άτομα
1
---
Υπνοδωμάτια
1
Peterculter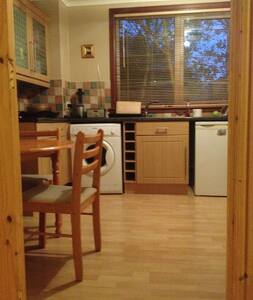 1

–

14

από

14 ενοικιαζόμενοι χώροι