this apartment features a garden with a terrace. Apartmán Sofinka boasts views of the mountai. Free WiFi is available . The kitchen comes with a microwave, a fridge and a stovetop, as well as a coffee machine. A flat-screen TV with satellite channels is featured. Free private parking. Free use of bicycles is available at the property and the area is popular for skiing.Bobsleight Harrachov is 300 metres from the property. A range of activities are offered in the area, such as cycling and hiking.
Kompletně vybavený apartmán s oplocený parkováním zdarma.
Krásná příroda, bobová dráha, dětské hřiště, skiareál, venkovní koupaliště,ciklotutiristika
Τύπος δωματίου
Ολόκληρο σπίτι/διαμέρισμα
---
Τύπος ιδιοκτησίας
Σουίτα επισκεπτών
---
Άτομα
4
---
Υπνοδωμάτια
Harrachov, Τσεχία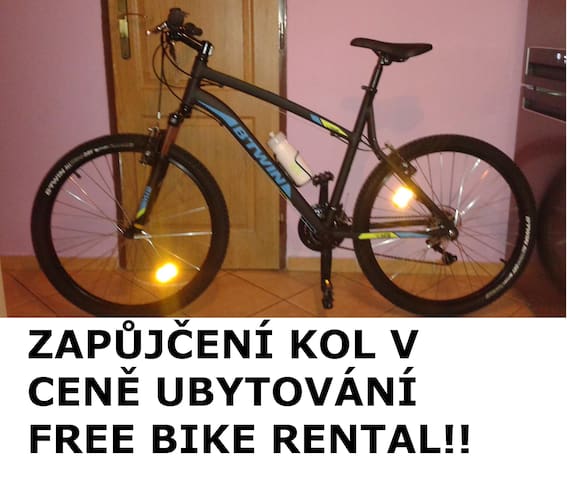 This family-run guesthouse in a quiet location 5 minutes walk from the center of Harrachov and 500 meters from the ski resort of Harrachov. Discounts on ski school and ski rental. There is free Wi-Fi. A beautiful view...
This family-run guesthouse in a quiet location 5 minutes walk from the center of Harrachov and 500 meters from the ski resort of Harrachov. Guests can enjoy discounts at local sports shop, ski school and ski rental. There is free Wi-Fi.
The guest house is 200 meters from tennis courts and a public indoor and outdoor pools and 250 meters from the restaurant. The golf course and the railway station Harrachov is 3 km away.
Freundlicher Empfang und Betreuung durch Radeks Eltern. Parkmöglichkeit direkt am Haus. Das Quartier liegt nahe dem Stadtzentrum und gut erreichbar zum Skilift. Als Gast bekommt man Rabatt bei Sport Cermak z.B. beim Skiverleih. Die Zimmer mit eigenem Waschbecken sind rustikal und auf die Unterbringung möglichst vieler Gäste eingestellt. Küche, Toilette und Dusche wird von allen Gästen geteilt.
Beate
2016-03-05T00:00:00Z
Das geräumige Zimmer mit Blick auf den Wald war sehr nett und wir hatten eine schöne Zeit in Harrachov. Radeks Vater hat uns netterweise vom Zentrum Harrachovs zur Unterkunft kurz gefahren, weil wir zu Fuß waren. Vor Ort empfing uns seine Frau, die es leider eilig hatte. Insgesamt fielen uns der Kontakt und der Austausch mit den Gastgebern, die wir nach unserer Ankunft nicht wieder gesehen haben.
Bathilde
2016-10-23T00:00:00Z
I spent a week flyfishing near Harrachov and the stay was perfect. Lovely Hosts who were always there to help and a simple but cosy room, plus a fully equipped kitchen. Communication with Radek was great and he's been fast to answer every question. Absolutely recommended ! :-)
Julian
2015-10-10T00:00:00Z
Pobyt splnil naše očekávání.
Radim
2016-09-05T00:00:00Z
I had a very pleasant and nice stay in Harrachov. I did not meet Radek but his mother who is a lovely and amiable person. She even picked me up in her car when I got lost due to my lacking sense of orientation. The guesthouse is located in a prime location in the heart of Harrachov. Shops and restaurants are next to it. The room I stayed in I liked very much. I am already looking forward to my next stay there.
Rainer
2015-12-14T00:00:00Z
Τύπος δωματίου
Ιδιωτικό δωμάτιο
---
Τύπος ιδιοκτησίας
Bed & Breakfast
---
Άτομα
2
---
Υπνοδωμάτια
Harrachov, Liberec Region, Τσεχία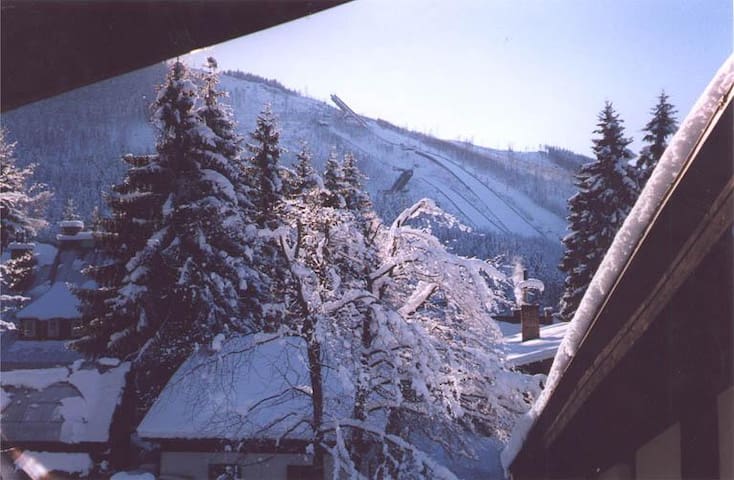 Resident Harrachov is a unique resort with comfort care facility. Accommodation in fully equipped appartmant. Appartmant is a private part of hotel resort. Close to city centre and downhill skiing area. It´s close to Poland border, where is nice to see the thermal spa build newly couple of years ago. Lovely place in great Czech mountains. Very nice for couples loves the comfort with good price.
Alles gut, gerne wieder
Jessica
2017-02-03T00:00:00Z
Very nice, cosy, fully equipped apartment with new furniture. It is in a calm surounding and close to ski area. Hosts are extremely friendly and helpful people. We had fruits and drinks for welcome and they sent me lost baggage by mail. I can honestly recommend this place to everyone.
Piotr
2017-01-01T00:00:00Z
Everything was fine, we liked our stay a lot. Our host was very helpful and gave us good advice what to do during our stay. Thank you very much indeed, Lucie!
Christoph
2017-02-17T00:00:00Z
The host canceled this reservation 50 days before arrival. This is an automated posting.
Jan
2016-11-06T00:00:00Z
Τύπος δωματίου
Ιδιωτικό δωμάτιο
---
Τύπος ιδιοκτησίας
Σπίτι
---
Άτομα
2
---
Υπνοδωμάτια
Harrachov, Τσεχία
Studio B 103 je součástí areálu Resident Harrachov, který se nachází na klidném místě v blízkosti centra Harrachova, jen 700 m od lyžařského areálu, kam lze dojet bezplatým skibusem. Jedná se o dvoupokojový apartmán o výměře 46 m2. K dispozici je 6 samostatných lůžek, TV s plochou obrazovkou, kychyňský kout, koupelna a odkládací vestavěné skříně. Apartmán disponuje velkou terasou. K dispozici je bezplatné Wi-Fi připojení a garážové stání.
N (PHONE NUMBER HIDDEN)', E (PHONE NUMBER HIDDEN)'
(URL HIDDEN)
Fajny,przestronny apartament,wyposażony we wszystko co niezbędne.Przyjazny dzieciom.Ciekawie położony,niby na uboczu,ale wszędzie blisko.Veronika miła i (URL HIDDEN) był bardzo udany (URL HIDDEN) pewno jeszcze tam wrocimy
Karolina
2016-12-27T00:00:00Z
Miejsce w sam raz na wyjazd na narty. Można przejść się pieszo na stok. Do centrum też jest niedaleko jakieś 15 minut spokojnym spacerem pod górkę więc powrót jest już łatwiejszy !:) Miejsce zgodne z opisem odpowiednia wyposażone. Generalnie spełniło nasze oczekiwania polecamy !:)
Marcin
2017-02-14T00:00:00Z
Sympatyczne małe miasteczko. Blisko do toru saneczkowego oraz stoków narciarskich i skoczni. Okolica idealna na spacery. Cicho i spokojnie. Mieszkanie w nowoczesnym budynku z możliwością zaparkowania samochodu na parkingu podziemnym.
Joanna
2017-01-02T00:00:00Z
The apartment was great, location perfect for kids/training slope and not too far from Harrachov center. We stayed as a family of 5 and it worked fine for us. Highly recommended and communication with Veronika was perfect.
Will
2017-01-07T00:00:00Z
nice apartment, has everything you need. Very good location, ideal for families with children. Children's ski school in two minutes on foot. The town is great, many restaurants and bars!
Константин
2017-02-24T00:00:00Z
Vše OK, příjezd, pobyt i odjezd. Děkujeme.
martin
2017-02-11T00:00:00Z
Ubytovani v hezkem,modernim apartmanu v klidne a zalesnene lokalite v dochazkove vzdalenosti od sjezdovek a centra mesta...
Filip
2017-02-26T00:00:00Z
Ubytovani moc pekne, kvalita odpovida fotkam, ale jine usporadani bytu nez na fotkach (palanda). Kvalitu ubytování to ale nesnizilo. Lokalita vhodna pro pobyt s detmi, maly vlek na uceni lyzovani hned vedle, centrum Harrachova dostupné příjemnou prochazkou. Hostitele mili, komunikace naprosto bez problemu, vsechno klapalo.
Zuzana
2017-02-06T00:00:00Z
Τύπος δωματίου
Ολόκληρο σπίτι/διαμέρισμα
---
Τύπος ιδιοκτησίας
Διαμέρισμα
---
Άτομα
5
---
Υπνοδωμάτια
Harrachov, Τσεχία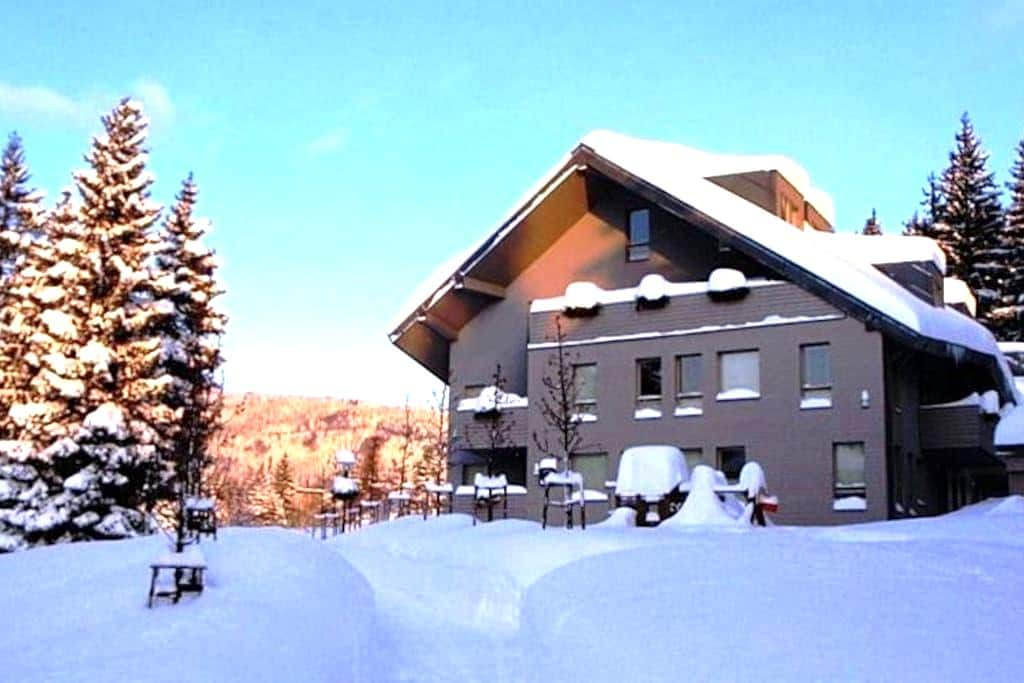 35 m2 apartment with balcony. The complex Resident Harrachov. There is a double bed and a sofa bed for comfortable sleeping 2 people kychyňský kitchen, bathroom and fitted wardrobes. Parking is secured on your own parking space.
Τύπος δωματίου
Ολόκληρο σπίτι/διαμέρισμα
---
Τύπος ιδιοκτησίας
Διαμέρισμα
---
Άτομα
4
---
Υπνοδωμάτια
Harrachov, Liberec Region, Τσεχία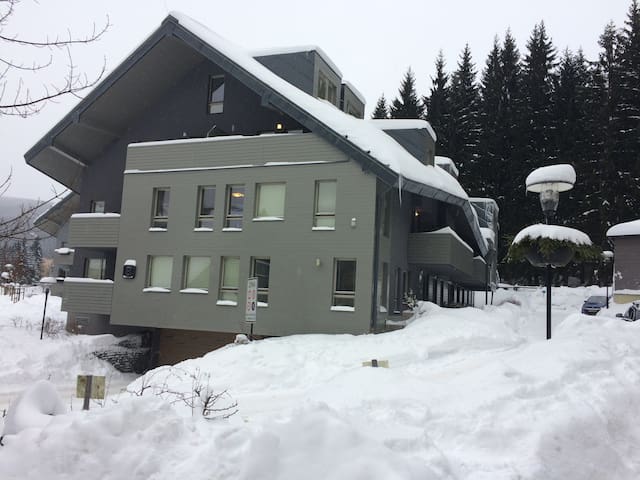 It's me close to Harrachov Ski Resort, a ski resort. For me, you will love it because there is a beautiful winter and summer. My accommodation is great for couples, solo travelers and families (with children).
Harrachov - mountain resort
Mieszkanie nieduże ale przytulne i bardzo dobrze wyposażone z wielkim i wygodnym łóżkiem piętrowym. Idealne miejsce dla osób uprawiających narciarstwo biegowe w Jakuszycach. Gospodarze mili i bardzo pomocni. Gorąco polecam!
Jakub
2017-01-04T00:00:00Z
Mieszkanie bardzo fajne, ma wszystko czego potrzeba na dłuższy pobyt, świetna lokalizacja — do marketu 5min, do lokalnego browaru 5min, do wypożyczalni sprzętu narciarskiego 5min:). Bardzo mili i konkretni gospodarze. Gorąco polecam.
Michał
2017-01-01T00:00:00Z
Kleine, aber nette Unterkunft. Alles vorhanden, alle fußläufig. Gutes Preis-Leistungsverhältnis. Sehr nette Gastgeber.
Clara
2017-02-19T00:00:00Z
Τύπος δωματίου
Ολόκληρο σπίτι/διαμέρισμα
---
Τύπος ιδιοκτησίας
Διαμέρισμα
---
Άτομα
4
---
Υπνοδωμάτια
Harrachov, Τσεχία
It's me close to the city center, arts and culture, and public transportation. For me, you will love it, because the space outside the kitchen. My accommodation is great for couples, solo travelers, business trips, families (with children) and large groups.
The host canceled this reservation 16 days before arrival. This is an automated posting.
Martin
2017-02-28T00:00:00Z
nice place, ideal for 1 or 2 persons. clean and central location
ivan
2017-04-02T00:00:00Z
Vse v poradku, dekuji
Kateřina
2017-02-24T00:00:00Z
Τύπος δωματίου
Ολόκληρο σπίτι/διαμέρισμα
---
Τύπος ιδιοκτησίας
Διαμέρισμα
---
Άτομα
4
---
Υπνοδωμάτια
Harrachov, Liberec Region, Τσεχία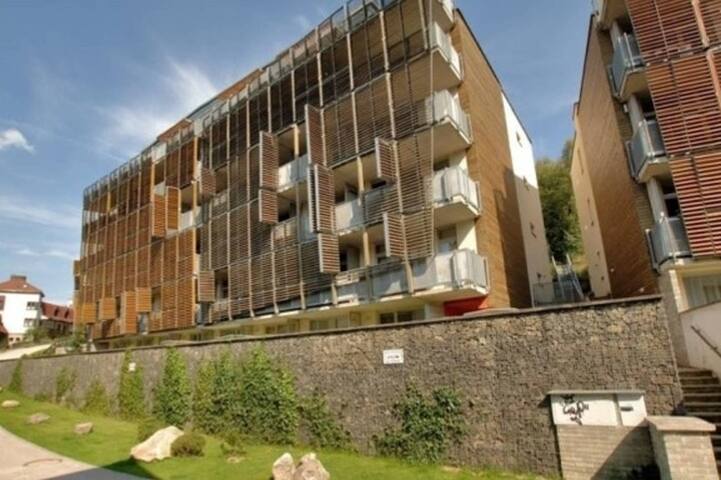 Pohodlné komfortně vybavené studio v centru Harrachova pro 2 osoby - 38 m2, plně vybavený kuchyňský kout, koupelna s vanou. K dispozici vlastní garážové stání a uzamčený sklep pro uložení kol, lyží aj. sportovního vybavení. Z garáží k apartmánu je výtah. Příjemné posezení na předzahrádce s výhledem na skokanské můstky. V blízkém okolí možnost sportovních aktivit a restaurací. Výborné výchozí místo pro poznávání hor pěšky i na kole, v zimě na lyžích. Naprosté soukromí. Kabelová TV + Internet!
Pobyt byl velice příjemný, určitě bych doporučila.
Hildegarda
2016-10-30T00:00:00Z
S ubytováním jsme byli spokojeni. Ubytování v centru, přesto klid. Komunikace byla skvělá. Můžeme jenom doporučit.
Pavel
2017-01-28T00:00:00Z
Pobyt byl super, hostitela nam vysla ve vsem vstric, komunikace super. apartman je moc pekny, lokace apartmanu je uplne v centru a vse je dostupne na dosah.
Lenka
2016-08-28T00:00:00Z
Τύπος δωματίου
Ολόκληρο σπίτι/διαμέρισμα
---
Τύπος ιδιοκτησίας
Διαμέρισμα
---
Άτομα
2
---
Υπνοδωμάτια
Harrachov, Liberec Region, Τσεχία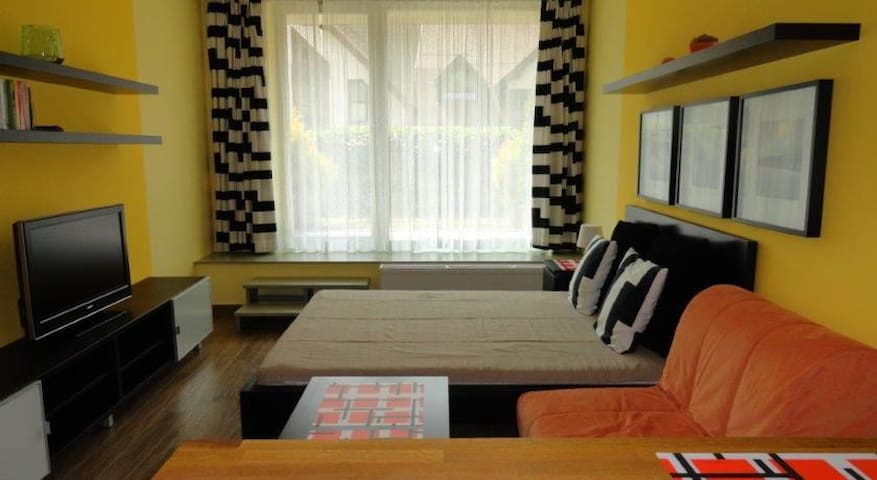 Quite area by the forest, beautiful view on the mountain and ski jump course, cross-county tracks in front of the APT, 200 m ski school for children, 800 m is the main ski resort, 500 m is the city center, 300 m is the shopping area and restaurants.
Apartments are clean and cozy. Small, but very comfortable. In kitchen there are a lot of stuff. Near to the ski area, which is really good. Jitka is very nice housekeeper, thanks for hospitality! Will come again!
Anastasiya
2016-02-06T00:00:00Z
Przytulne bardzo ciepłe mieszkanie na 5 osób bardzo wygodne
Renata
2016-12-31T00:00:00Z
Apartament położony w fajnym zacisznym miejscu. Właścicielka przesympatyczna i bardzo pomocna. Kuchnia dobrze wyposażona. Super wygodne łóżko!
Ania
2017-01-08T00:00:00Z
Bardzo miły kontakt. Wszystko w należytym porządku. Apartament czysty i ciepły. Pod samym domem przebiega trasa biegowa narciarska. Kilkaset metrów dalej są stoki narciarskie zjazdowe. Polecamy!
Krzysztof
2016-02-13T00:00:00Z
Τύπος δωματίου
Ολόκληρο σπίτι/διαμέρισμα
---
Τύπος ιδιοκτησίας
Διαμέρισμα
---
Άτομα
4
---
Υπνοδωμάτια
Harrachov, Liberec Region, Τσεχία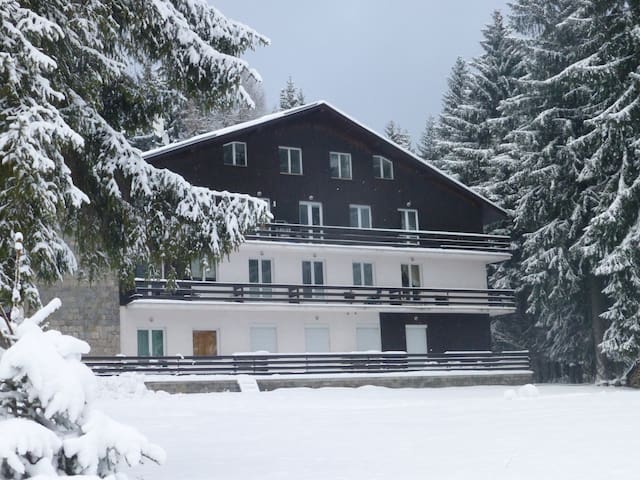 It is 350 m to the chair lift and 100 m to a bunny slope. You have your own garage parking space and a skiiroom next to it. Than you go by elevator to the first floor. The sauna is located opposite to the apartment door
No dirty dishes! There is a dishwasher!
I was very satisfied and highly recommend. Specially garage was very useful. Thank you very much!
Stan
2016-02-21T00:00:00Z
The Flat is very comfortable , and there is anything you need . You can reach everything by foot , and the cable railway is just 8 min away. If you want to have a walk between the woods ,is just a 10 min walk. Organisation is ok , Karin is very kind and if you have a question , she helps very fas(URL HIDDEN)
Andreas
2016-02-12T00:00:00Z
We had a great stay right in the center of Harrachov. Well-equiped kitchen and especially great parking place in underground garage for our car. We can definitely recommend this place.
Lukas
2017-01-08T00:00:00Z
Cool place for snb
Martin Beduan
2017-01-27T00:00:00Z
The host canceled this reservation the day before arrival. This is an automated posting.
Ricardo
2016-01-22T00:00:00Z
The room is great for 2 - 5 grown ups if you don't need separate bedrooms (and some can climb the loft bed ladder). The parking garage, surrounding shopping, ski rentals, etc. are all extremely convenient and the communication / key exchange was very kind with a very heartwarming tour of the flat and facilities by the owner of the outdoor clothing shop downstairs. Karin always responded swiftly and kindly by SMS. The bathroom is inside the flat (though it is rather a sitting shower but we really didn't mind) and the sauna just across the hallway. Cozy heating and a great view of the central plaza (with a little Christmas market in winter) included. Lot's of fun skiing close by. We had a great time and would happily return again or recommend this stay to friends :) !
Jan
2016-01-03T00:00:00Z
Wszystko OK. Mieszkanie bardzo ładne, zadbane i czyste. W pobliżu dużo sklepów i knajpek. Piękna okolica. Okoliczni mieszkańcy życzliwi i mili. Polecam
Paweł
2016-05-03T00:00:00Z
We had a fantastic stay. The location was great and host very easily reached. Fantastic! Highly recommend
Sonia
2017-01-02T00:00:00Z
Τύπος δωματίου
Ολόκληρο σπίτι/διαμέρισμα
---
Τύπος ιδιοκτησίας
Διαμέρισμα
---
Άτομα
5
---
Υπνοδωμάτια
Harrachov, Liberec Region, Τσεχία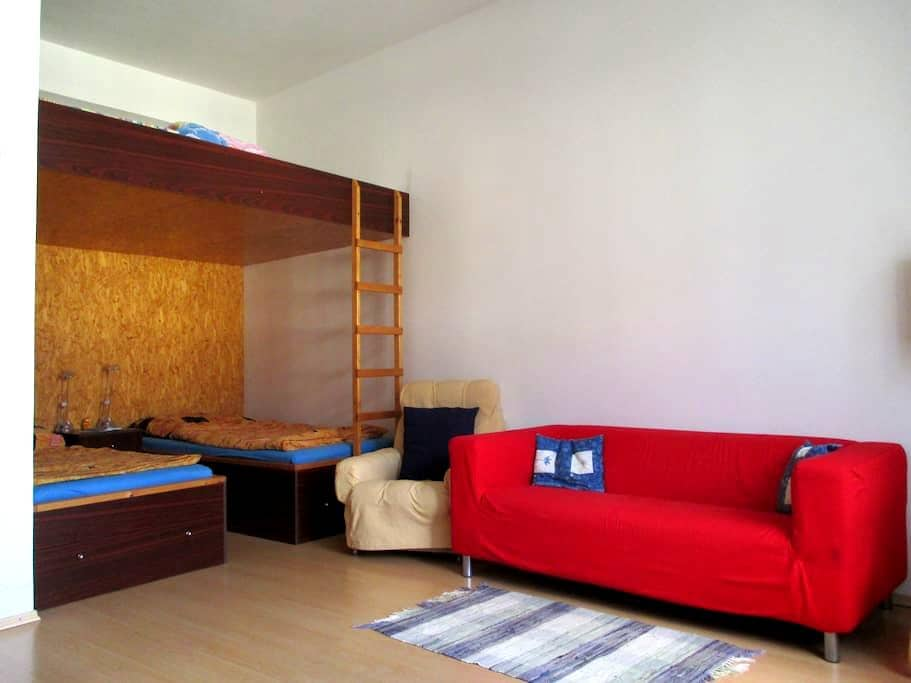 Je to ode mě blízko do restaurace a gastronomie a aktivity vhodné pro rodiny. U mě si to zamilujete, protože kuchyně, útulnost a zobrazení. Mé ubytování je skvělé pro páry, sóloví cestovatelé a rodiny (s dětmi).
Vojta is a perfect host. He made us feel at home and welcome right from the start. We stayed with 2 adults (Mom & Dad) and two Boys (6y and 2y) and had a really good time there. We found a big kitchen, equipped with all you need to cook and eat. A big sleeping room with a bed for two. A separate single bedroom (looks very tiny on the pictures but is a bit bigger in real) where you also can sleep with two persons. But what we – as a sleeping together family – really liked is a separate mattress for two – which we moved into the main bed room. In the hall, we found a big closet for our stuff and a very nice bath room. The view from the kitchen to the mountains and the village is fantastic. The house and the area is very quiet and the neighbors are all very friendly. Close by the is a hill for kids and a Ski School. Two minutes away is the best Pizza Restaurant we had in years. Daily Food Shopping is 200m away. Shopping, Downtown Area and a big Ski Lift can be reached very quickly (by car or by foot/ski). We are planning to come back next year, we really enjoyed our time in Harrachov in Vojta' Apartment.
Robert
2017-01-03T00:00:00Z
Τύπος δωματίου
Ολόκληρο σπίτι/διαμέρισμα
---
Τύπος ιδιοκτησίας
Διαμέρισμα
---
Άτομα
4
---
Υπνοδωμάτια
Harrachov, Czech, Τσεχία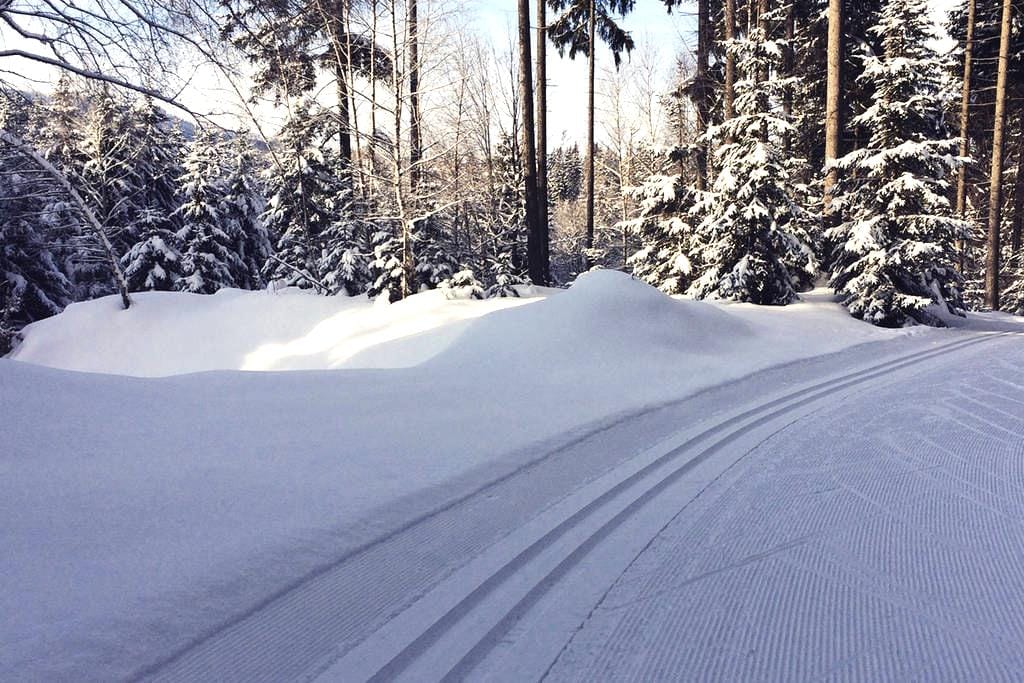 Je to ode mě blízko do centra Harrachova a ke sjezdovým tratím na Čertově hoře. Bytový dům přiléhá k lesu a hranici Krkonošského národního parku a úpatí horského hřebene, zároveň 100 m od prodejny Norma. Východně orientovaný balkón s pěkným výhledem.. Mé ubytování je skvělé pro páry, sólové cestovatele, služební cesty a rodiny (s dětmi).
Útulný byt, ze kterého je v Harrachově všude blízko - na lyže, do lesa anebo na nákup.
Lesy plné hub a borůvek v létě, ryby v potoce, lyžování na Čertově hoře nebo běhání v lesích a po hřebenech Krkonoš. Mate rádi hory, přírodu, sport?
Τύπος δωματίου
Ολόκληρο σπίτι/διαμέρισμα
---
Τύπος ιδιοκτησίας
Διαμέρισμα
---
Άτομα
4
---
Υπνοδωμάτια
Harrachov, Liberec Region, Τσεχία
Apartmán je v přízemí a má samostatný východ ven. Samozřejmostí je vlastní sociální zařízení a plně vybavený kuchyňský kout. Lyže nebo kola si pohodlně uschováte v uzamykatelném vnitřním kumbálu přímo u bytu. Auto zdarma zaparkujete přímo před domem.
Dvoupokojový apartmán v příjemném prostředí u lesa. Apartmán je v klidném míste, v noci tma a ve dne potkáte jen turisty v dobré náladě. Na pár kroků máte lesík, hospůdku, obchod a ke sjezdovkám se taky dostanete po svých.
Apartmán v příjemném prostředí u lesa, 5 minut do Harrachovských hospůdek a restaurací, 10 minut od lanovky na Čertovu Horu. Výhodou je prostorný travnatý pozemek okolo domu vhodný pro relaxaci.
Τύπος δωματίου
Ολόκληρο σπίτι/διαμέρισμα
---
Τύπος ιδιοκτησίας
Διαμέρισμα
---
Άτομα
4
---
Υπνοδωμάτια
Harrachov, Τσεχία
The apartment is located across II.patro family house, accommodation is possible in a total of 3 double and 1 triple room, there is also a bathroom with two sinks and shower, 2 separate WC. A small kitchen is fully equipped with crockery, ceramic hob with extractor fan, kettle, coffee maker, microwave and refrigerator. The digestion of joint moments include a large living room with a dining table, seating area with a covered balcony, satellite TV and WiFi.
In a well-known recreation and sport center of the Giant Mountains you will find a dense network of hiking and biking trails, swimming pool and mini golf, tennis club, bobsleigh run open all year round, climbing center, rent ATVs, lift to the Devil's Mountain, known Mumlava waterfall, a glass factory with a small brewery and a glass museum . In winter, cross-country tracks and ski slopes on which you comfortably take 2 chair lift, night skiing. In Harrachov you can also find a large number of restaurants in various price ranges, and last but not least, lots of shops, from food to sports equipment. The nearest shop is a supermarket NORMA incl. retail meat and sausages, 400m from the house.
Τύπος δωματίου
Ολόκληρο σπίτι/διαμέρισμα
---
Τύπος ιδιοκτησίας
Διαμέρισμα
---
Άτομα
9
---
Υπνοδωμάτια
Harrachov, Τσεχία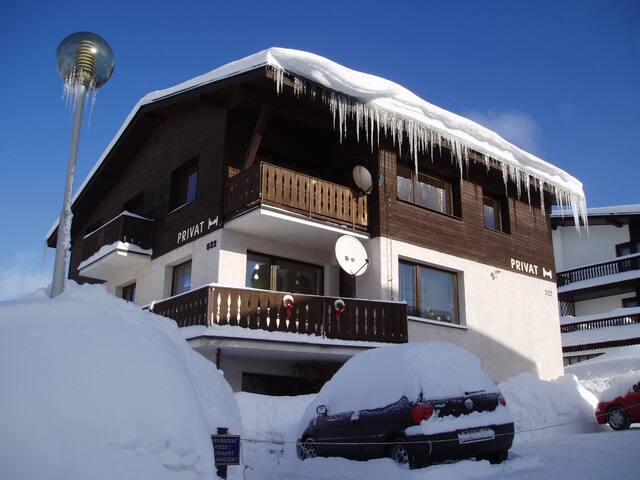 The apartment is located in a quiet part of Harrachov - Rýžoviště. It is ideally located for recreational hiking, mountain hiking and in winter for downhill skiing and cross country skiing. Ryžoviště piste from the apartment is approx. 300 m, which have spectacular views from two balconies. The center of town is 2 km away. The apartment is fully equipped kitchen has a dishwasher, oven, ceramic hob, microwave, refrigerator, freezer, kettle, coffee maker.
The apartment is located in complexes Parkhotel Harrachov. It has its own entrance and guests are not disturbed by the operation of the hotel.
Apartment was exactly like it was shown in Airbnb. Localization is ok. View is really nice and if you want ski you can go on foot 300 m and you are on ski lift.
Krzysztof
2017-02-04T00:00:00Z
Prostorný apartmán s hezkým výhledem, možnost čerpat služby přilehlého hotelu, ochotná a vtřícná paní hostitelka.
Eva
2017-01-08T00:00:00Z
The host canceled this reservation 2 days before arrival. This is an automated posting.
Christian
2016-10-26T00:00:00Z
Het was een grote ruimte waar we plezier gehad hebben. Verder was er een balkonnetje met een mooi uitzicht op de natuur. Verder waren er wel enkele negatieve punten zoals de keuken die niet volledig is, want de er is te weinig bestek, de oven doet het niet en er is alleen de mogelijkheid om 1 pit te gebruiken omdat de pannen te groot zijn. Verder zijn wij vaak geschrokken omdat er iets van de muur of van het plafond viel. Kortom het is een mooie plek waar je enkel moet slapen en niet veel omheen moet leven.
Nick
2016-07-18T00:00:00Z
Bardzo przestrzenny apartament, z dobrym położeniem. Sauna w lazience nas zaskoczyła ale nie było czasu na jej używanie. Apartament czysty, cichy, z przepięknym widokiem. Gospodyni uśmiechnięta i pomocna, polecamy wszystkim chętnym.
Jacek
2016-11-13T00:00:00Z
Czysty i bardzo przestronny apartament z ładnym widokiem. Dobry i szybki kontakt z gospodynią. Polecam!
Justyna
2016-08-16T00:00:00Z
The apartment is part of a hotel, so if you need anything you can ask the receptionist. The hotel has 2 apartments, apartment "1" is the nicer one, and the one we stayed in. Awesome view on the slopes. A pity that the sauna is not for use (but to he fair, it is not listed in the offer). I can definitely recommend it!
Bernhard
2017-01-01T00:00:00Z
Τύπος δωματίου
Ολόκληρο σπίτι/διαμέρισμα
---
Τύπος ιδιοκτησίας
Διαμέρισμα
---
Άτομα
7
---
Υπνοδωμάτια
Harrachov, Liberec Region, Τσεχία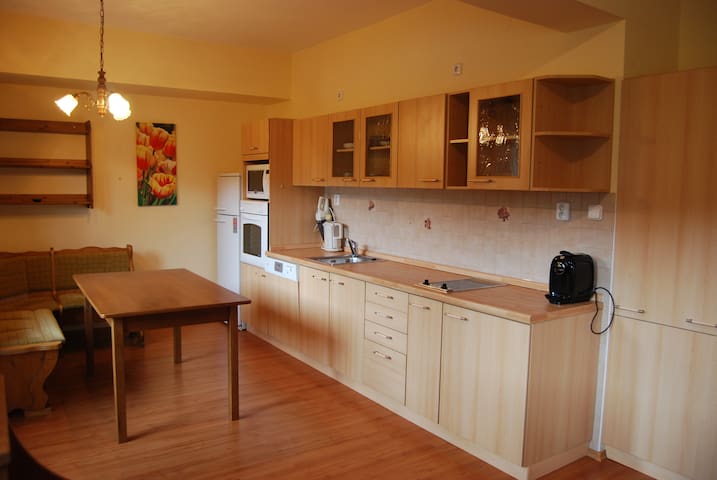 Our chalet is located 300 m from a ski slope and is situated in a very calm area, but only 5 minutes walk to the centr of Harrachov. Free WiFi. We have wooden terrace, 2 bathrooms with a bath and shower, 2 x WC, a dining and a seating area with a flat-screen TV. Very good equipped kitchenette with a dishwasher, oven and microwave, toaster, fridge, coffee machine and a kettle. Towels and bed linen are provided. Free parking. Ski bus is 100 m. Mumlavský Waterfall is 1.9 km from the property.
Ulrike
2017-01-15T00:00:00Z
Michaelas place is in a awesome lokation very good to go as a family with kids , as ther is everything near by in walking distance. The house it self was clean . The beds are very comfortable ( for dose who likes a bit harder matracis like me ) The bathrooms wher very clean. Just the leaving room with the sofas are a bit small for 2 famalys in the evening, if one likes to wach a movie. Apart this i can very much recommend this beautiful place.
Sergio
2017-01-29T00:00:00Z
Τύπος δωματίου
Ολόκληρο σπίτι/διαμέρισμα
---
Τύπος ιδιοκτησίας
Σπίτι
---
Άτομα
10
---
Υπνοδωμάτια
Harrachov, Τσεχία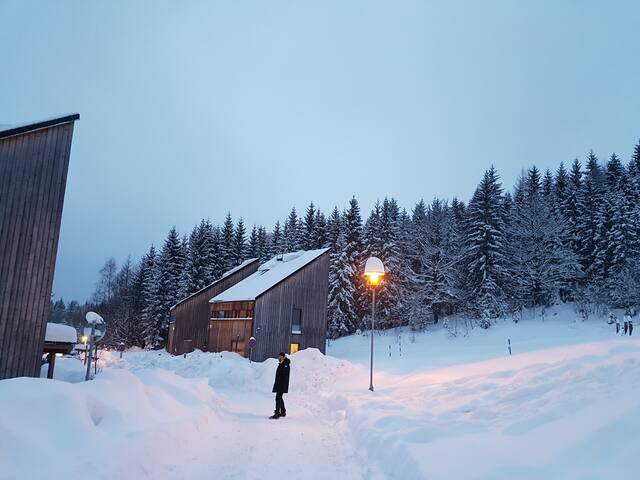 Útulný moderně zařízený apartmán vhodný pro páry nebo rodinu s jedním dítětem. Nachází se v klidné lokalitě, ale v docházkové vzdálenosti do centra města (10 min). V blízkosti se nachází mnoho příjemných restaurací, barů a obchod NORMA. Zastávka Skibus je vzdálena 3 minuty chůze.
Świetny pokój, wygodne oraz duże łóżko. Czystość na najwyższym poziomie. Łatwy kontakt. Zdecydowanie polecam.
Sebastian
2017-01-09T00:00:00Z
Τύπος δωματίου
Ολόκληρο σπίτι/διαμέρισμα
---
Τύπος ιδιοκτησίας
Διαμέρισμα
---
Άτομα
3
---
Υπνοδωμάτια
Harrachov, Τσεχία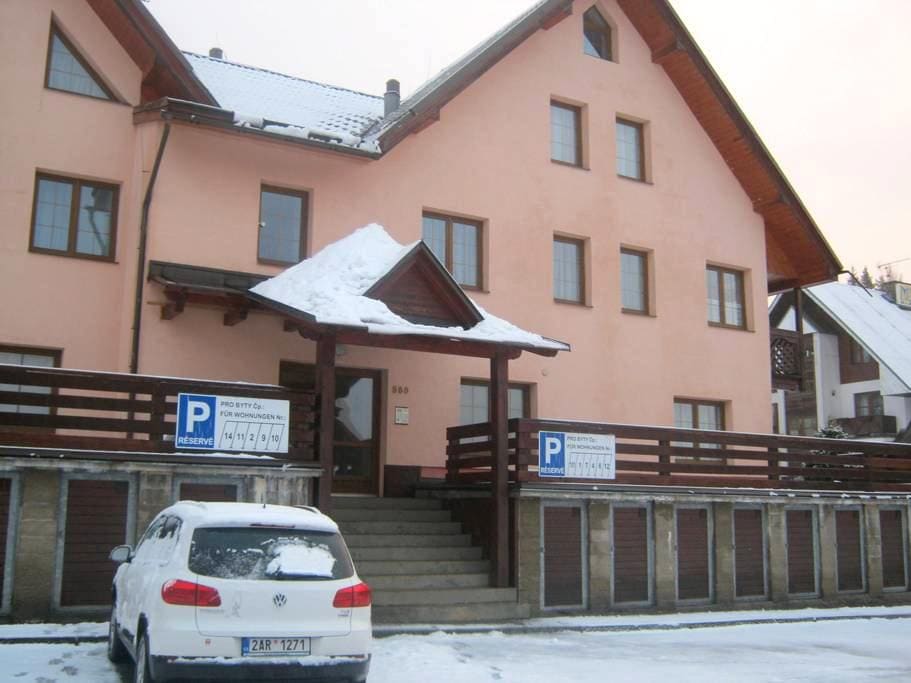 Pension is located in the beautiful countryside of the highest Czech mountains, right at the entrance to hiking trails and cross-country skiing, ski slopes directly to the Devil's Mountain. Pension Hollmann offers comfortable accommodation for all lovers of active rest.
Vše v pořádku,akorát malé parkoviště,ale problém to nebyl.
Jakub
2017-02-18T00:00:00Z
The host canceled this reservation 24 days before arrival. This is an automated posting.
Radovan
2017-03-28T00:00:00Z
Ubytování bylo skvělé a moc byli jsme moc spokojeni. Komunikace perfektní, služby přesně tak jak bylo domluveno. Určitě bych doporučila všem, kdo si chtějí užít krásu Harrachova.
Petra
2017-01-22T00:00:00Z
Beautiful and modern guesthouse with nice view to the slopes! The room was spacious, the breakfast excellent! Our relaxing time in their private wellness area was extraordinary. Jana is a lovely host who cares everytime for your requests. All was perfect! Thanks a lot for the wonderful stay! We will definitively come back =)
Marko
2016-12-28T00:00:00Z
It was perfect!
Elena
2016-12-26T00:00:00Z
Great location and quiet, spacious and clean accommodation for skiing vacation
Arturas
2017-01-06T00:00:00Z
Τύπος δωματίου
Ολόκληρο σπίτι/διαμέρισμα
---
Τύπος ιδιοκτησίας
Bed & Breakfast
---
Άτομα
16
---
Υπνοδωμάτια
Harrachov, Τσεχία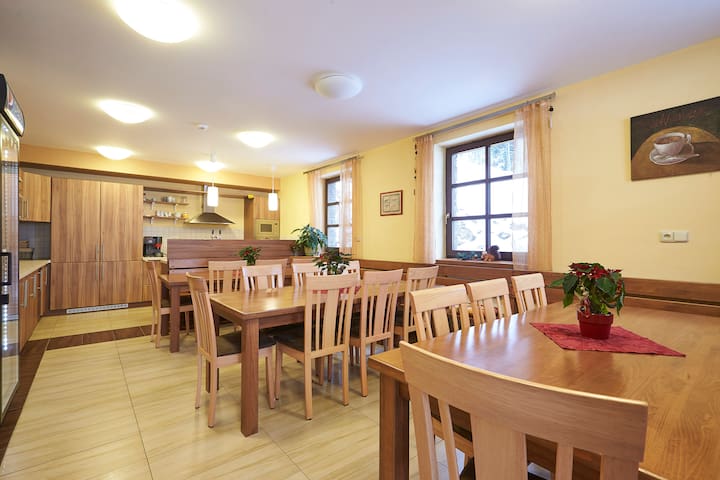 1

–

18

από

Πάνω από 300 ενοικιαζόμενα
Εισάγετε ημερομηνίες για να δείτε τις πλήρεις τιμές. Ισχύουν πρόσθετες χρεώσεις. Ενδέχεται να προστεθούν φόροι.
Χώροι σε κοντινή απόσταση: