Εισάγετε ημερομηνίες για να δείτε τις πλήρεις τιμές. Ισχύουν πρόσθετες χρεώσεις. Ενδέχεται να προστεθούν φόροι.
1 ενοικιαζόμενος χώρος
· Fleurieu Peninsula
1 ενοικιαζόμενος χώρος
· Fleurieu Peninsula
On 185 Acres of undulating grazing land, just 12 Kms from Victor Harbor, next to The Heysen Trail. Quiet, tranquil, beautiful surroundings. Guest's own spacious private sitting-room, bathroom + 2nd toilet. 2 double bedrooms (Queen) plus single bed in one room. Tea/coffee. Bed and Breakfast only; NO self-catering facilities. NO fridge. NO TV, as we live in a Black Hole reception area.
A peaceful, tranquil, beautiful place to stay. Amazing bird-life - Eagles, Peregrine Falcons, honey-eaters, bush birds, herons, ducks, egrets, grebes etc. Private entrance. 2 bedrooms-Queen bed in first bedroom, Queen bed, plus single in second bedroom; own private bathroom; 2nd toilet; Guest's own spacious lounge room, and verandah with seating. Tea/coffee. Please note we do NOT offer a kitchen or a fridge. Not self-catering. As we're on a farm there is plenty of room for walking and enjoying the valley views and wildlife. Our space is not really suitable for children under 2 yrs (toddlers). We will probably be on the premises at all times to advise guests about the surrounding areas, and of course to provide breakfast; but for those who prefer their own private space we have our own, completely separate living area and we are happy to leave you alone to enjoy the tranquility of our property.
We live in a rural neighbourhood but are only a 10 minute drive to our local town and/or the beach. Spectacular coastal and rural scenery. We are right next to the Heysen Trail, for those interested in walking. 45 mins from the Kangaroo Island ferry at Cape Jervis. Public transport is available in the nearest town. Our local town, on the coast, also boasts many good restaurants and cafes, plus a cinema. We are situated right next to the Heysen Trail for those interested in hiking/walking, and only a 10 minute drive to the beach, or restaurants and cafes in Victor Harbor. 15 mins from Waitpinga/Parsons Beaches and Newland Head National Park.
Marilyn welcomed me upon arrival and made sure I had everything I needed. The farm is lovely, rolling green hills, creek running through and a nice relaxed feel. The apartment was spacious, spotless, warm and exactly what I needed for my stay. Breakfast in the morning was great. I would stay again when needing a night or two out of the city. Thanks very much
Melissa
October 2016
Thank you Marilyn for a lovely stay, the surroundings are gorgeous, and the appartment is very neat and clean, well organised. We will come back!
Sandrine
March 2016
Thank you for a really lovely stay Marilyn. It was a special thrill to be shown the baby lamb, which our kids loved. Beautiful spot, with delicious breakfasts, and very quiet.
Penny
August 2016
Our stay at the farm was lovely. Great value and wonderful host. Would recommend for a calm and relaxing stay. Thanks Marilyn.
Chantelle
September 2016
Marilyn was absolutely amazing. Made our little family feel so welcomed. The photos on this site dont do this beautiful farm justice. So much better in real life. Our 11month old son loved walking around with us on the farm watching all the animals. A beautiful home cooked breakfast in the morning and the eggs where fresh from her chickens. She even cooked eggs for our son. We cant wait to go back and stay again. Was a beautiful weekend away.
kimberley
February 2016
Marilyn was very welcoming, and the accommodation more than excellent. Unfortunately, I did not have time to see much of the Farm - but from what I did see, I wish I had. I got to talk with the cows - it seems I have a very good Aussie moo. They (the cows) also seemed to enjoy my bagpipe playing, and came to the fence to listen.
Robert
February 2016
We were made to feel very welcome at Lisieux Farm by both Marilyn and Robin and especially their dog Millie who is very friendly and great around children. The accommodation is spacious, ultra clean and luxurious - perfect for a family or two couples. Breakfasts are copious with delicious fresh eggs from the chooks. We appreciated the quiet and beautiful scenery and highly recommend a walk up the back hill for wonderful views to the coast. We would love to come back.
Alice
March 2016
We had a pleasant stay at Lisieux Farm. It was our last stop before Adelaide, travelling from Melbourne along the coast and we wanted to try something different (than just another port/beach motel/apartment). We got what we wanted. The view from the bedroom and living room open to beautiful scenery of nature - green grass hills with herd of sheep and cows. Marilyn is very friendly and welcoming - told us interesting stories about the animals and farm life and let us get as close to them as we want. Her breakfast was also excellent with fresh eggs from the farm. We definitely recommend this place highly!
Angie
July 2016
Τύπος δωματίου
Ολόκληρο σπίτι/διαμέρισμα
---
Τύπος ιδιοκτησίας
Bed & Breakfast
---
Άτομα
5
---
Υπνοδωμάτια
2
Back Valley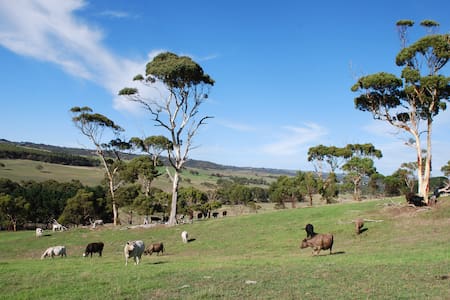 1

–

1

από

1 ενοικιαζόμενος χώρος