Converted Artist's Studio - 1,300 sq ft, bright, open, and spacious with 9-1/2' ceilings. I have downsized to another studio, also on the premises, where I work away and lose myself in the process. Breakfast at the Bridgewater Village Store and Bistro included. Each guest receives a $10 voucher towards breakfast, each day booked. Weekend guests receive one, 25% off voucher to be applied to dinner on Friday, Saturday OR Sunday - on $100 maximum bill.
Two minutes to the center of Bridgewater - which includes the Village Store and Bistro. Our recreation center has paved walking paths, and tennis, basketball, and handball courts. Seven minutes to downtown New Milford with shopping of all sorts, restaurants, and movies. Hiking trails abound in our region. Less than two hours from Lincoln Center.
Bridgewater is located at the southern tip of beautiful Litchfield County. It has the rural charm of the country but is convenient to most amenities.
What a great experience! The house is quiet, cheerful, clean, and very relaxing. Pamela and Glen were friendly and helpful. Perfect hosts. I highly recommend Breezeway in the Village and plan to stay there again when I am in the area.
Allan
2017-04-04T00:00:00Z
Τύπος δωματίου
Ολόκληρο σπίτι/διαμέρισμα
---
Τύπος ιδιοκτησίας
Σπίτι
---
Άτομα
4
---
Υπνοδωμάτια
Bridgewater, Κονέκτικατ, Ηνωμένες Πολιτείες της Αμερικής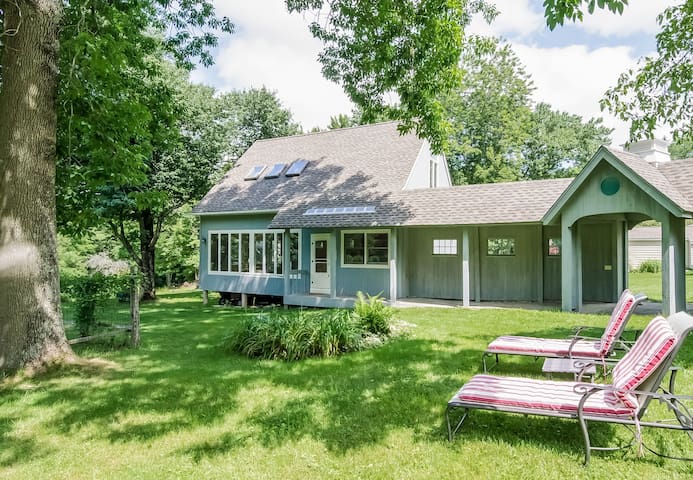 Less than 2 hours from NYC in beautiful Bridgewater, CT. This charming home was built in 1938 but has updated bathrooms and kitchen.
Private 3 bedroom house in charming Bridgewater, CT. A beautiful area with access to lakes, hiking trails, great restaurants and antique shopping. The house has 3 queen size beds so good for multiple couples or an entire family. There is also a sofa bed downstairs. - Dogs are welcome. - Fully equipped kitchen with center island and a dining room. - Comfortable sun porch. - Stone patio with BBQ grill and outdoor furniture. - Ample parking in the driveway can easily accommodate 3 cars.
Less than 1 mile to the recreation center which includes a playground and tennis courts.
Neighborhood really quiet. Mostly a small rural area. House feels very cozy with character. If you're looking for a getaway that's more relaxing then this is the place.
Frank
2016-08-13T00:00:00Z
Made sure we had everything we needed for the kitchen. Perfect house for a family getaway.
Talie
2016-01-20T00:00:00Z
It was amazing vacation. We spent wonderful time. Owner was very friendly for our requests. And we appreciate it. Thanks for everything!!!!!!!!!
Denys
2016-01-04T00:00:00Z
Chis's home is lovely and spacious. Despite its location at the corner of the main street through town, the neighborhood is quiet. Bridgewater is placid, nestled amongst the hills of western CT. The home itself was more than adequate for a family of 6. It's nicely furnished and contains a variety of spaces for group or private time. The amenities (kitchen appliances, bathrooms, internet, etc.) are high quality and fully functional. There are nice front and backyards as well as a driveway that easily accommodated 3 vehicles. Chris was very flexible in terms of check-in/check-out. She also made sure to meet us at the house upon arrival to walk us through and point out how things worked. There's nothing complicated about how the house functions, but it was nice to meet the host anyway. She lives in town and happily provided us with her phone number in case we needed anything over the course of our stay. All in all, we would highly recommend a visit to Chris's home in Bridgewater--especially if you like peace, quiet, and bucolic surroundings.
Isaac
2015-12-27T00:00:00Z
Chris was a great host. She was very responsive and helpful throughout the process. She must be surgically attached to her email! The house is well laid out, cozy, clean and quiet. It has large windows looking out on attractive stone walls and what look to be lovely gardens (we visited in Feb, but hear the gardens are charming). We live nearby and used it to house visiting family members. It was perfect for this, but would also be great for a weekend getaway. Bridgewater is a beautiful New England town. In addition to the usual two white churches, general store and town hall, Bridgewater has lots of great hiking, walking, biking, kayaking etc both in the town itself and nearby.
Jean
2016-02-15T00:00:00Z
Loved staying with our family at Chris's place. Lots of space and room for my little kids to run around.
Kevin
2017-02-21T00:00:00Z
Well maintained, very clean and comfortable. A great spot in Bridgewater. Chris was on time and very friendly.
Gregory
2016-11-14T00:00:00Z
The house was as described and was perfect for the six of us. Chris was there to greet us and was easy to contact. We had a blast! Thanks for letting us stay with you!
Danielle
2016-09-18T00:00:00Z
Τύπος δωματίου
Ολόκληρο σπίτι/διαμέρισμα
---
Τύπος ιδιοκτησίας
Σπίτι
---
Άτομα
6
---
Υπνοδωμάτια
Bridgewater, Κονέκτικατ, Ηνωμένες Πολιτείες της Αμερικής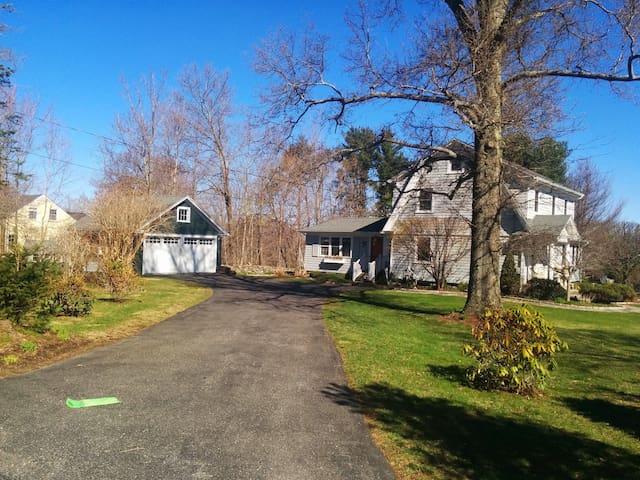 Enjoy a beautiful view from a peaceful, well located lakefront property. Fully Furnished, 75 minutes from NYC. Close to apple picking, hiking, Appalachian Trail, biking. The house comes with use of 2 kayaks, bbq grills, fireplace, floats and rafts, hammock, parking and more. Accessible by Metro North. Long Term Rental available. Great deals on weekly and monthly rentals! Please inquire if interested.
4 bedroom house complete with cathedral ceiling living room, glassed in sunporch and 2 story stone fireplace. Beautiful dining deck outside kitchen & living room. Slate patio by waterfront complete with picnic table & lake access. Very well maintained. Full basement with laundry and bathroom.
Jennifer was a great host, the house was very lovely and the dock in the lake priceless. Goodtimes.
Alex
2016-08-22T00:00:00Z
We had a great stay at the lake house. Jennifer was very responsive and provided everything we needed for a great weekend. We would definitely go back.
Jon
2016-10-30T00:00:00Z
Our host did a wonderful job communicating with us throughout the weekend to make sure that everything was as it should be. The Lake House was wonderful and exactly what we were looking for on our weekend getaway. The scenery was absolutely magnificent and we enjoyed everything about Jennifer's wonderful cabin - especially the beautiful sun porch over looking the lake! Thanks again Jennifer!
Taylor
2016-10-02T00:00:00Z
Probably one of the most beautiful locations we have stayed at on airbnb. The back of the house opens straight out onto a gorgeous lake. We fished straight off the dock and admired the changing leaves. Would love to come back in the summer and swim. We would definitely rent this house again. Be prepared that any sort of amenities are a 15min drive (URL HIDDEN) so stock up, your really won't want to leave the views from the house anyway. The house itself is simply decorated but has everything you could need. Thanks for a great time.
Sophie
2016-10-12T00:00:00Z
Τύπος δωματίου
Ολόκληρο σπίτι/διαμέρισμα
---
Τύπος ιδιοκτησίας
Σπίτι
---
Άτομα
6
---
Υπνοδωμάτια
Holmes, Νέα Υόρκη, Ηνωμένες Πολιτείες της Αμερικής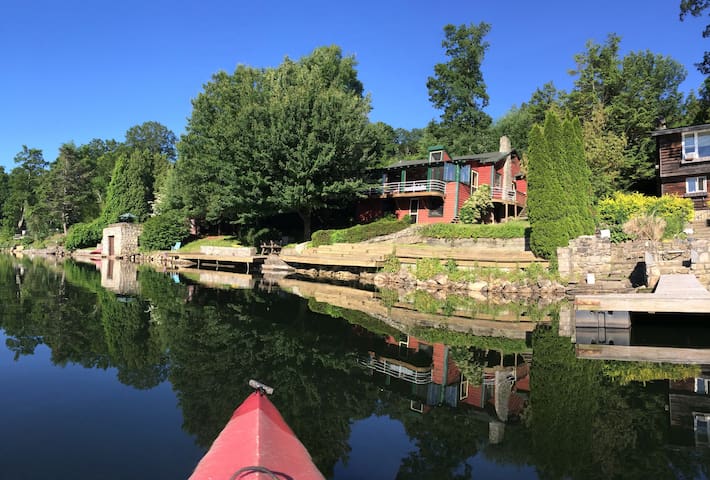 75 min from NYC near the little known Whaley Lake, the house & the surrounding land is a great spot to get away & relax. The cozy house is perfect for cooking, reading & game nights. The surrounding land is perfect for hikes, exploring, picnics & field games. With skiing, the lake, larger hiking trails & historic sites nearby, this is a great place for groups of friends, couples or families with children to either settle in & relax or adventure out to enjoy the surrounding Dutchess County.
If you
Τύπος δωματίου
Ολόκληρο σπίτι/διαμέρισμα
---
Τύπος ιδιοκτησίας
Σπίτι
---
Άτομα
6
---
Υπνοδωμάτια
Holmes, Νέα Υόρκη, Ηνωμένες Πολιτείες της Αμερικής
My cozy, secluded and very private guesthouse is where people feel replenished. A very special, quiet & beautiful energy fills the space. Best for couples, but you can make room for a child. A true getaway.
We are totally secluded and private. Most people have no idea the guesthouse space even exists!
Newtown and the surrounding area is just beautiful countryside. Lots of walking/hiking and parks. Great drives.
This was the perfect get-away for us. It was private, serene and cozy. The setting was picturesque with a view into the woods. The suite was appointed with charm and had everything we needed. Yolie was very accommodating and made us feel very welcomed. We will definitely be back!
Laurie
2014-12-18T00:00:00Z
Really loved my stay at the guest suite. It was rustic, cozy, unique, very comfortable and tastefully done with everything could need. It felt very secluded with really beautiful surroundings, great neighborhood and places to explore. Yolie really went above and beyond to make sure I had everything I needed. Very welcoming and great communication throughout my stay. I hope to return very soon!
Rhonda
2016-12-08T00:00:00Z
The reservation was canceled 29 days before arrival. This is an automated posting.
Debi
2015-03-05T00:00:00Z
great, peaceful place to stay for a brief or extended trip!
Kevin
2017-01-24T00:00:00Z
Yolie was an exceptionally nice and interesting person who took care to be sure that we had a good stay. The bed was comfortable and the view fantastic. Restaurants abound in the area. I am eager to go back when all of the beautiful trees are fully out and the plantings are in full bloom.
Ted
2017-04-02T00:00:00Z
Yolie was a fantastic host, and her home is absolutely beautiful- we had a great time! The space was rustic, peaceful, and well maintained, and we loved walking around the property as well. Great experience all around.
Celine
2015-01-03T00:00:00Z
The place is super awesome for a couple. It's warm and cozy. They have a firepit outside which we didn't get a chance to use but was lovely. There's a great collections of books that you can read. We were also provided basic necessities in bathroom . The house had everything that was needed - stove utensils fridge bread butter jam.
Vandana
2014-12-15T00:00:00Z
The host canceled this reservation 80 days before arrival. This is an automated posting.
Ronette
2016-04-28T00:00:00Z
Τύπος δωματίου
Ολόκληρο σπίτι/διαμέρισμα
---
Τύπος ιδιοκτησίας
Σπίτι
---
Άτομα
2
---
Υπνοδωμάτια
Newtown, Κονέκτικατ, Ηνωμένες Πολιτείες της Αμερικής
A year-round waterfront home with gorgeous unobstructed views of Whaley lake provides the perfect escape for a long weekend or vacation. Enjoy swimming and lake activities via private direct lake access. Spacious boathouse deck for entertaining or sunbathing. Cozy up to a two-story stone fireplace while enjoying the fall and winter colors.
Furnished rental 90 minutes from New York City. House includes a sunroom with beautiful lake views- perfect for relaxing or dining on the picnic-style dining table. 2 upstairs bedrooms joined by a Jack and Jill bathroom and a downstairs master bedroom. Home was recently renovated with a new roof, carpeting, bathroom, plumbing and fireplace. Full basement includes laundry, ping pong table and extra storage space for all your boat gear. Guests will have full access to kayaks, canoe, electric Weber grill, and an assortment of floats.
Τύπος δωματίου
Ολόκληρο σπίτι/διαμέρισμα
---
Τύπος ιδιοκτησίας
Σπίτι
---
Άτομα
6
---
Υπνοδωμάτια
Holmes, Νέα Υόρκη, Ηνωμένες Πολιτείες της Αμερικής
Beautiful Lakefront 3 bedroom, 2.5 bath waterfront rental in private community on peaceful Squantz Pond, adjacent to Candlewood Lake. Deck, Screened in porch, Private Dock, Small Beach. Swimming or fishing from the dock, or winter skiing nearby!
You will be our guests in our charming home with new kitchen appliances, central air. There is a deck as well as a screened in porch overlooking the lake. The master suite is on the first floor, with a walk in closet and a private bath with whirlpool tub. There is also a small office on the first floor with internet access. There is a laundry room off the kitchen with a half bath. The second and third bedrooms are upstairs, sharing a single full bathroom.
Our home is in a private, quiet community with small beach a short walk away. In addition to Squantz Pond, there is a nearby boat launch for Candlewood Lake.
We had a WONDERFUL time. David was very quick to respond to all our question/concerns. The house was beautiful and very clean, comfy with enough room for the 5 of us to spread out. We would stay at David's place again with no hesitation. The Taylor's
Jessica
2015-11-03T00:00:00Z
Again a wonderful experience at Davids Candlewood home.
Curt
2015-09-05T00:00:00Z
We had a wonderful stay here! It is a beautiful, spacious, very clean home with all essentials we needed in the kitchen. It is a fantastic spot to enjoy the lake - swimming or just sitting on the dock and appreciating the view! David was very prompt at answering any questions we had and the check-in and out process was smooth and easy. We would most definitely stay here again!
Deborah
2015-07-28T00:00:00Z
Great place. Kids enjoyed catching fish off the doc and running up and down the big hill to the water. Owner even helped us retrieve my 2 year old son's stuffed toy when lost at his place. Very nice guy and place.
Matt
2016-06-13T00:00:00Z
This house was just as the pictures showed and more. Beautiful property, your own boat dock, and most importantly clean. And all for a great price. Beds were firm but not in a bad way. Only thing id recommend is bringing your own cooking supplies and maybe a favorite pan and knife and basics like salt pepper olive oil etc if you have room. Definitely ample kitchen stuff if you cant! Thanks david!!
Curt
2015-06-12T00:00:00Z
David was the absolute best host. When events changed prior to our trip starting, he was understanding and on the spot with alternatives. The house is ideal for a family getaway, quiet street, lake front with a dock and boat rentals literally around the corner, this is a home to come back to.
Kenneth
2016-05-26T00:00:00Z
David has got a real nice and big and well equipped komplete house at the lake close to a state park with great foliage (Oct. 2015). We as a Family (3 Adults 2 Teenagers) enjoyed the time very much, and would have liked to spend more days there than in busy NYC-Manhatten. David does a very good job as a host, also he wasn't there.
Frank
2015-10-21T00:00:00Z
David's home is beautifully clean and comfortable, the kitchen is well equipped, the bed very comfortable. With two porches, one screened and one outside, the view of the "pond" can't be beat. We had a perfect stay and hope to be back. David promptly answered every question and we felt welcomed instantly.
Barbara
2015-09-23T00:00:00Z
Τύπος δωματίου
Ολόκληρο σπίτι/διαμέρισμα
---
Τύπος ιδιοκτησίας
Σπίτι
---
Άτομα
6
---
Υπνοδωμάτια
New Fairfield, Κονέκτικατ, Ηνωμένες Πολιτείες της Αμερικής
This Perfect Weekend House just 80 min from NYC can be yours or invite up to seven friends. The antique, photograph, and sculpture filled, light-splashed two story home (consisting of four bedrooms and 2.5 bathrooms) on Connecticut's Antique Trail has spacious indoor and outdoor lounging areas in a beautiful acre private garden setting three minutes from Woodbury's historic town center. Even better its only one minute from three fabulous restaurants: Carol Peck's, John's Cafe, and Marketplace!
My home has all the amenities for a perfect family/friends getaway. The chef's kitchen is fully equipped and totally at your disposal. Three good grocery stores and the 4.5 star New Morning Market and Health Food Store are close by for your food shopping convenience. Most guests, however, prefer to fully enjoy their stay here and choose instead to eat out at at the 4-5 excellent restaurants, several diners, delis, and pizza places just a third of a mile away. Yippie! With prior notice your luggage may be dropped off early so that you can get a jump-start on your holiday. There's ample, convenient off-street parking. The home has WIFI internet accessible throughout the house. There's no cable service; but, there is a small TV upstairs for dvd viewing. All the bedrooms and bathrooms have door locks. Each bedroom has electric outlets at both bedsides. The downstairs master bedroom even has surge protectors.... The home has new energy rated, noise reducing Andersen windows with privacy roller shades. The home has central air conditioning. This property is a no smoking, no pets home. The attached garage/barn is a working artist's studio with its own separate road access, private entry and parking. This home is one that you'll want to come back to just as the former B&B's guests have in the past. Special arrangements may be available for larger parties.
Woodbury, in Litchfield County, is rural Connecticut at its best: fall foliage, winter skiing, spring and summer beauty. Just up the road is access to Woodbury's newly acquired 248 acre reservoir reserve that's perfect for hiking. There are three ski mountains nearby, antiquing in Woodbury, shopping in nearby Litchfield, Infinity Hall Music Hall, the Yale Summer Music Festival in Norfolk, winery tours, Farmington River tubing, hiking, fishing, canoeing, car races, countryside car tours, horseback riding or just relaxing. For the cyclist who wants to break away, there are many great places to ride like Steep Rock, on the shores of Lake Waramaug or in the White Memorial Park in Litchfield. There are two public golf courses in the vicinity: Stonybrook Golf Course in Litchfield and Fairview Farms Golf Club in Harwinton.
Τύπος δωματίου
Ολόκληρο σπίτι/διαμέρισμα
---
Τύπος ιδιοκτησίας
Σπίτι
---
Άτομα
8
---
Υπνοδωμάτια
Woodbury, Κονέκτικατ, Ηνωμένες Πολιτείες της Αμερικής
Entire house on a quiet lane makes for a peaceful getaway, access to lake for kayaking, canoeing or paddle boarding, minutes from great restaurants and cafes in Sandy Hook center and abundance of nearby hiking trails, wineries, 1.5 hours from NYC!
House sits on the end of a quite road, adjacent to the hosts house which is on a peaceful inlet of Lake Zoar. Access to the lake is a short walk next door and guests are welcome to use the hosts canoe, paddle board or two kayaks. The house is .5 miles from a beautiful winery with hiking trails and multiple state parks are close by. A large and sunny eat-in kitchen with new appliances is for your cooking/dining pleasure for when you choose not to explore the restaurants and cafe's of Sandy Hook and nearby towns. Two bedrooms with queen beds and two full baths make this home perfect for a family, friends or couples getaway.
The quaint village of Sandy Hook with great restaurants and local shops is just a 3 mile drive from the house. Hiking trails, state parks and wineries surround the area and are a walking distance or a short drive away.
The home and the area were as clean and beautiful as the photos. We could not have had a better stay. We will be back.
Melanie
2016-10-15T00:00:00Z
We really had a wonderful experience at Norm and Joanne's guest house. The house is big, comfortable, well decorated and the full kitchen is a big plus when you are spending two weeks. Norm and Joanne are everything you would want in hosts. For the time you are there, you're their best buddy and can raid their garden, use their lake equipment and just make yourself at home. We recommend highly. Pat and Hal
Patricia
2016-08-13T00:00:00Z
Norm and Joanne were the most incredible hosts we have ever had! We would go back just to visit them! The house was comfortable, clean, and just as described. We felt very safe on the quiet dead end road and it was close to anything that we needed. Take them up on everything offered in the listing, you won't be disappointed!
Victoria
2016-10-10T00:00:00Z
What a fantastic property. The house is comfortable and located in a quiet, wooded, residential area. Excellent location as a home base for day trips or to sit back and relax by the lake or drink tea on the deck. Norm & Joann are friendly and so easy to work with. Our comfort was their priorty. Amazing location for a wonderful vacation.
Melody
2016-10-26T00:00:00Z
We absolutely *loved* our vacation at Norm and Joanne's house. We are a family of six, plus we brought my wife's father, too. Norm and Joanne were amazingly accommodating. They truly made us feel at home. When we arrived, the house was spotless and ready for use. Norm and Joanne showed us everything around the house. And during our stay, anytime we needed anything, they would bring it right away. As for the house, it's spacious, full of light, fully furnished (and tastefully so!), and has ample a/c and fans that were able to handle 94 degrees with high humidity. And then there's the tranquil inlet and adjoining lake. Most of the time there were no other boaters. And with a beautiful wooden canoe, paddle board, and two kayaks, the whole family (sans grandpa) could set out together and soak in the nature - and some water, too, when the kids decided to go swimming. BTW, the inlet is extremely shallow (~6-24 inches), which adds to the safety dimension. Norm often helped out with guidance and physically moving life jackets and boats as needed. Norm and Joanne are also really friendly, chatting here and there as well as offering to hang out. They even encourage guests to try the herbs and vegetables growing in their garden. Yet at the same time, they also give you full privacy. In short, Norm and Joanne are wonderful hosts, and the house and lake are a dream. We definitely look forward to staying there again!
Robert
2016-07-16T00:00:00Z
Norm was great from the beginning! We were traveling with our 2 year old to visit family in Sandy Hook. I have a severe allergy to pets and feather bedding. Finding somewhere to accommodate all of our needs was difficult, but Norm's place was perfect. He met us there on arrival to give us a tour of the house and property (including the dock with canoes that are accessible to guests). Norm was polite and very helpful on suggesting things to do in the area. We felt extremely safe in the neighborhood of Lake homes on a dead end road, and the home was very open and perfect for entertaining. This worked out great for us, because all of our Sandy Hook family have dogs. So it was nice to be able to spend a quality pizza night with family without having to puff on an inhaler or pop a zyrtec. We were able to us the garage at the house, and that was very helpful on cold mornings with our child. If you are traveling to the area don't miss out on this one! Thanks Norm!
Shawnna
2016-11-11T00:00:00Z
Highly Recommend!! We had such a great time! This airbnb far exceeded anything we expected. Norm and Joanne were gracious hosts who made us feel welcomed the minute we got there. The house was very clean and the view of the area was spectacular! They are very knowledgeable of the local area and shared information with us daily. Thank you for a making our family vacation special. Looking forward to seeing you again.
(EMAIL HIDDEN)
2016-09-18T00:00:00Z
The house was very clean and the neighborhood was quiet and cute! Norm was very friendly and helpful. Overall, we had a really great trip!
Michaela
2016-11-06T00:00:00Z
Τύπος δωματίου
Ολόκληρο σπίτι/διαμέρισμα
---
Τύπος ιδιοκτησίας
Σπίτι
---
Άτομα
6
---
Υπνοδωμάτια
Newtown, Κονέκτικατ, Ηνωμένες Πολιτείες της Αμερικής
Our spacious home is a perfect weekend retreat. Choose between 2 private guest rooms: 3rd floor with twin beds and 360° views, or 2nd floor queen bedroom. Relax in our outdoor hot tub. Enjoy Sunday flea market, antiques, hikes, and local vineyards.
We built much of this home ourselves, and the space reflects our family's personality. It's relaxed, informal, idea-driven, and welcoming. We have several multi-use rooms, a very spacious kitchen, a large deck and terrace, and ample parking. We live in a quiet neighborhood about 75 minutes NNE of NYC, about 20 minutes from the CT antiquing, wine, hiking, and leaf-peeping areas.
Quiet, small New England town with local lakes, nearby flea-market and vineyard. Lovely neighborhood for flat or challenging walk/bike/run (school with track and tennis courts is around the corner). Several nearby towns offer good food, pubs, parks, skating, etc.
Our stay with Wendy and Chris in Brookfield was incredible. The listing is just as beautiful if it looks, if not more. They were super helpful about what we should do and where we should go. They were also so much fun to hang out with. It was the perfect city get away. At night we had a bonfire going and all sat around it and chatted. The night was complete with one of those cool floating lanterns and fireworks! The stars in their area are spectacular. Waking up in the loft with the view of the trees and taking a warm bubble bath was among the highlights of our stay. We also had a great time hanging out with their kids and playing with their animals! Wendy made us an incredible breakfast in the morning with the apples that we picked.
Raka
2014-09-22T00:00:00Z
Wendy, Chris and the their girls were the most amazing hosts we could have imagined! They were warm, welcoming and incredibly helpful with all our questions. It felt like we were staying with family. Their home is as beautiful as they are and we would recommend them as hosts any time. Looking forward to seeing them in New York!
Rushna
2015-05-26T00:00:00Z
The place of Wendy and Chris was simply amazing ! They host us like we was family . The house is simply beautiful , hot tub under the stars, fire place at night . Don't miss an opportunity to go there !!! I highly recommend Wendy and Chris house . Both rooms are super comfortable, bathroom is like a 5 stars hotel ! We just want to go back there !! :) Thank you so much Wendy !
Julie
2014-10-27T00:00:00Z
Great family- great hosts. They made me feel I was a part of their family. Chris guided us to take a great hike-- Lover's Leap-- only 10 minutes away-- and the cliffs there rivaled Big Sur. This house is a unique architectural marvel. We slept up in the crows nest, with 360 views and treetops. We especially enjoyed reading books by the big fire, watched over by Mo the loving guinea pig, and a glittering statue of Jesus. We loved cooking and eating and living with these smart and folksy people!
Sander
2016-02-23T00:00:00Z
Wendy was amazing, met us at the door and gave us the grand tour. It was so hot when we arrived that the local lake was at maximum capacity, so Wendy arranged for us to have a dip in her friend's pool instead, which was above & beyond generous. We cooked dinner in the evening and had a great conversation over the Olympics. She made a delicious (and unexpected!) breakfast the following morning and let us take our time departing. The property was beautiful and unique, set on a quiet road overlooking a sloping yard and the woods. Was a little too warm & rainy to use the jacuzzi, but we enjoyed sitting on the porch all the same. Highly recommended!
Andrew
2016-08-14T00:00:00Z
Wendy and Chris were fantastic hosts, as we knew they would be based on all of the reviews! We arrived late Friday night and the whole family greeted us with rich red wine (and bubbly on tap) and fun conversation. They are warm and welcoming yet also willing to give their guests their privacy. We enjoyed a comfortable night's sleep (bed is great) and luxurious morning. We give them 5+ stars! Thanks Wendy and Chris. We hope to be back to see you and your girls. Lois and George
Lois
2015-10-18T00:00:00Z
Awesome peeps and amazing place. Wendy takes both of those b's seriously ! ( as in - yummmmmmy breakfast in addition to the sweet peaceful nights stay ) . Hands down 100% the best Airbnb I've stayed in yet !
Ryan
2016-08-02T00:00:00Z
Wendy, Chris and their daughters were absolutely lovely and accommodating. Very easy going environment with great hospitality and some seriously awesome pets. My friend and I enjoyed the wonderful hot tub, the conversation, and the beautiful house in general. Would definitely come back and stay again. Highly recommended!
Anastasia
2015-03-23T00:00:00Z
Τύπος δωματίου
Ιδιωτικό δωμάτιο
---
Τύπος ιδιοκτησίας
Σπίτι
---
Άτομα
4
---
Υπνοδωμάτια
Brookfield, Κονέκτικατ, Ηνωμένες Πολιτείες της Αμερικής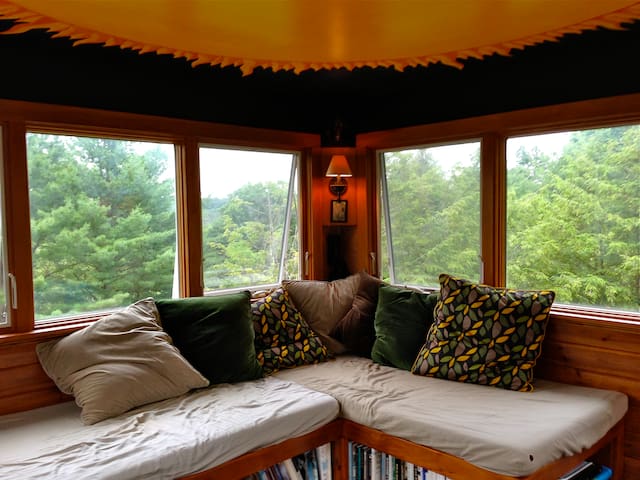 Magical... breathtaking... a great place to relax... If you want to kick back away from it all, here you go. Listen to fish jump and birds sing in serene tranquility. The house is large and spacious with lots of room for everyone. Cathedral ceilings, a screened porch and giant deck on a private, secluded lake with 300' of lakefront. No motorboats or jet skis. Big living room, dining room, family room and bedrooms, 2-baths, laundry and fully complemented eat-in kitchen with high-end appliances.
If you're looking for a quiet place surrounded by nature to spend time with family and friends without being disturbed by neighbors this setting is ideal. Lounge in the hammock. Paddle in the canoe. Go for a dip in the lake, take a hike, read a book or play a board game. It's all here ... without having to get in the car. The setting is a quiet, private community on a dirt road. It's just you and nature. The neighboring houses are hidden behind the trees. The view across the lake from the deck is forest. The loudest thing you're likely to hear is the mail truck or a beaver's tail thump. It's dark at night and great for star-gazing. This is a large house with plenty of room in the house for everyone to find a quiet corner on their own to zone out or listen to music without disturbing others. Even on a rainy day the house is big enough for everyone to go find a quiet spot to read, play cards or get out a board game. The eat-in kitchen sits four and is fully outfitted with high-end appliances and utensils. There's One king bed, one queen, one single with a single trundle and one queen sofa bed to sleep eight. There's also a fold-up cot with a spring mattress for one person at the far end of the Family Room, so seven people can have beds without using the sofabed. (AirBnB doesn't list fold-up cots, so I called it a "Floor Mattress," like the trundle bed upstairs.)
Sherman is a small, rural town off the beaten track with easy access to New Milford, Kent. Several arts centers, shops and nature preserves are nearby. Simple shopping is available in town where there are tennis courts and the town beach on Candlewood Lake. Movies, bowling and other activities are ~20-30 minutes away. At the house, there's a canoe for paddling and fishing, and a sandy bottom by the dock for lake access (see photos) ... or you can walk over to the dam for more lake access. There are woodlands and hiking trails right outside the door and throughout the area. The Appalachian Trail cuts across the Housatonic River by Bull's Bridge in Kent which about 20 minutes away by car. The house is 10 minutes from Sherman town center and a 90-minute drive to midtown Manhattan. It's an easy NYC commute on Metro North Railroad. The photo of me was taken at the Danbury Railway Museum which is a lot of fun. Definitely recommended for kids or all ages. Other things to do are listed in the Guidebook, and the local paper announces special events and performances throughout the area.
Τύπος δωματίου
Ολόκληρο σπίτι/διαμέρισμα
---
Τύπος ιδιοκτησίας
Σπίτι
---
Άτομα
8
---
Υπνοδωμάτια
Sherman, Κονέκτικατ, Ηνωμένες Πολιτείες της Αμερικής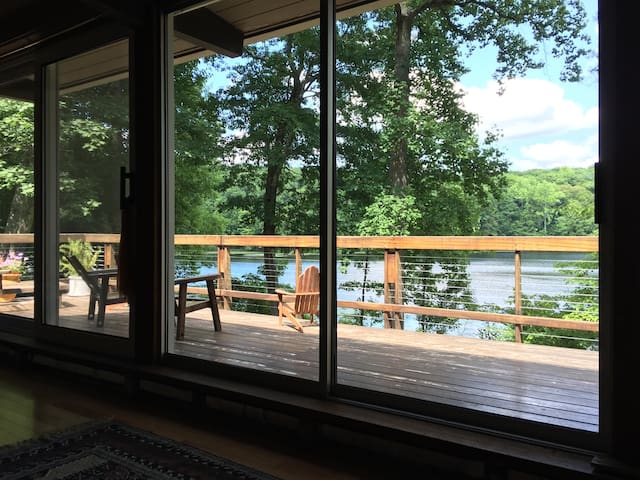 Private secure community with million dollar homes. Perfect weekend retreat. 90 minutes from NYC. This two bedroom cottage has all the necessary amenities. Includes access to two private beaches on Candlewood Lake and Green Pond. Please inquire about minimum stay requirements.
Beautifully renovated lake cottage with views and a warm cozy fireplace. Central air and heat. Watch the sunsets from your deck, living room, or bedroom. Jacuzzi bathtub, large deck, gas BBQ, private setting, full kitchen, free parking, lake access, swim, boat, hike, Wi-Fi, it's all there. Private gated community. Cottage Sleeps 5 - there is a queen bed which sleeps 2, the second bedroom has bunk beds with a trundle bed which sleeps 3. Inquire about boat slip availability on Candlewood Lake and use of canoe on Green Pond.
This is a private gated community. Homes range from 100 year old cottages to multimillion dollar lake front homes. Safe to walk along miles of private roads.
John's place is magnificent! The view overlooking the lake, mountains and sky are breathtaking and very peaceful. This place is not far from the city yet feels like you've gotten away on a true vacation. The cottage is clean, neat, and very comfortable to stay in. Definitely a place to return to. Enjoy!
Elana
2017-01-29T00:00:00Z
Incredible views! We loved waking up to that lake view. Lovely home, nice fireplace with wood waiting for us, made good use of the Jacuzzi tub and fully equipped kitchen. Wish we could have stayed longer! Both my credit card company and airbnb were giving me trouble and John was very patient and sweet about it! Thanks very much!
Miriam
2014-11-10T00:00:00Z
Perfect getaway for a long weekend, escaping overwhelming and noisy NY City! The location is amazing, so quiet, with astonishing view over the lake; the cottage is very cosy, fully equipped for cooking (we had our breakfast on the terrace every morning). It was very easy to communicate with John and we will definitely come back in fall, to appreciate an other season in the woods! For people with an interest in gastronomy, we would like to recommend the restaurant Community Table, in New Preston, local place offering farm-fresh food.. only 30mn drive from the cottage.
Nadine
2016-05-31T00:00:00Z
An amazing week for me and my son. Beautiful house and location. Clean and with all the amenities in the house one could ask for! Beautiful views and perfect location. Great place for outdoor activities, and quiet!! I went during the winter and it was cozy and perfect. I can give no higher recommendation!!
David
2017-02-26T00:00:00Z
We stayed here Christmas week for holiday R&R with our daughters from Boston & NYC. It was amazing. John and Denise were gracious and welcoming hosts. They had everything ready in the immaculate, fully-modernized cottage, including setting up a Christmas tree! We took many great day trips and still, at the end of any excursion, we all looked forward to getting back to the cottage and the comfy fireside. There are neighbors close enough to not be isolated at the lake, but you will still feel perfectly private and hear only nature around you. Another reviewer mentioned the living room being larger than pictured - we second that; plenty of room for a family to kick back by the fire and enjoy the panoramic lake view out the wall of windows. In the master bedroom, we awoke every day from oh-so-comfortable bed to those same inspiring views. The new galley kitchen is large enough for two busy cooks and the pass-through counter wall allows those in the kitchen to still be part of the living room action. They redid the bath with all the right touches too, and everything works great (we didn't feel at all pushed with only one bath for four people). We needed to use the washer/dryer as we stayed a week, and you have to go outside to do that, but we enjoyed walking down the beautifully-crafted granite steps; the care and skill put into this place is obvious, inside and out. And newly-installed internet had fast, uninterrupted connectivity for all four of us. The drive to nearby places can be convoluted, but GPS took us back and forth easily. Don't miss the old town center in New Milford if you can pull yourself away from cottage. Sherman is charming and has the delicious American Pie Company. This lake cottage has everything you need, whether for a family holiday or romantic getaway. Do not hesitate to book. Five star recommendations from all of us and sincere appreciation for the excellent hosts(URL HIDDEN)
Catherine and Tom
2014-12-29T00:00:00Z
We had a wonderful time at John's home. The view from the front deck is breathtaking and the home is very comfortable and spotless. I couldn't have chosen a better lake house to take my in-laws to for a getaway. The check-in and check-out procedures were clearly communicated and John was a very accommodating host. It was a wonderful stay.
Christina
2016-10-21T00:00:00Z
Second stay at the Lake Cottage; this time in fall so we could enjoy the fireplace every evening, and it was so cosy and peaceful!! John as usual was very responsive and it was nice to meet him in person. Our favorite place in Connecticut for a getaway from NYCity....
Nadine
2016-10-30T00:00:00Z
Very relaxed. Nice place that they take good care of!
Julien
2015-05-23T00:00:00Z
Τύπος δωματίου
Ολόκληρο σπίτι/διαμέρισμα
---
Τύπος ιδιοκτησίας
Σπίτι
---
Άτομα
5
---
Υπνοδωμάτια
Sherman, Κονέκτικατ, Ηνωμένες Πολιτείες της Αμερικής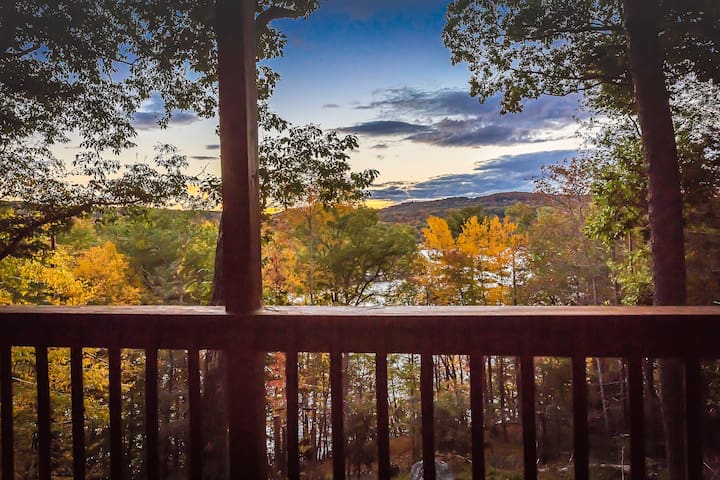 Old house with lots of charm needing loving tenants with warm hearts. This four bedroom house is situated on lake Warmaug. Needs happy travelers to fill it with warmth and good times.
Stone house built in 1920's located along the water on a beautiful lake. Great for relaxing during the lazy summer months, driving through the rolling Litchfield hills during autumn and ice fishing in winter. Private lake access to waterfront dock.
Hikers can enjoy hiking to the top of Pinnacle Point (entry point on June Road) for a breathtaking view of Lake Warmaug. Antiquing in around New Preston, Warren, Kent, Falls Village & Litchfield within a 20 minute radius for both unique and internationally known design/antique shops. Lime Rock park less than a half hour away. RT 45 is frequented by antique and fine sport cars.
Very cozy spot with gorgeous lake views! Went in the fall and had a wonderful time building fires and taking hikes. Great for big groups. Sean is very communicative and helpful!
Holly
2016-10-10T00:00:00Z
What wonderful house and location! I could not have dreamed of a better getaway. The house itself was large enough for our needs, with a well-appointed kitchen, very comfortable beds, and a fire pit that is perfect for roasting s'mores. And a big personal plus for me, as I get cold very easily, is that the heating is very effective. We also loved the surrounding area. I had no idea Lake Waramaug was so gorgeous, and the house is literally right on the lake. We spent an afternoon kayaking on the lake and also hiked up Pinnacle Trail. (the trailhead is less than 10 minutes walking distance from the house!) Sean was a great and responsive host--all in all, we had a perfect long weekend.
Kathy
2016-10-16T00:00:00Z
Sean was extremely helpful in giving us directions, suggestions, and immediate responses while we were at his lake house. The house was beautiful and extremely well kept. Even in the winter, the lake and hills were very pretty and the house's spot high up on the hill side was perfect for taking in the scenery. Great experience and great people to work with.
Colin
2017-01-02T00:00:00Z
We knew the area from previous visits to the lake Sean helped us find the house which is as they say"hidden in plain sight " The hillside location is ideal
J.J.
2016-12-26T00:00:00Z
The house was perfect for a weekend getaway trip with a group of friends. The house was super cozy and comfortable, and each room was spacious enough (and also super cute!) to accommodate at least 2 people. Sean was a wonderful host! He was great with answering all my questions and making sure we were enjoying the house. Lastly, the location of the house was amazing! We got to experience the beauty of Fall right where we were staying.
Idalia
2016-11-06T00:00:00Z
This is a very nice house with a deck overlooking the Lake. There is some nice hiking that is walking distance with a great view of the Lake from above. The host was very helpful and even provided some local produce for us to sample. We will be back.
Derek
2016-10-23T00:00:00Z
Τύπος δωματίου
Ολόκληρο σπίτι/διαμέρισμα
---
Τύπος ιδιοκτησίας
Σπίτι
---
Άτομα
10
---
Υπνοδωμάτια
Ουάσιγκτον, Κονέκτικατ, Ηνωμένες Πολιτείες της Αμερικής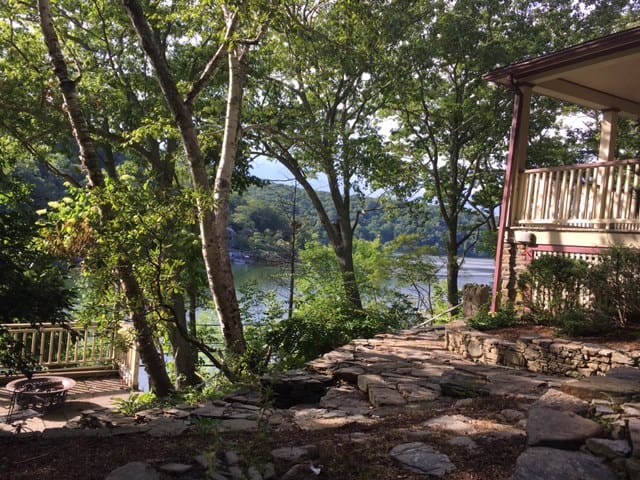 Breathtaking view. 3 balconies of direct lakefront on beautiful Candlewood Lake. Access to 4 private beaches - 2 on Candlewood Lake and 2 on spring feed Green Pond. Private dock with 90 feet of waterfront. Our place has great views, arts/culture, and family-friendly activities, including fishing, water sports and skiing. You'll love our place because of the outdoor space, the light, cozy wood interiors, 3 fireplaces - kilm dried wood supplied and brand new renovated kitchen
Cedar wood interior with cherry wood floors. Unique Scandinavian design and eclectic decor from around the world. Sonos sound system throughout the entire house. Radiant heated bathrooms and kitchen. Amazing Kohler Sok bathtub in master bedroom with TV. Brand new designer kitchen with open floor plan, Rais rotating soapstone fireplace, large island and Wolf stovetop and Bosch dual oven with speed bake. Kitchen has direct access to wraparound patio overlooking Candlewood Lake. Master bedroom has private wrap around balcony. High efficiency washer and dryer. New central air and heating with built in humidifier and allergen air purifier. Direct TV satellite and wi-for high speed internet. Pet friendly if approved prior. Outside main deck has patio furniture and table for seating for 8 with umbrella. Large Big Green Egg for barbecue.
Τύπος δωματίου
Ολόκληρο σπίτι/διαμέρισμα
---
Τύπος ιδιοκτησίας
Σπίτι
---
Άτομα
10
---
Υπνοδωμάτια
Sherman, Κονέκτικατ, Ηνωμένες Πολιτείες της Αμερικής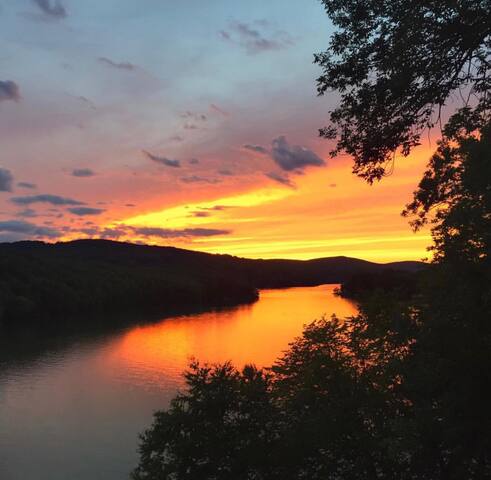 Charming waterfront 4 Bedroom / 2 BA house on Candlewood lake with private dock, boat, and toys. Lake living at its best out your back door. Great yard and updated house for entertaining family & friends. Optional Boat rental onsite. Turn Key vacation ~75 minutes / 60 miles from NYC. Screened in Porch, New backyard Patio w/ firepit, Grill, dining for 12, Well stocked house with full kitchen, movies, board games, and more. Perfect for summer AND winter vacations.
Candlewood lake is the largest lake in CT and is 22 miles from end to end. Boat rentals available from us or multiple marinas on the lake. Park a boat right at your own dock and walk out the back steps to all day lake fun for the family. Our Pontoon boat available to rent form (URL HIDDEN) Candlewood lake is on the bass professional tour for great fishing sport fishing. For kids, pull up sunnies instantly right from the dock. For winter, enjoy cozy fires int he wood burning stove. The property is a natural sledding hill with 2 great slopes for a nice long run. Thunder ridge ski hill is 15 minutes away or Mohawk mountain is 45 mins away.
Knollcrest is lakefront family community. House is on protected cove off the lake in a no wake zone for serene relaxing / floating right off the dock. Neighborhood quiet hours are after 10pm. New Fairfield is a small town on the western side of the lake with everything you need 5 mins from the house. For more serious shopping or dining, Danbury is a quick 15 - 20 min drive. New Fairfield is the most convenient commuter side of the lake coming from NYC or lower westchester as you skip out on 84 traffic on wekeends / holidays.
We absolutely loved our stay at Rob's house! We had 10 people and felt totally comfortable in the space - we enjoyed the fire pit and cooked some great meals in the (well equipped) kitchen. The beds were comfortable. I would highly recommend this listing for value and quality. We are all from NYC and a few people in our group took the train to Danbury and then got an Uber to the house, so that made it easier since everyone didn't have to coordinate car travel. It was also great to be so close to a grocery store just a few minutes away for last-minute items. Definitely a great find and we'd love to come back!
Robyn & Geoff
2016-10-03T00:00:00Z
Sweet Dotti's cabin was the perfect weekend getaway from the city for my group of 6. We booked over MLK weekend and enjoyed watching the snow fall and lake freeze over while sipping on our wine by the fire. The area was quiet and peaceful yet accessible. The house offered all amenities such as a fully stocked kitchen, laundry room and plenty of linens and sheets. I was surprised by how spacious the cabin was- could have easily accommodated a larger group with the multiple floors. The space was safe for my 9 month old and clean enough for my mom who's a neat freak. I would definitely book again and take advantage of the boat, kayak on the lake. Rob also had excellent communication.
diana
2017-01-16T00:00:00Z
It was amazing.
Geeta
2016-09-15T00:00:00Z
Sweet Dottie's Cottage was the perfect setting for our small Thanksgiving family reunion. The residence is comfortable, clean, and homey. The wood-burning fireplace and canoe were huge bonuses, not to mention the wide range of supplies (toiletries, condiments, paper goods) that the hosts happily and generously provided. In the evenings, we enjoyed their wii system, computer, music system, and satellite television. The manual they provided was really helpful -- we constantly referred to it and made the most of the surrounding area's attractions. This home is both "away from it all" as well as close to anything you might need, which pleased all members of our family. We had a really memorable time in this cottage and look forward to returning in the future. Thank you for our family memories.
Moshe
2016-11-28T00:00:00Z
Home is just as described though I think the outdoor photos don't do the space justice. The outdoor area is beautiful, peaceful and well equipped. Indoors the cottage is ready to go with a full kitchen and anything else you may need to entertain. Will definitely go back.
Katherine
2016-11-05T00:00:00Z
The house had everything you would want in a lake house. Very cozy inside with plenty of amenities outside. (Fire pit, Grill, canoe, boat etc.) It was also centrally located on the lake for easy access to all points of interest. The downstairs had additional bedrooms and living room area which was nice for the kids to have their separate space when needed. It also looked like both bathrooms were recently updated. We plan on coming back again next summer!
John
2016-08-06T00:00:00Z
Myself and my guests could not have been more satisfied with Rob's beautiful home. It was spacious, yet intimate, with both a beautiful interior and an an amazing backyard. Rob was great at communicating with us and left a very detailed manual on how to best take care and enjoy the place. We stayed here on a December weekend, so we can only imagine how much more fun this home is in the summer. I highly recommend staying in this home to anyone looking for a peaceful getaway, no matter the season.
Andrew
2016-12-05T00:00:00Z
Great place
Jonas
2017-03-05T00:00:00Z
Τύπος δωματίου
Ολόκληρο σπίτι/διαμέρισμα
---
Τύπος ιδιοκτησίας
Σπίτι
---
Άτομα
10
---
Υπνοδωμάτια
New Fairfield, Κονέκτικατ, Ηνωμένες Πολιτείες της Αμερικής
A spacious waterfront home with incredible lake views, large decks and direct water access. Only 90 minutes from the city. An ideal getaway year-round with swimming, kayaking, and canoeing in the summer, beautiful foliage in the fall. 3 Fireplaces
The Space: This is a 3000 square foot lake house directly on the water. The house has 3 bedrooms and can easily sleep 6 people with a king and two queen size beds. There are 2.5 bathrooms including a master bathroom with a tub and shower. The large kitchen is stocked with everything you need for cooking and/or eating. The house also has two very comfortable living rooms and a dining area. Each floor has a working fireplace. The house gets a lot of natural light from the water-facing windows in every room which are perfect for enjoying the magnificent sunsets. Cable, phone and wifi are included in your stay...if you can stay out of the water long enough to use them! There is also a laundry room which you are welcome to use. Pictures are slightly out of date: The house still has the same number of couches and a large dining room table but the ones photographed have been replaced. The Lake: Whaley Lake is 252 square acres. The lake is surrounded by private property with one public area for rope swinging. The house has a large multi-level private deck with direct water access. There are kayaks, a canoe, paddle board, fishing poles and floaties for your use and enjoyment on the lake. The Area: The Appalachian Trail and other hiking options are only minutes from the house by car. There is food and shopping nearby with several supermarkets to choose from as well as local farm stands. There are also dining out options that are just a short drive away including the award winning McKinney and Doyle. The Patterson or Pawling Metro-North train is nearby for an easy commute to and from the city.
Went for New year's weekend with my wife and two daughters. We had an amazing time. The view of the lake is beautiful. House had everything we needed. The fireplaces were just what we needed on the cold winter nights. We would certainly go back!
Richard
2017-01-02T00:00:00Z
House was in good condition and stocked well with essentials. Location is amazing. I loved the lake and the sincerity of the neighborhood. Pics of the lake do not do justice. Town of Pauling is a 15 minute drive and has a great vibe to it! Definitely recommend this house for anyone looking to get away for a few days.
David
2013-08-03T00:00:00Z
I visited Whaley Lake on a recent girls getaway weekend - we wanted a place between NYC and Albany. This house could not have been more perfect! The house is large, comfortable, clean, with a stocked kitchen for cooking in - which is what we did all weekend. The beds were extremely comfortable - bring an eye mask if you are sensitive to light while sleeping. The lake is beautiful. Sitting on or swimming off the dock was great. It felt like we were back in time, and hundreds of miles away from NYC. We have already recommended this place to friends! Daniel was a great host, very responsive and accommodating.
Marissa
2014-07-28T00:00:00Z
This place is incredible.
John D
2015-10-14T00:00:00Z
What a place! the photos really didn't do the house justice; it's really a magical location with a multitude of decks overlooking the gorgeous Lake. The house is really well stocked with everything for the kitchen, grilling on the deck and lots of water activities - the house is quite comfortable and peaceful; and its really easy to commute up from the city. Daniel was easy to book through and checked up that we had everything we needed. Thanks! I'd recommend this place and look forward to coming back again and again.
Cat
2013-07-29T00:00:00Z
The house is beautiful, fully equipped, straight on the lake. Really easy to get to from New York. The views from the house are amazing, even better than on pictures. As soon as we got back, we just wanted to book it again for another week-end.
Anne-Lise
2015-06-14T00:00:00Z
Amazing house with amazing setting! Beautiful lake views, multiple decks, everything you would need to enjoy the lake is provided. House was very clean and in great condition. Daniel was very responsive and answered any questions we had. Convenient to the metro-north if not everyone in your group has a car. Great for the family and more. We will definitely return.
Edward
2015-04-11T00:00:00Z
Un bout de paradis à moins d'1h30 de Manhattan... nous avons passé un week-end mémorable de 4 jours dans cette maison chaleureuse et spacieuse à enchaîner barbecues et sorties en kayaks sur le lac! La vue des terrasse est extraordinaire, on ne s'en lasse pas! Nature, calme et espace! Randonnée possible dans les environs. Une location hautement recommandée.
alexandra
2015-05-25T00:00:00Z
Τύπος δωματίου
Ολόκληρο σπίτι/διαμέρισμα
---
Τύπος ιδιοκτησίας
Σπίτι
---
Άτομα
6
---
Υπνοδωμάτια
Holmes, Νέα Υόρκη, Ηνωμένες Πολιτείες της Αμερικής
This spectacular Architect designed home provides visitors with the perfect vacation experience, whether they're spending quality time indoors, or outside enjoying the two ponds linked by a waterfall, or the lush gardens. The house is situated high up on the mountain, in the sumptuous Quaker Hill section of Pawling, on a back country dirt road, where the only sounds are of the wind in the trees and the rushing water of the waterfall. Four airy and comfortable bedrooms means that the house can sleep ten guests. My study serves as a 5th bedroom. The second floor master bedroom has a private bathroom and study, as well as a balcony looking out over the living room. There are also two additional bedrooms on the main floor with a shared bathroom, and another bedroom with a private bath upstairs. If you stay in this room you can take advantage of the window seat overlooking the Upper Pond with its sumptuous water lillies. The sunlit 20 x 30 foot living room has high ceilings, cherry floors, and a huge stone working fireplace , along with comfortable elegant furniture to make relaxing a dream. Five pairs of French doors overlook the garden and pond. A full elegant wood and stainless steel kitchen, complete with cherry wood counters, full over, stainless steel refrigerator and microwave completes the picture. But that's not all - there also a center Island counter and a triple set of french doors opening up onto the deck overlooking the Upper Pond and waterfall, creating the perfect outside dining space. The house is fully loaded with modern must-haves, including cable TV and wifi , so you can stay in touch when you want and need to. This oasis definitely provides a slice of country living, but you are just five miles from the train station and the town, where you can take advantage of the local shops, restaurants and cafes, as well as being close to some of the best golf courses. There is also easy access to Appalachian trail hook ups. Check in time is flexible. Check out time is 11am. There is cell phone service in this mountain house. Rates: $300 per week night, Monday to Thursday. $500 per night for Friday, Saturday, Sunday. $1000 for Friday morning thru Sunday evening $2000 for a full week. $7000 for a full month. Pricing listed is for up to 6 guests. The rates listed are for having the entire house. if you need a very private room and bath with use of the house when I am here, it is available for that for only $200 per night. Further, I have rented for family reunions, business meetings, corporate board meetings, spiritual/meditation retreats, and small weddings - please contact me about your specific needs and we can work something out. For groups of 5 or more , there is an additional maid service fee of $150.00.
Beautiful house in the woods upstate New York. We spent a quite couple of days enjoying the serenity of the location and beauty of nature. Bob is a wonderful host, helpful and accommodating to our requests. Elisabeth January 2015
Elisabeth
2015-01-29T00:00:00Z
I stayed at Bob's place second time! Absolutely amazing ! Will be back
Maria
2017-01-20T00:00:00Z
Bob's place was beautiful, spacious, and spotless. We came here for a coworker weekend getaway and had a wonderful time relaxing by the fire. The views from the many windows are spectacular and if you listen closely, you can hear the sound of a small babbling brook in the yard. The kitchen was modern and clean with all of the cooking utensils and appliances you could need. The photos were perfectly accurate and I would definitely stay here again.
Justin
2017-03-26T00:00:00Z
My friends and I rented this house for the holiday weekend. We were looking for something quiet and woodsy, and this house provided the perfect atmosphere. It is quite secluded here - there is no cell phone service, so it was nice to get off the grid for a few days. We loved gathering around the spacious kitchen preparing meals together and working on a puzzle in front of the fireplace. The woods in the back of the house were great for exploring. The space was clean and open, and it slept 6 of us comfortably. We had a great weekend here!
Roxy
2017-01-16T00:00:00Z
Beautiful home (especially the huge living room) and grounds. Close to MetroNorth but need to taxi. Bob is super responsive to all questions and requests. Only negative is that the study that serves as a 5th bedroom is very small and can only hold 1 person (and it's railroad style in that it is also the only entrance towards one of the bedrooms)
Sidney
2017-01-22T00:00:00Z
Second time we've stayed at this beautiful home. It is a very relaxing home, the property is gorgeous, private, and very quiet, great place to get away with family or friends. The living areas, kitchen and decks are huge and work well if you have a large group.
Chris
2016-05-23T00:00:00Z
My friends and I enjoyed a perfect fall weekend in Bob's gorgeous home. The house is beautiful, clean, well-equipped and a tremendous escape from the hustle and bustle of NY. Bob was a gracious host - showing us around the house, ensuring we knew how to reach him, and making us feel at home. Bob, thank you!
Dakota
2013-11-11T00:00:00Z
We really enjoyed our stay at this house. The home surpassed the on line description and the tranquil setting was outstanding. We hope to return to this setting again, our family of 5 were very comfortable here. Bob was an excellent host, met us when we arrived and showed us all the details we needed to know. The place was very clean, private and welcoming.
K
2016-08-12T00:00:00Z
Τύπος δωματίου
Ολόκληρο σπίτι/διαμέρισμα
---
Τύπος ιδιοκτησίας
Σπίτι
---
Άτομα
10
---
Υπνοδωμάτια
Pawling, Νέα Υόρκη, Ηνωμένες Πολιτείες της Αμερικής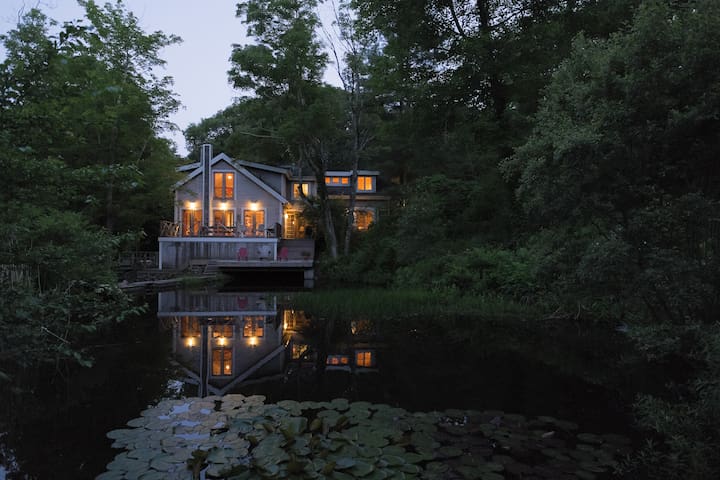 This antique colonial has 4 bedrooms and 2.5 baths and sits quietly back from the road in Watertown, CT. There is a full kitchen, access to laundry, and plenty of parking. The large yard and proximity to lakes and national/state parks makes this an ideal vacation home. BOOK NOW!
The master suite has a private bathroom. The other 3 bedrooms share a full bath with claw-foot, cast-iron tub w/rainfall shower. There is a full kitchen and dining room with picture window. The great room has a wood stove insert and plenty of natural light.
Everything was as depicted. Great value.
Christina
2017-02-25T00:00:00Z
Eric met with me upon arrival, even with me being delayed over an hour because of weather conditions. With over 4 inches of snow that day, Eric was able to clear out the driveway and make sure all my necessities were met for the night. Eric was very welcoming and I would certainly recommend his house for any future bookings.
Vullnet
2017-01-08T00:00:00Z
Very nice and spacious. I did not get to use the yard too much because of snow, but I bet it would be a great place for the kids to run around in.
Dan
2017-03-19T00:00:00Z
Eric was super helpful and waited around for me even though I was late arriving in town. I would recommend for an additional stay!
Shaun
2017-01-13T00:00:00Z
Eric is a great host that really goes out of his way to make sure that you have a comfortable stay. Would definitely return if I have the opportunity
Ryan
2017-04-02T00:00:00Z
Eric's place ended up being a really good decision. When previous reviewers say expect minimal, it is true. This is a good place, if you purely have in mind finding somewhere to sleep, which is what we needed. Such as, there is not much furniture except one table and 6 chairs. However, our group was not expecting anything more because of the great deal for this place with so much space and it was only 30 minutes away from skiing.
Amy
2017-02-20T00:00:00Z
Eric was a great host. He communicated super quickly and provided an awesome place to stay. Access to his gas stovetop made for some nice crepes and eggs for breakfast.
Gabe
2017-02-12T00:00:00Z
I hate to let the cat out of the bag on this one, but this is a Taft parent's dream. Having my son simply walk over and wake me up when he was ready to go out for breakfast on Saturday morning was as close to a 'home' experience as one could imagine. Its across the street from the rinks, and as a hockey parent it was simply perfect. (insert any sport/art/activity here) Be prepared for authentic farmhouse rustic. If you love the look of a doorway that's not perfectly square, or a hardwood floor that has gently settled over the course of time, than this place is for you. It just feels good. And that was without lighting a fire in the fireplace. Eric has it set up so that it is minimal, but functional. And it was just perfect. Its not trying to be anything but what it is. A cozy spot to rest a bit, knowing that your kid is right across the street. Eric himself was highly responsive and completely forthcoming with what to expect in terms of amenities. A hockey dad himself, he was more than willing to come to me with keys and even invitations to youth hockey games. A cool dude, super easy to do business with. So do me a favor... keep this one a secret... 'cause I'm coming back.
Wm.
2017-01-22T00:00:00Z
Τύπος δωματίου
Ολόκληρο σπίτι/διαμέρισμα
---
Τύπος ιδιοκτησίας
Σπίτι
---
Άτομα
9
---
Υπνοδωμάτια
Watertown, Κονέκτικατ, Ηνωμένες Πολιτείες της Αμερικής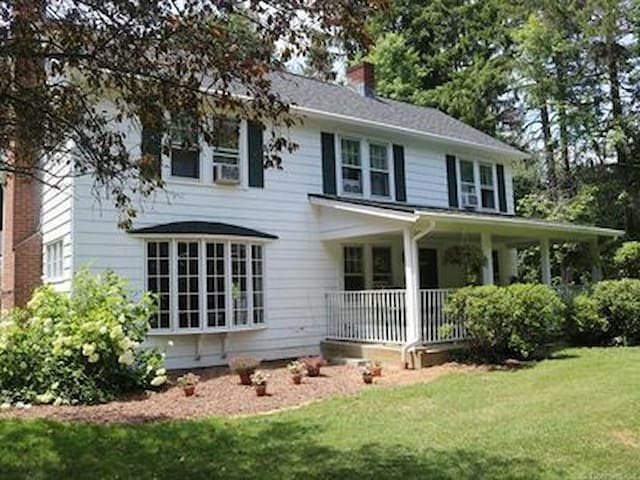 1

–

18

από

214 ενοικιαζόμενα σπίτια
Εισάγετε ημερομηνίες για να δείτε τις πλήρεις τιμές. Ισχύουν πρόσθετες χρεώσεις. Ενδέχεται να προστεθούν φόροι.
Χώροι σε κοντινή απόσταση: