A spacious comfy house that is ideal for large groups. It is located close to public transportation so it's easy to get to NY if you are on vacation and want to see the sites. If you are traveling for work it's a quiet neighborhood with no distractions, so, you'll definitely be able to get work done. I especially like the house in the spring when all the cherry blossoms are in bloom along the street. The back yard has a nice patch of grass ideal to just lay out and get some sun. :)
The house features coded entry so access is easy and convenient once you book. We provide complete sets of towels and sheets for all guests along with complimentary toiletries. Washer and dryer is available on site. The Queen room features a queen size bed, flat screen TV, corner desk and large double door mirrored closet space with hangers provided. The Double room has two double beds and flat screen TV. The Twin room has two twin beds with storage drawers underneath, and flat screen TV. There is an additional bed/sitting room with futon, closet and flat screen TV and 2 additional folding cots. Downstairs features a spacious kitchen with stainless steel gas range, refrigerator, dishwasher, microwave and toaster and seating for up to 8 guests. There are plates, cups, pots and pans, wine glasses, eating and cooking utensils for use. For guest convenience, we provide a hair dryer, iron & ironing board. The living room has love seat, and two chairs. Additionally this room boasts a 50 inch flat screen television and a wall mounted electric fireplace which provides both warmth and aesthetic pleasure. Air conditioning available in bedrooms. *Entrance to property is monitored by video cameras.*
Quiet neighborhood with easy access to grocery stores and shopping at Franklin Square Center. Close to Belleville/Branch Brook
Christine is best host one could imagine to get. Right from replying to my queries to making sure that we had everything in the house, she managed everything timely. Moreover, she made sure that all requirements that we had were satisfied. We were received timely by her. Also, the house is hardly any distance from the public transport which made our travel to NYC very easy.
Siddharth
2015-01-02T00:00:00Z
House had everything in it. Very organized and clean. She's very accessible and answered all my questions.
Ravin
2016-07-05T00:00:00Z
Everything was as described
Linda
2016-09-11T00:00:00Z
Stayed for two nights at Christene's home. The house is much more spacious than the pictures show. It was comfortable for our large group - including the cots, there were enough beds for everyone. Supermarket located close by made it easy to stock up on supplies. Overall enjoyed our stay!
Karen
2017-01-02T00:00:00Z
We had great time in this wonderful house.everything there was good!thanks a lot!
YOZI_
2015-08-11T00:00:00Z
Host was very responsive and helpful to our needs, even though we were a really big group of 11. Host was extremely kind and understanding. Place wise, sufficient to hold big group like ours. Was pleasantly surprised that there were more than enough bed space for all 11 of us.
Jia Yu
2015-06-30T00:00:00Z
Christene's house was great, very spacious, clean and well equipped. Christene was very nice and accommodating and responded promptly to any questions we had.
Carmi
2016-04-21T00:00:00Z
Great house with lots of room and comfortable beds. All our guests enjoyed the space.
Ronald
2016-09-06T00:00:00Z
Τύπος δωματίου
Ολόκληρο σπίτι/διαμέρισμα
---
Τύπος ιδιοκτησίας
Σπίτι
---
Άτομα
12
---
Υπνοδωμάτια
Belleville, New Jersey, Ηνωμένες Πολιτείες της Αμερικής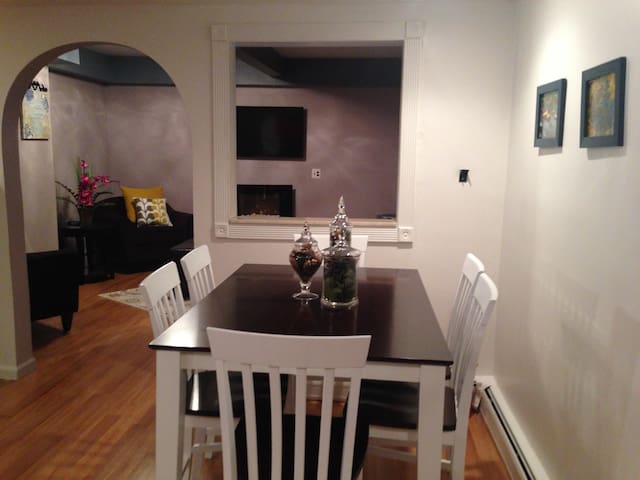 My place is close to : - Manhattan, New York City - Prudential Center - NJ Performing Arts Center - Newark Airport - MetLife Stadium - Branch Brook Park "Cherry Blossom capital of NJ" - Montclair You'll love my place because of the outdoor entertaining space, (large deck, BBQ grill, enclosed yard.) Dead end street, is quiet and safe for kids. Only 30 minute drive to NYC. My place is good for couples, solo adventurers, business travelers, families (with kids), and small groups of friends.
Τύπος δωματίου
Ολόκληρο σπίτι/διαμέρισμα
---
Τύπος ιδιοκτησίας
Σπίτι
---
Άτομα
4
---
Υπνοδωμάτια
Belleville, New Jersey, Ηνωμένες Πολιτείες της Αμερικής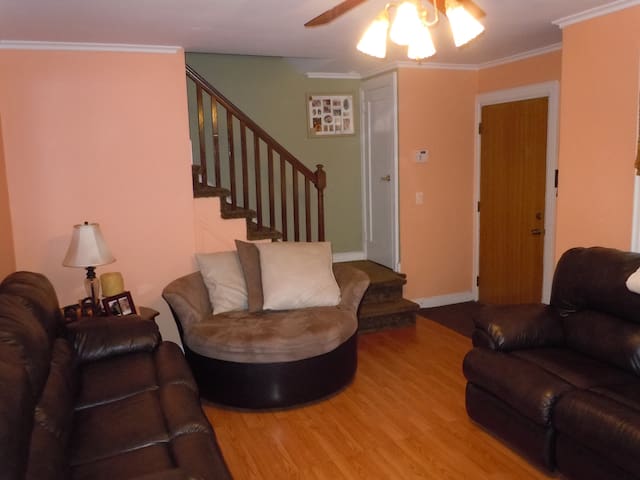 Beautiful furnished bedroom on the first floor house. Dead end street, public transportation 1 block away. Be in NYC in minutes. Fully furnished with tv with cable. One parking spot available. Shared bathroom, includes cleaning of room weekly.
Small, but very cozy private room. It has everything I need. Very clean bath room. Happy stay!
Wei
2016-08-19T00:00:00Z
I would highly recommend this host. The home and room were very clean, complimentary toiletries and towels, easy parking & very quiet at night. It was great playing with their pup who is super sweet and doubles as house security. Conveniently located to major highways & the area has everything you need... laundromat, pharmacy, restaurants, supermarket, movies, etc... The host was very easy to get in contact with and his mom and sister were very warm. I will definitely stay here again.
Tia
2016-09-02T00:00:00Z
Jose's place was way beyond my expectations. The room was neat and clean and their dog teddy is another treat in the house. The roommates are really kind, considerate, and willing to help you with any concerns. They're very easy to get along with. The entire house was really neat and the location is in a perfect spot for local restaurants and shopping stores. It is really easy for commuters since the bus is just right around the corner and if you drive it is also an easy commute into NY. The house was in a perfect quiet neighborhood. I would highly recommend this place.
Patrick
2016-07-04T00:00:00Z
I stayed in a very comfortable place with Jose's sister. Jose and his sister were both very welcoming, hospitable, and made sure I had everything I needed. The room as very clean and comfortable. I couldn't have asked for a better place to stay! Tip: If you are looking to go into NYC, depending on the time of day, the drive in ranged from 30 min to an hour. Using lyft, I averaged $30 one way.
Claudia
2016-08-11T00:00:00Z
Τύπος δωματίου
Ιδιωτικό δωμάτιο
---
Τύπος ιδιοκτησίας
Σπίτι
---
Άτομα
1
---
Υπνοδωμάτια
Belleville, New Jersey, Ηνωμένες Πολιτείες της Αμερικής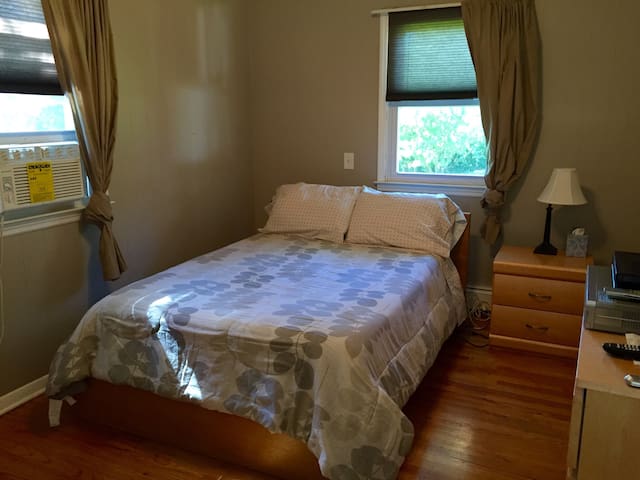 This lovely home is in a great quiet neighborhood. My house offers sleeping for 5 and one full bath. (It has two bedrooms and an extra bed in the den.) It is a great place for couples or families who want to visit New York without the high NYC prices! (NYC - 20 minute drive. Trains to New York City are 5 minute Uber ride away. Buses are in walking distance.) My home has a large back yard with a deck and a charcoal grill for your use. There are many great restaurants around (5-10 min drive).
The host canceled this reservation 21 days before arrival. This is an automated posting.
Isabella
2016-09-08T00:00:00Z
What a beautiful home, I was greeted by the son and he showed me everything explained well , this home is real cozy and comfortable, air conditioning alot of seating area real comfortable mattress and the backyard is amazing, I spend most of my time on the deck with my dogs and they loved it also , hope I can stay again soon but I know this place is going to be booked alot because your not going to get any place like this for that price, the price I spent for 2 nights here wouldn't even cover a basement somewhere else
William
2016-07-04T00:00:00Z
The host was always ready to answer any questions we had , when we arrived the host was waiting for us , he showed us the house . the neighborhood was quite and was very clean and overall was nice .
mahmood
2016-07-26T00:00:00Z
Τύπος δωματίου
Ολόκληρο σπίτι/διαμέρισμα
---
Τύπος ιδιοκτησίας
Σπίτι
---
Άτομα
5
---
Υπνοδωμάτια
Belleville, New Jersey, Ηνωμένες Πολιτείες της Αμερικής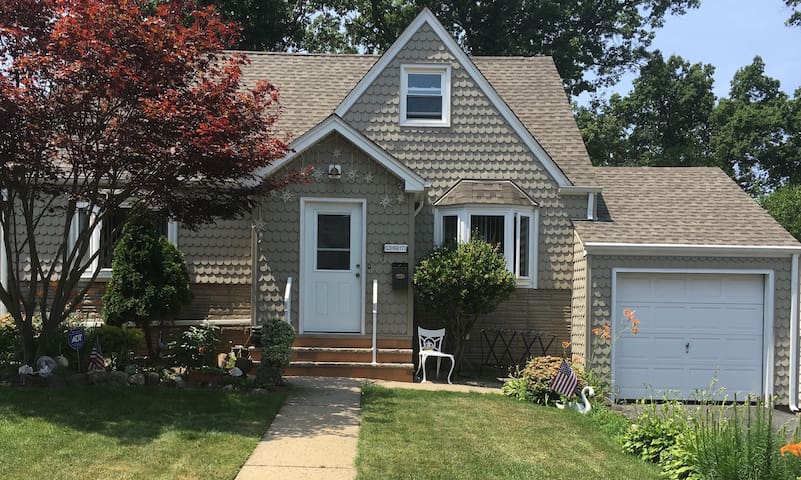 My apt is 5 miles from the stadium. Very clean and includes off-street parking, Refrigerator full of Beer, Linens, Towels, Wifi, Phone, Flat Screen TV, Cable, HBO & D(website hidden)x. Located in a safe neighborhood spacious livingroom ultimate man cave!
Τύπος δωματίου
Ολόκληρο σπίτι/διαμέρισμα
---
Τύπος ιδιοκτησίας
Διαμέρισμα
---
Άτομα
4
---
Υπνοδωμάτια
Belleville, New Jersey, Ηνωμένες Πολιτείες της Αμερικής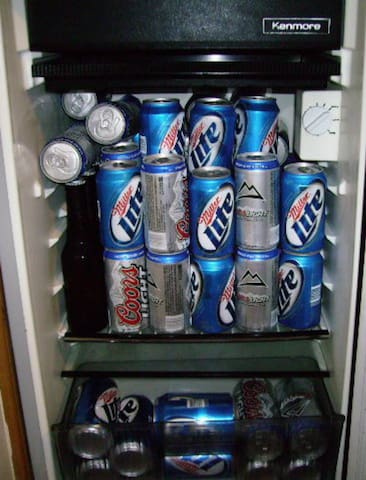 My house has a huge yard w/ a back deck & a view of the NYC skyline from a 2nd FL window. I am walking distance to a park, restaurants and transport to NYC. I have a 2nd bedroom that could be rented at the same time for up to 4 ppl total for $55/nt.
My house is in a residential area of NJ. I have a nice view of the NYC skyline from an upstairs window. You can see the Empire State Building from the guest room window. In the winter you can see it from my dining room. It is a one mile (15-20 min) walk from my house to a direct bus to NYC.
I live in a nice residential NJ neighborhood, near the local high school and public track and field and less than a mile from a great park full of cherry trees. I am in walking distance to several local restaurants, Quick Check and CVS. For access to NYC please see below.
Gwen is a lovely hostess, and her home is very comfortable, safe, and tidy.
Laura
2016-05-23T00:00:00Z
Excelente anfitriona, muy cómoda la casa y habitación. A pesar de que el clima no favoreció, ella trató de ayudar en todo.
Jeanina
2016-05-08T00:00:00Z
Τύπος δωματίου
Ιδιωτικό δωμάτιο
---
Τύπος ιδιοκτησίας
Σπίτι
---
Άτομα
2
---
Υπνοδωμάτια
Belleville, New Jersey, Ηνωμένες Πολιτείες της Αμερικής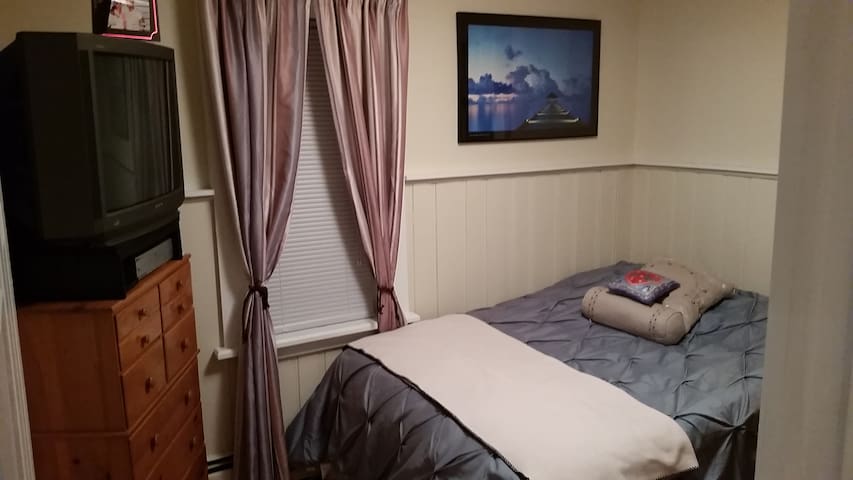 Clean 2 bedroom a 6.6 miles from stadium but more importantly a few miles from train station which will be the way you will want to get to the game. also has pullout couch in living room and futon in basement. wifi big screen tv perfect for Super Bowl
Τύπος δωματίου
Ολόκληρο σπίτι/διαμέρισμα
---
Τύπος ιδιοκτησίας
Σπίτι
---
Άτομα
4
---
Υπνοδωμάτια
Belleville, New Jersey, Ηνωμένες Πολιτείες της Αμερικής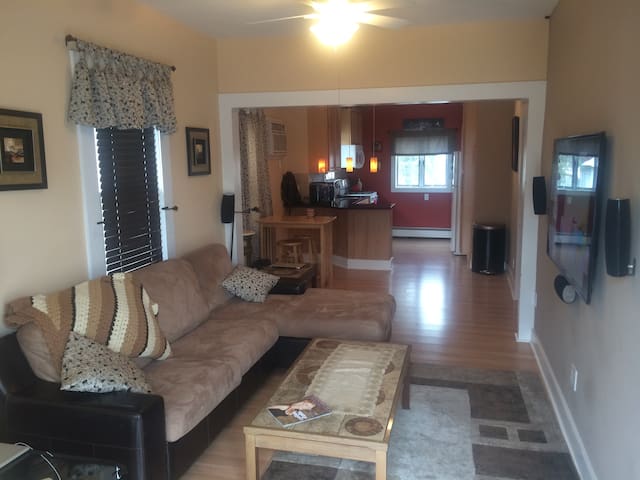 Very large 2 story townhouse with 1.5 bath extremely large kitchen with large tv room private back yard and very large bedroom home also includes washer and dryer central a/c, cable ,wifi bedroom has tv and fully furnished with large closets,apt is walking distance to shops and markets.
Nice open floor plan so you have plenty of space to move around and not feel closed in
I love that everything is so convenient love the neighborhood
The reservation was canceled 12 days before arrival. This is an automated posting.
Art Esposito &
2014-01-29T00:00:00Z
Τύπος δωματίου
Ιδιωτικό δωμάτιο
---
Τύπος ιδιοκτησίας
Σπίτι
---
Άτομα
2
---
Υπνοδωμάτια
Belleville, New Jersey, Ηνωμένες Πολιτείες της Αμερικής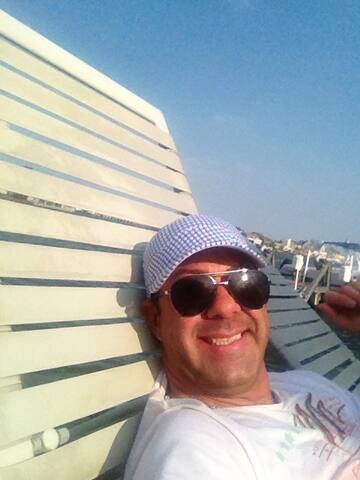 Available for 4 nights starting Thursday, Jan. 30th thru Sunday, Feb. 2nd (depart Monday by noon) Furnished apartment - sleeps 3-5 -2 bedrooms: 2 twin size bunk bed, 1 full size bed. Air mattresses and comfy couch for add-ons -1 bathroom - Modern, clean, and nicely furnished apartment in downtown Rutherford. - Ample street parking space - Close to NJ Transit, 25 mins. to NYC (and only 10 mins to Secaucus to transfer to Met Life Stadium) - Great downtown restaurants in Rutherford - Italian, Greek, diner and sushi and a few great bars in East Rutherford NO smoking inside NO Pets
Τύπος δωματίου
Ολόκληρο σπίτι/διαμέρισμα
---
Τύπος ιδιοκτησίας
Διαμέρισμα
---
Άτομα
5
---
Υπνοδωμάτια
East Rutherford, New Jersey, Ηνωμένες Πολιτείες της Αμερικής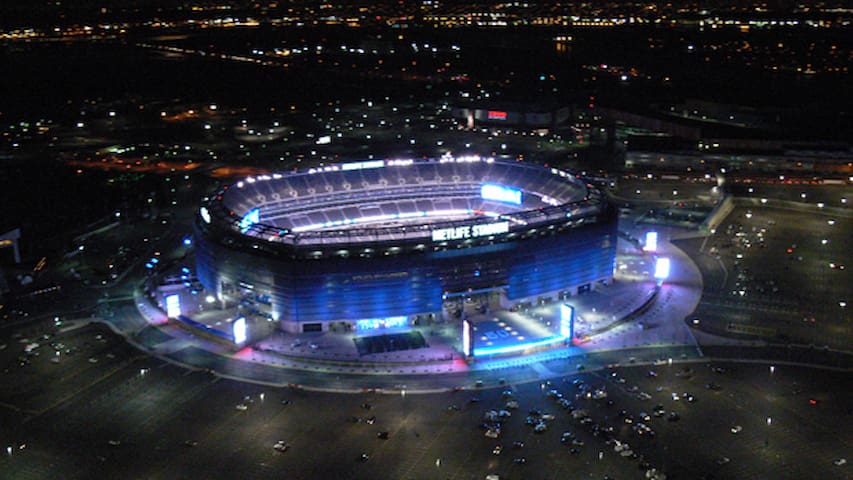 I am renting out a fully furnished apartment for the super bowl week, Friday through Sunday (flexible). This apartment is located in East Rutherford, NJ. 23 mins away from Newark airport. To Metlife Stadium : 10 mins away by car, 17 mins by bus (bus stop is in front of the house, the bus goes directly to the stadium) To NYC (Port Authority Bus Terminal) : 20 mins driving, 20-30 mins by bus (available only weekdays)or Walk to Paterson Ave at Mozart St about 13 mins and take a bus to NYC (every day) I have 1 bedroom, 1 large living room (using it like a bedroom), 1 bathroom, dining room, and kitchen. parking available. Our house is non-smoking, no pets and no loud parting/ music.
Τύπος δωματίου
Ολόκληρο σπίτι/διαμέρισμα
---
Τύπος ιδιοκτησίας
Διαμέρισμα
---
Άτομα
4
---
Υπνοδωμάτια
East Rutherford, New Jersey, Ηνωμένες Πολιτείες της Αμερικής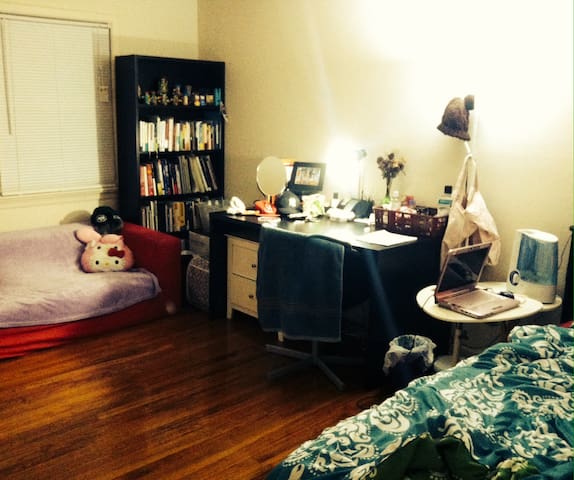 Safe quit neighborhood
10 min bus ride to N.YC.
Transportation outside your door
Τύπος δωματίου
Ιδιωτικό δωμάτιο
---
Τύπος ιδιοκτησίας
Διαμέρισμα
---
Άτομα
2
---
Υπνοδωμάτια
East Rutherford, New Jersey, Ηνωμένες Πολιτείες της Αμερικής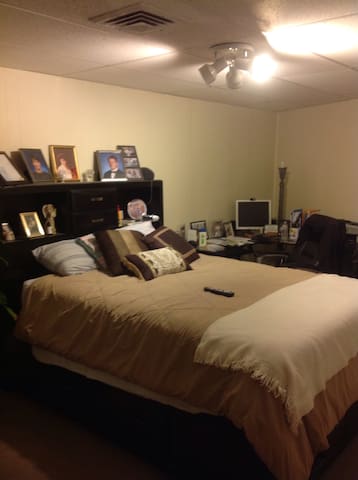 My place is close to New York City. You'll love my place because of easy access to NYC, bus cost 5.50$. My place is good for solo adventurers.
Loved my stay!
Christina
2017-03-10T00:00:00Z
I came for a business trip happening around, but the place is really close from NYC center with either bus or train. Magda is a very nice person, communication was great, I was her first host ever and everything was absolutely perfectly as described. I definitely recommend this place
Jeremy
2016-12-06T00:00:00Z
Magda is a great host. She is friendly, uncomplicated and helpfull. Everything was as described. Gas Station is 2 blocks away and buses are driving 5minutes from the apartment to New York City for 5.50$. Recommandable!
Riccardo
2017-03-26T00:00:00Z
Amazing experience!!!
Jezabel
2016-12-31T00:00:00Z
Great little,cozy and clean place,even greater host.If I had to I'll definitely do it again.Thank you for the first time great experience.
Stojan
2017-02-03T00:00:00Z
The host canceled this reservation 4 days before arrival. This is an automated posting.
Linda
2017-03-12T00:00:00Z
The stay at Magda's place was great. She is super nice and easy! The room is in a safe part of town (a block from police station). Ample parking. The room was just as described and very clean. She is a great host and I hope to stay there again.
Marc
2016-12-15T00:00:00Z
Warm, cozy and comfortable place.
hannah
2017-01-10T00:00:00Z
Τύπος δωματίου
Ιδιωτικό δωμάτιο
---
Τύπος ιδιοκτησίας
Σπίτι
---
Άτομα
1
---
Υπνοδωμάτια
Wallington, New Jersey, Ηνωμένες Πολιτείες της Αμερικής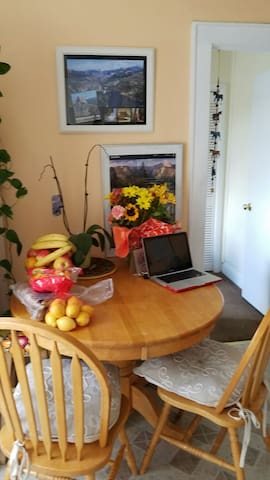 Cozy and sunny 2 room attic apartment, brand new renovated! Private bedroom w/ a very comfy queen Tempurpedic mattress, second room with comfy queen sofa/bed, which has cable TV, fridge and microwave. WiFi/air conditioning/heating. Located in a very safe and quiet neighborhood, barely a minute away from a bus that takes you to the heart of Manhattan in 25 minutes! We are a very nice family, who is committed to help you make the best of your trip, and of course, feel at home away from home!
With two rooms, one with a comfortable queen size Tempurpedic mattress with fresh linen and the other room with a comfortable queen size sofa/bed, this large, sunny, cozy newly renovated attic apartment is perfect for couples, solo adventurers, business travelers and families with up to four people! Including a full, sunny bathroom with a skylight, with fresh towels, shampoo and soap, huge closet and cable TV, fridge, microwave, air conditioning and heat, it is prepared to provide maximum comfort!
Wallington is a very safe, and quiet town, that is located only a short 25 minute bus ride away from the heart of NYC - Manhattan! There are super markets, farmers markets, grocery/delicatessen stores, a variety of restaurants, including an amazing steakhouse, many polish restaurants, and many more! There is a big, beautiful park that is a 2 minute walk away.
Τύπος δωματίου
Ολόκληρο σπίτι/διαμέρισμα
---
Τύπος ιδιοκτησίας
Σπίτι
---
Άτομα
4
---
Υπνοδωμάτια
Wallington, New Jersey, Ηνωμένες Πολιτείες της Αμερικής
Our Home is conveniently located 20 minutes from NYC. 5 mins from MetLife and Giant stadium .. It is very comfortable and relaxed. This unit is located on the second floor of our house. lots of natural light throughout. Choice to sleep on couch or airbed in living room, kitchenette, and bath. We provide WIFI. Included.. Towels and linens. microwave, coffee maker and basic kitchenware. thank you have a great day..
Τύπος δωματίου
Ιδιωτικό δωμάτιο
---
Τύπος ιδιοκτησίας
Διαμέρισμα
---
Άτομα
2
---
Υπνοδωμάτια
Wallington, New Jersey, Ηνωμένες Πολιτείες της Αμερικής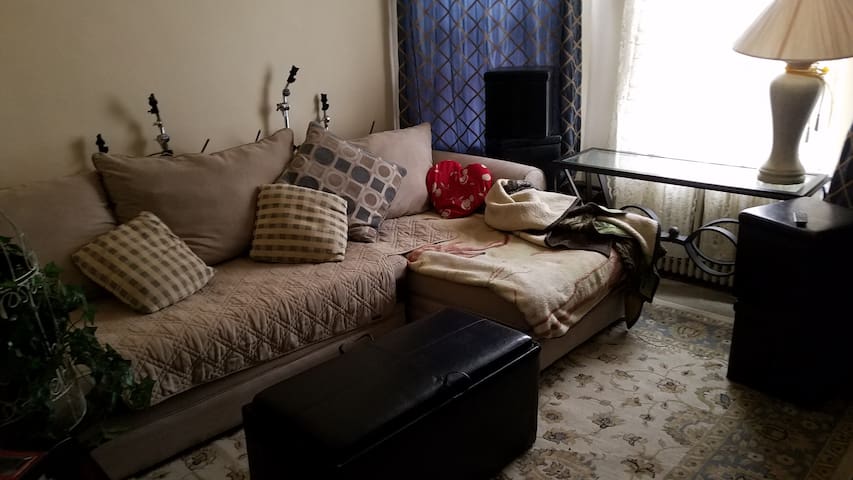 1 Bedroom Apartment in Rutherford, NJ with Kitchen, Bathroom, Living Space. Equip with Bed, Couch, Desk, TV. Only 10 minutes away from Metlife Stadium and 25 minutes from New York City. Minutes from the Rutherford train station and connection to MetLIfe Stadium, and walking distance from bus stop into NYC
Τύπος δωματίου
Ολόκληρο σπίτι/διαμέρισμα
---
Τύπος ιδιοκτησίας
Διαμέρισμα
---
Άτομα
2
---
Υπνοδωμάτια
Wallington, New Jersey, Ηνωμένες Πολιτείες της Αμερικής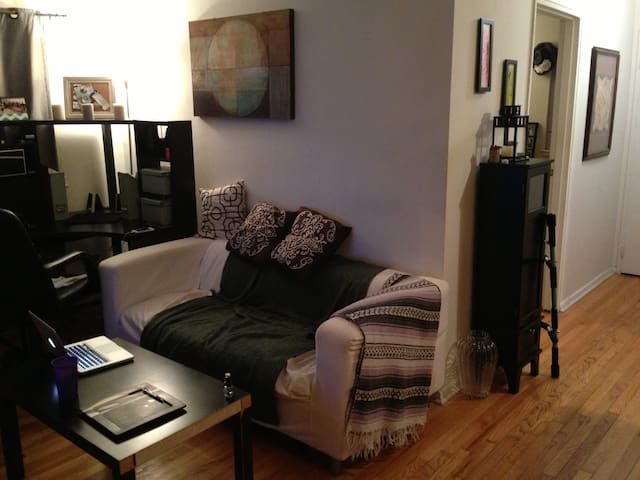 My place is close to The Wellmont Theatre, Raymond's, Cuban Pete's, and Bow Tie Cinemas, LLC.. You'll love my place because of the location it's in the heart of Montclair and is walking distance to all restaurants and stores. NJ transit train to NY takes 30 minutes to get in and out of NY. My place is good for solo adventurers, business travelers, and furry friends (pets).
Crissy's house has a great location. There are many restaurants, coffee, and stores around her house. Crissy is a nice and patient host. This was my third time to book her house. I feel that this house is like my house. Thanks Crissy so much
Abdulwasi
2017-03-22T00:00:00Z
Crissy was a wonderful and helpful host. She likes to communicate with the guests. Her house is closed to many restaurants and stores even if you don't have a car you can walk . I would recommend it for anyone who wants to visit Montclair. Thanks Crissy.
Abdulwasi
2017-02-25T00:00:00Z
Crissy was amazing. You couldn't ask for a better host or a better place. She's kind, friendly, and went out of her way to make my stay easier for me. The location is near the heart of downtown but still a quiet location.
TricIa
2017-03-04T00:00:00Z
Crissy's place was perfect for my needs. I was in Montclair for work and needed a place to stay one night. The location was ideal, and Crissy was very accommodating. I had to check in much later than I'd hoped, but she worked with my schedule easily. If I find myself in Montclair again, I'll gladly stay here.
Drew
2017-03-17T00:00:00Z
Crissy is a very kind and accommodating host. Her place is located in a prime location. It is clean and I felt at home from the minute I walked in the door. I would definitely stay there again.
Tim
2017-03-19T00:00:00Z
Crissy was welcoming and her place is in downtown Montclair which makes it very convenient to restaurants and shopping. There is no tv available in her home. Bedroom is located on the 2nd floor - a little noisy at night.
Ellen
2017-04-03T00:00:00Z
Crissy was wonderful and helpful host. Her house is closed to many restaurants and stores. No worries if you don't have a car, you will be closed to many places by walking. I would recommend this house. Thanks Crissy.
Abdulwasi
2017-02-26T00:00:00Z
Τύπος δωματίου
Ιδιωτικό δωμάτιο
---
Τύπος ιδιοκτησίας
Σπίτι
---
Άτομα
1
---
Υπνοδωμάτια
Montclair, New Jersey, Ηνωμένες Πολιτείες της Αμερικής
This Open & Airy BnB is in a peaceful, yet vibrant and eclectic, NYC/NJ hybrid suburb. 12 mi. from NYC (about 20 mins.). The train and bus to NYC are a 2 and 1 min walk respectively! We're 18 mi from Newark International Airport. It is a lovely place to set-up camp for excursions to the city;wonderful to return to this Open & Airy get-away to recharge with friendly faces. Enjoy the beach 1-2 hr away, mountain hikes, biking and bouldering!Can add a comfy queen air mattress if needed. Contact me
Welcome! Come in and relax from your travels! This room is on the 3rd floor of a Victorian Center-hall Colonial. Don't let it fool you though; it has the old details, but is light spacious and airy! I hope staying here lifts your spirits. The space has a twin bed and the possibility of adding a queen or twin air mattress if needed. We even have a portable crib. There is a desk to get some work or studying done and a chair to kick back with one of our selections of tea and enjoy a book from our library. Your micro, desk-top fridge, holds the equivalent of 6 cans of soda. The closet has plenty of space and wooden hangers. Towels, shampoo, soap, even epsom-salt & bubble bath, if you choose to soak in the deep clawfoot tub (with handheld shower spray), is available. If you think you have forgotten something, ask, we may have it and at worse, there is a store just around the corner! The kitchen is not part of guest access, but though I don't publicize it, many mornings you will find a little something downstairs to get your day going. "If you play...enjoy our Steinway" - (cheesy rhymes free!). If you need something to do, look in our hall bookcase that has guide/nature books to keep you busy. Someone is almost always around, so if you need directions or suggestions, just ask and we will try to assist you! We look forward to your visit! :)
Adrienne was extremely hospitable - making me feel welcome from our first interaction before booking. Her place is super clean, feels full of love, and she stocks it full of amenities (from cookies and teas in the evening to various soaps and clean, fluffy towels that smell great). I have been to some Airbnb rentals where it doesn't feel good to be there because the places have been overly stark or overly cluttered. Adrienne's place felt really good to be in - welcoming, loving, warm, clean and inviting.
Kris
2016-12-06T00:00:00Z
Great host! Makes me comfortable from the first day. Offered food, fruits, and lots of help. Room is deluxe.. great condition. Everything is awesome. I will come back again at this place
Nasir
2016-11-04T00:00:00Z
It was a great pleasure to stay in Adrienne's place. The room is bright and pleasant, beddings are extremely soft and clean, and snacks and water are very considerately put into place. Adrienne's lodge is the most considerate place you can imagine. She definately put lots of thoughts into decorating the place and make sure you are comfortable. Breakfast was also freshly made according to your preference. I strongly recommend Adrienne's place!
Sophia
2017-02-03T00:00:00Z
She is a wonderful person and host !!!!
Andy
2017-02-28T00:00:00Z
By far the best airbnb experience I've had. Adrienne is super friendly and really tries to get to know you. Breakfast was prepared in the morning, and I never felt out of place. It's about a 25 minute drive to Newark, out of the way of NYC traffic, and a quiet neighborhood. Would definitely stay here again!
Clay
2016-12-04T00:00:00Z
El lugar donde se encuentra la casa está genial, el trato de Adrianne es maravilloso
Enrique
2017-03-26T00:00:00Z
Wonderful
Margaret
2017-02-12T00:00:00Z
Adrienne is the perfect hostess. She always asks if you need anything but also gives plenty of privacy. The house is breath taking and has an interesting and exciting history. The blending of the old with the new was very intriguing. An architectural delight. Even got some great ideas for improvement at my own house. Adrienne was a pure joy to have a conversation with on many topics. We shared lots of laughs like we were old friends. She is an awesome Cook and provided scrumptious breakfasts and a snack one evening. The room is comfortable and cozy plenty of space to get comfortable. The bathroom was adorable and I thought it was the coolest thing to actually take a bath in a ceramic clawed tub. This is an absolute treasure. I will be visiting again while in new jersey.
FRAN
2017-02-21T00:00:00Z
Τύπος δωματίου
Ιδιωτικό δωμάτιο
---
Τύπος ιδιοκτησίας
Σπίτι
---
Άτομα
2
---
Υπνοδωμάτια
Montclair, New Jersey, Ηνωμένες Πολιτείες της Αμερικής
Please note This property has muiltible Airbnb listings
*PLEASE UPDATE PHOTO AND PROFILE BEFORE CONTACTING HOST* PLEASE DO NOT MAKE A BOOKING WITHOUT CONTACTING HOST 1ST! A cozy secret hide away!... Small but very efficient one bedroom apartment in the lovely area of Montclair,NJ. 20 minutes from the Heart of Manhattan( 5 minute walk to buses and trains) walk to near by shops and cafes, Parks and Town Gardens. Enjoy the tranquility of a small town, and the Magic of Manhattan! Extended days rental available for summer months, July and August. Please see House Rules for details. (URL HIDDEN).(URL HIDDEN) (URL HIDDEN) (URL HIDDEN).(URL HIDDEN) (URL HIDDEN).
We stayed in Montclair for an extended weekend in October. The apartment is nice and cosy and has a separate entrance from the back of the house. Fabricia and her family are very nice and lovely people. We will be back.
Barbara
2013-10-08T00:00:00Z
We loved staying in Fabricia's place. It was very convenient, spacious and cute. Good location.
Sandra
2015-10-22T00:00:00Z
The location was neat, quiet and gave you a feel of the town. The apartment had everything you need for a comfortable stay and more. You can walk to restaurants easily and the train is just down the street. The host was wonderful and very helpful
astrid
2016-11-04T00:00:00Z
Fantastic! Comfortable, clean and very easy access to local restaurants and NYC. Would love to stay here again. Thanks!
Kyle
2015-11-22T00:00:00Z
A fantastic stay. Everything you need for cooking and comfort. Fabricia was easy to reach w/ any questions and eager to make my time pleasant and relaxing. Kudos!!!!!
Eric
2012-05-27T00:00:00Z
We really enjoyed staying at Fabricia's apartment. On our first night there, my husband checked in and then promptly misplaced the key. We didn't realize this until we arrived back at the apartment with two sleepy children...I contacted Fabricia and she was on hand to let us in the door and even offered to make us a copy of the key if we needed it. Luckily we found the key the next morning, but her flexibility was much appreciated!
Elizabeth
2016-11-26T00:00:00Z
Another excellent stay af Fabricia's. Great place, comfy bed, and she even came through with a last minute request!
Jessica
2012-06-28T00:00:00Z
The space was comfortable, bright, and very stylish. I was met by the host with fresh eggs from her chickens on my first morning! It's in a great location to explore the area. We loved getting to know Montclair and all the great restaurants. Fabricia was quick to respond to any questions or concerns I had.
Debbie
2015-04-27T00:00:00Z
Τύπος δωματίου
Ολόκληρο σπίτι/διαμέρισμα
---
Τύπος ιδιοκτησίας
Σπίτι
---
Άτομα
4
---
Υπνοδωμάτια
Montclair, New Jersey, Ηνωμένες Πολιτείες της Αμερικής
Belleville - Airbnb
:
Μέσος όρος

4.85

στα

5

αστέρια από

182

κριτικές επισκεπτών
1

–

18

από

Πάνω από 300 ενοικιαζόμενα
Εισάγετε ημερομηνίες για να δείτε τις πλήρεις τιμές. Ισχύουν πρόσθετες χρεώσεις. Ενδέχεται να προστεθούν φόροι.
Χώροι σε κοντινή απόσταση: