My place is closed to Assumption University and on the way to airport. It is not quite far from Sukhumvit and Thonglor. You'll love my place because of the comfort bed, the nice view of Sunset,the quiet and cleanliness, two separated bed rooms, and the nice living room. My place is good for couples, adventurers, business travelers, and families (with kids).
The unit total space is 60 M2 consists of 3 rooms locates at 10th floor of The Inspire Place Abac Rama9 condo. Main bedroom with internal bathroom, secondary bedroom, living room with other shower room and pantry corner. Guest can use the Condo swimming pool and Gym on the ground floor. While the pay washing machines have also provided at the ground floor of the condo.
Majority of the neighbours are students or working people.
Sompong is very friendly and an excellent host. He is always there for his clients. Thank you Sompong.
Leon
2017-02-24T00:00:00Z
Nice and quiet, several places to eat nearby. A little way from the different shopping districts, but all within 20mins of a cab ride. Sompong's a great host who checks in frequently to make sure we've got everything that we need. Cheers to Sompong :)
jason
2017-02-13T00:00:00Z
คุณสมพงษ์น่ารักมากค่ะ ให้คำแนะนำดีในหลายๆเรื่อง เราประทับใจในการเข้าพักครั้งนี้มากค่ะ
Jj
2017-03-10T00:00:00Z
It was really great!!! I highly recommend it.
Grover
2017-03-01T00:00:00Z
Отличная квартира в хорошем месте! Есть все для жизни, чисто и уютно
Uliana
2017-01-26T00:00:00Z
Sompong is a great host. He is tentative to guest's needs and is willing to go out of his way to make you feel a home. His condo is spacious and having 2 bedrooms and 2 bath is great. His place is well equipped with fast internet, microwave and electric hot water kettle for your morning coffee. Location of the condo is a bit out of the way, but catching a taxi or motorbike is a breeze. Plenty of Restaurants around and 7/11 is just around the corner. Very convenient! If you know your way in this area it's not a bad place to stay. Airport link is about 10-15 min by motorbike.
Ben
2017-01-21T00:00:00Z
Τύπος δωματίου
Ιδιωτικό δωμάτιο
---
Τύπος ιδιοκτησίας
Συγκρότημα κατοικιών
---
Άτομα
3
---
Υπνοδωμάτια
Μπανγκόκ, Μπανγκόκ, Ταϊλάνδη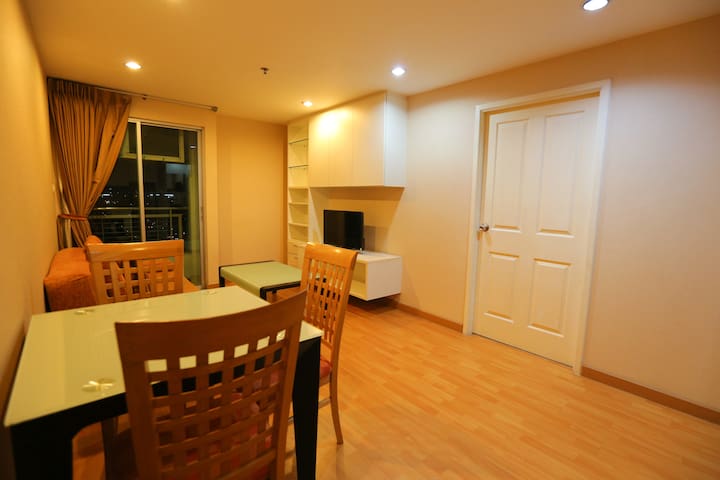 1BR new condo on the main road of Ladprao area. It is surrounding by Shopping Plaza, Tesco Lotus/ Makro Hypermarket, Tawanna local/flea market,float market and theme park/ water park. Easy to travel wth bus,train,express boat to famous& local temple.
Fully furnished - New ONE bedroom apartment Type. - One Queen size Bedroom suitable for 2 people with air conditioning - One Sofa - Living area with Flat TV - KITCHEN with equipments, Dinning Table, Fridge&Freezer, microwave, kettle, tea/coffee cups. - Shower Bath Room with hot water, Toilet and shower towels for 2 people. - Other Facilities : Swimming pool and Gym - Security key and key card access to the lobby and tge room - 24 hrs on site security guard.
5 Things must do: 1. Fantasia Lagoon water park at the mall Bangkapi 2. Tawanna Market (Gift & Specialty Shops, Flea & Street Markets, Antique Stores) 3.Siam park city (Theme park and water park) 4. Kwan-Riam Floating Market (Flea & Street Markets) 5. Khlongsaensaep express line to Golden mountain temple.
Very good place to have great time and stay around for eat and see the big Mall.The apartment is very beautiful and the staf people are very nice.I think when i can i return...The owner is very nice.Thanks for all.
Daniel
2017-03-27T00:00:00Z
Good host ..nice Appartment and fairly central
Amir
2017-01-04T00:00:00Z
Comfortable place near Vejathani Hospital. I was getting some dental work done, and the hospital was only a 5 minute walk. The only downside was the lack of WIFI, but otherwise a good place.
Patricia
2017-02-05T00:00:00Z
good stay here.
斯佳
2016-07-31T00:00:00Z
Best place to stay around Bangkapi area. Walk to The Mall department store, Happyland market and etc. It's easy to grab a taxi or bus. It's closed to a hospital as well. I had a fantastic stay. Host is friendly and great. I wish to go back next year.
Jaeng
2016-08-09T00:00:00Z
The lovely little place that is extremely clean. Great air conditioning. Kat was very accommodating and understanding of circumstances out of my control. I plan on returning here again! Very close to the airport. Easy access to everything via Uber
Sherri
2017-04-09T00:00:00Z
It was an excellent experience to stay at Kolrawat"s place. Everything went well. Condo location is on the main street, not in the deep soi. Owners are nice and very thoughtful. I will definitely come back. Highly recommended.
Jaeng
2016-07-23T00:00:00Z
Τύπος δωματίου
Ολόκληρο σπίτι/διαμέρισμα
---
Τύπος ιδιοκτησίας
Διαμέρισμα
---
Άτομα
2
---
Υπνοδωμάτια
Μπανγκόκ, Krung Thep Maha Nakhon, Ταϊλάνδη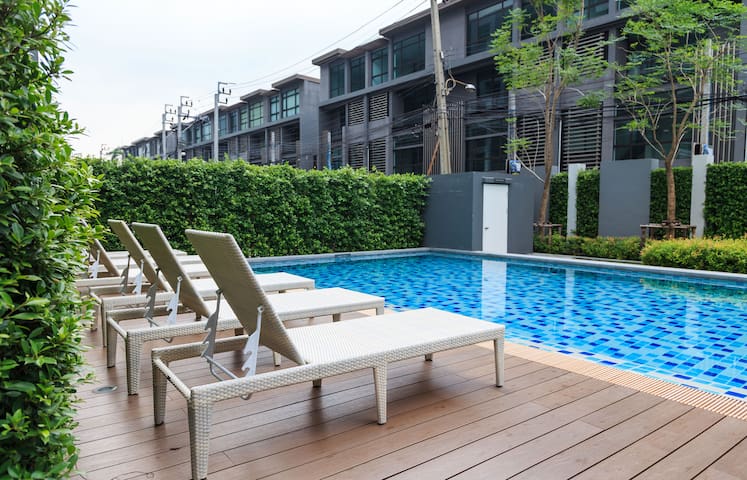 View Place Mansion (Budget Apt hotel), non-smoking, free parking, free WiFi , air-conditioned, a cable TV, towels and a la carte restaurant Located in Bangkok, Ladprao soi 130 10 min. walk to Khlong boat Pier (Ferry) transit to many attractions
View Place Mansion Ladprao 130 features non-smoking units and an a la carte restaurant. This accommodation provides free private parking on site. Guests enjoy free WiFi access. Located in Bangkok, View Place Mansion is 4 miles from MRT Huai Khwang station and 4.3 miles from MRT Ratchadapisek station. The property is 9.3 miles from Suvarnabhumi Airport. Featuring a balcony, this air-conditioned apartment has a seating area, a cable TV and a dining area. A private bathroom is equipped with shower facilities, towels and free toiletries. At View Place Mansion, guests enjoy facilities like a shared lounge area, laundry facilities and room service. A massage parlour, restaurant and a 24-hour convenience store is nearby.
Gaining local experience! 10 min. walk to Khlong boat Pier (Local Ferry), which is easily transit to many attractions like Pratunam Market, Central World shopping mall, Paragon Shopping mall, Siam Square, MBK mall and Thong Lo.
Thank you so much for having us! The place was soo nice to have after long days of waking around in Bangkok. The reception was extremely helpful and Sathit gave us great advice for getting around town. Thanks again!
Ashley
2017-02-03T00:00:00Z
We had a nice stay at Viewplace. The accomodation was as described, clean and comfy. Sathit was very helpful, the staff very polite. Would come again.
Paul
2016-02-07T00:00:00Z
Place is good. But small for 3 people.rest all is good for the price.
Don
2016-10-17T00:00:00Z
Mr. Sathit is friendly and quick to answer calls despite us booking in the last minute.
Mary
2017-03-21T00:00:00Z
Recent and very clean hotel. Great price !
Claire
2017-01-18T00:00:00Z
Nice and clean rooms , good bed and great restaurant upfront. Easy bus or MRT connections close by to wherever you want in Bangkok
Nick
2017-04-06T00:00:00Z
very kind owner,lovely room,we spend 3days there,spend fine time.
xi
2017-01-03T00:00:00Z
I recomend thats plase wos realy cosy and nice
Alex
2016-02-14T00:00:00Z
Τύπος δωματίου
Ιδιωτικό δωμάτιο
---
Τύπος ιδιοκτησίας
Διαμέρισμα
---
Άτομα
2
---
Υπνοδωμάτια
Μπανγκόκ, Μπανγκόκ, Ταϊλάνδη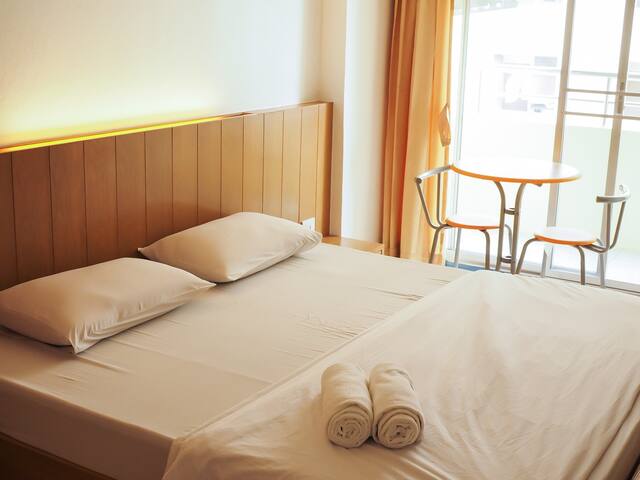 -Near Suvannabhumi airport, Ramkhamhaeng University, Rajamangala National Stadium -Free Wi-Fi -Modern style -Cheap local food -Night market -Private room and Private bathroom
No. 28 soi ramkhamhaeng 24 yaek 6., Huamark., Bangkapi., Bangkok. บ้านเลขที่ 28 ซ. รามคำแหง24แยก6 หลังมหาวิทยาลัยรามคำแหง เบอร์ (PHONE NUMBER HIDDEN).
-Cheap local food -Night market -Big c supermarket -The mall department store
Nous sommes arrivé-e-s en retard et dans la nuit. Le chauffeur a pu appeler pour indiquer le chemin. On nous a bien accueilli et toujours bien répondu lorsqu'on avait des questions! Nous recommandons même si un peu loin du centre de Bangkok
Véronique
2016-11-09T00:00:00Z
Clean, spacious, relaxing, very nice hosts. I really enjoyed my stay
Cheyenne
2017-02-08T00:00:00Z
Nice and clean place in a quiet area of the city. The only problem is that is a bit far from the city center.
Alessandro
2016-08-15T00:00:00Z
Everything was fine. The room was clean and the air conditioner made the room cold. At night it was loud outside due to the motorbikes, but you can't do something against it. There was a very bad smell at the balcony. I don't know where it came from, but it was horrible. That's why we didn't use it. Anyway, the check-in/-out was fast and smooth and the host was nice and friendly and asked us at the end if we needed a taxi.
Rudi
2016-08-20T00:00:00Z
Tanawat was very accommodating and upfront immediately after booking that the room I got would have to be smaller since it was the only available one, and was very professional about getting me a partial refund. Totally fair. The room itself was totally worth the money, it was cool and chic and had what we needed and good for a place to crash. He was very good at staying available so I could update him when I was checking in super late, and woke up early to check me out when I needed to. Thanks!!
Abby
2016-09-21T00:00:00Z
Beide Gastgeber sind unglaublich lieb. Ich kam erst spät an und wurde wunderbar aufgenommen. Das Zimmer ist super neu und hat ein tolles neues Design. Am Fernseher ist noch die Folie (so neu!). Vom Balkon wusste ich vorher gar nicht. Das Haus ist direkt um die Ecke der örtlichen Universität und des Stadiums. Daher sind hier viele junge Leute anzutreffen. Auch Essensmöglichkeiten gibt es viele. Insgesamt ein sehr positiver und gemessen am Preis äußerst rentabler Aufenthalt den ich sehr bald wiederholen werde! Top!!!
Johannes
2016-08-04T00:00:00Z
Clean, walking distance to night market, close to the airport, and helpful host.
Huey Wen
2017-01-06T00:00:00Z
Great location! Very close to street markets and authentic Thai food. Very safe and clean. If more than one person maybe bring another blanket. The check-in and out process was super smooth and easy. We would definitely stay here again!
Amy
2016-07-30T00:00:00Z
Τύπος δωματίου
Ιδιωτικό δωμάτιο
---
Τύπος ιδιοκτησίας
Άλλο
---
Άτομα
2
---
Υπνοδωμάτια
Huamark., Bangkapi., Bangkok, Μπανγκόκ, Ταϊλάνδη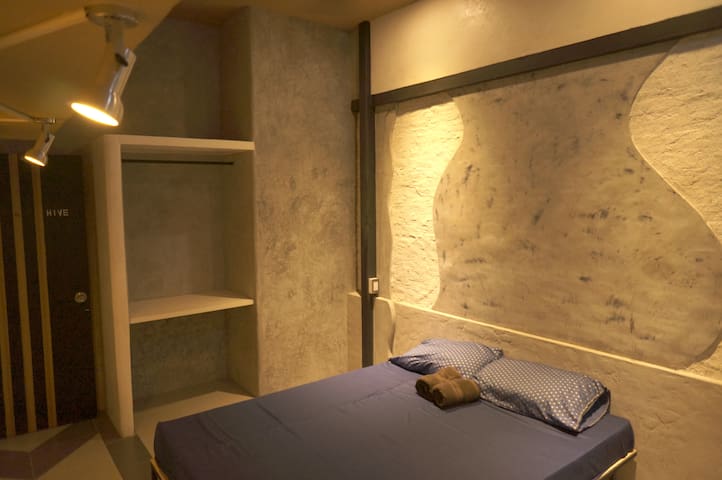 Close to airport link hua mark (15 minutes from airport) beside ABAC close to the 9 community mall. The place is simple and near airport just couple station to the hua man and took 5 minutes on taxi drive. If you want to get driving experience in Thailand. We have a car park for you
Live simply with simple room
The place is nice and cozy and the host assisted us in going to his place
Faina
2016-10-04T00:00:00Z
exceed expectation
Tk
2016-08-02T00:00:00Z
离机场和体育场都很近。要是来看con的话。简直是最佳选择。走路10分钟就能到体育场。楼下买东西也非常方便。有餐厅和便利店。去huamark站也不远。打个车10分钟就能到。房东英文很好。也能说两句中文~也非常热情
CARAL
2017-03-20T00:00:00Z
Very informative. Good guy and super helpful and flexible with any changes. Great place overall. Located in a collegiate area so it has a lot of local vibes and not too touristy. Would recommend to all!
Zack
2017-01-01T00:00:00Z
Nice experience staying here. The place has all the basics you need and Sudhichai is very attentive via (SENSITIVE CONTENTS HIDDEN)/Airbnb emails. I would stay again.
Bir
2016-12-02T00:00:00Z
The studio was exactly as Sudhichai described. He responded quickly to my messages and my calls. Thank you!
Ari
2014-08-27T00:00:00Z
Great place to stay. Close to Main Street and other shopping malls. 7-12 located next street over
Joe
2017-02-25T00:00:00Z
I stayed there for 2 months. I never met the host. However he was supportive enough. He was willing to help me. I had a problem with an air conditioner in the living room. They changed the new one. The location is for me perfect because of my workplace. Honestly, the location is a bit far from downtown. But the thing is that in Bangkok Taxi fare is cheap. you can reach anywhere within 4 euro.
Sangmin
2016-04-12T00:00:00Z
Τύπος δωματίου
Ολόκληρο σπίτι/διαμέρισμα
---
Τύπος ιδιοκτησίας
Διαμέρισμα
---
Άτομα
3
---
Υπνοδωμάτια
Μπανγκόκ, Krung Thep Maha Nakhon, Ταϊλάνδη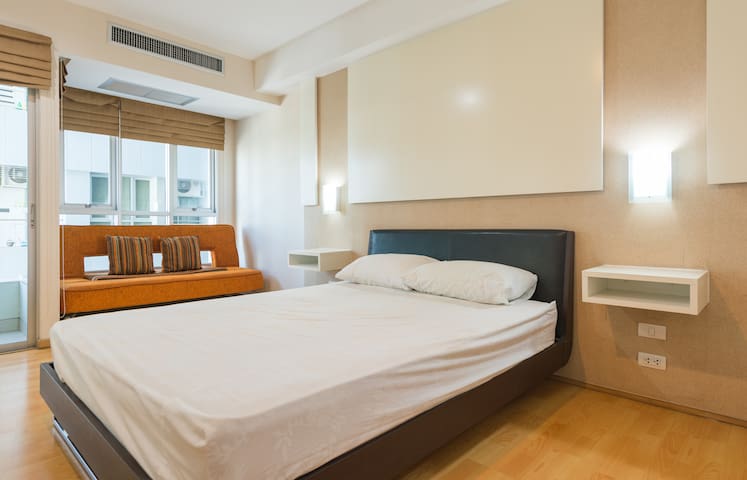 - Good location and transportation. - 5 mins. to The nine Plaza (many restaurants here) - 10 mins. to The Mall Department Store - 10 mins. to Airport link Ramkhamhaeng Station - 15 mins. to RCA - 20 mins. to Suvarnabhumi Airport - Clean and beautiful place. - Modern style and new one.
- Good location and transportation. - 5 mins. to The nine Plaza (many restaurants here) - 10 mins. to The Mall Department Store - 10 mins. to Airport link Ramkuamheang Station - 15 mins. to RCA - 20 mins. to Suvarnabhumi Airport - Free wifi
The Nine plaza
Kritta was highly responsive and helpful as a host. The apartment was a bit of a let down as the photos posted are very different from the actuality - I think they are photos of a different apartment. There is no sofa as pictured. It is a small apartment with just a small fold out sofa in the TV part. However the bed was very comfortable, amazing swimming pool and great gym so we enjoyed our stay. The area is quite far from the CBD and tourist spots - we found it hard getting a taxi to take us there. Overall though for the price it was good value.
Emma
2016-08-01T00:00:00Z
Kitty is a nice host, room is clean and comfortable for max 3 person, a little difference between room and pictures, a bit far from downtown and BTS, so taxi is convenient and easy to use. Thanks for everything!
DOGG
2016-07-11T00:00:00Z
Krittayaporn a été très arrangeante. Nous avions notre vol pour Paris en fin de journée, après une arrivée très manitale, d'où le besoin de nous reposer pour une journée, ce qui fut fait avec confort dans son appartement. Un vrai plaisir que d'avoir pu compter sur elle et sa gentillesse. De plus quelques petites gourmandises étaient là, piscine en cas, bref tout fut parfait.
Sébastien
2016-03-31T00:00:00Z
A comfy apartment that's close to The Nine shopping centre. 85 baht gets you to Petchaburi MRT. The host is great and communicates very well. The bed is typical Asian and pretty hard, the apartment is great with free wifi, cable TV and had good air con.
Matthew
2016-01-02T00:00:00Z
虽然没有看见房东。但是她的朋友leklek很热情。房间很干净。谢谢房间配套的食物。非常棒。很喜欢。不过去中心有点远。
Rosalind
2016-01-23T00:00:00Z
Owner was wonderful. She is really kind and very considerate. She brought us to the shopping mall near to the condominium although it was quite late. She introduced good Thai restaurant to us and tried her best to make us comfortable. We could feel her warm welcome. Thanks Kritta However house is smaller than our expectation. Owner is posting this place for maximum 4 persons but I think this place is maximum for 3 persons. Photo looks bigger than actual size. One of wonderful thing is she provide simple food and drink. So we could settle the breakfast. The condominium is new and beautiful. Unfortunately we didn't have a chance to use gym and swimming pool. Cleanliness of unit has to improve cos one of my friend has dust alergy and she react to it very badly. But overall we had wonderful stay.
Ja Young Jenny
2015-10-13T00:00:00Z
Nice place to stay,tipanwa is very helpful,we are so happy to meet her.hope we can stay here more days next time
Lavender
2016-02-14T00:00:00Z
房东人很好,房间很安静,但是离市中心很远,一般要半个多小时才能到,交通不是很便利。
Marrisa
2016-08-10T00:00:00Z
Τύπος δωματίου
Ολόκληρο σπίτι/διαμέρισμα
---
Τύπος ιδιοκτησίας
Διαμέρισμα
---
Άτομα
4
---
Υπνοδωμάτια
Μπανγκόκ, BANGKOK, Ταϊλάνδη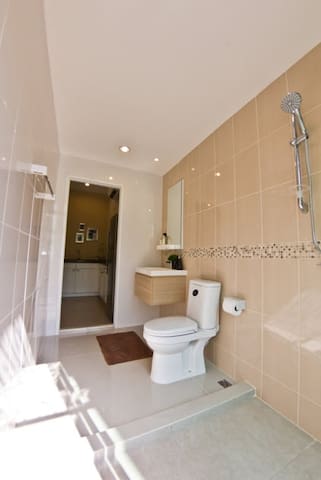 5 min walk to The Mall Shopping Center Bangkapi, (ZARA,H&M,Uniqlo,Mcdonald,Supermarket,Starbucks and many more) You'll love my place as it is clean and cozy 1BR included Bathroom. Everything in this room are brand new and very comfortable. Good for long stay or business trip. Value place. There it's easy to grab a taxi or bus. It is front of soi Latpharo 113, near the main road, Boat line at The Mall Bangkapi to connect Central. Taxi to MRT just 2USD.
The 30 Sqm. room included (Living/Bedroom/kitchen/Bathroom/Balcony) Living area • 1 very comfy sofa • TV 42" with cable TV Bedroom • Comfy queen size bed with 4 Pillow. • Big window for daylight. • Big wardrobe • Air Conditioner • Iron • Towels Kitchen/Dining/Working space • 1 Desk with 2 chairs. You can dining or working with laptop here. • Microwave / Mini Oven / Electric Hotpot /Refrigerator • Dishes/Cups/Spoon etc. Bathroom • Shower with hot water • Shampoo, Shower gel, Towel, Hair Dryer etc. Balcony • You can smoking here. Be careful smoke disturb the room next. _________________________
Close to • "The Mall Bangkapi" 400 m (walk 5 mins) Suggest : The mall is the big department store. • "Makro Bangkapi" 300 m (walk 5 mins) • "Vejthani Hospital" 450 m (walk 5 mins) - Starbucks coffee / Subway / Seven eleven available in the hospital • "Happy land Local Market" 300 m (walk 3 mins) University Area • "NIDA University" 1.8 km • "Assumption University" 3.5 km Hospital • "Ramkhamheang Hospital" 3 km • "Ladprao Hospital" 3 km Health Park & Sport • "Rajamangala National Stadium" 3 km • "Health Garden (Authority of Thailand) 2.5km ___________________ Another area Shopping & Eating (Things to do) • Rod fai Night Market (8.5 Km.) • Jatujak Weekend Market (12 km.) • Central Plaza Grand Rama 9 (10 km.) • Gateway Ekamai (12 Km.) • Central world (14 km.) • Siam Paragon (15 km.) • Khaosan Road (20 km.) • Asiatique (24km.) ___________________
Nice cozy place suitable for couple or single trip. Internet speed can be improve, other than this everything is fine for me. :) near to bangkapi the mall, I love the cozy interior with small little Xmas decor. Owner responce is good.
VSiang(Andy)
2017-01-02T00:00:00Z
The host canceled this reservation the day before arrival. This is an automated posting.
Mace
2017-01-16T00:00:00Z
Lucy is very good! Beautiful beautiful kind. She provides us with sufficient and detailed requirement travel planning. Let me seven days in Bangkok is very happy! Thank you Lucy.
力旗
2016-12-30T00:00:00Z
Great value! There was nothing to be disappointed about. Everything promised was delivered and place is comfy and exactly as per photos shown. Will definitely stay here again if given the opportunity
Andrew
2017-02-24T00:00:00Z
nice place! nice owner!nice service!every thing is great!thank u
筝
2017-03-19T00:00:00Z
The apartment is nice and clean as it is described on the website, however, it is quite far from the city center but there're public transportation like bus or boat which is not so far from the apartment but we didnt use it as most of the time we travelled with a personal car and taxi (which is cheap there) . Only one issue that you guys should know, pls confirm the booking with Lucy again if there will be no issue with the property manager as she almost cancelled our booking 5 days before the check in date as it against the law. However, Lucy was very kind and nice to arrange and solve the problems and keep the stay for us. Thanks to her again. Nice place with affordable budget to recommend. Ricardo
Ricardo
2017-02-13T00:00:00Z
This apartment just like what the picture shows in this app . Beautiful,Quiet and comfortable. Host Lucy gives all the help when we need it in Bangkok which make us have a nice trip in Thailand . If you are alone or couple want have a relax holiday in Bangkok, this is a good choice . The people live around the apartment are all very kind , you can have a local live experience in this area . Thai people are all very kind and nice , we love Thailand and thinking to come again .
柯
2017-01-29T00:00:00Z
綺麗!安い!オススメ 感動すると思います
HIROKI
2016-12-22T00:00:00Z
Τύπος δωματίου
Ολόκληρο σπίτι/διαμέρισμα
---
Τύπος ιδιοκτησίας
Συγκρότημα κατοικιών
---
Άτομα
2
---
Υπνοδωμάτια
Μπανγκόκ, Krung Thep Maha Nakhon, Ταϊλάνδη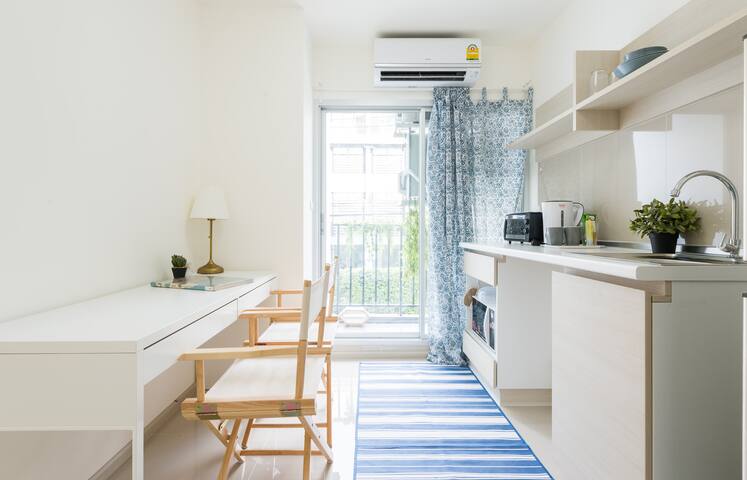 High speed internet Wi-Fi! This very cozy condminum features a king size bed. There is a full bathroom, kitchen and eating area. The location is near to the Mall Bangkapi, Rajmangala Stadium, Chocolate Ville and walking distance to Vejthani .
It's more like a home. You have got everything you need to stay happily. Street food at walking distance. Washing machine to wash your clothes.
Michael was an outstanding host! He gave my uber driver better directions & when I needed something specific, he went to his home to get it for me. Also, he even introduced me to the Thai culture by suggesting we go out and get some authentic Thai cuisine! But that's enough about the man himself... This condo is about a 20-25 min ride from BKK & about a 5-10 min ride to central Bangkok. There are many shops & cheap street food in the neighborhood. The Condominium is gated and requires key card access into building, so security was 10/10. Washing machines are available for 20-30 baht. The inside is cozy & fully furnished. High speed internet, Air Conditioner, and even a fish tank for added ambiance.
Newton
2017-02-16T00:00:00Z
We were very pleased with Michael's studio. It was fully equipped, comfortable and quiet. Michael was a very welcoming and helpful host and willing to go the extra mile to help us out. We look forward to staying at one of his places again and highly recommend his accommodations.
Marc
2017-02-23T00:00:00Z
Everything is great,good location,full-time communication,clean room,well decorated... Michael is very nice man,give me many advices. Also If you want to rent a car or bike,he will be helpful. Anyway,I'd like to stay here next time when I come to Bangkok.
Letter
2017-03-10T00:00:00Z
바퀴벌레나 냄새만 안나면 좋았을 듯. 시내와 거리가 있고 net,bts역이 없다는 것이 아쉬움.
sooyong
2017-03-30T00:00:00Z
Τύπος δωματίου
Ολόκληρο σπίτι/διαμέρισμα
---
Τύπος ιδιοκτησίας
Συγκρότημα κατοικιών
---
Άτομα
2
---
Υπνοδωμάτια
Bangkok , Μπανγκόκ, Ταϊλάνδη
Save & Safe place. True city feeling Center of Bangkok (Bangkapi) 5 room available and many size. Free wifi, key card system, fan or Air condition. 2 block from The Mall Bangkapi Department store. English service with owner who have been live in UK Location Highlights (See more in Photo) 1. Khlong Saen Saep Express Boat 400 meters from Khlong Saen Saep Pier (Wat Klang Pier 85) 2. Happy Land Thai street food market (40 meters) 3. The Mall Bang Kapi Super Department Store (100 meters)
Save money and safe. 5 room available in many size. Fan or Air condition. Center of Bangkapi Bangkok.
Bangkok city feeling. Center of market and shopping center. Cheap food and good taste NEARBY PLACES Near educational institutions : National Institute of Development Administration (Nida), Role-Based Access Control (RBAC), Ramkhamhaeng University, Bang Kapi School, Tepleela School, Near Temple : Tepleela Temple, Ladprao Temple Near Shopping Mall : The Mall Bang Kapi, Tesco Lotus Bangkapi, N Mark Plaza, Makro, Tawanna Market, Happyland Center, Klang Happy Land Market, Major Cineplex Bangkapi, Pantip Plaza Bangkapi Near Tourist Attraction : Queen Sirikit Botanic Garden, Nawamin Phirom Park, Siam Park City, Housing Lake, Charlerm Phra Kiat Water Park Near the other Landmarks : Ramkhamhaeng Hospital, Vejthani Hospital, Ladprao General Hospital, Khlong Chan Post Office, Ramkhamhaeng University Book Center, Rajamangala National Stadium Khlong Saen Saep Express Boat 400 meters far away from Khlong Saen Saep Pier (Wat Klang Pier 85) Wat Sri Bunruang Bangkapi – Ramkhamhaeng – Khlongtun – Pratunam – Sukhumvit – Mahboonkrong – Bobae Market – Phan Fa Bridge, Ratchadamnoen
This is my first time using Airbnb and I was thrilled to have such a wonderful experience with this hostel. The hosts were incredibly warm and friendly people. They have a check-in deadline but Joe was kind enough to extend that time limit for me. And then my flight arrived very late and Gabe waited up for me till midnight!! Very thankful to that. The room had what I needed. The wifi was good too. Although I don't know if this is Airbnb tradition but I did need to provide shampoos and other shower stuff by my own. The staffs all speak very good English. The neighborhood has authentic Thai experience. Tons of food downstairs just around the corner, a mall nearby by foot for movies, and there's a pier where you can take the boat to the Palace area. Btw locals take this boat for everyday commute, so if you ever come stay here, do try that out. In a word, very nice place, price and experience, def recommend!
Sarah
2017-01-24T00:00:00Z
I highly recommend Meow Hostel to anyone, especially if you want your vacation or stay to be an authentic Thai experience! Meow Hostel is on the outskirts of the city, but this is one of its major advantages. Downtown Bangkok is very touristy, and so this location, Bang Kapi, will allow you to get away from the hustle and bustle and the tourist traps when you get home. You can get into the city by taking the canal water bus... which is an attraction in and of itself (try to get a seat in the middle, as water splashes up into the boat now and then) . Also, try to leave Bangkok in the late afternoon to get home before the evening rush however, as Thai people use this water canal bus as their commute. The staff at Meow Hostel were awesome! Joe, Paul, and Gabe were always extremely friendly and so very helpful! My room was very clean, and the cleaning lady does a wonderful job of maintaining its cleanliness. The internet connection (in every room) was EXCELLENT and reliable! Another significant advantage of staying here is that once you walk outside the door, there are many people selling a vast array of very delicious, real Thai street food. I ate Puket Pao every morning... Very delicious and very inexpensive... And my morning espresso... All of it was much cheaper than downtown Bangkok. Also, if you need to do some shopping, there is a mall, The Mall Bang Kapi, only a 5 minute walk up the street! There is also a Tesco's very nearby if you need it. Also, there's an entertainment market, and other food markets ( fruit and meat) very close. There is also a food market across from the mall selling all sorts of delicious authentic Thai food at amazing prices... Again, higher quality and more inexpensive than downtown... This is how Thai people live! I totally recommend Meow Hostel... Thank you for the memories, Joe, Paul, and Gabe!
Gerrard
2016-12-28T00:00:00Z
For the price, its worth it. Close to a shopping mall and street foods. If you travel alone and just want to have a place to stay in for a night or two, this is your place. Quiet neighborhood most of the time. Didnt meet Joe personally but he communicates well. Responds timely whenever you have urgent questions.
Ericson
2017-01-28T00:00:00Z
The host canceled this reservation 4 days before arrival. This is an automated posting.
Olga
2016-11-12T00:00:00Z
Basic room with bed and table. Accommodation is in residential area, very lively, with lots of street food with low prices. Very close to shopping mall. If you want to see how locals live it's a perfect place. Close to water bus(boat) station, that takes you to the center in 35 minutes (1e for the ticket). It operates until 7 pm. Taxi ride to/from center is under 3e. Definitely would recommend for budget traveler, who wants to see a bit more then touristy places.
Milorad
2017-02-13T00:00:00Z
Τύπος δωματίου
Ιδιωτικό δωμάτιο
---
Τύπος ιδιοκτησίας
Χόστελ
---
Άτομα
1
---
Υπνοδωμάτια
Μπανγκόκ, Krung Thep Maha Nakhon, Ταϊλάνδη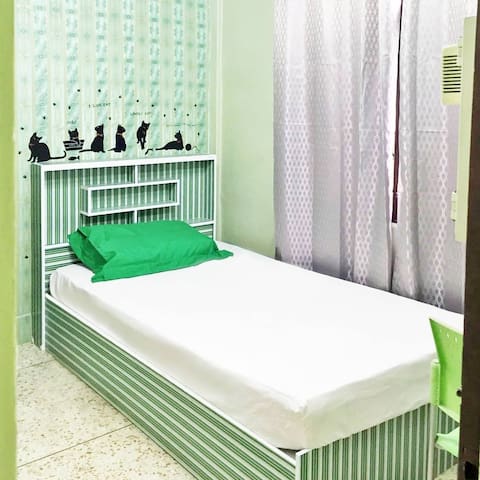 My place is U Delight @Huamak station. Room 30 sqm., locate in Ramkamhaeng 24 and near Suvarnabhumi International Airport, Airport Rail Link; Huamak Station and very near Samitivej Srinakarin Hospital, Ramkhamhaeng University, Assumption University. Airport Link; Huamak station, easy access from my condo. Restaurants and 7-11 convenience store is under my condo and just 5 mins walk. Brand new property features with a pool, fitness, sauna steam and library room.
Friendly and nicely. Service mind 24 hours. Fully furnished - ONE Bedroom with air conditioning, good storage space. - Air conditioning, Sofa, Flat smart TV Box etc. - KITCHEN with equipments, Dinning Table, Fridge&Freezer, microwave, kettle, tea/coffee cups. - Shower Bath Room with hot water and Toilet - Other Facilities : Big size swimming pool, Gym and garden deck. - CCTV in operation all over the premise area - Security key card access door - 24 hrs on site security guard. I always here to help and show people around. I do get busy sometimes but if that happens. I can certainly point you in the right directions to find what you're looking for. CHECK IN/ CHECK OUT TIME: check in and check out anytime. If there isn't any guest Checking In and Checking Out in the same day then I have no problem with Early Check In or Late Check Out time. So, please let me know when you will be arriving and departing, preferably on the day you book. I will try to do my best to put you in at the most convenient time. WHEN YOU'RE ARRIVING: It would be good that you let me know (by Chatting, Line, SMS or Call, Airbnb chat) just before leaving or when you get into the transport and leaving from the Airport to the apartment. So I know that you come to the right direction. Maybe I pick you up at the airport. If you can not communicate with the taxi driver, give my phone number to him to call me then I call him back or you call me and hand the phone to him to speak with me.
Suwannabhumi International Airport and Airport Rail Link (Huamak station)
Great! Pictures are real! Nat is so nice to pick up and send me to the airport link station!
Ze Hua
2016-09-16T00:00:00Z
The condo is nice and comfy just enough for 2 people and the 7 eleven down the building is very convenient. If you really don't want to move there is a restaurant and I even had a haircut. Everything is in the condo. Nattharat doesn't have the WiFi but if you need it you can go to the library. The swimming pool was nice as well. I would come back!
julien
2016-10-25T00:00:00Z
10/10. Even though i stayed for a short period of time i enjoyed my stay at mr nattharat place. Clean and peaceful. Will be staying at this place when i come next time.
Jevan
2016-07-31T00:00:00Z
Nattharat is a really good host! He is always available for questions and has a quick response. The apartment is real clean, just like the pictures. The swimmingpool is perfect. Its close to the suvar. Airport. Nattharat picked me up from the station, which was nice. Its great if you want to stay near the airport. Other than a big mall there is not much to do in the neighborhood. For me it was perfect, as I had to fly in a few days.
Roshni
2016-09-03T00:00:00Z
We lived so comfortable. And the host was so nice. When we had any problems, he would tell us how to solve it. Especially, the swimming pool was so good.
日权
2016-07-25T00:00:00Z
ขอบคุณ กบ สาวได้ จอง 1 คืน ห้องพัก สะอาด มีความปลอดภัยสูง ระบบคีย์การ์ด. ยาม 24 ชั่วโมง ร้านสะดวกซื้อ 7/11 อยู่ไกล้สถานีหัวหมาก -ห้องพัก10-15 นาที ( แท็กซี่ 50 บาท ) ถ้าคุณมีธุระ หรือ การเปลี่ยนเครื่องบินสะดวก ประหยัดเวลาได้มาก / จากสุวรรณภูมิ - หัวหมาก / 3 สถานี ( 15 นาที ) Thank you , nice plase , safe ,clean
Sao
2016-09-14T00:00:00Z
Nattharat is great! He helped us out a lot by picking us up from the train station and for providing all the amenities we needed for our 1 night stay. Only stayed one night, but would stay again.
LindaRosa
2016-08-02T00:00:00Z
Fantastic host - very attentive and helpful. Picked me up and dropped me off to the train station. Great space and facilities
Alice
2016-12-10T00:00:00Z
Τύπος δωματίου
Ιδιωτικό δωμάτιο
---
Τύπος ιδιοκτησίας
Σπίτι
---
Άτομα
2
---
Υπνοδωμάτια
Μπανγκόκ, Krung Thep Maha Nakhon, Ταϊλάνδη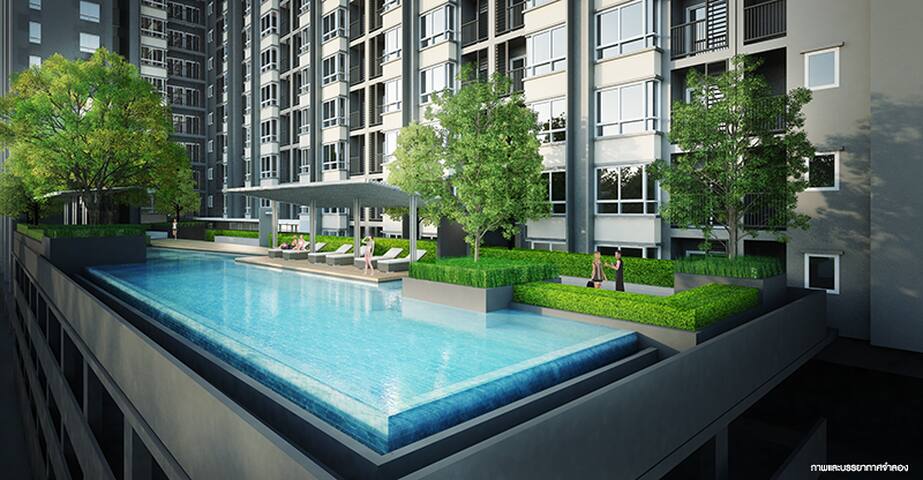 The room at the corner of 5th floor and pool view, Close to National Institute of Development Administration, Ramkhamhaeng University, Rajamangala Stadium,Tha Mall Bangkap,Tawanna market
เป็นอาคารชุดมีจำนวน 3 อาคาร ตั้งอยู่ปากซอย 60/2
Good place to stay, good price, very nice host.
Heinrich
2016-11-23T00:00:00Z
We had a good stay at Phoom's home. The room was as descripted. Phoom is a very friendly and helpful person. Although it is a little bit out of town, you can find everything you need just around the corner. Very delicious food and a night food market every two days. Thanks!
Dominik
2017-02-05T00:00:00Z
We had a great 19 day stay at the apartment! Went to the pool/gym every day (after 10 am you have to pay 50 THB per person). The apartment, although tiny, was awesome, the kitchen fully equipped (lots of pots, pans and cutlery), washing machine, huge TV, AC and fan. We loved the fact that it was so quiet, nice neighborhood. The host, Phoom, speaks good English, check in and out was so easy and we would definitely recommend this aparment!
Kasper
2017-01-26T00:00:00Z
Nice small apartment with everything you need. Ratchaphoom is very helpful and friendly. Had a good stay.
Milorad
2017-03-10T00:00:00Z
Great place to stay! Small, convenience apartment with everything you need, very close to airport, shopping, food and more. Mr Ratchaphoom was a fantastic host, really made us feel welcome and was super helpful. Nice value, we'd say again.
Caitlin
2017-03-01T00:00:00Z
Great place, nice pool and gym, far from center though
Tara
2017-02-10T00:00:00Z
The room was as described in the picture. Convinient transportation to suvarnabhumi airport. 7-11 was entrans building, ATM, coin laundry, small restaurant in the listing area. I had relax in this listing. host was kind and friendly. Room had not too big but tidy and clean.What you need is organized functionally. The scenery seen from the window also rests my mind.... stay in busy Bangkok. I want to stay more long days at this listing when come back to bangkok on next time. thank you very much.
kazuhiko
2016-12-13T00:00:00Z
We had a really awesome stay at Phoom's place. Although it is not in Central BKK - we found the area really interesting and fulfilling for all our needs. There is street food around the corner, big Bang Kapi market with fresh fruits, food and everything-else-you-can-imagine in just 10 min walk from the condo. There is security and staff available in the building all the time and we must say that staff was so friendly and we felt great staying there. Pool and gym are free till 10AM which was also great, everything was really clean and on-spot. Phoom was helpful for everything we needed and asked, he was also very flexible for our checkin and checkout times which we really appreciate.
Andrej
2016-12-27T00:00:00Z
Τύπος δωματίου
Ολόκληρο σπίτι/διαμέρισμα
---
Τύπος ιδιοκτησίας
Διαμέρισμα
---
Άτομα
2
---
Υπνοδωμάτια
Μπανγκόκ, Krung Thep Maha Nakhon, Ταϊλάνδη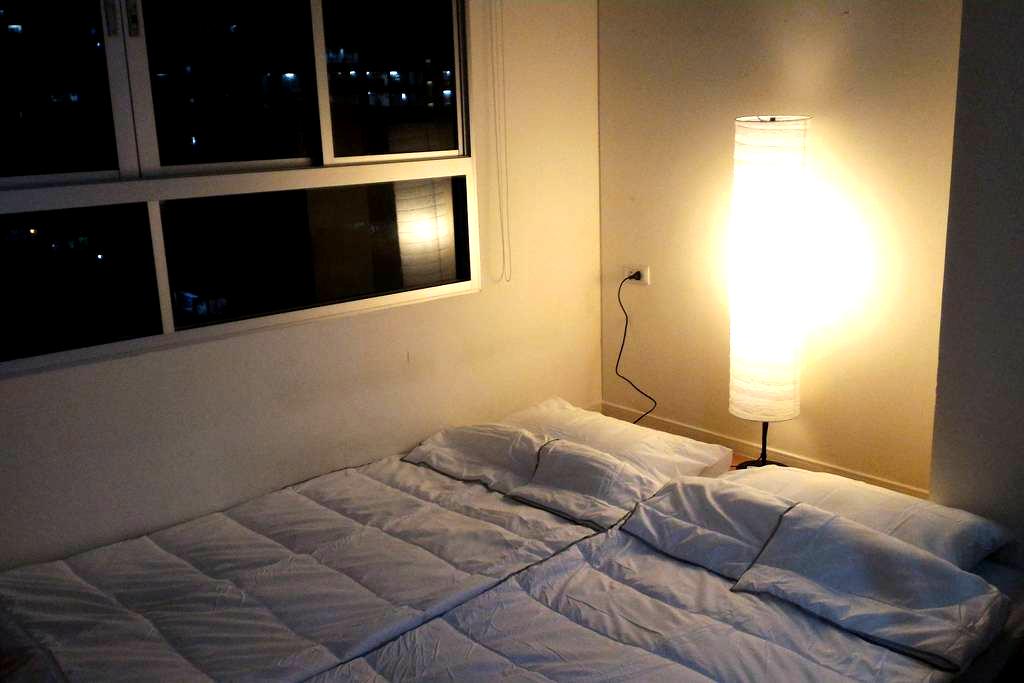 One bed room apartment. It Comfortably fits two to three and is located in urban area, just two blocks from The Mall Shopping Center. Enjoy our street food nearby the property, and very easy to go around. Ex; take boats through Saen Saeb canal, and buses. Not far from airport.
One 5 feet bed, TV, wifi, refrigerator, laundry, AC, water heater, and microwave. We can provide extra bed and mattress for third and fourth person.
This apartment is very safe. There are security guards around the clock. We also have the security key card to get into the building.
Nice cozy room. If i need a room around Bangkapi, Bangkok i would rent here again.
Htut Khaung
2016-12-19T00:00:00Z
We really enjoyed our stay at the apartment. Everything was perfect, very nice and clean place. Just a little too far from the centre for tourists. Amazing apartment though.
Joanna
2016-12-12T00:00:00Z
Jirat was a very welcoming and helpful host. The place itself is just as pictured, very clean and cozy. The condo however, is very far from main tourist areas. If you're not in any hurry, the Wat Sriboonreung Pier is within walking distance of the condo. From there you can take a khlong (canal boat) to the Sukhumvit area for about 17 baht. The time it takes to get to the city via khlong is the same as being stuck in traffic in a taxi... and it costs much less. Taxis are abundant however, if you do decide to go that route. So if you're looking for a nice, quiet place that's a little removed from the more touristy areas of Bangkok, but within walking distance of public transportation, Jirat's place is highly recommended.
Christine
2017-01-25T00:00:00Z
Second time stay in Bangkok and Jirat place was quite a good place to stay. Quiet neighborhood and very closed to the convenient stores as well as the restaurant. The price is also kinda affordable too! If you love the place which there's not too much noise, this definitely the place for you to stay in Bangkok. Totally recommended for long day stay at Bangkok!
Phi
2017-03-08T00:00:00Z
Τύπος δωματίου
Ιδιωτικό δωμάτιο
---
Τύπος ιδιοκτησίας
Διαμέρισμα
---
Άτομα
5
---
Υπνοδωμάτια
Μπανγκόκ, Μπανγκόκ, Ταϊλάνδη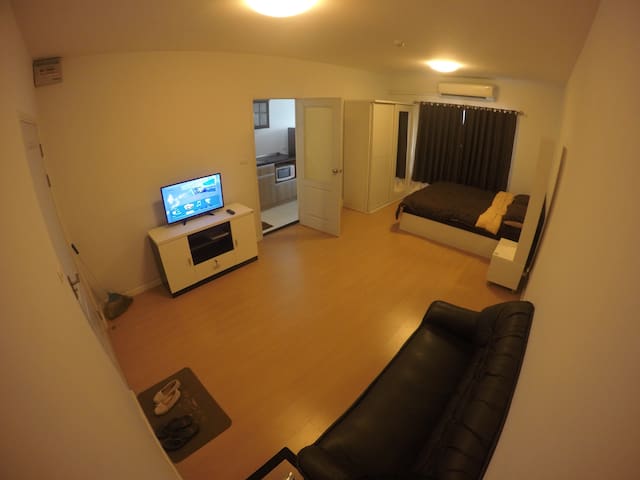 My place is close to restaurants and eating places, shopping, city center, parks, and beautiful views. You will love my place because of its location, atmosphere, views, people, and outer space. My accommodation is suitable for couples, adventurers,. business travelers, and families (with children). the rest of me, close to restaurants and eating, shopping, downtown, parks, and great views, you'll love my place because of the location, atmosphere, views. people, and outer space.
You can use the real location of my condo at (SENSITIVE CONTENTS HIDDEN) map from this link (URL HIDDEN) Accessible by private car, bus and taxi. Meet the needs for the new generation. With a prime location on Ramkhamhaeng Road with many transportation routes. • Only 5 minutes to Airport Link Station, Hua Mark Airport. • Only 5 minutes to the development junction. • Only 5 minutes to Rama 9 Road. • Only 15 minutes to Suvarnabhumi International Airport, Ramindra. • With shopping mall such as The Mall, Seacon Square, Carrefour, Major, Big C, Lotus, HomePro • Office Building, Leading Education Institution, Ramkhamhaeng University, ABAC, NIDA, King Mongkut's Institute of Technology Ladkrabang สามารถเดินทางได้โดยรถส่วนตัว, รถประจำทางและรถแท็กซี่ ตอบสนองความต้องการสำหรับคนรุ่นใหม่ ด้วยทำเลที่โดดเด่นบนถนนรามคำแหงกับการคมนาคมหลายเส้นทาง •เพียง 5 นาที ถึงสถานีรถไฟฟ้า Airport Link สถานีหัวหมาก •เพียง 5 นาที ถึงสี่แยกพัฒนาการ •เพียง 5 นาที ถึงถนนพระราม 9 •เพียง 15 นาที ถีงสนามบินสุวรรณภูมิ มอเตอร์เวย์ รามอินทรา •พร้อมแหล่งช๊อปปิ้ง เช่น เดอะมอลล์, ซีคอนสแควร์, คาร์ฟูร์, เมเจอร์, บิ๊กซี, โลตัส, โฮมโปร •อาคารสำนักงาน, สถาบันการศึกษาชั้นนำ, ม.รามคำแหง, ABAC, NIDA, พระจอมเกล้าเจ้าคุณทหารลาดกระบัง
- Distance from Suwannaphumi airport to my place about 19 km. ,you should come to a taxi costs about (PHONE NUMBER HIDDEN)ht. Use time around 30 minute. - Distance from Don Muang airport to my place about 33 km., you should come to a taxi costs about 250 baht. Use time around 30 minute to 1 hours. - Travel by Airport Link from Suwannaphumi station to nearest station is Hua-mak station (Airport Link) cost about 25 bath and go to my place by taxi about 4 km. cost about 100 bath. Total (PHONE NUMBER HIDDEN)th
非常好的房主,等我们到7点多,亲自介绍公寓里的一切,有免费的泳池,汗蒸,以及健身房,交通也比较方便,值得推荐,希望下次还能来住
莉
2017-03-31T00:00:00Z
超级赞的房子和超级赞的房主、
祎阳
2017-03-23T00:00:00Z
The host canceled this reservation 7 days before arrival. This is an automated posting.
Patrick
2017-02-21T00:00:00Z
Annie, is super genuine host. Everything was clean, and the apartment has everything we need. If you're looking for bangkok "local" experience to stay, this is the place. But note that it might be tricky to access public transport, you always have to take taxi. Five star for Annie hospitality, I would def comeback!
Leonardus
2017-04-04T00:00:00Z
住的舒服,很干净,东西齐全,环境很棒,房东人很热情,很好。真棒!!
嘻哈
2017-03-19T00:00:00Z
Τύπος δωματίου
Ολόκληρο σπίτι/διαμέρισμα
---
Τύπος ιδιοκτησίας
Διαμέρισμα
---
Άτομα
4
---
Υπνοδωμάτια
Μπανγκόκ, Krung Thep Maha Nakhon, Ταϊλάνδη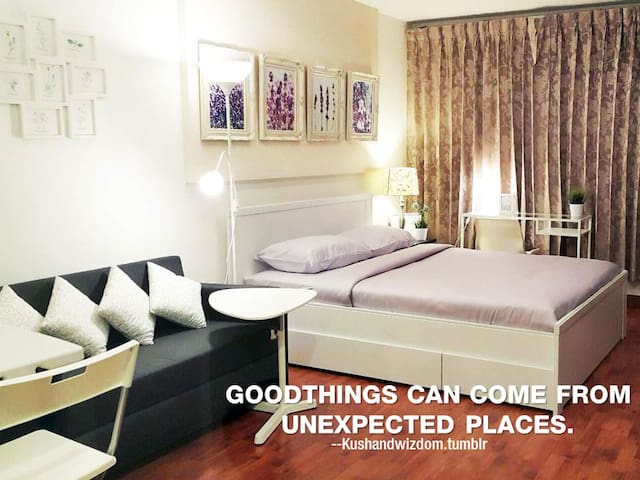 Our cool and comfortable 2 bedroom condominium has a true city feeling! It comfortably fits two and is centrally located on a main street. Enjoy a gourmet kitchen, gym, pool, green garden, food courts, restaurants, coffee shops, 24 hours minimarts, supermarket. And easy access to all interesting place in city.
Warm and safety living with 24 hours security. And so comfortable living with many 24 hours minimarts and supermarkets.
Peaceful. Wi-Fi connection was great. Just right next to the gym and pool area - which made it awesome. Host was very responsive to all inquiries.
Piyu
2016-10-23T00:00:00Z
The host is very understanding and try hard to fix any problems. The place is not far from main street when coming from soi 128/4.
Jaeng
2016-07-10T00:00:00Z
The condo is really great and cute
Yulia
2017-04-09T00:00:00Z
Τύπος δωματίου
Κοινόχρηστο δωμάτιο
---
Τύπος ιδιοκτησίας
Συγκρότημα κατοικιών
---
Άτομα
5
---
Υπνοδωμάτια
Μπανγκόκ, Μπανγκόκ, Ταϊλάνδη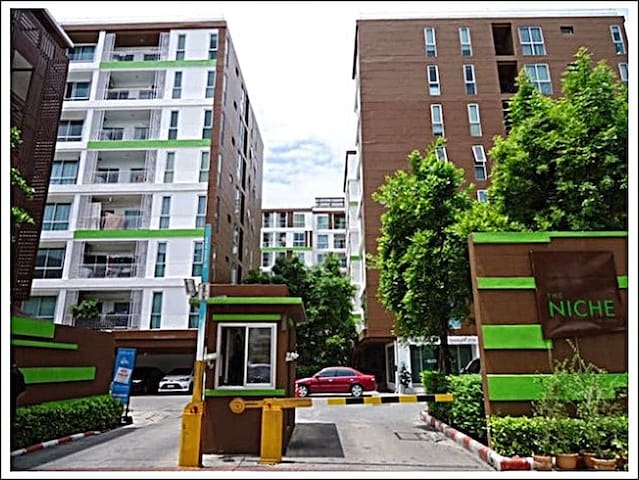 BANGKOK HORIZON is a 37-floor condominium located just 20 minutes from Suvarnabhumi Airport (BKK). Within a close reach includes Kwan-Riem Floating Market, Siam Park, and Safari World. The building is equipped with fitness center and swimming pool.
This spacious 80 sqm. condominium unit is located in Bangkapi Area. There are several convenience stores (7-Eleven and Family Mart) within a walking distance. A large department store, THE MALL Bangkapi is just 15 min. walk. Batcat Toy Museum is also 10 min. walk, if you are a action-figure superheroes this is the place you can't miss.
This condominium is located in the center of BANGKAPI District. Within a 1 km. distance there are, 12 7-Eleven branches and 3 Family Mart branches. The Mall Bangkapi Department Store and Tesco Lotus Hypermarket is 900 meters away (1 bus stop).
I cannot imagine staying somewhere else. This place was exactly what we were looking for for our one month stay. Excellent location, large apartment fully equipped like at home. Great, caring and always helpful host who helped us with everything we needed. Also amazing swimming pool in the 8th floor, children loved it.
Petra
2017-03-29T00:00:00Z
It's very good.Vit is so nice and sweet.The House is more beautiful than pictures my family loves here.
liz
2017-02-03T00:00:00Z
房子在离市中心有一定距离的地方,但是去想要的地方也很方便,打的费一点也不贵。房子在37楼,房间是落地窗的,可以看到非常美丽的夜景!干净和舒适是一定的了不用多说。最重要的是房东vit人非常nice!选这家房子你一定不会后悔的!一定!
Bobby
2017-02-16T00:00:00Z
Hands down, the most lovable, dependable and honest host you will ever get. Vit is beyond amazing and was so catering to us on our honeymoon trip to Bangkok. To be honest, I didn't really have much planned for the trip and Vit totally told us about the hot spots, what to avoid, history, politics, simply everything. The most amazing meal we had in Thailand was actually with him when he took us to a local joint. He didn't have to do any of this but he did and was so nice about it. We really miss him now that we are back in the States. I was hesitant at first when I booked because I was wondering why his reviews were so amazing and now I know why, he just is that amazing. You won't regret if you book with Vit. The place was clean, views were amazing and he even had the kitchen stocked with food (ramen, water, snacks) in case you got hungry. I mean, who does that? He was awesome!
Vatana + Linda
2016-12-29T00:00:00Z
Vit's apartment is very new, clean and beautifully furnished, with an amazing view of the city. And of course, Vit is the best host one can ever find in Airbnb. He went out of his way to make sure our holiday was perfect!
C G
2017-01-29T00:00:00Z
This is a memorable trip, vit a landlord is very good. Because our plane was delayed, he waited until at two o 'clock in the evening, also to pick us up at five o 'clock in the morning, he was always very friendly, always smiling. Vit's room is very beautiful, he also provides us with the food, arrange trip for us, all want to thank him, let us feel at home on this trip, we all like vit and his house. you must not miss vit's house.
杨
2017-02-02T00:00:00Z
i recorded this house. my family love it.its clean、large and has a good view about night. the second is that vit、he is very friendly,let us feel that the holiday in here is charming. 我真的要隆重推荐vit的房子、首先房子很大、住四个人都有剩、带爸妈小孩来玩完全合适、楼下超市大型商场小吃应有尽有、交通便利虽然没有bts、但是轮渡taxi公交照样好使(轮渡值得推荐、坐到siam只需要19b、如果打车才需要130-140b)、第二个要推荐的是房东vit、人超级热心可爱跟贴心、什么都给你备齐、连喝的矿泉水都成箱备好、水果零食泡面给你吃(但我们非常不好意思、爸妈吃了、我们走的时候我还是给他补上了)一直跟我说需要任何帮忙随时找他、临走前一晚跟我确认下一个住址还开车送我们去、我们全家都非常感谢他、现在这个社会还有这样的人的确不多见了、我和老公决定以后来曼谷都住他家!!!
黄
2017-02-28T00:00:00Z
One of the reasons of using Airbnb is the 'host' element, and booking with Vittavas is exactly that. Although we booked the entire flat to ourselves, Vittavas was readily available most of the time, from picking us up from the airport, to stopping by at supermarket for some shopping, dropping us off the nearest train station, offering to accompany us to town by boat, being available on the phone, recommending restaurants, picking us up for breakfast, etc... He is there for you all the time! He anticipates your need like you are staying with a close friend - mobile simcards ready to borrow, wifi on his van when you are picked up from the airport (we all know how important it is to post (SENSITIVE CONTENTS HIDDEN) status asap!), free fruits in the house and some free snacks in the minibar. Seriously, he didn't have to do all these but he did. You won't regret staying with him! He has showed us local markets that we would never have visited if we were to stay elsewhere; sampled some delicious local delicacies. Me and my family are all very grateful for what he has done for us. Super host indeed!
kheng
2017-02-07T00:00:00Z
Τύπος δωματίου
Ολόκληρο σπίτι/διαμέρισμα
---
Τύπος ιδιοκτησίας
Διαμέρισμα
---
Άτομα
5
---
Υπνοδωμάτια
Μπανγκόκ, Krung Thep Maha Nakhon, Ταϊλάνδη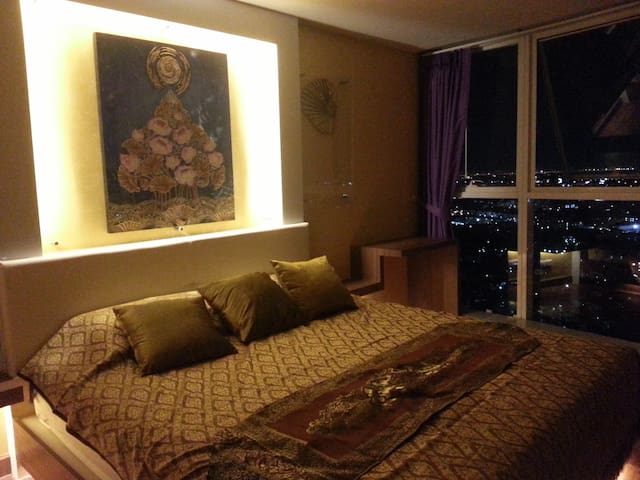 Fantastic view overlook down Swimming Pool from bedroom & Balcony.Newly decorate CHIC style.Close to public transport.Only 20 mins from Airport, 10 mins BTS airport link to city.Free WiFi.Flat smart internet TV movies, 24hrs supermarket
Fully furnished 320 Sqft. metre. - ONE Double Bedroom with air conditioning, good storage space. - LIVING Room, air conditioning, Sofa, Flat smart TV movies & adult xxx, YouTube etc. High speed WiFi Internet connection. - KITCHEN with equipments, Dinning Table, Fridge&Freezer, microwave, kettle, tea/coffee cups. - Bath Room and Toilet with hot water - Other Facilities : Amazing view from bed and kitchen/balcony to a Long big size swimming pool, Gym and garden deck. - CCTV in operation all over the premise area - Security key card access door - 24 hrs on site security guard.
Ed was amazing host, extremely helpful! He meet us at the condo late at night witch was good after long day of traveling. He provided us with all the info we needed regarding the area and getting about. Very nice condo with modern deco, lovely place to stay.
indiya
2016-03-16T00:00:00Z
.
kristin
2016-11-26T00:00:00Z
ed was great. my friend stayed with him before and had no hesitation with booking his place again.
Weijie
2016-12-24T00:00:00Z
It was very simple: we liked it so much that we extended our stay. Great place, quiet, safe, gym, view, pool, convenient, and very nice owner as a cherry on the plate.
Michael
2016-02-06T00:00:00Z
Please read previous post 1st booking was for 6 days and we continue renting for the duration of our trip.. An endorsement of a great place
CHARLES
2016-10-10T00:00:00Z
This is a great place if you are looking to be near enough to airport and downtown, golf courses and night market shopping without the jam. It not downtown BKK but it is near enough with taxi or trains. The location is besides a 24hr Supermaket with a small restaurant (24hr too) plus a small coffee shop and 7-11 to boot !!! A full facility condo that have all the amenities. Ed and Mrs Chan been great in communication and assistance during our stay .. Superb place .. recommend it !! PS: At least 2 golf course .. 20 - 25 mins away.
CHARLES
2016-10-06T00:00:00Z
It was an awesome stay at Ed's apartment. It is very clean, with a nice sized room for two. Its only a 10 minute walk to the nearest train station so you can avoid heavy traffic. It's a quiet and safe area which is monitored daily by security and has a nice pool to enjoy with a gym as well. Ed went above and beyond to make sure we had all the info we needed and was very helpful by letting us check in early after a very long flight. Great little spot to stay in while in Bangkok. I am going to book with Ed again right now for our return stay over, if it is free that is :-) Cheers Ed. Eric + Isa!!
Eric
2016-11-05T00:00:00Z
Very beautiful experience, Ed is a great man he took the time to explain us what we have to see in Bangkok , and everything concerning the flat. The residencial area is very nice and people around are always smiling and ready to help you or to call a cab. The french guys recommend this flat for sure, don't hesitate to book it !
Felix
2016-05-24T00:00:00Z
Τύπος δωματίου
Ολόκληρο σπίτι/διαμέρισμα
---
Τύπος ιδιοκτησίας
Διαμέρισμα
---
Άτομα
2
---
Υπνοδωμάτια
Μπανγκόκ, Krung Thep Maha Nakhon, Ταϊλάνδη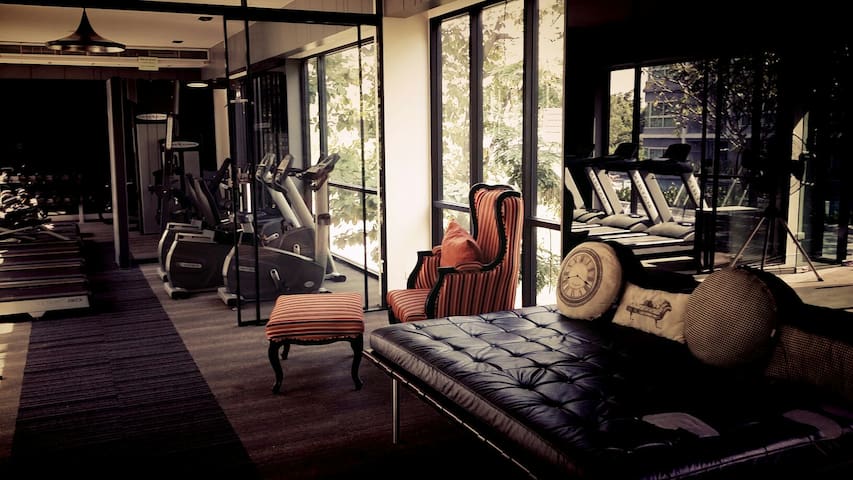 One bed room, one living room and balcony apartment. It comfortably fits two to three and is located in urban area, just two blocks from The Mall Shopping Center. Enjoy our street food nearby the property, just one block to Vejthani Hospital and very easy to go around Bangkok from here. There is Saen Saeb express canal boat pier nearby which it can take you to downtown Bangkok, BTS, MRT, and etc... and this apartment is located only 30 minutes away from Suvarnabhumi international airport.
One living room One bedroom Private balcony One bathroom
This apartment is very safe. There are security guards around the clock. We also have security key card to get into building.
The host canceled this reservation 21 days before arrival. This is an automated posting.
Larasati
2017-03-15T00:00:00Z
very nice very comfortable apartment ,except the location is hard to find
Peng
2017-01-31T00:00:00Z
The place is very nice and cozy. The location is great to travel around and around the place had lots of food which is great through out the day when you feeling hungry. The host is very friendly and nice.
Zak
2016-12-25T00:00:00Z
Excellent accommodation, host was very punctual and also very helpful. He called us a cab at checkout so we wouldn't be caught in the rain. Pleasant area, definitely recommend!
Matt
2017-02-03T00:00:00Z
The place was lovely. But it's too far from the center. Taxi from here to Sukhumvit main area would be 200 Baht, and would take at least an hour in rush hour.
phuong
2017-01-03T00:00:00Z
Arm was very friendly and responsive. The neighborhood is close to a large street market and a huge mall. Almost everything in the apartment was as expected apart from a slow wireless internet, which is not a big problem if one has a local sim card, but can be critical for others.
Ivan
2016-12-19T00:00:00Z
Good value but it's not walkable to the Mall.
Christopher
2017-01-10T00:00:00Z
Great budget place, far better than most hotels for the money. Probably suited to the younger traveller and comfortable for two people or three if your really on a budget and don't mind a small sofa but you can put the cushions on the floor. The pool and gym are an added bonus. There is only a microwave in the property but lots of local eating places close by, and a Tesco Lotus and a 7/11 100m away. The water taxi station is a 15 min walk.
Jane
2017-02-13T00:00:00Z
Τύπος δωματίου
Ολόκληρο σπίτι/διαμέρισμα
---
Τύπος ιδιοκτησίας
Διαμέρισμα
---
Άτομα
3
---
Υπνοδωμάτια
Bang Kapi, Μπανγκόκ, Ταϊλάνδη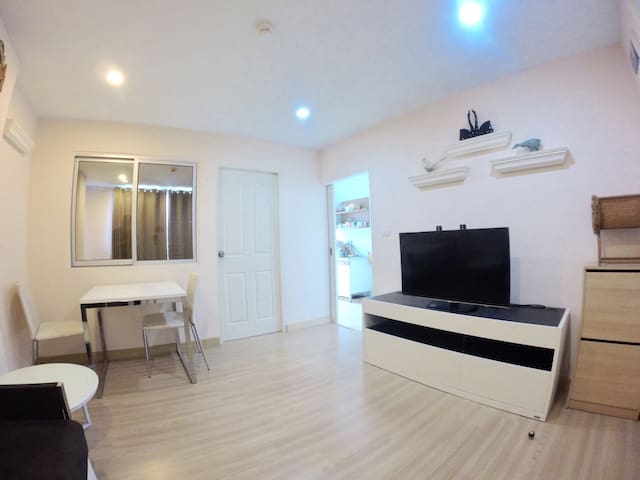 My place is good for couples and solo adventurers.
My space is relaxing place for your trip in Bangkok
The Mall Bangkapi, Suvarnabhumi International Airport, Ratchamungkala National Stadium, Ramkamheang University
Τύπος δωματίου
Ιδιωτικό δωμάτιο
---
Τύπος ιδιοκτησίας
Άλλο
---
Άτομα
2
---
Υπνοδωμάτια
Μπανγκόκ, Ταϊλάνδη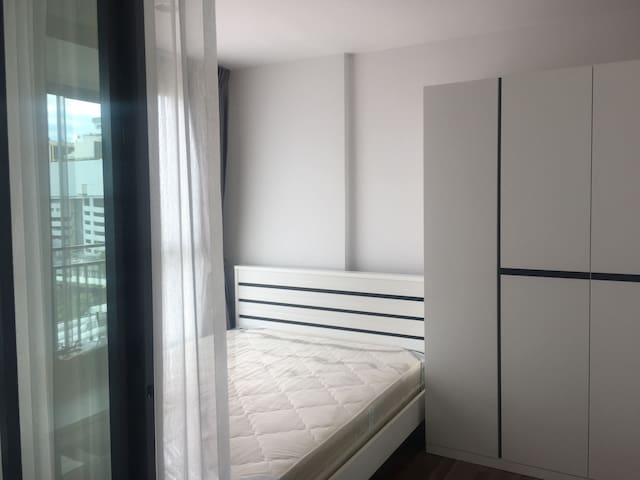 Bang Kapi - Airbnb
:
Μέσος όρος

4.69

στα

5

αστέρια από

267

κριτικές επισκεπτών