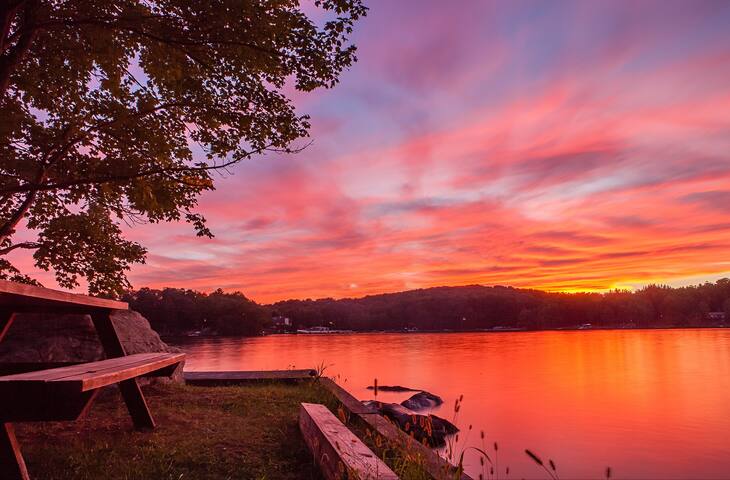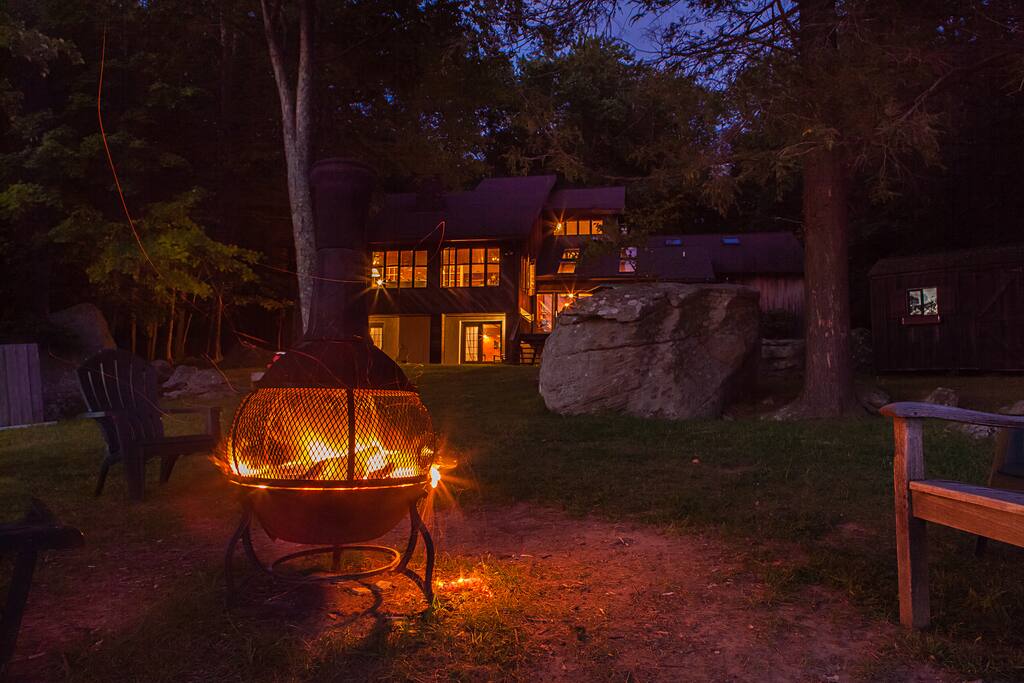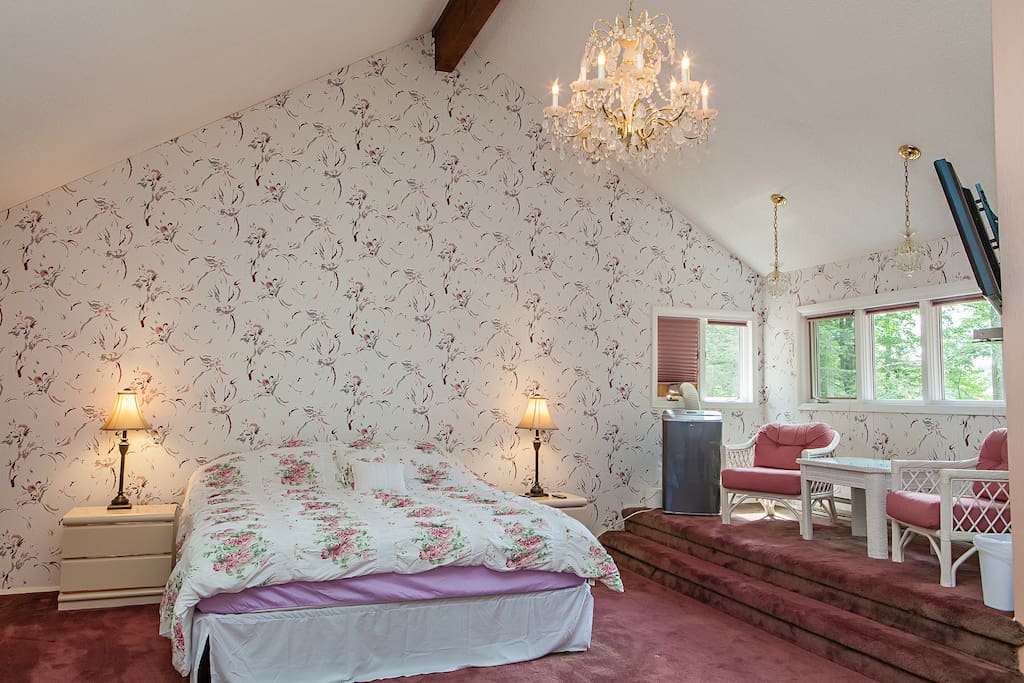 VERY LARGE POCONOS 6BR LAKE HOUSE SLEEPS UP TO 25+
Enjoy our LAKE FRONT home and retreat located in the upscale, gated, 5 Star community of the Hideout. The house can accommodate 24+ guests. We are 90 miles from NYC & Philly. Near ski mountains, water parks, shopping, casinos & dining! The Hideout features many amenities that you will have access to - Enjoy our beaches, pools, indoor and outdoor tennis, skiing, miniature golf, 9 hole golf course, kayak & canoe rentals, Nubia Arts & Ceramic making center and more!
Ο χώρος
PLEASE CONTACT US FOR CURRENT RATES FOR ANY DATES.
FALL SPECIAL: ANY NON HOLIDAY WEEKEND - 2 nights special with an arrival time of 11 AM and a departure time of 4 PM : $60 per person per night plus cleaning fees of $200. Minimum of 12 guests staying 2 nights . Towel rental, spa room, earlier arrival and later departure time are also available for a flat fee.
Holiday Specials are available - please inquire.
Please note that prices are based on a minimum of 12 guests. Smaller groups are welcome but, please note there will be an increase in the price per person. Single night stays are available - please contact us for rates.
BOOKING NOW FOR SUMMER 2018 -
Enjoy our beautiful property to relax, unwind and just kick back by the lakeside or inside by a roaring fire. Or take a day trip to one of the many area attractions located within a reasonable driving distance from our home.
Our 4500+ sq foot home is nestled in the woods directly on the shore of Roamingwood Lake. Our lake house is directly on the water and you are can swim right from our docks or stairs going into the lake. Our private backyard provides ample room for you to sun bathe, relax, go fishing or take a swim in the lake. Our lakefront property is by far the best seat in the Hideout for the Hideout's annual 4th of July fireworks spectacular!
During the Fall you can enjoy the beautiful the fall foliage and wine tours around the Poconos. During the Winter you can enjoy the Hideout community's own private ski and tubing hill. GREAT for beginners and a safe place to drop the teenagers off for an afternoon or evening!
There are always tons of activities sponsored by the Hideout for any of our guests to participate in. Summer Olympics, fishing derbies, bingo night, karaoke at the Clubhouse, Zumba classes and much more!
Located near our lake house: Casinos, Cove Haven entertainment, Hershey Park, Claws and Paws, several golf courses, several family fun centers with go carts, miniature golf, arcades , great restaurants, beautiful hiking trails, Camelback Mountain and other ski mountains, Skirmish Paintball Park, Zip Lining, antiquing and much more!
PLEASE CONTACT US FOR CURRENT RATES. RATES ARE SUBJECT TO CHANGE UNTIL RESERVATION IS CONFIRMED. Rates are based on a minimum of 10 guests. All day guests and overnight guests must be registered prior to arrival. SPECIAL OFFERS are valid for 24 hours. Discounted rates may be available for non holiday weekend and mid week stays. Please note that registration fees paid to the Hideout on your behalf are non refundable and non transferable for any reason.
Our rate includes: linens for all of our beds including comforters, fitted and flat sheets and pillows, fully equipped kitchen, propane for our grill, starter firewood for our fire pit/fire places, basic paper supplies, access to all of the Hideout amenities at member prices – some of our amenities at the Hideout include ski hill, snow tubing, Nubia Art & Ceramic Center, 9 hole golf course, miniature golf, state of the art fitness center, indoor and outdoor tennis, wood working shop, indoor and outdoor basketball courts, rentals for – tennis racquets, canoes, kayaks, paddle boats and much more. During the summer we pay for and include free access to both of the Hideout beaches and pools for all of our guests. Included in the basic rate is an arrival time of 4 PM and a departure time of 11 AM. For a flat fee, earlier and later departure times may be available. Cleaning fees, towel sets and our spa room are an additional fee.
We now offer catering packages and grocery packages. Have the kitchen stocked for you upon your arrival! Inquire about details.
Our lake front home can accommodate up to 24+ guests for a week or a weekend. Located near several ski mountains, water parks, casinos, great restaurants, hiking and so much more! Our home has 6 bedrooms and 4 ½ bathrooms. We have: 1 King bed, 6 queen beds, 1 full sized futon, 1 set of bunk beds, 3 twin beds/mattresses, 2 queen sized air mattress and 1 full sized air mattress.
FAQs:
How many cars will fit in the driveway? Up to 12 cars can fit into the driveway - weather permitting.
How many guests are permitted to stay? Up to 30.
What is the regular check in and check out time? Regular check in time is 4 PM and check out time is 11 AM. Earlier arrival times and later departure times are available for an additional fee.
Are single night stays ok? Yes during the months of April, September and October. There is an additional fee for single night stays to cover registration fees paid to the Hideout and other expenses.
Are linens included? Linens for all of our beds are included. Towel set rentals are an additional fee.
Are pets allowed? Non-aggressive breed dogs that are house trained and obedient are permitted with our consent. All dogs must have been treated for ticks and fleas with 30 days of your departure date. There is an additional fee for all pets depending on their size.
What is included with the base rate? The base rate includes an arrival time of 4 PM and a departure time of 11 am, linens for all of our beds, free access to the beaches and pools in the Hideout – during the summer months, basic paper supplies including: paper towels, toilet paper, garbage bags, etc., fully equipped kitchen with all necessary flatware and dinner ware and fully functioning appliances, starter firewood for the fire pit and in the winter time the indoor fireplaces, free wifi, propane for the grill, access to the Hideout amenities at member prices vs guest prices and more
Is there direct lake access? We have two lakefront lots that you will be able to enter the lake from to go swimming.
Can we bring our own boats or jet skis? If you intend to bring our own boat or jet skis you must register any water crafts with the Hideout recreation department prior to your arrival. Please ask us for more details.
How much is the spa room fee? The spa room fee depends on the number of guests and the number of nights you will be staying.
What is the minimum age to rent the house? We are prohibited from renting to anyone under 26 years old.
Are discounts available? During non peak weeks and weekends we may be able to offer combination packages at a discounted rate
Is a deposit acceptable to reserve our dates? Yes – we will send you a request for a non refundable down payment to reserve the dates you are interested in which will block those dates from other potential guests. Payment in full is required no less than 4 weeks prior to your arrival date.
Enjoy a relaxing getaway on our lakefront property. You and your guests can spread out in our 4200 square foot home and take in the views of the lake right from our spa room.
We provide a convenience to you for budgeting purposes. After agreeing to a total rate - we can send you an initial down payment rate for a percentage of your total rate with the understanding that a second request for the full agreed upon total will be submitted to you for payment prior to your arrival.
Our rate does not include AirBNB fees charged to you as a guest.
Our home has 3 levels. Here is a description for each floor/room and the number of guests that can comfortably fit in each room.
All sizes of rooms listed are approximate.
Air mattress sizes that are available in our home are: 2 queen and 1 full sized.
TOP Floor:
Master Bedroom Suite (Bedroom 1) (20x30): king sized bed, sitting area, master bath with Jacuzzi, stand up shower, two sinks, toilet. There is ample room to put at least one if not two of the air mattresses in this room. This is the only room that has a portable air conditioner at this time.
Sleeps 2 – 6
Bedroom 2 (16 x 20)– Has two full sized beds that can be pushed together to create a queen sized bed. There is a private bath in this bedroom with a tub, shower, sink and toilet. Sleeps 2 – 4 people
Main floor:
Bedroom 3 (15x15) – Has a queen sized bed. Sleeps 2 (one of the air mattresses or the single mattress can be put into this room if desired)
Bedroom 4 (9 x 12) – Has bunk beds and a single mattress available for added sleeping areas. This is a small room.
There is a bathroom across from Bedroom 3 and next to Bedroom 4. This bathroom is also the one used predominantly by all house guests on the main floor.
Sun Room – there is a sofa that can comfortably accommodate 1 person as a sleep area if needed (this sleeping area is not included with the total number of beds available)
Lower Level:
Bedroom 5 (also has the laundry room in here) (20x20) : This room has a queen sized futon as well as a child's sized futon. (Sleep 2-3)
Bedroom 6 (7x10) – has a queen sized futon – can sleep up to 2 people. Please note: This room has no windows.
On the lower level there is a half bath with a sink and toilet.
In the Spa Room there is a ¾ bathroom with a stand up shower, toilet and single sink.
The air mattresses can be put where ever you want in the house.
Additional amenities on our property:
The spa room has a sauna and a hot tub which can be made available to you and your guests for an additional fee.
The back porch has an outdoor dining table that sits 6 as well as a grill which is available for your use. Currently, there is also a picnic table at the base of the steps next to the back porch.
The game room (on the lower level) features a bar area (byob), a poker table, a foosball table, an air hockey table and a shuffle-bowling table. There is a music system available both on the main floor as well as the lower level.
There are 3 fireplace openings within the house for our guests to use. Firewood is not guaranteed to be left at the house but, if there is firewood available on our property, you are permitted to use it. Firewood can be purchased at several locations within 5 miles of the Hideout.
Included with your rental is free wifi, expanded cable tv and direct access to the lake. Fitted sheets, pillows and pillow cases and comforters are provided for the number of beds requested by the renter. We can provide towel sets for our guests for an additional fee.
IMPORTANT: Please note that once your confirm your reservation - we pay a fee to the Hideout for your stay. Registration fees are non refundable and non transferable. If you cancel your reservation after 72 hours of confirming it - we can not refund those fees to you for any reason. Registration fees are based on guest's length of stay.
Down payment will be no less than double the amount of guest registration fees.
ALSO: Please note that we do not have an ON DEMAND HOT WATER HEATER. It is a regular electric hot water heater. It recovers relatively quickly but, for large groups we recommend a staggered shower schedule and to wash dishes at night. The hot water heater is 50 gallons and once it is depleted takes about an hour to completely recover. Short showers are recommended for large groups.
PLEASE NOTE: Because our home is in a gated community - we pay a fee for all of our guests depending on their length of stay to the registration department. The guest fees are included with your rate that we give to you and we pay them on your behalf. These fees are paid within 48 hours of your confirmation of your reservation. These fees are non refundable and non transferable for ANY reason.
Πρόσβαση επισκεπτών
You will have access to the entire home minus the garage and one closet. Guests will have access to all of the Hideout community amenities - POOL AND BEACH PASSES ARE INCLUDED WITH YOUR RATE (regularly $7 per person per day) (some amenities are an additional fee) I will email you the fees so that you will know ahead of time what to expect. However, if you would like to - just go to the Hideout website and click the amenities tab and choose the activity you are interested in and the brochure will be listed for you to look at. Some amenities are seasonal.
I will explain your guest benefits regarding the Hideout community when you confirm your reservation.

The driveway is a circular driveway and has parking spots for 10-12 cars.
Upon confirming your reservation, we will email you forms that the Hideout requires for guests.
The use of the hot tub located in the spa room is an additional fee. Please contact us for details. Earlier arrival times and later departure times may be available for an additional fee.
We offer catering and grocery service packages. If interested - please inquire.
Parties of 12 or more may incur an additional cleaning fee.
Small pets (non violent breeds) will be considered on an individual basis. An additional fee will apply for each pet. All dogs must be up to date with their vaccines and have preventive flea and tick regiment in place prior to coming to the Hideout.
Αλληλεπίδραση με τους επισκέπτες
We are a phone call away. Most issues can be resolved via a phone call and if absolutely necessary we can come to the house to resolve any issues or send our property maintenance group to address the situation.
Please have your PA booklet and Spa PDF available for your arrival as many of our guests questions can be answered in both of those emails that we send to you.
Άλλα στοιχεία προς σημείωση
Security Deposit: Please note that your security deposit is held by Air BNB not us. We believe that your credit card is NOT charged for your security deposit unless we make a claim for damages AFTER you have departed our home. Please do not ask us about refunding your security deposit as this is a matter to be discussed directly with air bnb.
Hot Water Heater: for large groups we advise a staggered shower schedule and to limit the length of time in the shower. Our electric hot water heater is NOT an on demand hot water heater and therefore needs time to recover after each use.
Finding a reliable contractor near our home can be somewhat of a challenge at times. We have recently replaced the entire system for our hot tub, our hot water heater and commode off of the spa bathroom. All issues mentioned in any reviews have since been resolved.
Please note: ONLY the master bedroom has an air conditioner. The rest of the house has multiple fans and ceiling fans. Our house is IN THE WOODS and RIGHT NEXT to a lake - therefore, you will encounter wildlife, mosquitoes, dirt, dampness and humidity during the summer.
Hot Tub: PLEASE DO NOT ENTER OUR HOT TUB WITH DIRT AND SAND ON YOUR BODY OR IN YOUR BATHING SUIT. The pebbles and dirt can damage the motor and filter in our spa. An additional fee will be added after your departure if the spa is filled with dirt, pebbles and debris.
Sauna- if the sauna stops working please refer to the spa PDF as to how to reset the unit. It will trip if guests turn the temperature too high. It is a safety feature.
Two night minimum required when a Saturday night is booked.
Single night stays will be considered during off peak days and seasons but may incur an additional fee.
Please note: The Hideout Community is a private, gated, 5 star community. It is a beautiful place to enjoy your vacation. The rules and bylaws of the community specific to renters are in place to protect the community. The Hideout has their own EMS in case of an emergency. They also have their own security patrol that is always available and frequently drives down all of the roads in the Hideout. (Please familiarize yourself with the Hideout rules and regulations prior to coming into the Hideout). Any fines incurred by out guests will be doubled if not paid before your departure from our home .
Please keep safety in mind - if our guests accumulate fines - the Hideout POA will not be allow us to rent to future guests .
Please contact us for off season special deals, large group packages or extended stay rates.
---
Αυτή η καταχώρηση διαθέτει τις απαραίτητες παροχές για επαγγελματίες.
---
---
Υπνοδωμάτιο 1
1 κρεβάτι king size, 2 στρώματα δαπέδου
Υπνοδωμάτιο 2
2 κρεβάτια queen size
Υπνοδωμάτιο 3
2 κρεβάτια queen size
Υπνοδωμάτιο 4
3 μονά κρεβάτια
Υπνοδωμάτιο 5
2 κρεβάτια queen size
Υπνοδωμάτιο 6
1 διπλό κρεβάτι
Κοινόχρηστοι χώροι
4 καναπέδες, 3 στρώματα αέρα
---
Η άφιξη πραγματοποιείται μετά τις 16:00
Αποχώρηση μέχρι τις 11:00
Άφιξη χωρίς παρουσία οικοδεσπότη με keypad και doorman
•
The Hideout bylaws allow us to only rent to guests who are 26 years of age or older. Any guests under 26 years old must have someone in their group present during their stay that is 26 years or older.
Check-in time is 4 PM. Check out time is 11 AM. Earlier arrival times and later departure times may be available for an additional fee.
Please visit the Hideout website to view the Hideout consolidated rules. It is the guest's responsibility to know what may or not be permitted within the Hideout and during their stay. Ie: lake rules
When we correspond - I will send you a complete list of all of the specific house rules.
Rental Agreement must be signed (will be emailed to you directly after reservation has been confirmed) and returned to us within 10 days of reservation confirmation or if less than a week remaining to the start date of your rental - must be returned within 24 hours .
Absolutely no diving off of our docks!
Please respect our home with kindness and consideration.
For liability reasons and Hideout rules - our boat and jet skis are not for guest use. You will be able to rent boats and/or jet skis at nearby lake Wallenpalpuk if you wish. Kayaks, canoes and paddle boats are available to rent through the Hideout recreations department for our lake.
Hot tub use: if you have paid for the use of our hot tub, we ask that you turn the heat all the way down when not in use and put the cover on. Any guest that uses the spa/hot tub/sauna without prior consent from the owner and without paying the additional fee will have $500 deducted from their air bnb security deposit. The hot tub has an alarm notification that will alert us if it is being used without us programming it prior to your arrival.
Children are welcome with any adults over the age of 26.
Please leave our house the way you came into it. Remove all garbage from the premises prior to leaving. The Hideout has its own recycling center conveniently located down the street from our home.
Dogs allowed only with prior permission from the owners and with additional fee. (Breeds considered "dangerous" are not permitted in the Hideout)
Only guests registered with us and in the Hideout are permitted on our property during your stay.

Smoking permitted outside of the house on the porch or on the grounds. Please use ashtray receptacles for your ashes and cigarettes.
You are visiting a lakeside home which means often there is humidity in the basement. We ask that you empty the dehumidifier at least once a day.
Do not leave the fire pit unattended and extinguish all flames before leaving it for the night. Please adhere to any postings in the Hideout of any current ban on open flames
Please do not remove any items that were originally located in the home.
No underage drinking No illegal drugs
Waivers must be signed prior to use of the home
Fishing is catch and release unless otherwise posted. Anyone fishing must have a current PA fishing license with them. Fishing license may be purchased at the Sports R Us which is located outside of the Hideout next to the Quickmart.
All rules for the Hideout are strictly enforced and any fines our guests collect during their stay are expected to pay before your final day of rental or the fines will be doubled and deducted from your security deposit.
We ask that if there are any issues or concerns with our home that you contact us within 12 hours of your arrival.
---
Our stay at the lake house was absolutely perfect! Kristin was so helpful and great at communicating. The house was beautiful as pictured with plenty of space for my group and amazing and easy access to the lake. This was the perfect spot for my reunion and we are planning to rent again for a trip next year!
---
We had a group of 10 of us looking for an outdoorsy-style house to stay in for the weekend, to get away from busy Manhattan. This house was incredible, quiet, and scenic. The hot tub and sauna are must-have additions that really helped everyone decompress. Communication via email with Kristin was easy, quick, and convenient. I would definitely consider staying at this house again!
---
The place and hosts were AMAZING. I don't where to begin. I made some last minute changes and Kristin was more than accommodating, and answered every question i had. Place was huge, super clean, and easily fit the 11 of us. The hot tub and downstairs with bar and games were so much fun. We went when there was three feet of snow, but couldn't have asked for a better time or better place. Highly recommend!
---
Rhinebeck, Νέα Υόρκη, Ηνωμένες Πολιτείες της Αμερικής
Έγινε μέλος το Ιούνιος 2015
Thank you for considering one of our homes as your vacation destination! We enjoy meeting new people from across the globe. Our interests include everything from gardening to gambling at the casinos and everything in between. Our preference for food is always sushi - however…
Ρυθμός απάντησης:
100%
Χρόνος απάντησης:
εντός μιας ώρας
Εξερευνήστε άλλες επιλογές μέσα και γύρω από την/το Lake Ariel
Περισσότεροι χώροι διαμονής στην τοποθεσία Lake Ariel :