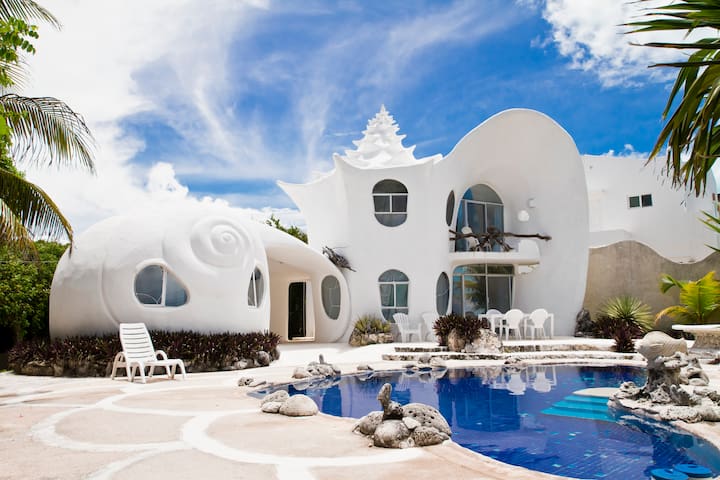 Ολόκληρο σπίτι/διαμέρισμα
Σχετικά με αυτήν την καταχώρηση
The world famous Seashell house is a gated property .... owners/architects live next door. You will have a private pool, two king beds , kitchenette and BBQ and entire property, both shells . In shell wifi, air conditioning.
I am proud to enable your stay . Enjoy a day or more feeling like a celebrity as passers by will seek to look in with intrigued expressions.
Ο χώρος
My dear friends Raquel and Eduardo Ocampo DESIGNED and BUILT the Seashell House and for many years NO ONE KNEW it was possible to stay here and fewer knew how to arrange a stay.
I decided it was too special to keep to myself and I invited the world via AIRBNB !!!
Raquel and daughter Vane are your hosts at this unique island paradise .
If crowded pools, lobby's and the "tourist bubble" are not your idea of an escape then the SEASHELL HOUSE may be the perfect place for your stay in ISLA MUJERES.
Nearest airport : Cancun International
Nearest port :. Puerto Juarez (downtown Cancun adjacent) or Playa Tortugas (Cancun hotel zone)
Nearest beach : we face the rocky north side of the island and the best beach is north beach which is 15 minutes away by golf cart. El Garrafon snorkel park is a short distance in the opposite direction.
Maximum guests is exactly as specified ...there is space for four .
Isla Mujeres is 7 km long and 650 meters wide.
Arrive by convenient taxi (6USD)or by golf cart(35 USD PER DAY) to THE SEASHELL HOUSE(S)
PRIVATE GATED PROPERTY IN RESIDENTIAL ISLA MUJERES ISLAND ~ PRIVATE POOL ~ ONE KING BED IN EACH HOUSE
The residential area is on a cliff side of the tiny island to allow privacy. You are not right in the middle of all the tourists but getting to the most beautiful beaches is easy with a golf cart or taxi.
Of course, privacy is sometimes lost as tourists on golf carts notice the spectacular architecture and stop to gawk over the fence making you suddenly understand how celebrities feel.
The smaller rounder shell has an immaculate KING BED and private bath with shower and a tv with a wide array of channels in English and in Spanish. The private bath with shower is made of tile and shells .
The taller shell has a sitting area downstairs and KITCHENETTE with a large fridge, microwave, gas stovetop and sink with all the tools you need to enjoy meals . The round sitting area also has a tv with satellite channels.
There is also a half bath off the sitting area.
Up a rounded staircase is the master bedroom with a KING BED and private bath with shower. There is a balcony over looking the pool and across the street , the Caribbean Sea.
Wifi is provided for free in the QUEEN CONCH
Every room in the house has a remote controlled air conditioner.
Towels - linens and soap are provided of course :)
Ample parking for your golf cart or scooter.
Tiny geckos make there home in and around the property, and all over Mexico, so if cute little geckos freak you out and will disturb your stay then do not come to the Seashell house.
Come to Isla Mujeres for a vacation that you will never forget, one that you will have fond memories of all year long...until you come .

The houses sleep FOUR PEOPLE TOTAL.
There is one king bed in each house.

~~~~~~~~~~~~~~~~~~~~~~~~~~~~~~~~~~~~~~~~~~~
THE HISTORY :
In 1994 architect Eduardo Ocampo arrived in Isla Mujeres and built a house for himself (and later met his wife Maria Raquel) His brother Octavio Ocampo visited frequently, Eduardo had two pieces of land in a quaint residential area with caribbean sea views....and wished to build on his lot for his brother.
Of course, this could not be any house. Octavio, a famous painter and needed something unique. Eduardo at first wanted a palala...but this was not allowed...having been very influenced by the "mountains" of seashells all around, he was inspired to actually construct a seashell. This would be the vacation home of his brother (in Cuernavaca) , it would be rounded on the inside, the spiral staircase... just inside the shell, a door where there was the mouth of the shell and windows with the form of shells
THE LEGEND :
Years later Eduardo would be tickled to learn that the islanders had created a sort of legend which goes like this ...
The fisherman of Isla Holbox met with the fisherman of Isla Mujeres to boast of their individual islands...Isla Holbox sounded "Our island is where you find the biggest fish in the world !"
The fisherman of Isla Mujeres responded "We are proud to have the biggest shell in the world !"
The biggest shell ?
Yes the biggest shell !!!
When we found it we made ceviche for all of the islanders...and then we sold it to a gringo that lives in it now !"
Though the owners are not gringos...they still laugh when they hear the legend.
Guests can use the BBQ and parking lot .
Raquel and her daughter Vanessa are at the adjacent property . If you cannot find her for your needs you may interact with cleaning or pool staff or leave a message .
The neighborhood is beautifully peaceful and quiet . At night it is very dark and very serene .
A golf cart is necessary as the Seashell House is located in a residential area.
I serve to make your stay possible as I wanted to share it with the world but Raquel is the owner ... Please treat the homes with respect so that she continues to enjoy renting
Πρόσβαση επισκεπτών
Raquel and Vanessa will be happy to pick you up at the terminal and secure a golf cart rental for you (from $45usd per day )you need only follow directions in your Airbnb itinerary
Αλληλεπίδραση με τους επισκέπτες
The owners of the Seashell house are on the plot of land which is accessible by the fence you use to get in .
Raquel and Vanessa are here full time.
Please PRINT YOUR AIRBNB ITINERARY and let them know your arrival time and if you wish for a pick up at the marina. Golf cart rental also easily arranged .
Άλλα στοιχεία προς σημείωση
If you are scared of the adorable geckos that are inside and out , do not come ... They are NOT vermin they are part of life in the Caribbean .
Maid service is twice per week.
For a 2 day stay there is no maid service.
---
Άφιξη: 14:00 - 02:00 (επόμενη μέρα)
Τύπος δωματίου: Ολόκληρο σπίτι/διαμέρισμα
---
---
Υπνοδωμάτιο 1
1 κρεβάτι king size
Υπνοδωμάτιο 2
1 κρεβάτι king size
---
Ακατάλληλο για κατοικίδια
Οι ώρες άφιξης είναι 14:00 - 02:00 (επόμενη μέρα).
Please DO NOT flush toilet paper , please use trash cans.
(Isla Mujeres has a very delicate drainage system)

Please turn off air conditioning when you depart the house for long periods.

Please have no loud music outside after 10pm.

Please don't hesitate to ask for what you need .
---
Αυστηρή
Ακυρώστε έως και 7 μέρες πριν το ταξίδι σας και λάβετε επιστροφή χρημάτων 50%. Αν ακυρώσετε εντός 7 ημερών από το ταξίδι, η αξία της κράτησης δεν επιστρέφεται.
---
The pool was murky enough to keep us from swimming for the duration of our stay. However, the Shell House is absolutely amazing and is as magical as it looks in the pictures. It is the most unique home we've ever seen and our hosts were very warm and welcoming. Definitely recommend it!
---
If you are planning to visit Isla Mujeres, there's literally no better place to stay then at the seashell house. It looks exactly like it does in the photos, it is accurate to call it five star and they take very good care of you in transportation from the ferry to your golf cart and anything else you need. They even gave us a welcome gift upon entry which was wonderful. We fully intend to stay here next time we visit. I can't believe that all the details were entirely handmade and integrated in the building of the house. It is a masterpiece. It
---
The seashell house was everything we imagined and more. We came to Isla Mujeres to become tropical mermaids and this house was exactly what we wanted. It was truly a spectacular, transformative experience to float on the pool on an ice cream floaty while staring into the universe. It was a Piscean magic dream!
---
Where do I even start ?! My husband & I had the most amazing stay here. It was our first time to Isla and everything went so smoothly. Our host Vanessa was very sweet & accommodating, picked us up at the ferry and took us to rent a golf cart. We then followed her to this magical paradise. Every morning we woke up enamored by our surroundings and spent most of the trip eating at so many wonderful restaurants (seriously don't think any are bad on this island), swimming in playa norte, but mostly at the house swimming and enjoying the scenery. This house is a work of art ! I can't thank you and the Ocampo family enough for enabling others to experience it !
---
The Seashell House is an architectural marvel, and the wife of the architect is sweet as pie, but that's about all I have to say good about this place. I thought the other review that I read before leaving about bugs and lizards was harsh, but I actually see his point now. There is a family of nocturnal geckos living behind the painting in the bedroom and all through the night I kept getting woken by their LOUD, echoing cackle calls and suctioning scurry across the walls and ceiling. The 20-something neighbors blasting ghetto rap right under the bedroom window wasn't exactly relaxing, and eventually I tried to combat it by blaring Taylor Swift to no avail. Every time I used the toilet I would have to check under the seat after finding baby geckos and jumping spiders hanging out there. And the kitchen drawers are a constant struggle to keep from rolling back open because obviously they are way off kilter. Also, I had to take FREEZING cold showers even after someone came over to supposedly fix an electrical connection that had cut off the heat. And I'm not sure what pool boy the posting refers to because we had to fish out a crab, gecko, and scorpion from the pool ourselves. If you plan on spending your whole trip here you will need to rent a golf cart from the other side of the island if you want to get anywhere and explore – the closest restaurant is a (sweltering) half mile walk away and is overpriced (for Mexico/the island). I would suggest bringing floats for the pool and earplugs for sleeping. On the bright side, the air conditioners worked well. I don't mean to sound like a downer, I just think you should know that although the architecture is cool, this is not a luxury visit. We spent our first few nights in a boutique hotel on the north end and I felt it was much cleaner and enjoyable.
---
Κανκούν, Μεξικό
Έγινε μέλος το Απρίλιος 2011
I love what I do here in Cancun and I have won 5 years of awards for excellence on Tripadvisor for the quality of my rooms and attention to my guests.

I traded Canada for Cancun when I was 25 because I had a desire to never have to return to " reality" after vacationing again. Mexico proved to be a wonderful place to live.

For 15 years I worked in all the top luxury hotels as concierge / guest services and I learned many things that can help you have a fabulous experience. I'm here full time, not an absentee owner.

The desire to vacation never went away and I enjoy it more than ever and I frequently travel overseas to major world cities (opposite of here!) to open my mind and have new experiences .... always looking for ways to serve you better ~ I love what we do .

Sincerely , Michelle

Γλώσσες:
English, Español
Ρυθμός απάντησης:
99%
Χρόνος απάντησης:
εντός μιας ώρας
Οι ακριβείς πληροφορίες της τοποθεσίας παρέχονται μετά την επιβεβαίωση μιας κράτησης.
Εξερευνήστε άλλες επιλογές μέσα και γύρω από την/το Isla Mujeres
Περισσότεροι χώροι διαμονής στην τοποθεσία Isla Mujeres: