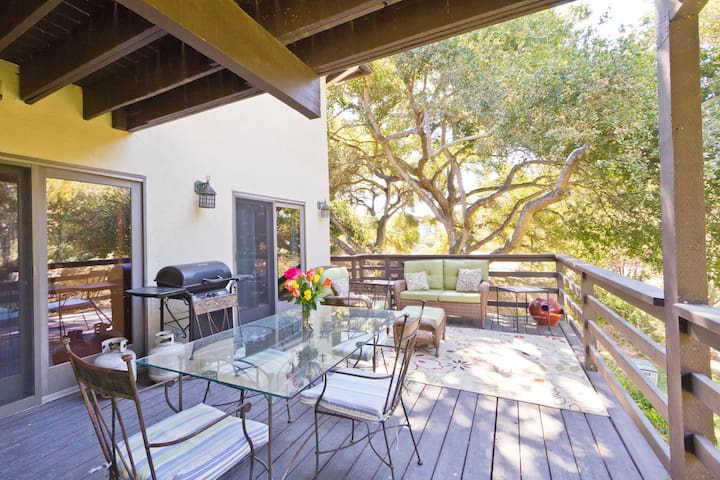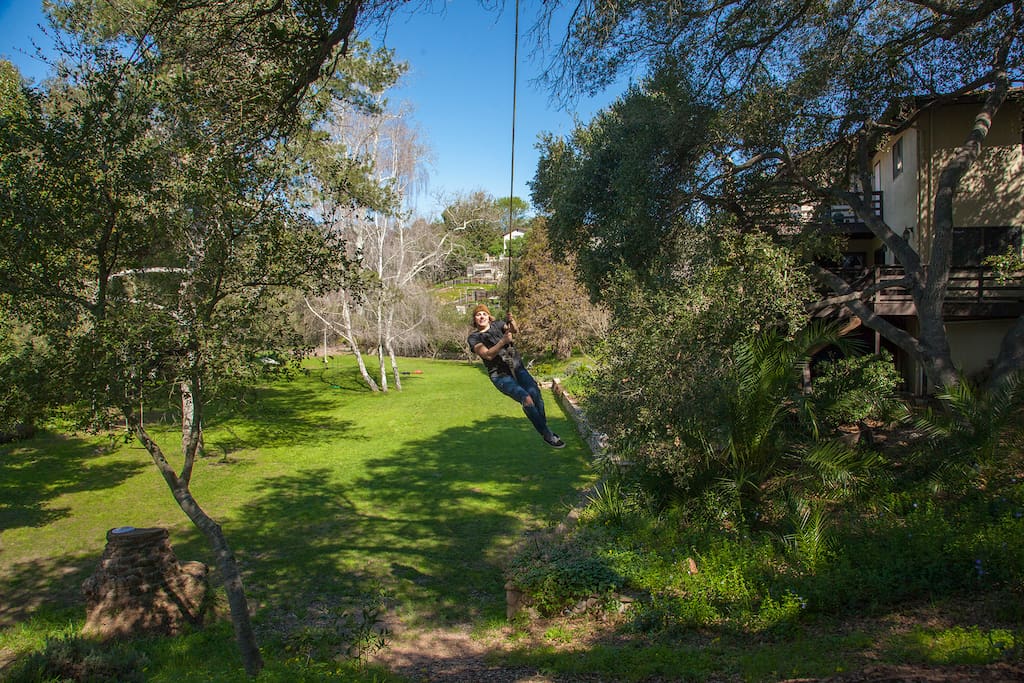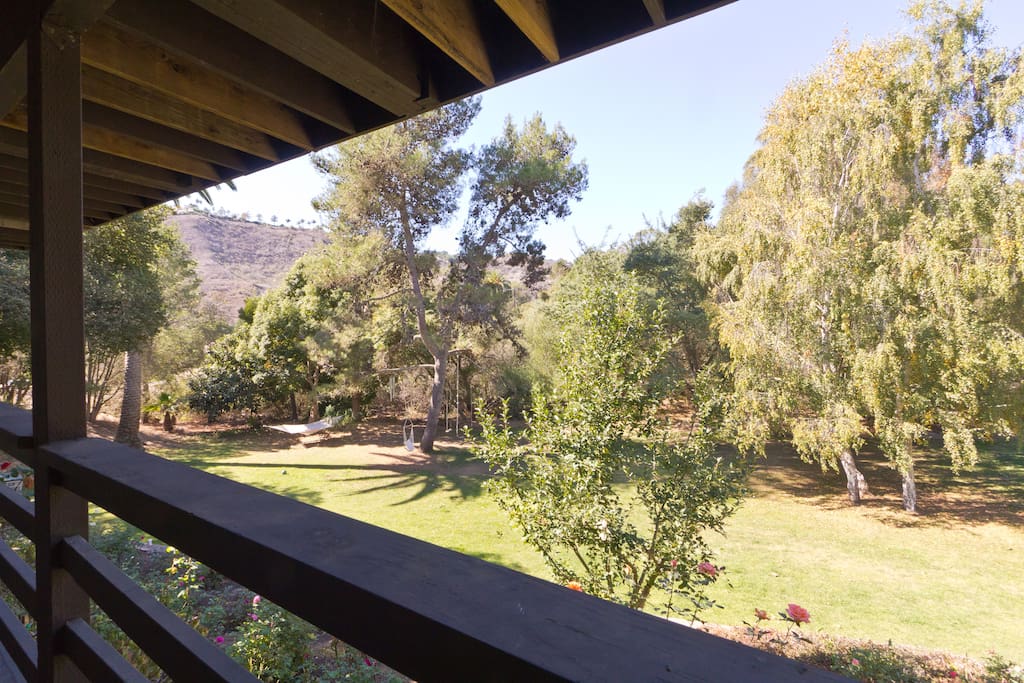 Garden Haven -Huge Yard, by Beach
Garden Haven -Huge Yard, by Beach
Ολόκληρο σπίτι/διαμέρισμα
Nature Stay! Located 1/2 mile from beach, 5 mins to downtown, Kids Pets wonderland, Huge Ranchette, Lawn, zipline, rope swings, fun! 2 bedrooms/1 bath, 1 King, 1 Queen, 1 rollaway, futon, sleeps 6, gated huge deck overlooking yard on 27 acres.
Ο χώρος
This property is an amazing nature retreat. It is located near the beach, yet is adjacent to 27 acres of wilderness with hawks, amazing birdlife, wildlife, trees of all kinds, and foliage to make you feel like you are away in a private park. You look onto a lawn of about 1 acre with tree swings, hammock, zip line, tether ball, all at your beckoning. You have a private entry, down a stairway for your treehouse stay amongst an oak grove on your left and the expanse of the yard to your right and before your feet. There is a historic rose garden of 33 specimen roses saved from extinction, cut them for your stay. Some, never to be bred again. Oranges, lemons, avocados, apricots, plums, and more are planted around the expansive yard. Hummingbirds and butterflies abound.
Beautiful 2 Bedrooms and 1 Bath (Sleeps 4-6) The Master bedroom has a king bed, the other bedroom is on the opposite side of the property with a Queen bed.
For parties of more than 4, there is a rollaway bed, and a fold open futon in the closet in the master bedroom for 2 more sleeping spaces (or the big couch). Lots of extra linens.
The living room is in between both bedrooms. HD TV's in each bedroom and in the living room, Free Internet, DVD players in each bedroom and in the living room.
There is a spacious deck with a BBQ and Table for outside dining adjoining the oak grove and over looking the rose garden and magnificent lawn. Nature in all it's glory.
The property is the downstairs floor that is completely separate from the upstairs floor. There are two units on the property. This unit is the lower unit by the oak grove. Each are separate units. Each's entry are very apart from each other. The above property is available too, and sometimes the owner occupies the above unit, or a separate apt on the property when not traveling. Each unit has a gated deck for pets to be contained so doggies can go in and out, and have a gate to keep them from wandering into trouble. The yard is mainly fenced, but not 100% for escape artist puppies! The yard is in a bowl which keeps it far away from the street for kids or pups.
The kitchen has a full refrigerator, gas range/stove, dishwasher, fully equipped for you to cook, blender, coffee pot, dishes, cooking equipment are all there. Lots of spices and dry goods.
Terrific comfort, very clean, in a rural upscale neighborhood, between Hope Ranch and the Mesa, very close to the beach at a great value.
The neighborhood is very low density houses.
This unit is very children and pet friendly, original impressionist oil painting collection. Toys, games and books are there for kids of all ages. No neighbors can see into unit, quiet, peaceful. Birds and wildlife viewable from every window.
Enjoy playing in the expansive yard! Great for croquette, and other sports, equipment provided for you, your children and pets - it feels like a park, yet so private -- the property is unique in it's very large size and setting. It overlooks 27 undeveloped acres of wildlife, trees, and just beyond the beautiful hillside view is the beach.
Behind fog line, so SUNNY! If you have ever been to Santa Barbara, you know it can be foggy, but this property is just beyond the fog line, so we get less coastal morning fog!
Very quiet area, and very quiet unit. There is another unit above this unit on the property. The property is built in a way that each unit, this one your inquiring about is the lower unit, and the upper unit, are completely private with separate entry ways, and built into a hill, so they are quite well insulated for sound.
A caretaker is available to help if needed.
It is a 2 minute drive, 10-15 minute walk, to a scenic surfing beach that has on one end a dog beach, and one of California's most scenic oceanfront restaurants 'The Boathouse'. It is 5 minutes to downtown by car, the harbor, pier, etc., and 5 minutes by car to Montecito, 10 minutes to the Santa Barbara Airport.

King & Queen beds, with a rollaway bed in the master closet and also a futons with bedding in the master closet, for 6 sleeping total. The bedrooms are on opposite ends, with the living room in between the bedrooms. The bath has a shower/tub combination. Relaxing is easy with all the serenity around you and in the unit itself.
For stays of one week or more, there is a cleaning helper that will come one day to clean your unit and do wash and fold laundry for free. It really makes your stay a vacation...!
DOG RUN: Newly installed chain link secured dog run so you can let your doggie (s) rest comfortably while you sight see. Shaded area, big enough for multiple dogs.
This is a very special unique property which makes your vacation stay here special - very very few properties in Santa Barbara have this type of amazing yard, (URL HIDDEN) really like a private park, it's a wow.
Deposits are promptly refunded upon departure through AIRBNB with no damage to unit.
This is a non-smoking unit, feel free to smoke on the outside deck. This is not a party house, and not available for weddings or events. No wild student parties. This is for the enjoyment of those staying at the property.
Keywords: Close to beach, secluded, large yard, children & pet friendly, private unit, country living, oak trees, wildlife, views of nature, close to downtown, close to tourist attractions.
Πρόσβαση επισκεπτών
Guests have access to the huge yard from your private, gated balcony deck. There is a small stairway that takes you from your private deck to the large yard. The yard is shared with the upper unit, which also has a gated private balcony deck, and their own stairway to the other end of the yard.
There are dog parks nearby, at Hendry's Beach, and The Douglas Preserve, maps in the property. Parking for 1 car in driveway, and lots of free street parking.
Αλληλεπίδραση με τους επισκέπτες
Guests enter property with a lockbox, so check in at any time after check in time is fine. Owner is available by text, email and phone all the time. Attractions and area info is in welcoming book. Upon booking, please send your direct email so owner can send you specific check in directions and a nifty handbook about the property and area.
Άλλα στοιχεία προς σημείωση
Ironing board, iron, plenty of linens/towels, beach towels, beach chairs, games, etc, fully equipped for kitchen items, cleansers, paper towels, paper products, etc. Just like a fully equipped house should be!
---
Άφιξη: Οποιαδήποτε στιγμή μετά τις 15:00
Τύπος δωματίου: Ολόκληρο σπίτι/διαμέρισμα
Άφιξη χωρίς παρουσία οικοδεσπότη: Θυρίδα κλειδιών
---
Δωρεάν χώρος στάθμευσης στις εγκαταστάσεις
---
Έκπτωση ανά εβδομάδα: 11%
Υποστηρίζει το επαρκές εισόδημα
Τα άτομα που καθαρίζουν την καταχώρηση αυτού του οικοδεσπότη πληρώνονται το επαρκές εισόδημα διαβίωσης.
Μάθετε περισσότερα
Επικοινωνείτε πάντα μέσω της Airbnb
Για να προστατεύσετε την πληρωμή σας, μην μεταφέρετε ποτέ χρήματα και μην επικοινωνείτε έξω από την ιστοσελίδα ή την εφαρμογή της Airbnb.
Μάθετε περισσότερα
---
Υπνοδωμάτιο 1
1 κρεβάτι king size
Υπνοδωμάτιο 2
1 κρεβάτι queen size
Κοινόχρηστοι χώροι
1 μονό κρεβάτι, 1 καναπές
---
Απαγορεύονται τα πάρτι και οι εκδηλώσεις
Η άφιξη πραγματοποιείται μετά τις 15:00
No smoking inside rental, but outside is fine. If you bring a puppy, or doggies, please clean up after them. This is not a party house for students, weddings, or events. Use rope swings, zip line, and play equipment at your own risk. They are fun, but be careful!
This Rental Agreement and Contract (the "Agreement") is a legally binding agreement made and entered into as of the Reservation Date generated by computer with guest's deposit paid on line as confirmation through the website originally used to inquire about the property and is by and between the undersigned person(s) or company (the "Guest") and the undersigned owner, manager or agent ("Rental Agent"), pursuant to which the Guest has agreed to rent the residence described below (the "Property"), for the duration of the Rental Term for the Total Rental Fee and other good and valuable consideration as described herein.
OCCUPANCY
Guest agrees that no more than [Max Guests] persons shall be permitted on the Property at any time during the Rental Term, all of whom shall comply with the conditions and restrictions imposed upon Guest under this Agreement, unless other arrangements are made in writing and confirmed by Rental Agent.
PETS: Guest agrees to disclose pets, breed, number of pets, upon reservation, at the same time as renting. Guest to only bring pets that are trained NOT to urinate or defecate in the house or decks, stairs. If pets are found to not be housebroken, contract is immediately void and guest must leave and forfeit deposit and prepaid rent. Guests, you must only bring pets that you have confidence will not soil property. Excessive barking is a nuisance to neighbors, so please do not reserve if you know your dog barks excessively, as that will be grounds for termination and forfeiture of monies as well.
CONDITION AND USE OF PROPERTY
The Property is provided in "as is" condition. Rental Agent shall use its best efforts to ensure the operation of all amenities in the Property, such as internet access, satellite or cable TV access or hot tubs, fireplaces as applicable. Rental Agent shall not be held responsible for such items failure to work, but will make every effort to correct any issues as reported as quickly as possible. Guest acknowledges that use of amenities such as hot tubs, pools, spas, fireplaces, decks, swings, zip lines, hammocks, yard equipment and the like may be potentially dangerous and involve potential risks if improperly used, particularly with regard to children and such use is at the Guest's own risk. Because many amenities are outdoors and may deteriorate prior to use, please check and inspect for proper working condition prior to use, or don't use it.
Guest shall use the Property for residential purposes only and in a careful manner to prevent any damage or loss to the Property and keep the Property in clean and sanitary condition at all times. Guest and any additional permitted guests shall refrain from loud noise and shall not disturb, annoy, endanger, or inconvenience neighbors, nor shall Guest use the Property for any immoral, offensive or unlawful purposes, nor violate any law, association rules or ordinance, nor commit waste or nuisance on or about the Property. If guest does not abide by this paragraph, law enforcement or private security may be called and guest will reimburse owner for any costs associated.
DEFAULT
If Guest should fail to comply with the conditions and obligations of this Agreement, Guest shall surrender the Property, remove all Guest's property and belongings and leave the Property in good order and free of damage. No refund of any portion of the Total Rental Fee shall be made and if any legal action is necessary, the prevailing party shall be entitled to reimbursement from the other party for all costs incurred. If guest(s) refuses to leave, then property manager may assist or hire private company to remove articles and place them in storage for later pick up, at the cost of the guest.
ASSIGNMENT OR SUBLEASE
Guest shall not assign or sublease the Property or permit the use of any portion of the Property by other persons who are not family members or guests of the Guest and included within the number of and as permitted occupants under this Agreement.
RISK OF LOSS AND INDEMNIFICATION
Guest agrees that all personal property, furnishings, personal affects and other items brought into the Property by Guest or their permitted guests and visitors shall be at the sole risk of Guest with regard to any theft, damage, destruction or other loss and Rental Agent shall not be responsible or liable for any reason whatsoever. Should Guest do destruction to the property beyond the amount held for deposit, then Guest is liable for damages, and collection and or attorney fees or costs for collection of damage refund back to Agent/Owner, including fires guest may start on property and fail to manage.
Guest hereby covenants and agrees to indemnify and hold harmless Rental Agent and their agents, owners, successors, employees and contractors from and against any costs, damages, liabilities, claims, legal fees and other actions for any damages, costs, attorneys' fees incurred by Guest, permitted guests, visitors or agents, representatives or successors of Guest due to any claims relating to destruction of property or injury to persons or loss of life sustained by Guest or family and visitors of Guest in or about the Property and Guest expressly agrees to save and hold Rental Agent harmless in all such cases.
In spite of any rental agreement as well that Airbnb may have on it's site at any time, this rental agreement may supercede, at property owner/managers' request any Airbnb agreement between the parties. This agreement may cover more issues than the Airbnb agreement, and may be more specific as to this specific property.
RELEASE
Guest hereby waives and releases any claims against Rental Agent, the Property owner and their successors, assigns, employees or representatives, officially or otherwise, for any injuries or death that may be sustained by Guest on or near or adjacent to the Property, including any common facilities, activities or amenities. Guest agrees to use any such facilities or amenities entirely at the Guest's own initiative, risk and responsibility.
ENTRY AND INSPECTION
Rental Agent reserves the right to enter the Property at reasonable times and with reasonable advance notice for the purposes of inspecting the Property or showing the Property to prospective purchasers, renters or other authorized persons. If Rental Agent has a reasonable belief that there is imminent danger to any person or property, or damage has occurred, or House Rules are being violated, ie, noise, parties, drug use, smoking, any and all violations, Rental Agent may enter the Property without advance notice. If violations of agreement are observed, guest shall leave property. If guest does not leave, security personnel will be called and guest to reimburse for costs of security, or law enforcement will be called for removal of guest. Guest's items will be packed up by agents of property and will be left for guest to pick up within 24 hours, or as mutually agreed. Storage costs may apply.
UNAVAILABILITY OF PROPERTY
In the event the Property is not available for use during the Rental Term due to reasons, events or circumstances beyond the control of Rental Agent, Rental Agent, Airbnb, will apply due diligence and good faith efforts to locate a replacement property that equals or exceeds the Property with respect to occupancy capacity, location and value that meets the reasonable satisfaction of the Guest, as in Airbnb's policies. Rental Agent shall have no further obligations or liabilities in any manner pertaining to this Agreement.
ADDITIONAL TERMS TO THE RENTAL AGREEMENT
In addition to the standard terms included herein, Guest acknowledges and agrees that the following additional terms and conditions apply to the Guest's rental of the Property:
GENERAL PROVISIONS
This Agreement contains the entire agreement between the parties with regard to the rental of the Property, and any changes, amendments or modifications hereof shall be void unless the same are in writing and signed by both the Guest and the Rental Agent. This Agreement shall be governed by the laws of California, "hotel Law". This agreement is under the doctrine of short term rental, less than 30 days. Any extension of occupancy by Guest does not change the nature of the rental into a long term over 30 day rental. The words "Rental Agent" and "Guest" shall include their respective heirs, successors, representatives. The waiver or failure to enforce any breach or provision of this Agreement shall not be considered a waiver of that or any other provision in any subsequent breach thereof. If any provision herein is held invalid, the remainder of the Agreement shall not be affected. Any notice required to be given under this Agreement shall be in writing and sent to the contact information included herein. This Agreement may be signed in one or more counterparts, each of which is an original, but taken together constitute one in the same instrument. Execution of a reservation, paying deposit to reserve property shall be deemed acceptance of this agreement and shall be considered as good as a signature. The internet execution of this agreement is by the collection of deposits for reservation of the property. Further terms affecting this agreement may be within the writings between the parties regarding the rental, dates reserved, and other computer generated interfaces proffered to both parties during the course of contemplating and reserving the property and are considered amendments to this agreement.
If any reason exists that guest(s) should leave, any waste, damages, noise levels above normal conversation level, pet waste, pet damage, or any other reason, guest must leave upon being asked to leave. If guest does not leave, guest to reimburse owner cost of their own removal by a private security service or law enforcement. No deposits will be returned shall guest be removed, and no refund any rents whatsoever.
All damages caused by guest to be paid by guest's deposit and if damages exceed deposit, guest to pay and be liable for charges over deposit paid.
---
---
Ανιχνευτής μονοξειδίου του άνθρακα
---
Ελάχιστη διαμονή 1 διανυκτέρευσης.
Από 20 Οκτώβριος 2017 - 22 Οκτώβριος 2017 η ελάχιστη διαμονή είναι 2 διανυκτερεύσεις.
---
Σάντα Μπάρμπαρα, Καλιφόρνια, Ηνωμένες Πολιτείες της Αμερικής
Έγινε μέλος το Ιούνιος 2012
I am an artist and a You Tube producer of travel, cooking and have a TV show about Santa Barbara lifestyle. I've lived in SB for 15 years, and was born in Calif. I travel often and have been many places. I enjoy hosting guests. I have caretakers and wonderful cleaning help so the unit is always super clean.

I love to garden, and have a special butterfly garden to save the Monarchs at the property.

Ρυθμός απάντησης:
100%
Χρόνος απάντησης:
εντός μιας ώρας
Εξερευνήστε άλλες επιλογές μέσα και γύρω από την/το Σάντα Μπάρμπαρα
Περισσότεροι χώροι διαμονής στην τοποθεσία Σάντα Μπάρμπαρα: