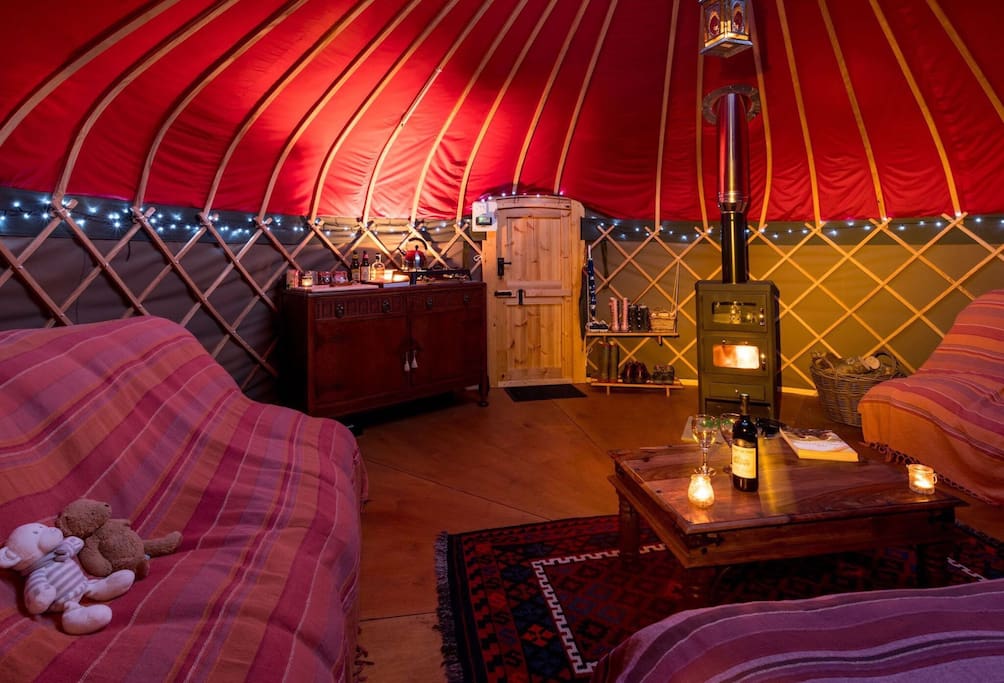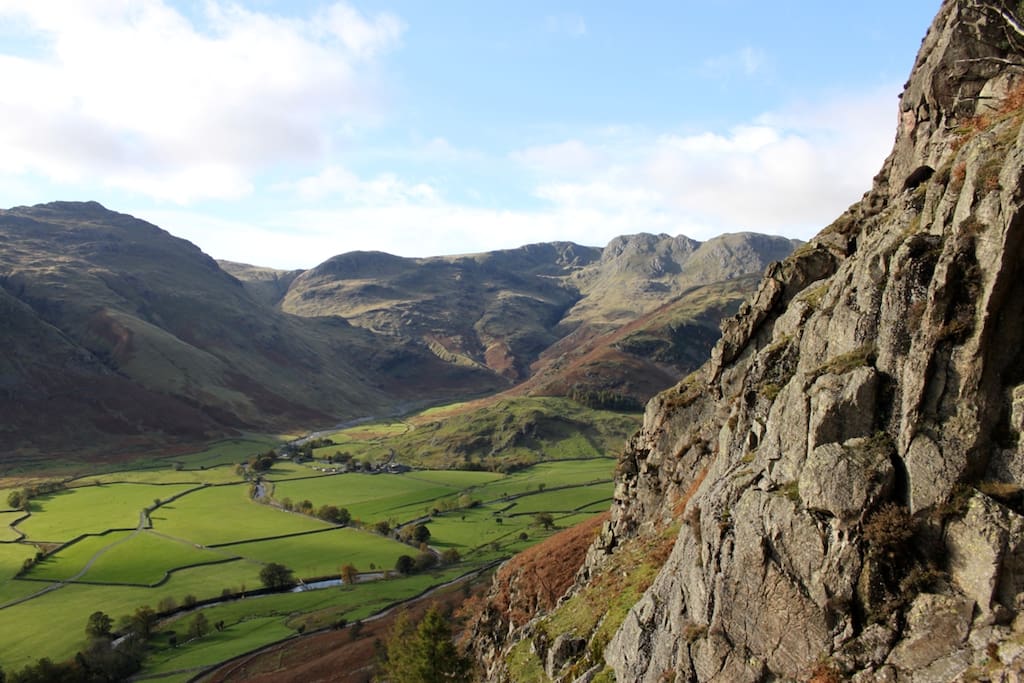 Yurt διακοπές με μια ανάσα καθαρού αέρα Ένα ιδιαίτερο μέρος για εμάς και για όσους επισκέπτονται. Βρίσκεται στην κορυφή της εκπληκτικής κοιλάδας του Great Langdale και φυλάσσεται από τους κυριαρχούντες Langdale Pikes, η περιοχή είναι μια περιπέτεια που περιμένει να ανακαλυφθεί.
Yurt holidays with a breath of fresh air
A special place for us and for anyone who visits. Situated at the head of the stunning Great Langdale Valley and guarded by the dominating Langdale Pikes the site is an an adventure waiting to be discovered.
Ο χώρος
Long Valley Yurts - Holidays with a breath of fresh air
"A truly magical experience" is how some of our guests have described staying in one of our Yurts. Situated right in the heart of the Lake District on the National Trust Campsite at the head of the Great Langdale Valley, you couldn't ask for a more idyllic location.
Surrounded by some of the most spectacular scenery the Lake District has to offer, come and experience 'living in the round' for yourselves and enjoy a unique holiday in a unique environment.
Long Valley Yurts offer the perfect combination of back-to-nature living, without compromising on all the usual luxuries you would wish for on your holiday. Spacious with comfortable beds, warm duvets, cosy wood burning stoves, solar lighting and fairy lights this really is luxury camping. Ideal for families, friends or a romantic getaway, come and experience a holiday with a difference, one you never forget.
From the moment you open the door of the Yurt you will be greeted with the grandeur of the Langdale Valley, it really is something to behold. With Scafell within striking distance, some of the best walking, scrambling and climbing you are ever likely experience in the Lakes you couldn't ask for a more idyllic location. Whether it's adventure, a day out in the mountains, an amble down the valley to the pub or just sitting back in a deck chair soaking up the scenery Langdale is the beating heart of the Lake District and has it all to offer.
Our Yurts
We have three yurts each is 18ft in diameter each accommodating up to six persons comfortably. There is a standard double bed and four single futon style beds. We provide freshly laundered cotton sheets, pillow cases and duvets.
Yurt Facilities
Each yurt has it's own uniquely Moroccan feel. You can also expect the following facilities;
- Raised wooden floors
- Wood burning stoves with integrated oven
- Colourful hand made Moroccan rugs
- Solar powered interior lighting and fairy lights
- Comfortable futons and bedding
- Moroccan lanterns
- Decorated, colourful Moroccan throws
- Fully equipped functional kitchen with all the things you are likely to need for 6 people to cook and dine with
- A games chest full of games and books both old and new
- Drinking water is available from a tap within a short walk. Each yurt comes fully equipped with its own water carrier.
- Large central skylight, to bring the inside to life and for amazing stargazing when the lights go out.
- Male and female shower blocks and toilet facilities a short walk away. Please be aware the on-site facilities are all shared.
Unfortunately we do not accept dogs inside the Yurts although they are welcome on site.
On site facilities
- Well stocked on site shop (campsite reception)
- Freshly brewed coffee and baked bread, croissants and sausage and bacon sandwiches (available from campsite reception)
- Bike hire (campsite reception)
- Small climbing wall
Πρόσβαση επισκεπτών
The Great Langdale site is based on the National Trust Campsite at the head of the Great Langdale Valley. Guests will be able to access and have full use of the all the facilities on site.
Αλληλεπίδραση με τους επισκέπτες
Δυστυχώς, ενώ προσπαθούμε να συναντήσουμε όλους τους επισκέπτες μας, δεν ζούμε στην τοποθεσία και δεν είναι πάντοτε εφικτό. Λίγο πριν τη διαμονή σας θα σας αποσταλεί όλες οι λεπτομέρειες που θα χρειαστείτε για να βρείτε και να έχετε πρόσβαση στο Yurt την ημέρα, συμπεριλαμβανομένων όλων των πληροφοριών επικοινωνίας μας και ένα πλήρες πληροφοριακό πακέτο βρίσκεται στο Yurt.
Unfortunately while we do try to meet all of our guests we do not live on site and it is not always possible.
Shortly before your stay you will be sent out all the details you will need to find and access the Yurt on the day including all of our contact information and a full information pack is located within the Yurt.
Άλλα στοιχεία προς σημείωση
Προσφέρουμε διαμονή σε βάση Mon-Fri ή Fri-Mon. Αν θέλετε να παραμείνετε εκτός αυτών των ημερομηνιών, παρακαλούμε να μας στείλετε μια ερώτηση με τις προτιμώμενες ημερομηνίες σας.
We offer stays on a Mon-Fri or Fri-Mon basis. If you would like to stay outside of these dates please send us an enquiry with your preferred dates.
Δωρεάν ιδιωτικός χώρος στάθμευσης στις εγκαταστάσεις
Απαγορεύονται τα πάρτι και οι εκδηλώσεις
Οι ώρες άφιξης είναι 16:00 - 00:00.
Αναχώρηση μέχρι τις 10:00
We have tried to provide everything you might need to make your stay as relaxing and comfortable as possible. However there are a few things that you will need to bring from home.
We do not provide towels.
The Yurts do not have any refrigeration system we advise you bring a cool box with cool bricks. The campsite shop will re-freeze your bricks for you for a small charge.
In addition we advise you bring suitable cloths and footwear for all conditions, the Lake District can be somewhat un-predictable.
Επιπλέον, πρέπει να αποδεχτείτε
Ορισμένοι χώροι είναι κοινοί - The yurts are based on the National Trust Campsite at Great Langdale. As such shower, toilet & wash facilities are shared.
Περιορισμένη παροχή - The site has no WiFi or phone signal. Switch off your phone and stare at the stars instead.
Long Valley Yurts. Yurt holidays with a breath of fresh air. Based in four beautiful locations with the Lake District National Park and another in the Peak District, come and enjoy a holiday with a difference. Kick off your shoes and relax.. 'A truly magical experience' is how…
Ρυθμός απάντησης:
100%
Χρόνος απάντησης:
σε μια μέρα
Εξερευνήστε άλλες επιλογές μέσα και γύρω από την/το Cumbria
Περισσότεροι χώροι διαμονής στην τοποθεσία Cumbria: