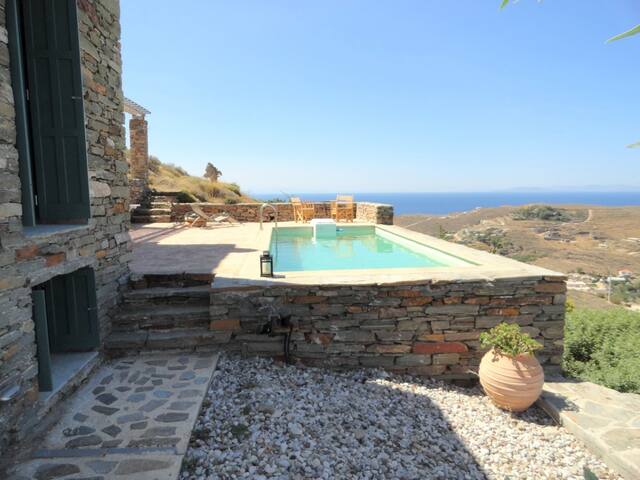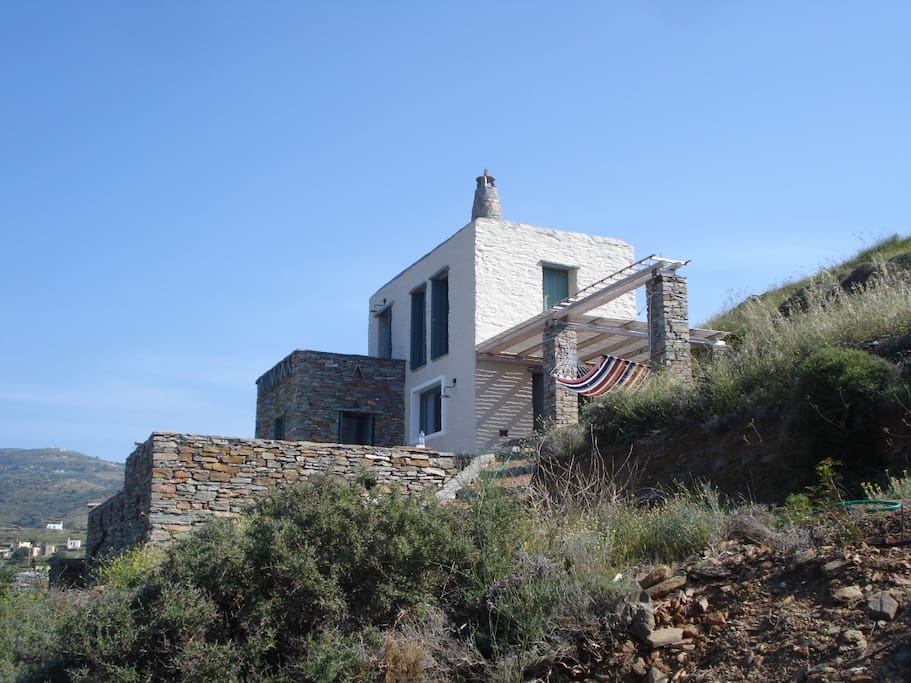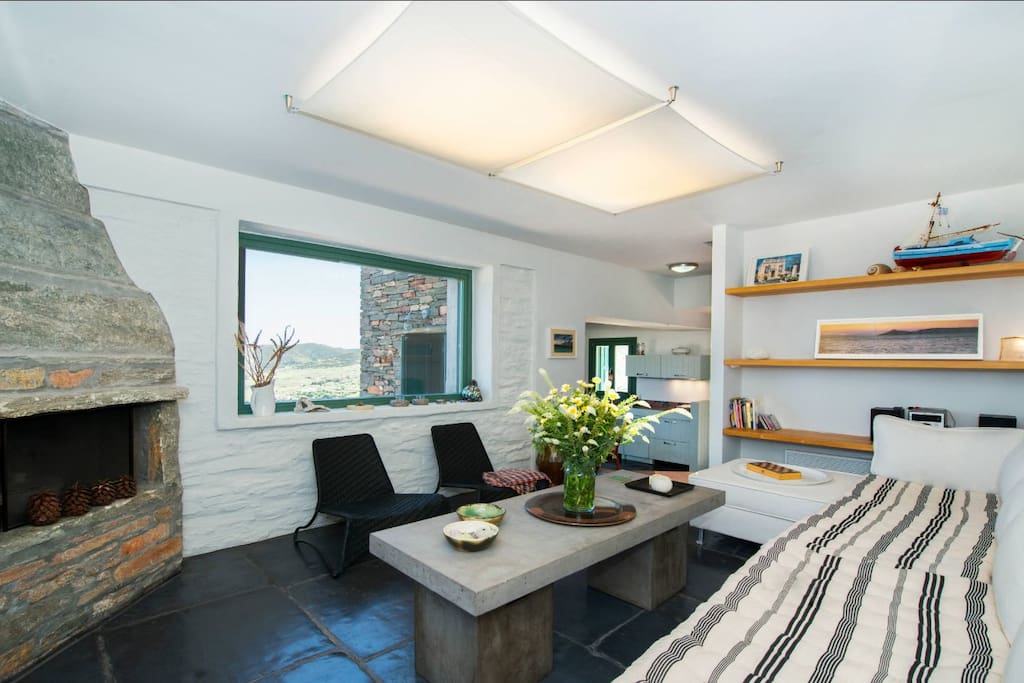 Πέτρινο σπίτι & θέα, πλησίον λιμάνι
Το σπίτι βρίσκεται σε ένα λόφο πάνω από το λιμάνι και το χωριό Βουρκάρι. Είναι σε εξοχική τοποθεσία, κοντά στην πολυσύχναστη παραλιακή ζώνη.
Εξωτερικές αυλές, πέργκολες και πισίνα, με 3 υπνοδωμάτια (Master χώρια). Κουζίνα
2 ΒΔΟΜΑΔΕΣ ΤΟΥΛΑΧΙΣΤΟΝ

Ο χώρος
Ήσυχια, διασκέδαση κοντά: Λιμάνι & Βουρκάρι
Πισίνα
Ωραίο Τοπίο! και πανοραμική θέα
2 Προστατευμένες θέσ.στάθμευσης (πέργκολα)
Σπίτι αρχιτέκτονα, ιδιαίτερο αισθητικά
ΜΟΝΟ ΜΑΚΡΑ ΜΙΣΘΩΣΗ, 2 ΒΔΟΜΑΔΕΣ ή ΠΕΡΙΣΣΟΤΕΡΟ
Πρόσβαση επισκεπτών
>>Η πρόσβαση είναι εν μέρει από χωματόδρομο. Jeep ή crossover αυτοκίνητο συνιστάται. Απαιτείται προσεκτική οδήγηση με αυτοκίνητο πόλης.
>>Τα ταξί κάνουν τη διαδρομή.
>>Πολλά επίπεδα και σκάλες, μέσα και έξω, χωρίς να υπάρχει πρόβλεψη για αναπήρους.
Αλληλεπίδραση με τους επισκέπτες
Εμείς κανονικά δεν θα είμαστε εκεί, αν είμαστε στο νησί σίγουρα θα θέλαμε να σας γνωρίσουμε!
Μπορούμε να προτείνουμε θεματικές εκδρομές του νησιού, πείτε μας τι σας αρέσει!
Καθαριότητα και σεντόνια, δύο φορές την εβδομάδα από προσωπικό.
Άλλα στοιχεία προς σημείωση
The owner is Greek-American architect, trained in USA.
American guests are very welcome and especially Cornell alumni ΑΣΤΙΚΗ ΜΙΣΘΩΣΗ ΜΟΝΟ (αρχή από 10/09/2014)
---
---
Επιπλέον άτομα Χωρίς χρέωση
Έκπτωση ανά εβδομάδα: 11%
Επικοινωνείτε πάντα μέσω της Airbnb
Για να προστατεύσετε την πληρωμή σας, μην μεταφέρετε ποτέ χρήματα και μην επικοινωνείτε έξω από την ιστοσελίδα ή την εφαρμογή της Airbnb.
Μάθετε περισσότερα
---
Προειδοποιείστε μας αν έχετε κατοικίδια, μπορεί να είναι λόγος απόρριψης.
Κάπνισμα μόνο σε εξωτερικούς χώρους ( !είναι μια εξοχική κατοικία, που περιβάλλεται από βεράντες με θέα! )
---
---
Ελάχιστη διαμονή 12 διανυκτερεύσεων
---
What a super place! If you are looking for the perfect place to relax & enjoy beautiful views then Christos' house is for you! We (a family of 5) stayed for 2.5 weeks and we thoroughly enjoyed our stay. The house is fully equipped with everything you need and very tastefully decorated. A lot of attention to detail has been put in to the overall design of the house and it was so comfortable for us. It was impeccably clean upon arrival and twice weekly cleaning by Moda (who changed sheets & towels also) was a fantastic service and not something that you always get with AirBnB - a great touch! Overall - do not hesitate to book this great, great house - you will not regret it. Also 5 out of 5 stars for Christos as host - we have stayed in a number of AirBnB places but we have never had such a great host/welcome/attentiveness (especially with the internet - thanks Christos for constantly keeping an eye on this and tipping us when necessary!)
---
If you want to spend a wonderful time in Kea just go to Christos house which is very beautiful and perfectly located on the island. I read a review about the dirt road going to the house saying that it was 4/5 kilometers long... just a fake information : It's only 1,5 kilometer to go at Christos's place and the view is so wonderful....The house is very confortable with a breathtaking view. The swimming pool is so cool just in front of the house. Living in this house is just being in paradise.... We were so sad to leave... Barbecue, different place to eat, fresh living room, this house has every thing. Christos and his wife gave us so much good tips about Kea as best beaches and best places to eat... The house is so well decorated and the conception is so smart that sometime it was hard to go to the beach!!!! we prefered to stay home!!! So now you have the magic pass to spend a wonderful stay in Kea Thanks Christos!! You are a very good host!! Karen, Denis, Travis, Chine and Miako
---
Das Haus liegt wunderschön auf dem Berg und man hat von dort aus eine herrliche Aussicht. Es ist liebevoll mit vielen persönlichen Dingen eingerichtet und wir haben uns sofort sehr wohl gefühlt. Der Pool und die tolle Terrasse haben wir voll ausgekostet - vor allem unsere Söhne. Dank der Lage war es auch selbst bei höheren Temperaturen immer sehr angenehm, da eine leichte Brise Kühlung verschafft hat. Das Haus selbst ist sehr schön. Es ist nicht riesig aber sehr gut aufgeteilt und vor allem sehr gemütlich. Für uns 4 hatte es die perfekte Größe. Toll war neben dem Pool auch der Grillbereich, denn wir gerne genutzt haben. Dank der tollen Tipps unserer Gastgeber haben wir die Insel von Nord nach Süd und Ost nach West erkundet und dabei tolle einsame Strände gefunden und sehr gut gegessen. Auch die Empfehlung der Kea-Divers war Gold wert - tolle Leute und sehr schöne Tauchgänge. Schweren Herzens haben wir uns nur trennen können von dem Haus und der schönen Insel. Wir kommen wieder, denn es gibt noch viel zu entdecken und vieles, was wir noch mal machen wollen. Danke Christos für diesen tollen Aufenthalt in Eurem Haus.
---
The host, Christos, was excellent and extremely helpful ;-), the house has a nice character throughout but it is a bit small. The pool is also very small. A top-notch cleaning service twice a week was offered. The location of the house is not ideal. The biggest issue for us was that the access to the house is via a 3-4 km dirt road that at places is very steep and can only fit one car at a time in most of its lenght. However we liked the privacy and the quietness of the place and we had a nice holiday overall.
---
How can a few words describe such an amazing experience! The house has magnificent views and is perfect in every sense. Rooms are spacious. There are three bathrooms and all designed in great taste. Beautifully designed overall this house lying on top of the hill just stands out as a gem. Xristos, the owner, is a fantastic host, ready to answer any enquiries be it for the island and where to go for swim or which restaurants to eat. There is a solid internet reception in the living room area but not in the bedrooms. The house is very cool which makes it ideal even for the very warm summer days. We have had really nice times around the table on the main porch of the house just in front of the pool. We had our 4 month daughter with us and Xristos was most accommodating in arranging a cot for the baby. We loved the house and its immaculate design for both indoor and outdoor spaces. We loved it so much we would like to book it in advance for next summer.
Απάντηση από τον/την Χρήστος:
Greetings from Athens to Rania and family! About the WiFi a great advantage of the system used is that it is totally portable (the wifi router is the size of a small cell-phone and operates on battery power). Did you try moving the router closer to the devices while in the bedrooms? I believe that should work. I will try it out and post. I'm very glad you enjoyed your stay and thanks for speaking out. You are welcome back anytime!
---
Nous avons passé 15 jours merveilleux dans la très belle maison de Christos. Les photos présentées sur le site sont en dessous de la réalité! La maison est très bien agencée, dans le style cycladique traditionnel (Christos est architecte), la vue est sublime et la piscine très agréable. Les environs sont très calmes, perdu au milieu de la nature. 5 minutes en voiture du charmant petit port de Vourkari. Christos et sa femme ont été des hôtes très accueillants et plein de bons conseils. Nous recommandons vivement cette location. Aurélie, Cédric et Lucien (5 ans)
---
Upon arrival to the harbour at Kea we were received warmly by our landlords Cristos and Christina. They took us on a Tour through the town showing us all the neccesary, like supermarkets, pharmacy, banks etc. Passing through the beautiful little town, seeing all the boats, little houses, small Tavernas encouraged our idea of a perfect holiday spot. At the end of the harbour the road turned and we started the Tour up to the house. NB! A car - and preferably a 4 wheeler is a must at Kea! Arriving we found the most beautiful, architect drawn house placed perfect in the landscape with deep respect for the nature and with the most magnificent view overlooking the sea, the harbour with all the big yachts and the mountains with the breathtaking view. Wooowwwww! Perfect ! Every detail is thought about from the verandas, the grill area, the pool overlooking the hills and the sea to the rooms - especially the Master bedroom with two large french doors. Waking up in the morning to the fantastic sunrise was wonderful. Not to mention the logistic aspect with sweet Moda - our cleaning lady, who came twice a week supplying us with a clean house, sheets and towels, and the poolman and the gardener who took care of the outside areas. Really! We cant complain about anything. We had a fantastic stay at Kea. Not our last one mind you! We were there to relax from a busy life, so what we did during the days was just to stroll along with the wind, visiting the many beautiful beaches, the oak wood, the main town and took some of the dusty roads down to little perls of wonderful nature. You should choose this house if you like; quiet, privacy, magnificent view, functionallity and everything in order. Kea is not a party, shopping, drinking place. It is a little bit of heaven on earth! Enjoy! Best regards, The Sparre Family from Denmark
---
Γλώσσες:
English, Ελληνικά
Εξερευνήστε άλλες επιλογές μέσα και γύρω από την/το Kéa
Περισσότεροι χώροι διαμονής στην τοποθεσία Kéa: