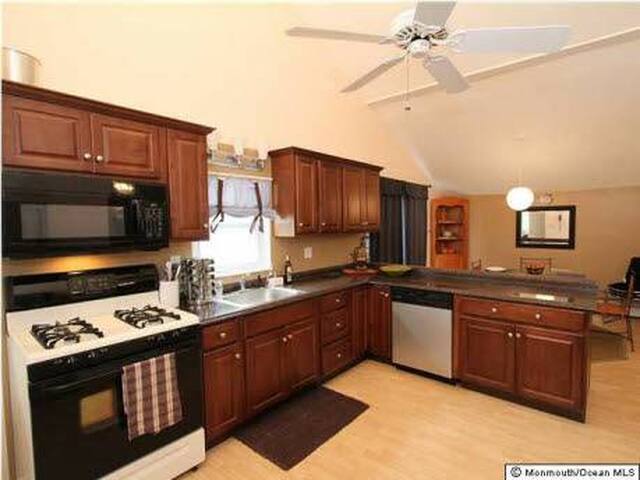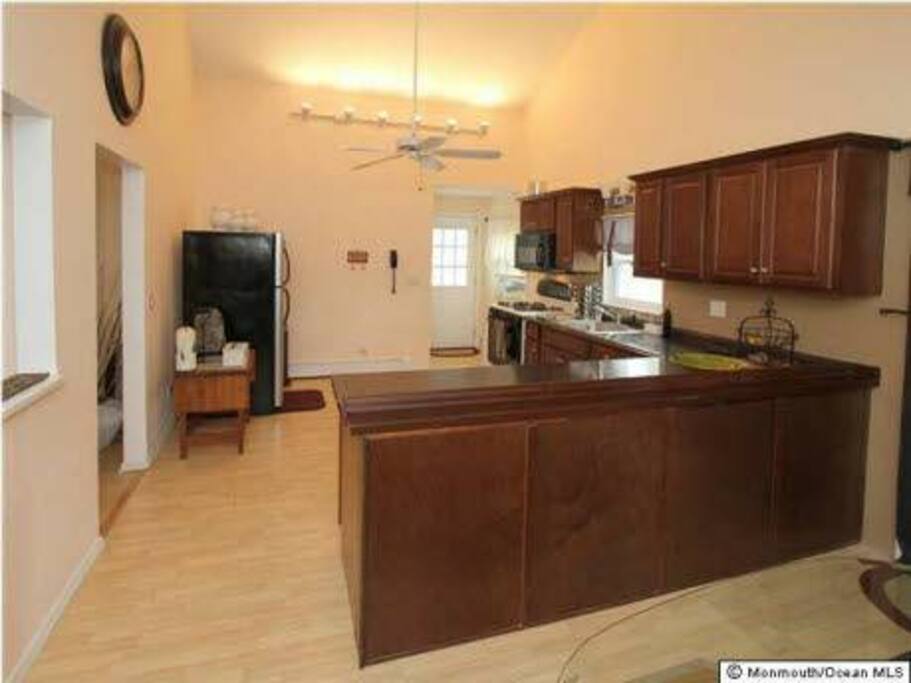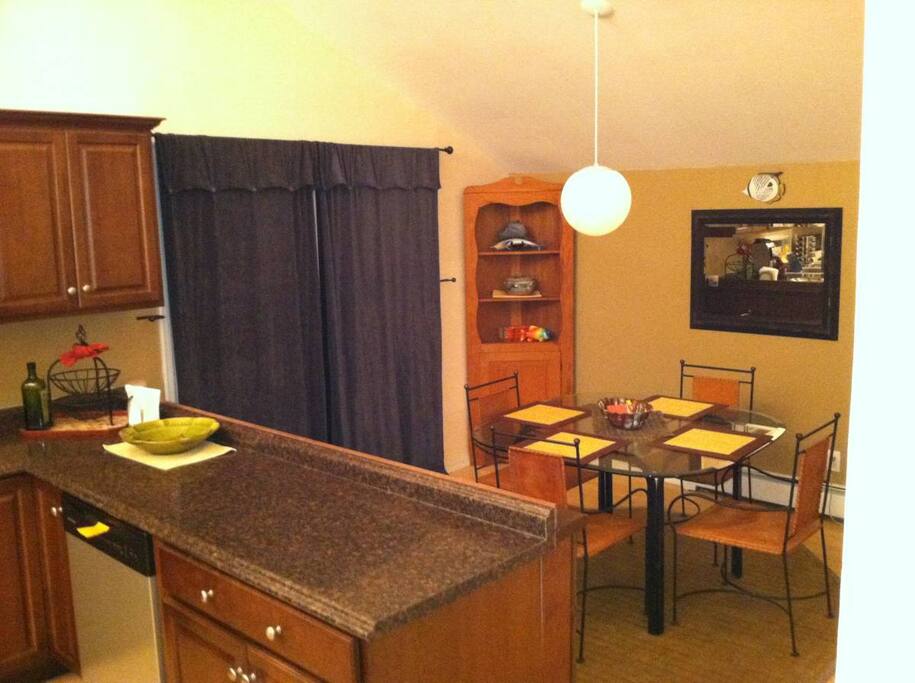 3BR West Belmar BeachHouse - Just 1 mile to beach
The "BeachHouse" is in West Belmar less than a mile to the Belmar and Spring Lake beaches and Jersey Shore nightlife. Its close to Belmar's train station and one block from the bus route.
You'll love the spacious living area, cathedral ceiling in the kitchen and dining area, and the large covered front porch!
Its an easy walk to Saint Stephen's Green Publick House, Bar A, Drew's Deli, Nature's Choice grocery store, CJ's Tavern and liquor store, and an Italian Restaurant/Pizza.
Ο χώρος
Spacious cathedral ceiling and covered front porch.
Πρόσβαση επισκεπτών
Entire home, basement, driveway, and yard.
Αλληλεπίδραση με τους επισκέπτες
---
Αυτή η καταχώρηση διαθέτει τις απαραίτητες παροχές για επαγγελματίες.
---
---
Επιπλέον άτομα Χωρίς χρέωση
Έκπτωση ανά εβδομάδα: 25%
Τιμή σαββατοκύριακου €240 / διανυκτέρευση
Επικοινωνείτε πάντα μέσω της Airbnb
Για να προστατεύσετε την πληρωμή σας, μην μεταφέρετε ποτέ χρήματα και μην επικοινωνείτε έξω από την ιστοσελίδα ή την εφαρμογή της Airbnb.
Μάθετε περισσότερα
---
Υπνοδωμάτιο 1
1 κρεβάτι queen size
Υπνοδωμάτιο 2
1 διπλό κρεβάτι, 1 μονό κρεβάτι
Υπνοδωμάτιο 3
1 διπλό κρεβάτι
Κοινόχρηστοι χώροι
1 καναπές
---
Ακατάλληλο για κατοικίδια
Απαγορεύονται τα πάρτι και οι εκδηλώσεις
Η άφιξη πραγματοποιείται μετά τις 18:00
Αποχώρηση μέχρι τις 11:00
Άφιξη χωρίς παρουσία οικοδεσπότη με keypad
World Street House Manual v2.3
2006 World Street, Wall Township, NJ 07719
(West Belmar section of Wall Township)
Introduction
We always try to provide our guests with the convenience that we like to experience when we stay at a vacation rental property. As a result, we try to keep the home stocked with a couple days supply of paper products, cleaning supplies, and other things that you may need. We also provide linens which are usually adequate for short stays.
While most of our guests generally leave more than what was actually found in the home, from time to time a guest leaves with every roll of toilet paper, paper towel, dish and laundry detergent, and even spare light bulbs provided, thereby making things more difficult for everyone. Please ask that you leave unused household items provided by us for the next guest.
Thanks for your cooperation.

Safety First
Smoke detectors are provided in the basement hallway and the main hallway near the bathroom. A CO-2 detector is provided near the bathroom door. You may wish to familiarize yourself with the location of these devices. If any device sounds, vacate the building and call 911.
Minimum Guest Age
All guests must be 26 years of age or older, unless accompanied by a parent, guardian, or adult relative.
Area Safety and Crime
This home is located in the West Belmar section of Wall Township in Monmouth County, an area voted one of the top five places in the US to live by USA today. Wall Township has an extremely low frequency of violent crime including rape and murder, however the summer brings people from other areas so we always recommend locking cars and the house, and that you always take precautions to protect yourself and your property.
Source: Refer to this link to see the HomeFacts report:
(URL HIDDEN)
SMOKING
Absolutely, no smoking is permitted in the house or on the front porch. Smoking in a rental property can be a serious problem. If cigarette or butts are found on the property, a cleaning fee of up to $100 will be deducted from your security deposit so that we may hire someone to remove them from the yard. If a smoking/tar residue is found on walls, upholstery, or furniture a cleaning charge will be deducted from your security deposit.
IMPORTANT
Carpet, upholstery, furniture, wall, and ceiling cleaning charges from a professional company hired to remove the smell of smoke from a house run into thousands of dollars. If your security deposit is not adequate to restore the property, we reserve the right to charge the credit/debit card(s) that we have on file. In the event that the next guest cancels because they are unwilling to occupy a property that has a cigarette odor you are responsible for the entire lost rental revenue until the problem can be restored to acceptable condition.
Lights and Receptacles – Important
Wall switches control lights in the living room and each bedroom. The top portion of each receptacle works with the wall switch, while the bottom portion provides power regardless of the position of the wall switch. Lamps are generally plugged into the top half of the receptacle so that they work with wall switches; while cell phones, computers and other devices that need to be left powered can be plugged into the bottom half.
Dining Room Light Switch
The switch to control the Dining Room light may be different from other switches that you have used. It is NOT a swipe switch as it may at first appear. Just tap the switch to turn the dining room light on or off—and hold your finger on the switch to have it cycle from dim to bright.
Parking
The home includes a paved driveway designed to accommodate two cars, although guests may pull two cards forward all the way, allowing two additional cars to park. This should not be necessary, as additional cars may park on the streets.
Watercraft, trailers, and other recreational vehicles are only permitted by town ordinances when attached to a car or when parked in the driveway.
Parking on the street does not require any special permits, however township parking ordinances must be observed. This mostly means park facing the same direction as traffic, and only park registered motor vehicles. You may park on either side of the street.
Trash Removal
Trash pickup for household trash and recyclables is provided by Wall Township Monday and Thursday mornings. Details are provided on the Wall Township website (URL HIDDEN) Trash and recyclables should be deposited in the township trash cans and left on the street near the driveway. All recyclables can be mixed in the recycle container (mix glass, cans, etc).
Cleaning Suppliers and Paper/Plastic Products
We try to provide adequate supplies of cleaning products as well as plastic or paper goods so that you can move in without having to first stop and shop, although the exact amount and quantity of these supplies provided may vary from stay to stay. At a minimum, we will provide two rolls of toilet paper, one roll of paper towels, and one garbage bag. In addition, we provide Hand Soap and Dishwasher Detergent to get your started.
Gas BBQ
A propane gas BBQ is provided. The propane canister provided may or may not have propane in it when you take occupancy of the home; however, the propane is the guest's responsibility. Additional propane canisters can be purchased or existing canisters filled at the hardware store on main Strret in Belmar.
The Propane Grill is not permitted on the front porch or inside the home and must be operated in a safe and legal manner.
Personal Property Lost or Left Behind
Please be sure to take everything you brought with you when you check out. We are not responsible for the loss or any personal items left on the property.
Please report any property left in the home as soon as possible. If possible, we will retrieve it and hold it for you or return it to you at your expense.
Our cleaning service enters the property after check-out and is instructed to discard food and beverages that are left behind. We ask the service to save any forgotten or left behind items that appear to be of significant value; however, we cannot make any guarantees that left-behind items will not be discarded as we use a third party cleaning service.
When items reported lost, or items that appear to be of significant value are found, we will be happy to return them to you at your expense. We will hold these items for 30 days. Please make arrangements with us if you will need more time to pick up any left-behind items.
In the case where a lost or left-behind items was not found by our service providers, and you would like us to check the property, we will be happy to do so however we will not contact the next guest to collect lost items under any circumstance. If someone else is occupying the property, you will need to wait for the guest to move out before we search for and retrieve lost or left-behind items.
Privacy
Your host, as well as other third parties, may need to access the grounds during your stay to perform inspections and maintenance; however your host will not enter the property without providing advance notice. You may however, see other people on the grounds to cut the grass, clean gutters, or make repairs.
Wink Hub
A Wink Hub is provided to increase your safety and security. This is a white plastic rectangular electronic item usually found in the living room. Please be sure to keep this hub plugged in and be sure the light is blue. If the light is noticed flashing for any reason, simply unplug the Hub, then plug in again. The Wink Hub controls various smart home safety and security devices including the electronic combination door lock.
WiFi
The home is provided with high speed FIOS and a Wi-Fi network. The router is in the living room under the TV. If you have trouble connecting to the network, unplug the router, wait ten seconds, then try again.
BeachHouse
Password: (PHONE NUMBER HIDDEN)
Note that the password is also the cell phone number of your host, Pasquale.
TV
Cable television service is not provided, however, you can use Input 5 (HDMI 5) for the AppleTV. For your convenience, this device may be signed into my Hulu and Netflix accounts for your convenience. Please sign in with your own account if you wish to pay for any services during your stay. Programming charges to purchase or rent content applied to our account may be charged to your credit card.
If you use sign-into your personal account to use any AppleTV service, be sure to sign out when you leave the property as we are not responsible for programming content purchased by other tenants on your account because you failed to sign out.
AirPlay
Airplay is enabled on the AppleTV. This feature should work with any Apple iPhone, iPad, or iPod device that supports airplay.
To use the Airplay feature first connect your device to the BEACHHOUSE WIFI network then turn on the television and select the input that connects to the AppleTV.
The Airplay icon should automatically appear on your mobile device. To try it select a photo or video that you have stored on your moble device then simply press the airplay icon and select BEACHHOUSE.
Photos and video that you select from your device should then appear on the TV.


If you have trouble using this feature you may try unplugging the AppleTV for ten seconds then try again and also try rebooting your mobile device. Contact Apple support if you need additional help on how to use the Airplay feature of Apple's iOS.
Door locks
Press the Schlage Button at the top of the lock to light up the keypad, and then enter the four-digit code you have been provided with to gain access to the property. If for any reason someone obtains your code that you do not wish to have access to the property, contact your host as new codes can be assigned and old codes deleted remotely.
Unless prior arrangements are made, your code may be deactivated at check out time. In addition, to protect that home and its contents, doors may automatically lock. Access codes are provided upon completion of the Application/Registration form.
Door Alarm
The front door may be equipped with a "Forced Entry" alarm. When active, you will hear an alarm that sounds like a loud smoke detector if the door senses abrupt motion. This alarm resets automatically.
Dehumidifier
A basement dehumidifier is provided to prevent a musty odor. As the dehumidifier works it removes moisture from the air. Please keep it set on 70 to maintain a healthy level of humidity, and clean the filter once a week. Water removed from the air drains into the French drain in the basement, when everything works correctly. If a "bucket full" light illuminates it means the automatic drain system is not working an the bucket will need to be emptied manually. You may empty the bucket into either of the sump pump pits found in the basement. The filter can be accessed by first removing the water bucket first, then reaching inside and pulling down on the filter's tab.
Lawn Maintenance
A landscaping service is contracted to mow the grass. Unfortunately, if it rains on the day our lawn is scheduled to be cut the service will need to reschedule. In this case, the grass may not be mowed as everyone desires. Please let us know if there are any problems, as we will not be aware of problems with the landscaping service unless we are notified.
Appliance Manuals
The manuals for most of the appliances can be found in the top right drawer of the kitchen counter. Please refer to these manuals as needed, and be sure they are returned to the drawer before check out.
Furniture and other Household Items
If you any furniture other household items are moved, be sure to return these items to the original places before checking out. If any moved items cannot be easily returned to its original location by a small woman a $50 fee charge will be withheld from your security deposit as we will need to hire a moving company.
Linens
Seven bath towels, each a different color, are provided for your use. In addition, seven hand towels and wash cloths are also provided.

One set of bed linens are provided for your convenience.

Bed Linens Provided
Master Bedroom4 King Pillows and Pillow Cases, Top and Fitted Sheet, Comforter
Second Bedroom
(Bunk Beds)4 Standard Pillows & Pillow Cases, two sets of top & fitted sheets, two comforters
Third Bedroom4 Standard Pillows, top and fitted sheets, comforter
Please leave any used linen items provided on the kitchen or bathroom floor when you check out. It is a good idea to inventory these items as its easy to get these items mixed up with any linens you may have brought with you. You are responsible for missing linens. When items are missing, you are responsible to purchase the entire set to insure that future guests have matching items.
Pets
We love pets, but pets frequently cause problems in rental properties as many guests have pet allergies or simply object to pet dander, hair, and other droppings. For this reason, pets are not permitted to be in the rental unit, or on the grounds without advance permission. In certain cases, with well behaved, non-shedding pets, exceptions are made. Pets must be discussed with us in advance, and declared at the time of your reservation.
There is a pet fee of $75 for each pet with a two-pet maximum. This fee is charged because our cleaning service charges us extra when pet hair or any other sign of pet habitation is found.
If a pet that is not declared is discovered after check-in, occupancy will be terminated with no refund. After check-out, if there is evidence that a pet has been in a unit that was not approved or the tenant refused to disclose a pet staying on the property the Damage/Security Deposit may be forfeited.
In addition, when permission is granted for pets to be on the grounds you must always clean up after your pet to avoid additional cleaning charges.
In addition, if a pet that you allow in the house during your rental results in lost revenue because another guest cancels a reservation, you are also responsible for the lost revenue.
NOISE VIOLATION AND POLICE COMPLAINTS
Occupants must respect that this home is in a residential neighborhood and quiet must be maintained, especially in the evening and after 10PM. Please do not disturb neighbors, or violate local noise ordinances ((URL HIDDEN) We are very serious about these problems because our reputation remains after each guest checks out.
In the event that the police are called due to noise or other complaints, and a violation is issued to someone staying on the property, you may be required to immediately vacate the property with no refund issued for any unused portion of the rent.
To avoid possible eviction or other problems, please report and explain any police calls to your host as soon as possible.
Hurricane Evacuation
If a mandatory evacuation order is issued for the area, we will only charge for nights you occupied the unit. If you choose to leave during a voluntary evacuation, no refund will be issued. In addition, no refunds can be issued for early departures due to inclement weather.
Damage Notice:
Guests are responsible to return the house and its furnishings in the condition that it was found. Damage is considered anything beyond reasonable wear and tear for the period of use. Guests may provide one or more credit card numbers in lieu of a damage deposit. Guests, who do not wish to use a credit card to cover damage, may leave a $2000 fully-refundable deposit. When credit cards are used in lieu of a damage deposit, we do not place a hold on funds; however, we may require adequate available credit at the time of check-in.
Signing the Application/Registration form gives us the right to charge any credit card numbers provided to replace any missing or damaged items, and to charge these items to remediate any damages due to smoke or pets. We have the right to equally distribute damage charges, as credit limits allow, as stated on the Application/Registration form.

Feedback and Reviews
Your comments and suggestions are very valuable to us. Please help us by listing any missing or broken items found in the home or property on this or any other sheet of paper, and then leave the list on the counter when you check out, or by emailing your host.
Reviews and feedback are extremely important to both guests and hosts. We are happy to leave positive feedback and recommend good guests who book through website services such as AirBNB. We are also happy to provide rental references when requested as you may wish to rent other properties in the future.
Positive reviews through social media is important to the guest as well as to the host. For example, AirBNB does not allow a guest who is not recommended by other hosts to view all available properties or to use its instant booking option.
If you booked this rental using a booking service that has a feedback option, please leave us a five star rating and positive feedback and we will do the same for you.

We want your stay, and the stay of future guests, to be as pleasant as possible. Let us know if you have any problems.

Host Contact Info
If you need to contact your host, contact Pasquale who is the owner of the property, using the below cell phone. You may call or text, however, text messages are often the most reliable. Messages are returned as soon as possible, but always within 24 hours.
(PHONE NUMBER HIDDEN)
____________________________________________________
---
Ανιχνευτής μονοξειδίου του άνθρακα
---
Ελάχιστη διαμονή 2 διανυκτερεύσεων
---
Brielle, New Jersey, Ηνωμένες Πολιτείες της Αμερικής
Έγινε μέλος το Νοέμβριος 2015
I have been born and raised in New Jersey, and I have lived on the Jersey Shore most of my life.

I actually built the home in Wall Township myself, by working weekends and after my day job for more than a year.

I love the Jersey shore, and have been to most of the restaurants and bars in town. I also love to fish, and enjoy boating, so if you do too, ask for a few tips and I'm happy to share!
Ρυθμός απάντησης:
100%
Χρόνος απάντησης:
σε μερικές ώρες
Εξερευνήστε άλλες επιλογές μέσα και γύρω από την/το Wall Township
Περισσότεροι χώροι διαμονής στην τοποθεσία Wall Township: