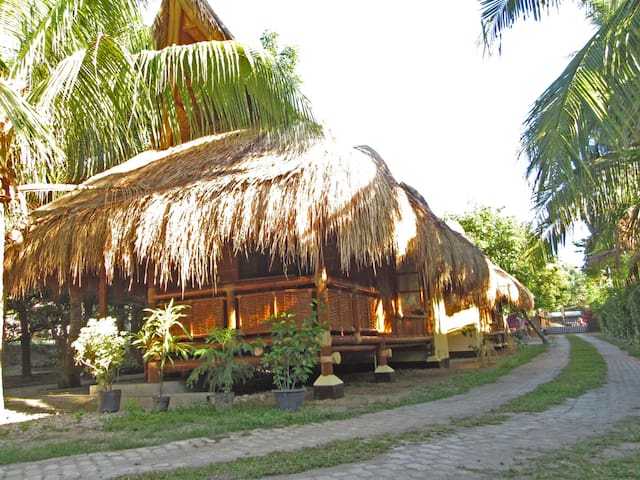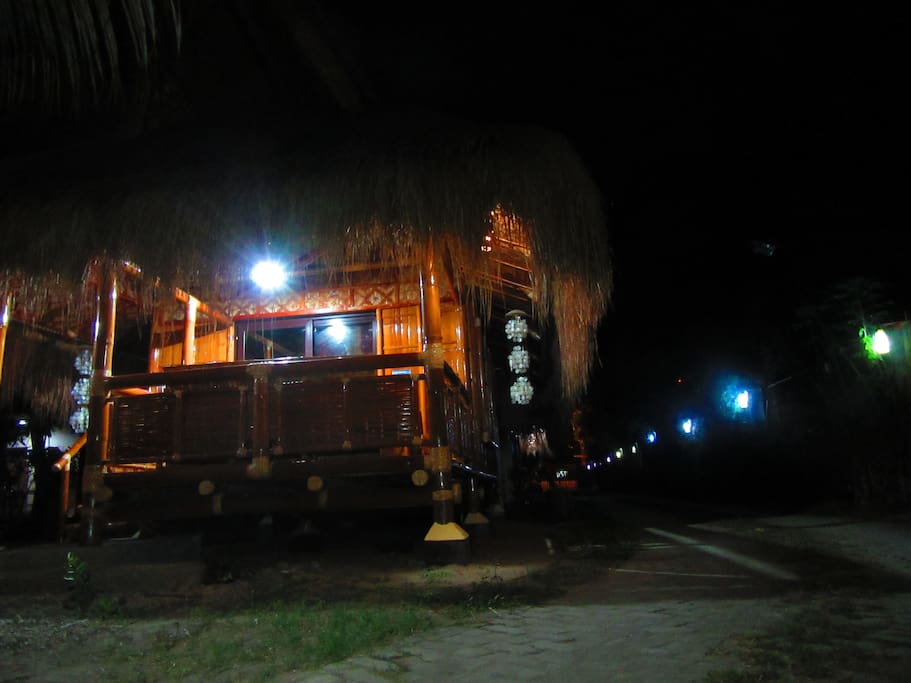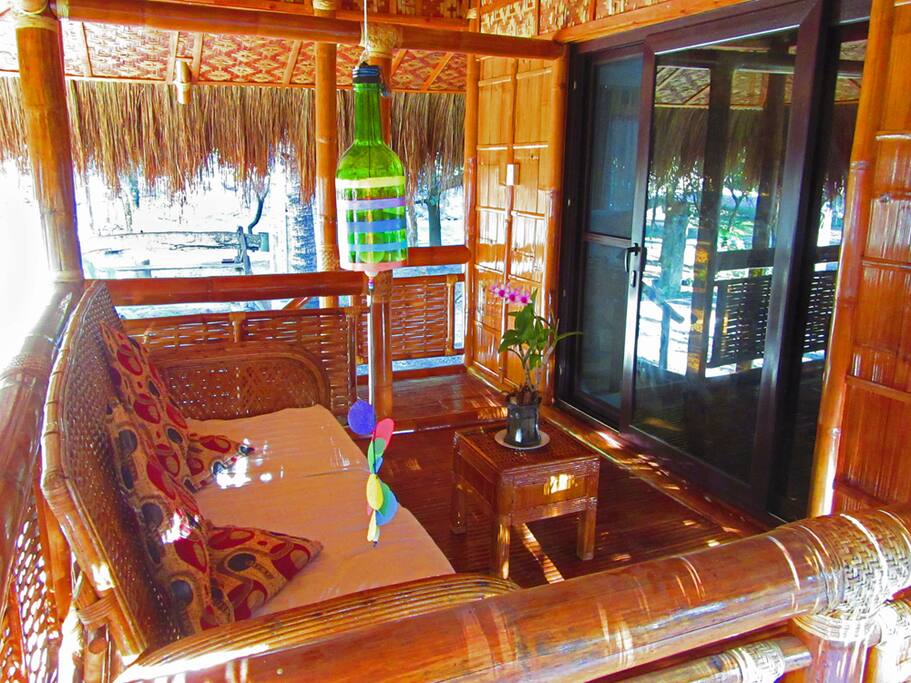 Τα καταλύματα με δυνατότητα προετοιμασίας γευμάτων που αποτελούν εναλλακτική λύση για τα ξενοδοχεία για τους μακροχρόνιους επισκέπτες. Διαθέτουμε 2 γειτονικά καταφύγια Φιλιππίνων και 2 δίκλινα δωμάτια σε συγκρότημα που περιβάλλεται από οπωροφόρα δέντρα στους πρόποδες της Βαλένθια, Negros Oriental μόλις 8χλμ. Από τη Dumaguete.
Self-catered accommodations that is an alternative to hotels for long term guests. We have 2 Filipino native huts and 2 duplex rooms in a gated compound surrounded by fruit trees in the foothills of Valencia, Negros Oriental just 8km from Dumaguete.
---
---
Έκπτωση ανά εβδομάδα: 10%
Επικοινωνείτε πάντα μέσω της Airbnb
Για να προστατεύσετε την πληρωμή σας, μην μεταφέρετε ποτέ χρήματα και μην επικοινωνείτε έξω από την ιστοσελίδα ή την εφαρμογή της Airbnb.
Μάθετε περισσότερα
---
HOUSE RULES
1. Identification: We don't want to be strangers with our guests so we always take a photo of a legal ID or a guest's passport.
2. Access: Since this is a shared compound with multiple occupants, we like to ensure everyone has their own space. We kindly ask guests to refrain from entering other rooms/cottages. We'll ensure your space is likewise respected in return.
3. Food in Room: We try to avoid insects sharing the room with you so we have a No-Eating inside the bedroom policy.
4. Toilet: The easiest way to disrupt an enjoyable stay is a plumbing problem. To prevent this, we kindly ask you to please place things like sanitary napkins in the sanitary bin we've provided in the bathroom. We simply want to ensure you have a royal flush kind of holiday :)
5. Check-In: Check-in is at 2pm, and check-out is by 12nn. Arriving earlier, or want that extra hour to sleep? Should be fine, but please check with us first.
6. Cleanliness: While we do a thorough professional clean between each guest stay, we kindly request our guests to lightly clean the room before leaving. We also encourage you to clean and put away any dishes or kitchenware after using them and to put any dirty towels in the hamper. It helps us get through our cleaning process quicker and allows us to keep cleaning costs down for you and future guests.
7. No-Footwear: To ensure we keep the floorboards squeaky clean for our guests' enjoyment, we have a no shoes policy inside our cottages.
8. Damaged Items: Accidents happen. But we do ask that you please let us know when they do. Chances are we can fix them as effortlessly as possible.
9. Smoking: Being a family home and a nipa hut, we also have a strict no smoking policy in or near the cottages (although you are welcome to smoke in selected smoking areas).
10. Illicit Drugs: What you do in your personal time is entirely up to you, but when staying at our place we have a strict no drug use policy. This is just the law… not so much one of our rules.
11. Switch-Off: To keep our costs down (and pass those savings on to our guests) we kindly ask that you switch off lights and the A/C when it's not in use or leaving the house. Mother nature thanks you too.
12. Extra Guest: In the event that you want additional guests to stay, please contact us to let us know. We're reasonable folk and will accommodate wherever possible.
13. Pets: Have a pet? Should be no problem… but please ask us first.
14. Security: To ensure full safety of our guest's belongings, we like to keep the front gate locked as a precautionary measure.

=====================================
Subida Vacation Homes may cancel the reservation in the event of any of the following.
1. That the person intending to stay at the Subida Vacation Homes may violate applicable laws, public order or public morals during the stay, or said person has already committed such acts.
2. The person intending to stay at Subida Vacation Homes is clearly infected with an infectious disease.
3. The person makes unreasonable demands with respect to the stay.
4. Acts of God, failure of facilities or other unavoidable circumstances render accommodation impossible.
5. In the case of smoking in bed, mischievous use of fire extinguishing equipment (insofar as they involve matters necessary for fire safety).
6. Said person is a member of or in any way affiliated with a violent organization, an enterprise or organization affiliated with a violent organization, an organization that conducts radical action or other antisocial organization (hereinafter collectively referred to as a "violent organization").
7. Said person commits significant disturbance of other guests, by words or action.
8. Said person makes demands by violence or threat of violence against, or otherwise places unreasonable demands upon, Subida Vacation Home staff members.
Επιπλέον, πρέπει να αποδεχτείτε
Σκύλος(οι) ζουν στο σπίτι
---
Μέτρια
Ακυρώστε έως και 5 μέρες πριν το ταξίδι σας και λάβετε πλήρη επιστροφή χρημάτων. Αν ακυρώσετε εντός 5 ημερών από το ταξίδι, η αξία της πρώτης διανυκτέρευσης δεν επιστρέφεται, αλλά θα επιστραφεί το 50% της αξίας των υπόλοιπων διανυκτερεύσεων.
---
Ανιχνευτής μονοξειδίου του άνθρακα
---
Ελάχιστη διαμονή 2 διανυκτερεύσεων
---
This is a very quiet resort! Mike is a very thoughtful, friendly people !he dock to pick me up to the resort I left he also gave me to the airport when I just came to holiday he also simple to me the area near he really is a very thoughtful man! thank you Mike ~~resort in the equipment is also very perfect kitchen has a swimming pool with a basketball field and a lot of entertainment equipment also has a belongs to own private territory resort people are very friendly will be regularly held party people chat together drink really feel good !I highly recommend here!! if I once again came to the Dumaguete I will continue to choose to come here~!
---
This place exceeded my expectations from start to finish, and for someone who has worked all her life in the travel and hospitality industry, my expectations were quite high. My kids and I stayed for half a month this summer. Everyday, the staff made sure we were comfortable, we had everything we needed, and most of all, that my boys were adequately entertained. My kids grew up in the city and one of my regrets is that they're missing out on all the fun that only a childhood spent close to nature could offer. I couldn't have found a better place to get them acquainted with all the things boys their age should be doing, like horseback riding, trekking, taking a dip in waterfalls discovered along the way, paddling on a local boat, swimming in a volcano crater, fishing. If you want to really immerse yourself in the idyllic Negros life, Mike (the property manager) is definitely the go-to person. His knowledge of the island's history, scenic spots, best food places, must-do adventures, et cetera, make him the perfect tour guide. He even went out of his way to take my little boy in his early morning bike rides. My kids had the best time of their life. We're already planning our next vacation to Subida Homes come semestral break. The resort itself is complete with all facilities to keep the guests entertained. My boys especially loved the pool, playing air hockey and foosball, and playing with the owner's dogs. I was just happy I could sing my heart out at the entertainment center's videoke whenever the other guests weren't around. :) It was also a working vacation for me, so I was thankful for Mike's efforts to ensure there was a stable Internet connection, and a backup. The hut we lived in deserves special mention. It was cool, relaxing, comfortable, very clean, quite well-maintained. The staff, the owner, and all the people living in the resort were the kindest, warmest, sweetest people I have ever met. When it was time to leave, I found myself more upset than I cared to admit because it felt like leaving my family behind. That's how they treat you - like you are part of the tribe and you'd wonder what took you so long to come home to them, and why the heck are you leaving now. I am definitely recommending this place to friends, (though I wish I could keep it to myself, my secret sanctuary). When I'm done sending my older kids to school, I would most likely make it my semi-permanent residence, if they'll have me. I'd be sipping Mai Tais at my hut's little porch, have daily yoga sessions with the resident yogi, marvel at the night sky while relaxing in the outdoor jacuzzi... One can dream.
Απάντηση από τον/την Michael Angelo:
We are blessed to start on the right foot by having you as our first AirBnB guest. Our idea here in the compound is to try to build a sense of community even just for the short stays of our guests and we are pleased to know we achieved that. It was such a pleasure because you and your boys are a cool bunch. We can't wait to see you back. Thank you again for choosing Subida Ms Joanne.
---
Dumaguete, Φιλιππίνες
Έγινε μέλος το Μάρτιος 2015
I'm 39 and I love fishing. I enjoy traveling the Philippines in search for my trophy fish and meet wonderful people along the way. This time, I take it as a personal goal to be an ambassador of what is beautiful in my country. I love connecting with people and give travelers an opportunity to collect happy memories of their stay in our neck of the woods.

Γλώσσες:
English, Español, Tagalog
Ρυθμός απάντησης:
75%
Χρόνος απάντησης:
σε μια μέρα
Εξερευνήστε άλλες επιλογές μέσα και γύρω από την/το PH
Περισσότεροι χώροι διαμονής στην τοποθεσία PH: