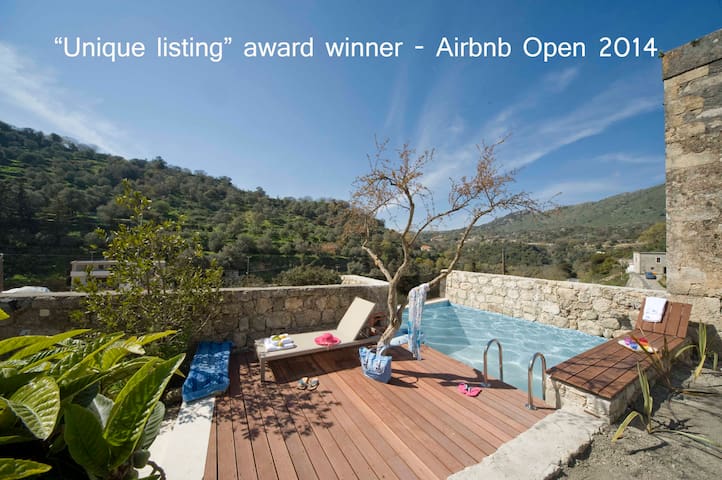 A fully renovated, stonebuilt compound built on top of three ancient greek grottos. It used to be a Venetian olive press factory. Now it's a contemporary holiday home with two pools (indoor and outdoor) and an organic vegetable and local fruit garden
Ο χώρος
UNIQUE LISTING AWARD WINNER
FIRST AIRBNB OPEN 2014
GrottoHomes is a traditional stonebuilt compound constructed in several phases, starting around 1500, on top of three ancient greek hellenistic grottos. It used to be an olive press factory, originally built by the Venetians, who occupied Crete at that time, with later additions for housing both the miller and his elder son. It has been restored with patience, respect and knowledge by its current owner who, being an architect, turned it to a contemporary holiday home, maintaining reverently every architectural detail of the past. It is furnished with many unique, antique pieces and it's decorated with a lot of traditional, rural cretan household equipment. This villa is ideal for writers, artists or nature lovers who like walking, hiking or swimming in a pool carved in an ancient grotto or just relaxing in an unbelivably quiet place. The organic vegetable, local fruit tree and aromatic plants gardens can provide them with the freshest ingredients for cooking their meals. By March 2014 will be ready the new openair pool of the compound, built by the citrus trees garden, and it'll be opperating in addition to the indoor one, giving the guests one more area of relaxation.
The villa is situated 800m away of the ruins of a Hellenistic city, in a small and peaceful village called Goulediana, famouse for its restaurand specialized in Cretan cousine. It's a 45min drive away from both international airports of Crete, Chania and Heraklion, a 5 min drive from Armeni, the main village of the area, where one can find supermarkets a pharmacy shop and an ATM and 15 min drive from the town of Rethymno famous for its lively night life, full of restaurants, bars, clubs etc Both crowded north coast and quiet south coast beaches are just a 15min drive away.
When staying in GrottoHomes you can relax completely, surrounded by the unique cretan nature and feel part of its centuries long history using, at the same time, any modern facility and equipment one might need. At least that's what I do when the villa has no guests...
The visitors have access either to the entire compound or only to the main house (the rest will be empty) depending on the size of their party and in any case to the whole garden, and both the indoor and the outdoor pools. Access to the office of the owner will be given only uppon request.
The owner of the house will meet the visitors uppon arival, to welcome them, show them around the house and hand them the keys. He also has to visit the house every two days, at a time convenient to both parties, to water the plants and clean the pools. The owner will be reachable at any time on his cell phone or his profile on the famouse Zuckerberg's site for any questions / tips / advice / help the visitors might need.
The area where GrottoHomes is situated is very close to Rethymnon, half way between both north and south beaches of the island. Inspite being so close to all the main turistic spots it is 5km off the main road leading from Rethymnon to the south beaches, so it is unspoiled by the "development" the turist mass brings along. The area is very green full of olive, cypress and oak trees and it has breathtaking mountain views. There are also some very good taverns in a few meters to a few km dictance from the house. The village where the house is situated is very small, therefor very piecfull and quiet. The only "noice" you might listen to is some distant sheep bah and bells, rooster cock-a-doodle-doos, the church bell and the priest singing on Sundays, or some traveling sellers that pass by the village every now and then to sell bread, grocery or even clothing. But if you prefer to buy your supplies from a supermarket there is one 5km away in the main village of the area, on your way to Rethymno. There you can also find an ATM and a pharmacy shop.
There is no convenient public transportation in the area (there is a bus line that goes to Rethymnon once daily). You have to rent a car to move around or if you prefere to use taxis.
Πρόσβαση επισκεπτών
The visitors have access either to the entire compound or only to the main house (the rest will be empty) depending on the size of their party and in any case to the whole garden, and both the indoor and the outdoor pools. Access to the office of the owner will be given only uppon request.
---
---
Επικοινωνείτε πάντα μέσω της Airbnb
Για να προστατεύσετε την πληρωμή σας, μην μεταφέρετε ποτέ χρήματα και μην επικοινωνείτε έξω από την ιστοσελίδα ή την εφαρμογή της Airbnb.
---
Υπνοδωμάτιο 1
1 διπλό κρεβάτι
Υπνοδωμάτιο 2
2 μονά κρεβάτια
Υπνοδωμάτιο 3
3 μονά κρεβάτια
Υπνοδωμάτιο 4
1 μονό κρεβάτι, 1 καναπές-κρεβάτι
---
Ακατάλληλο για κατοικίδια
Απαγορεύονται τα πάρτι και οι εκδηλώσεις
GrottoHomes is a fully renovated 500 year old compound, furnished with both modern and antique pieces, decorated with paintings of high sentimental value made by the owner and members of his family and many rural traditional household equipment that go along with all modern facilities and equipment one might need nowadays. So the first thing that someone expects from its guests is to appreciate and respect the history of the house and its equipment.
The gardens are full of organic local fruit trees, organic vegetables and aromatic plants. The visitors are free to collect as many of the vegetables which are ripe during the period of their stay, or pieces of any aromatic plant they need for preparing their meals. But at the same time they have to take care not to ruin the future production of the plants which is to be used by the next coming visitors of the house. The fruits are collected by the owner of the house who makes marmelades and sweets out of them (you'll be able to taste some). The plants have to be watered and the pool filters cleaned, every second day. So the owner has to visit the house every second day after agreeing with the guests the time that is more convenient for both of them.
There is a special place in the garden (under the lemon trees) where organic remainders are disposed for producing compost for the plants. The guests are asked to collect all recyclable packages and either carry them to the special bins in Armeni village or keep them at home to be carried by the owner after their departure.
---
Really great house for people who don't always want to stay where all the tourists stay. The house is amazing and VanGos a really warm and welcoming host. We've been here with our three kids (10,9,2) and enjoyed it a lot. There is lots of space and if you like to drive a little although a great spot for trips all over the island. We would definetively always go there again!
---
Wir verbrachten zu zweit 2 wunderbare Wochen in der Grotto Villa. Die Beschreibung der Villa entspricht exakt der Realität. Die Ausstattung ist perfekt. Es ist wirklich alles denkbare vorhanden was für einen sorglosen Urlaub benötigt wird. Bei Ankunft fanden wir eine geradezu verschwenderische Vielfalt an Obst, Gemüse und Getränken vor. Der Urlaub konnte sofort beginnen. VanGos ist ein perfekter Gastgeber. Er hat uns sehr freundlich empfangen. Während des Aufenthaltes war er immer ansprechbar und hat auf unsere Anfragen sofort reagiert. Ein herzliches Danke an ihn. Wir werden wiederkommen.
---
VanGos's renovated Venetian mill is exquisite and hands down one of the most special places we have stayed anywhere. The listing certainly describes it well though I agree with others it is even more beautiful in person both inside and out. We chose to stay in the area mainly because of the uniqueness of the accommodations rather than because the area was already a planned destination for us. And we were thrilled with the tranquility and beauty of Goulediana, the tiny village where the villa resides, and also its proximity to the stunning southern coast, spectacular nearby mountain drives and hikes and Rethymno. Goules, the neighboring taverna so many have mentioned, is truly outstanding and a destination in its own right with stellar cuisine, courtesy of welcoming chef/owner Costas, and excellent local organic wine. Finally, VanGos is an exemplary host who greeted our arrival with his garden's pomegranates and late-season tomatoes, some tasty raki and a well-provisioned kitchen. His good taste extends beyond the gorgeous villa he designed - he made several great recommendations for us for excursions and for dining, not only in the area, but when we moved on to Chania. Thank you, VanGos, for an unforgettable experience.
---
VanGos's home is incredibly beautiful. We loved staying there so much. It is even more beautiful than the photos. The house is situated in a tiny little town where the main attraction is a fantastic family-run Cretan taverna called Goules. We happened upon some British ex-pats eating there our first night and learned that it is one of "the" tavernas to go to in Crete. The food is fantastic and it is a 1-2 minute walk from VanGos's front door. The house is absolutely incredible. The indoor grotto pool has a little gurgling fountain, so you hear the calming sound of running water (should you choose) throughout the day. All the spaces are beautiful, and the house is overall so peaceful. VanGos has a wonderfully equipped kitchen, which is at your disposal, and he is incredibly kind and provides basic fresh food items for his guests upon arrival (eggs, milk, yogurt, fruit, and vegetables). He also stocks herbs, spices, olive oil, coffee, tea etc in the cupboards. He has a wonderful vegetable garden in the back which also includes several fruit trees. We visited in September so were at the end of the growing season, but the trees were laden with ripe figs, pomegranates, and pears. It is truly a little paradise. We feel so incredibly privileged that VanGos opened his home to us during our stay. If you get the chance to stay in this incredible home, do not hesitate! VanGos is a wonderful host. He greeted us upon arrival and was always available should we need recommendations on what to do or should we have had any general questions. He checked in with the taverna owner ahead of our arrival (which was quite late) to let him know we'd be coming and in search of dinner. He has thought of so many little details to help make his guests feel at home and provided for. I wish we could have stayed longer and hope, someday to be able to return!
---
VanGos's place is lovely. It's exactly what you hope for when you book through airbnb: a lovely house in an atmospheric location and local tips from a generous host. We booked the house after reading all the positive reviews on airbnb and agree with all the positive comments. The house is very stylish, interesting and in a great location if you want some peace and quiet. The taverna at end of the street is terrific if you want to go out. If you want to say in, the house is well set up to cook and eat outside or in. We went snorkelling one afternoon at a very low key beach which VanGos recommended and which we probably wouldn't have found by ourselves. VanGos was always on hand through the airbnb app to answer any questions or provide advice. All in all a really great experience.
---
Wir verbrachten mit 4 Erwachsenen 12 Tage im Grotto Home von VanGos im abgeschiedenen Goulediana. Es waren für uns alle unvergessliche Ferientage in diesem wirklich einmaligen Domizil. Die gesamte Kommunikation mit VanGos war von der Buchung bis nach der Abreise wie man es sich besser einfach nicht vorstellen kann. Die Wegbeschreibung war perfekt, sodass wir das sehr versteckt gelegene Örtchen sofort gefunden haben. Zur Begrüßung gab es eine Führung durch das ganze Haus und Oliven, eigene Tomaten und Raki. Zudem hat uns der Gastgeber Obst, Gemüse, Wein, Olivenöl, Wasser, etc. bereitgestellt, sodass bereits bei Ankunft einiges an Nahrungsmitteln vorhanden war - einmalig! Was man sonst noch benötigt, kann man gut in einem der kleinen Supermärkte in Armeni bekommen, ansonsten in Rethymnon, z.B. bei Lidl. Das Haus mit seinen beiden Pools ist schlichtweg ein Traum. Auf den verschiedenen Terrassen findet man immer ein schattiges oder sonniges Plätzchen und kann auch mal für sich sein. Die Wassertemperatur in den Pools war im September durchaus etwas frisch, versprach dadurch aber auch eine willkommene Abkühlung an heißen Tagen. Insbesondere an den Abenden konnte man auch mal eine Jacke gebrauchen, da es gegenüber den Küstenbereichen wohltuend abkühlt. Insgesamt ist es in Goulediana sehr ruhig, man hört ganz selten mal ein Auto, eher das Krähen der Hähne, die Glocken der Ziegen, das Zirpen der Grillen oder sonntags den Gesang aus der unterhalb des Hauses gelegenen Kirche. Da man sich hier mitten in der Natur befindet, muss man im Aussenbereich mit Mäusen rechnen, daher sollte man die Türen immer schließen. Ein absolutes Muss ist der Besuch bei Goules, der einzigen Taverne im Ort, die in 2 Minuten zu Fuß zu erreichen ist. Hier gibt es traditionelle griechische Küche zu einem unglaublichen Preis-Leistungs-Verhältnis. Sowohl die Küste im Süden, als auch die im Norden, sind mit dem PKW in weniger als einer halben Stunde zu erreichen. Die Auswahl an Stränden ist riesig. Einmal haben wir sogar eine Tagestour nach Falassarna, ganz im Westen, gemacht - Traumstrand, einfach großartig. Alles in allem waren es für uns unvergessliche Urlaubstage bei einem perfekten Gastgeber! Thanks a lot for all, VanGos.
---
Das Haus ist wunderschön eingerichtet und dekoriert. Ganz besonders gut ausgestattet ist die Küche. Dort befindet sich wirklich alles, was man sich vorstellen kann, von Mehl und Zucker über Olivenöl zum Kaffee. Etwas enttäuscht waren wir von der Lage des Hauses. Es liegt am Rande eines nicht wirklich schönen Dorfes. Auch die Aussicht könnte noch schöner sein. Toll ist, dass immer eine frische Brise weht und man nie wirklich schwitzt - im Gegensatz zu den strandnahen Unterkünften. Als Gastgeber ist Vangos große Klasse. Er versucht einem den Aufenthalt so schön wie möglich zu machen -und verlangt dafür auch seinen Preis
Απάντηση από τον/την VanGos:
Vielen Dank für Ihre konstruktive Kritik. Was die Lage meines Hauses angeht, habe ich nichts weiter hinzuzufügen als in der Beschreibung bereits erwähnt wird. Natürlich handelt es sich nicht um ein modernes Gebäude, das auf einem ausgewählten Grundstück mit Meerblick errichtet wurde. Aufgrund der großen Anzahl solcher Häuser, die in den letzten Jahren gebaut wurden, geht ihre Einzigartigkeit verloren. Der Großteil meines Hauses wurde vor 500 Jahren an einem Ort gebaut, der aus damaliger Sicht optimal war: auf einem Hügel, am Rande einer armen, ländlichen Siedlung und daher unberührt von der touristischen "Entwicklung", weit weg vom Meer, wo der starke Nordwind ein Hindernis für die Landwirtschaft darstellt und mit einem schönen Blick auf die umliegenden Hügel. Obwohl das Dorf auf einer Höhe von 530 Metern liegt, mit seinem für kretische Verhältnisse kühlen Klima im Sommer, ist es nur etwa 20 Minuten mit dem Auto von Rethymnon mit seinem touristischen Strand im Norden der Insel und den einsamen Stränden im Süden Kretas entfernt. Diese Einzigartigkeit meines Hauses, mit der Qualität eines traditionellen Gebäudes und hinsichtlich seiner Lage im Herzen der kretischen, unberührten Landschaft, hat mich dazu veranlasst es zu kaufen und zu restaurieren. Dabei habe ich versucht die Geschichte des Hauses so weit wie möglich zu erhalten. Auf Grundlage dieser Individualität des Hauses berechne ich den Preis, der weit unter dem eines vergleichbaren Hauses am Meer liegt. Ich würde mich freuen, Sie in naher Zukunft wieder in GrottoHomes begrüßen zu dürfen.
---
Rethymno, Ελλάδα
Έγινε μέλος το Μάιος 2013
The owner of the house will meet the visitors uppon arival, to welcome them, show them around the house and hand them the keys. He also has to visit the house every two days, at a time convenient to both parties, to water the plants and clean the pools. The owner will be reachable at any time on his cell phone or his profile on the famouse Zuckerberg's site for any questions / tips / advice / help the visitors might need.
Σχετικά με τον/την VanGos
I love nature and living close to it but at the same time I often travel to big cities to enjoy the cultural events and spaces one can find there. I love food of good quality and I enjoy cooking it. I love seeing but also creating art.
One of my listings was awarded with the Unique Listing award (one of the two globally) in the first Airbnb Open in San Francisco US, in 2014. I was a Host Educator in the second Airbnb Open in Paris, France, in 2015 and I've been an Airbnb super host for almost two years now.
Γλώσσες:
English, Italiano
Ρυθμός απάντησης:
100%
Χρόνος απάντησης:
εντός μιας ώρας
Εξερευνήστε άλλες επιλογές μέσα και γύρω από την/το Goulediana
Περισσότεροι χώροι διαμονής στην τοποθεσία Goulediana: