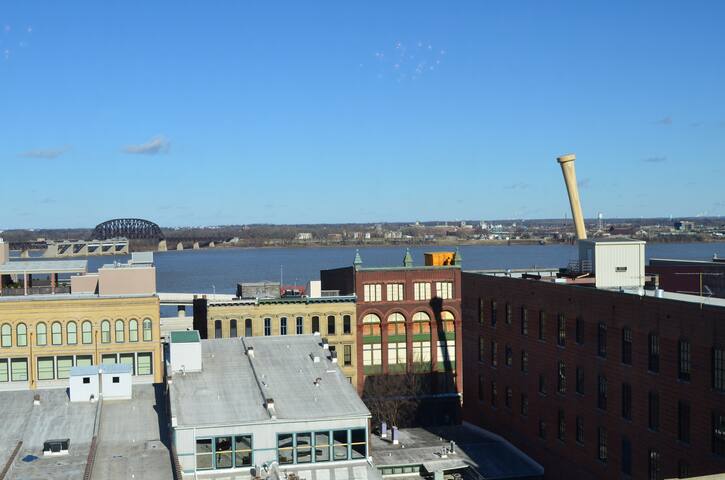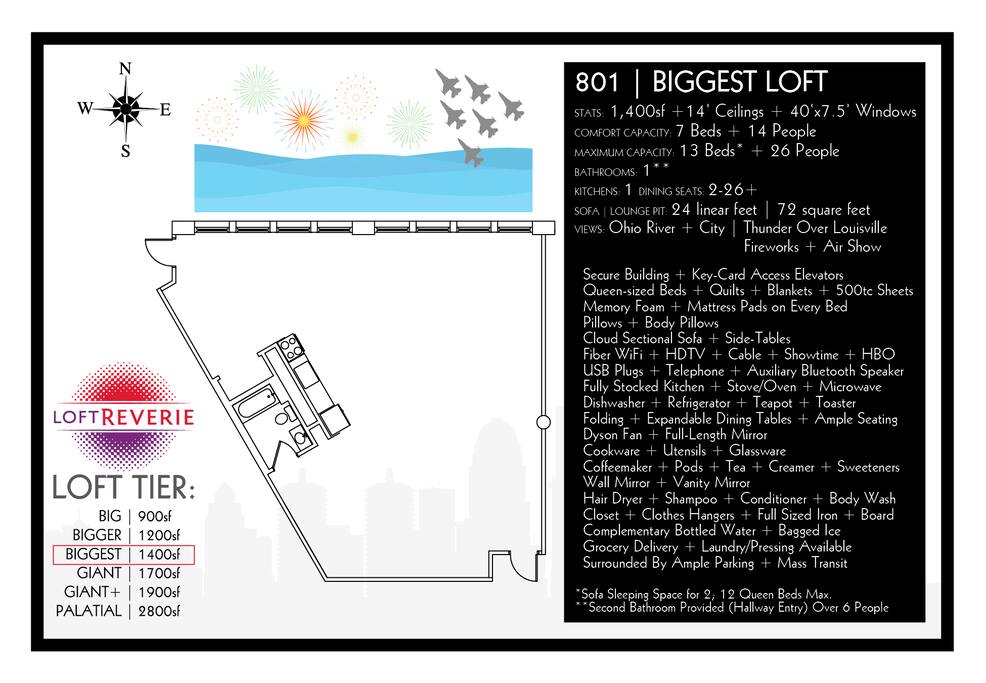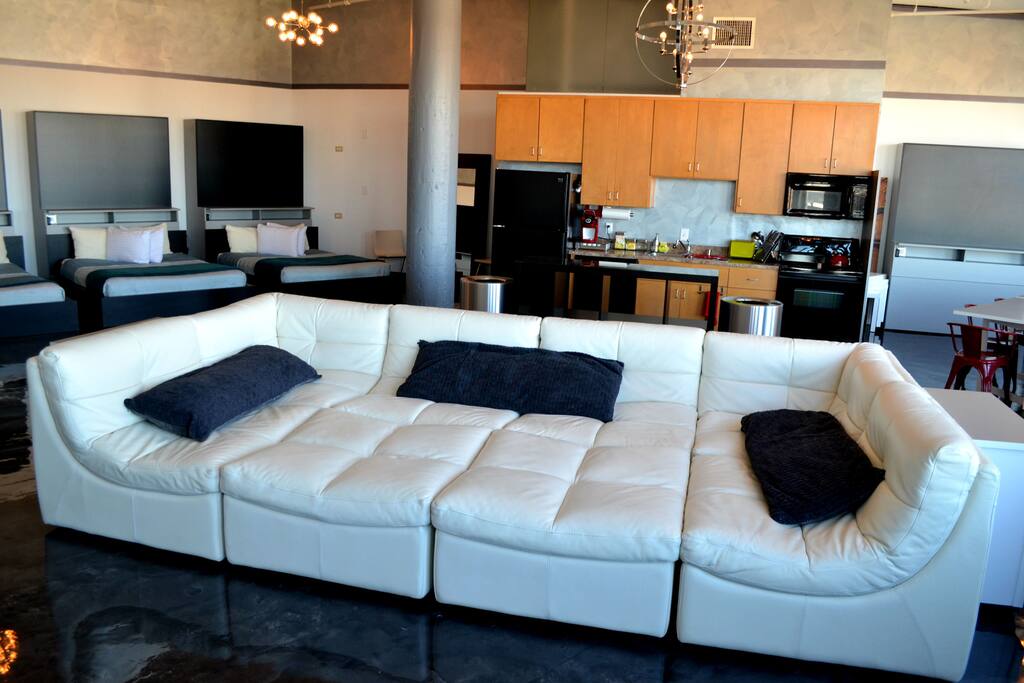 Stay at one of the most breathtaking spaces in downtown Louisville. We have 17 beautiful lofts on the top two floors of a former industrial building. We boast 7 1/2+ ft windows with gorgeous views of the City, the Ohio River + the lush Floyds Knobs hills beyond. In each loft the furniture + open floor plan is configured to allow guests to have as many queen beds as they need while hosting friends + family in comfort. Our amenities are truly outstanding + we believe you will have an amazing time.
Ο χώρος
DESCRIPTION — Stay at one of the most unique + breathtaking places in downtown Louisville. Open the door to this 1,400 square foot penthouse loft, with 14 foot ceilings + in front of you are 40 feet of windows overlooking the expanse of the Ohio River + the one charming train bridge to the west + other more utilitarian bridges to the east that connect Louisville + Southern Indiana. This makes our view of Thunder Over Louisville as up close + personal as you can be—hands down one of the best views of the Thunder air show + fireworks in the city.. The windows are 40 feet in length and 7 1/2+ feet in height. Every day I wake up deliriously happy because the first thing I see in the morning is this view + I stay that way all day for the same reason. I would love for you to experience this + more during your time in Louisville!
A string of adjectives for you that describe my space. . . Sun-drenched, Modern, Urban + Industrial Chic. The open floor plan allows you to enjoy time together with your friends + the distinct spaces created using groupings of furniture allow you to have more intimate gatherings when you choose. The glazed concrete floors highlight the raw, industrial origin of the space while providing a luxurious feel. The carefully chosen decor creates a sumptuous interior for a truly comfortable stay in an edgy space.
This loft is 1 of 6 penthouse, north-facing + full riverview lofts in the historic Glassworks Building in downtown Louisville. Glassworks is a multi-use facility dedicated to the art of glass, featuring 2 working glass studios, 2 glass galleries, a walk-in workshop + daily tours. That gives you a lot to do before you even step outside the building.
I HAVE 17 LOFTS TOTAL IN THE SAME BUILDING: To view all of my listings at once, click on the round picture of me directly under the heading photo, which is directly to the right of the listing headline. It will take you to a mini-profile. Click on my picture again + it will take you to my full profile. You will know you're there when you see a large square photo of me to the left with "Hey I'm Sarah!" to the right at the top of the page. From there, you can click on the "Loft Reverie in Downtown Louisville, KY" Wish List to view all my listings on one web page. Also, on my profile page you will get to see all of my reviews (hundreds of them!).
We have the same amenities in all the lofts — the same bathroom, the same kitchen, the same couch, etc. The only difference (aside from decor) is size / square footage + number of bathrooms.

We have 6 tiers of lofts: BIG, BIGGER, BIGGEST, GIANT, GIANT+ and PALATIAL. This loft, 801, is a BIGGEST Tier Loft.

BIG Tier — 900 square feet (sf) — 1 bathroom
BIGGER Tier — 1,200 sf — 1 bathroom
BIGGEST Tier — 1,400 sf — 1 bathroom
GIANT Tier — 1,700 sf — 1 bathroom
GIANT+ Tier — 1,900 sf — 2 bathrooms
PALATIAL Tier — 2,800 sf — 3 bathrooms

In our tiers, you may have noticed that we start with the BIG Tier. That's because there is no small. These are complete homes (condos) that range from 900 to 2,800 square feet. The BIG Tier is 2 to 4 times larger than an average hotel room + the PALATIAL Tier is 14 times larger. These condos are the size of many freestanding homes.
If needed, we can host up to 175-250+ in our entire suite of lofts. Amazingly, there's even more information we could give you on our whole set-up + if you are interested in the overwhelming amount of details we have for you, just give us a holler y'all ;-D
DETAILS — In short, we customize the lofts to meet our guests' needs. The lofts are completely flexible furniture-wise, in no small part so that each guest can meet their particular objectives with the space. We find there are three types of guests: one that wants to stay within a particular budget for a large group, one that is a small group or couple seeking a luxurious + spacious vacation home in the heart of downtown Louisville + one that is seeking a Sweet Spot between the number of beds we can put in a loft + the amount of spaciousness we can provide. Whatever you desire, we can achieve!!
Sleeping — Sleeps up to 26 people (that's up to 12 queen-size beds + 1 super-massive, super-comfy couch at 2 people per bed/couch
There are 2 distinct sleeping areas + because of the floor plan you can sleep 2 couples with visual privacy + up to 26 with less privacy. All of our beds are memory foam mattresses (topped with more memory foam!) + we have even more memory foam toppers on hand for people who almost want to suffocate in the plushness of all this memory foam. And for our firm-mattress fans, we can remove the memory foam toppers to make the bed less soft. Also, we wash all of our bedding including our quilts, blankets + body pillowcases each + every time. And we use 500 thread count sheets + mattress pads. Our apologies in advance for the trouble you are going to have getting yourself out of bed! But we're not sorry… we just love you that much!!
Bathroom — 1 Bathroom + for guest numbers above 6, access to a second bathroom (entry from the hallway) will be made available.
One of the first things you'll notice is stacks of plush, hotel-quality white towels… we've got your back on this! There is a shower with a tub, toilet, sink, mirror + several shelves for toiletries. In the shower you will find dispensers full of shampoo, conditioner + bath gel. On + in the vanity you will find hand soap, makeup removing pads, cotton balls, Q-tips + black washcloths for makeup removal.
Eating + Dining areas — Dining area seats 2-26+ people
Good news! We have the technology to set up a table to accommodate the size of your party, whatever that number may be!! Our tables fold down to accommodate parties as small as two + can be combined together to accommodate parties of almost any size. They are easy to move + can be put discreetly to the side when not in use. We also offer a combination of modern, sleek, stackable metal chairs + leather chairs (that are soft like butter).
Speaking of butter… do you want to eat? Good! The Kitchen is stocked with appliances + amenities for your dining pleasure. Each kitchen comes stocked with a Keurig Coffee Maker + coffee pods, bottled water, sugar + sweeteners, creamer + black tea… we even have a teapot! If there is an appliance that you want, chances are I have it in my personal space + can make it available to you. As they say, "Ask + you shall receive" — well, most probably, if I have what you are looking for! One last thing, we have extra tables + chairs and quite a few can be put in your space without getting in your way.
Entertaining + Lounging — Welcome to the Lounge Pit. . .
I have a large modular, white leather, sectional sofa that can be set up as a very large + deep rectangular shaped couch or as, what I believe is technically called, a Lounge Pit with the extra ottomans filling the center. It's a great spot to chill + watch a movie or two or even get some work done on your laptop. Speaking of getting work done, you will have high speed fiber WiFi coursing through your computer. But what will you listen to whilst you are trapped in the Lounge Pit? How about my iPhone/Android/iPad/Tablet/Whatever-System-You-Use-For-Music speakers. Yeah, I think that should about do it. Oh wait, there is an HDTV in said lounging area. Yep, that's to entertain you, the lounge-y one lounging in the Lounge Pit.
LAWYERLY TALK:
No smoking + no pets (I would get kicked out of my place + I know you don't want that ;-D)
Security Deposit + Rental Agreement required
Please read the house rules thoroughly before making a reservation. Thanks! Let's talk!!
Πρόσβαση επισκεπτών
This loft is a complete home (condo) that is 1,400 square feet. You will have access to everything inside your condo. FYI, we have 17 comparably outfitted lofts that range from 900 to 2,800 square feet.
This is a secure building. Accordingly, access is provided with keycards that will be issued to you when you check in. One keycard for each guest in your party. Therefore, please be certain that you make your reservation for the correct number of people. Thanks!
Αλληλεπίδραση με τους επισκέπτες
I live in the building + have a team working with me, so either myself or my team will be nearby if needed.
Άλλα στοιχεία προς σημείωση
Amenities + Services — each stay includes:
— Daily Weekday Housekeeping | upon request — $30/hour on Saturdays. No Housekeeping available for holidays + Sundays.
— 24/7 Key Card Access Elevator
— Concierge Service
— Bottled Water | complimentary
— "Mini Bar" | customers may select groceries online and reimburse us for the cost + service charge (this includes the delivery fee from the grocery store + a stocking fee)
— "In Room Dining" | Postmates, Grubhub, Take Out Taxi, Yelp Eat24 + Mr Delivery are services that will deliver a restaurant meal to you
— Vending Machines On Site
— Hairdryer | extra upon request
— Vanity Mirrors | extra upon request
— Toiletries | bathrooms are stocked with shampoo, conditioner + bath gel in the shower + hand soap, make-up removing pads, cotton balls, Q-tips, etc. in the vanity
— Laundry, Pressing + Dry Cleaning | available upon request
— Iron + Full Size Ironing Board
— High-Speed Fiber Wifi Internet
— Flat Screen LCD HDTV
— DVD Player | upon request
— Cable | including multiple channels of: HBO (5), Showtime (5) + ESPN (4)
— On Demand TV
— Fully Stocked Full Size Kitchen
— Stove
— Microwave
— Dishwasher
— Refrigerator
— Keurig Coffee Maker + Coffee Pods, Sugar + Sweeteners, Creamer + Black Tea
— iPod | Android | iPad | Tablet | Whatever-System-You-Use-For-Music Speakers
— Alarm Clock(s) | upon request
— Fan
— Full Length Mirror
— In-Room Telephone
Remember, we want to make your visit to the Derby City a stellar experience — really + truly we do — so please contact us if extra luxuries are needed. We will assess what mountains need to be moved + acquire the equipment to move said mountains.
Επιπλέον άτομα €32 / διανυκτέρευση μετά από 2 επισκέπτες
Τιμή σαββατοκύριακου €564 / διανυκτέρευση
Επικοινωνείτε πάντα μέσω της Airbnb
Για να προστατεύσετε την πληρωμή σας, μην μεταφέρετε ποτέ χρήματα και μην επικοινωνείτε έξω από την ιστοσελίδα ή την εφαρμογή της Airbnb.
Κοινόχρηστοι χώροι
1 καναπές
Ακατάλληλο για κατοικίδια
Απαγορεύονται τα πάρτι και οι εκδηλώσεις
Δεν είναι ασφαλές ή κατάλληλο για παιδιά (2-12 ετών)
Η άφιξη πραγματοποιείται μετά τις 16:00
Αναχώρηση μέχρι τις 11:00
Άφιξη χωρίς παρουσία οικοδεσπότη με smart lock, lockbox και doorman
GENERALLY SPEAKING:
My lofts are on primarily residential floors of the building, ie. these spaces are people's homes. I ask that you respect the public areas, the tenants and my home. Thanks! (PS: I know all caps can be construed as yelling over the Internet, but in this case I have used caps to indicate the gist of the House Rules. I wouldn't yell at you ;D)

MORE SPECIFICALLY:
1) The building owner requires that I keep a copy of *every* Guest's ID on file. That means *EVERY* GUEST that occupies the space, including but not limited to all guests who receive a key, an elevator keycard or a garage door opener, are required to PROVIDE THEIR ID FOR COPYING (to be copied in the modern way by taking a digital photograph).

2) The building owner maintains a 100% smoke-free building. This means there is absolutely NO SMOKING allowed anywhere indoors. If you disregard this, you risk getting me kicked out of my Lofts. This would make you responsible for all costs associated with early termination of my leases and any and all other costs that may be be incurred by me due to you or your guests disregarding this House Rule. Regardless of whether I lose my lease, you agree to forfeit your entire security deposit in order to return the Loft to a smoke-free status. Better not to risk it and just go to the outdoor smoking area to which the front-desk guard can direct you!

3) Once you are inside the Loft with the door closed it is pretty hard for you to be too loud to bother your neighbors. But the hallway acts like an amplifier into the homes of everyone on the floor. I ask that you and your guests DO NOT LOITER OR TALK LOUDLY IN THE HALLWAYS.

4) It is imperative that you DO NOT LEAVE WINDOWS OPEN WHEN YOU ARE AWAY. When it rains with a window open, the rain very easily gets inside and damages furniture, carpets, etc. If you do leave windows open when you are away from the Loft, you are responsible for 100% of any damage that occurs.

5) TOWELS:
--Please PLACE ANY DIRTY TOWELS IN HAMPER PROVIDED. My towels are white and I would appreciate you helping me keep them as clean as possible.
--WHITE TOWELS ARE FOR DRYING AFTER BATHING ONLY.
--FOR MAKE-UP REMOVAL: please use supplied cotton balls, cotton pads or black wash cloths only. Make-up is very hard to remove from the white towels. For any white towels used in this way a claim will be made against the security deposit to replace the towel containing make-up residue.
--FOR CLEAN UP OF SPILLS, ETC: call me, use paper towels or use "junk" towels that I will show you at check-in.

6) NO ILLEGAL ACTIVITY: either physically or virtually (ie, over the internet provided).

The building owner says the following is...PROHIBITED CONDUCT:
You and your occupants or guests may not engage in the following activities:
1) Loud or obnoxious conduct;
2) Disturbing or threatening the rights, comfort, health, safety, or convenience of others (including our agents and employees) in or near the apartment community;
3) Disrupting our business operations;
4) Manufacturing, delivering, possessing with intent to deliver, or otherwise possessing a controlled substance or drug paraphernalia;
5) Engaging in or threatening violence;
6) Possessing a gun, knife, or other weapon on the premises;
7) Tampering with utilities or telecommunications;
8) Bringing hazardous materials into the apartment community.

REPLACEMENT COSTS: $60/item not returned
Items to be returned in operational condition: Elevator Keycards, Keys and Garage Door Openers.
Ανιχνευτής μονοξειδίου του άνθρακα
Ελάχιστη διαμονή 1 διανυκτέρευσης.
Από 3 Μάιος 2018 - 6 Μάιος 2018 η ελάχιστη διαμονή είναι 3 διανυκτερεύσεις.
This was an incredible weekend. We had so much fun and they provided us with tons of information about where to go and what to do. The room is beautiful with a perfect view. The beds were very comfortable too. It was certainly a weekend we won't forget and I was lucky to find such a perfect place for my bachelorette party.
---
My sister and I were so excited to find such a great place to have a girls' night out in Louisville for our sister's bachelorette party! A lot of changes were made last minute and Sarah did a great job responding to them all! She was so kind and helpful, which are great qualities in a host! When we walked in to the loft, we were amazed at how gorgeous it was! It was the perfect place for friends and family to gather to celebrate the bride-to-be! We highly recommend this loft and it's awesome host to anyone who needs a great place to stay in Louisville! :)
---
I felt very welcomed by Jennifer when I arrived (Sarah was out of the country). I had a trunk full of party decor/food/ect. I mentioned to Jennifer that I have a back injury,and, was waiting for my mom to get there to help. Jennifer immediately got a cart, and happily helped me unload every single item I had. The room was awesome, the staff was excellent. I forgot a couple of items I needed for my party, as soon as I inquired about where I could get them, I got a knock on my door and there it was. My guest's and I had such a great time! I will definitely be back! I have been bragging and telling everyone I know how amazing these lofts are :)
---
Λούισβιλ, Κεντάκι, Ηνωμένες Πολιτείες της Αμερικής
Έγινε μέλος το Απρίλιος 2013
I grew up in Louisville, KY, and then traveled all over the world. Plus, I have lived in many places throughout the US. Throughout that time Louisville has always remained my favorite city. There is just too much that is great + unique about this city I call home once again!
Γλώσσες:
English
Ρυθμός απάντησης:
100%
Χρόνος απάντησης:
εντός μιας ώρας
Εξερευνήστε άλλες επιλογές μέσα και γύρω από την/το Λούισβιλ
Περισσότεροι χώροι διαμονής στην τοποθεσία Λούισβιλ: